A classic Disney fairytale collides with modern-day New York City in a story about a fairytale princess (AMY ADAMS) from the land of Andalasia who is unexpectedly thrust into the heart of present day Manhattan. Soon after her arrival in New York City, Princess Giselle begins to change her views on life and love after a chance meeting a handsome lawyer (PATRICK DEMPSEY).
For the lovely Giselle (Adams), life is a fairytale.... literally. She has everything needed to make a perfect princess-a beautiful countenance, a pure heart, a lovely singing voice and an uncanny ability to communicate with animals-all the good things one would expect in her world of Andalasia.... which just happens to be animated. Giselle's wish to meet the handsome prince of her dreams and share "true love's kiss" comes true when Prince Edward (JAMES MARSDEN) hears her lilting soprano voice raised in song and rushes to her side.
The very next day, on her way to wed Edward, Giselle falls under the spell (literally) of Queen Narissa (Sarandon), who will stop at nothing to keep this girl away from her throne. Giselle is banished to a place as far away from this fairytale kingdom as you can get.... no longer an animated character in a colorful, musical land, she is transformed into a very real woman and transported to a very unmagical place: modern day Manhattan.
Coming to her aid in this strange new place, the almost-princess is befriended by a no-nonsense divorce lawyer, Robert (Dempsey), and his young daughter, Morgan (RACHEL COVEY). When Giselle's no-longer-animated Prince Edward, along with his servant, Nathaniel (TIMOTHY SPALL), and Giselle's best-friend and chipmunk, Pip all arrive in New York, she experiences her two worlds colliding and finds herself wondering whether her storybook view of romance, complete with "happily every after," can survive in our world.
A lively, original fish-out-of-water comedy and a modern twist on the classic Disney fairytales, ENCHANTED blends fantasy, action, music, CG effects, hand-drawn animation and live-action to create a wholly unique romantic comedy for all ages.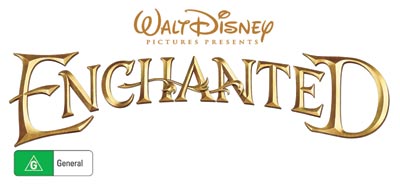 Enchanted
Starring
: Amy Adams, Patrick Dempsey, James Marsden, Susan Sarandon, Timothy Spall, Idina Menzel
Director
: Kevin Lima
Rated
: G
Enchanted only at the movies December 26.


More on Enchanted Cast & Crew
Review: Enchanted takes a new spin on a classic fairytale story and throws into the real world for a real awakening. The evil queen has occupied her step-sons (the Prince) time in an attempt to keep him away from his one true love so she can keep the throne. Unfortunately the prince has grown tied of chasing and capturing Ogres and fate steps in. Brought together in song, the prince and Giselle are about to get married when the queen helps Giselle get a glimpse into the real world.After stumbling around New York City and feeling, Giselle is looking for a touch of kindness to give you inspiration when she stumbles across a handsome lawyer (Patrick Dempsey) who reluctantly helps her out.With Cartoon and actors combining makes for interesting and entertaining cinema photography.As our damsel in distress awaits her Prince to rescue her she discovers a life that is just as enchanting and becomes torn between the two worlds. A gorgeous adventure for the young and young at hear, Enchanted will be enjoyed by all.
Players must help the Enchanted character to get to the other side of Times Square, while avoiding taxi cabs and trying not to cause a major pile up.