5 Days of War
Cast
: Rupert Friend, Emmanuelle Chriqui, Andie Garcia, Val Kilmer
Director
: Renny Harlin
Genre
: Action, Drama, War
Rated
: MA 15+
Running Time
: 113 minutes
Synopsis
: From acclaimed director Renny Harlin (Die Hard 2, Cliffhanger) and featuring an all-star cast, 5 Days of War combines heart-pounding action with real human drama, as it tells the story of a war reporter caught behind enemy lines during the 2008 Russian invasion of Georgia. As a nation fights for its very survival, a brave and passionate coalition of international reporters and local Georgians risk their lives to let the world know the true human cost of military conflict. 5 Days of War is a riveting, suspenseful portrait of the courage under fire.
Release Date
: July 21st, 2011
Developing 5 Days Of War
Producer George Lascu explains, "the idea for the film came from executive producer David Imedashvili and producer Mirza Davitaia in the form of a treatment called "Caucasian Flower," the story of an American botanist caught behind enemy lines during the Russian invasion, while researching a rare flower." Lascu and executive producer Cyndy Kuiper's US-based Rexmedia bought the rights to develop the treatment two years ago at AFM and gave screenwriter David Battle a revised treatment about an American and his camera man working on a documentary.
Once George Lascu and team had secured Renny Harlin as the film's director, Renny Harlin in turn brought in the screenwriter Mikko Alanne and supervised the final rewrite. Renny Harlin whole-heartedly welcomed this transition from the big-budget action films of his past, like Cliffhanger and Die Hard 2, to a more character-driven piece, one that marks his return his independent roots. "I have waited a long time to find something with substance and reality. I want to make a film that says something about the human condition, and even if only a few people see this and feel its impact and anti-war message, then I will have done something that's important and I will be proud of it," says Renny Harlin.
Recalling how quickly the project developed, producer George Lasc says, "we thought it was a very important story and something the world needed to see. We had a couple of meetings in Los Angeles and the next thing we know we were on the plane, eating lovely Georgian food and scouting the beautiful countryside," George Lasc recalls.
"We were very lucky to get Renny Harlin as a director. He's very dedicated to the project and his participation has made it bigger and much, much better," says producer Mirza Davitaia.
Although the filmmakers' goal was not to reconstruct history but to make an entertaining movie, the story is based on many real stories told to the filmmakers by various foreign journalists. 5 Days Of War also serves as an exploration of a war's collateral damage and the psychological and spiritual effects that it has on a country. Mirza Davitaia explains, "this movie will show the tragedy of the war, of any war, the tragedy of people who lose their houses, their sons, their daughters, their relatives and recreates the historical scenes which took place during this war".
About the Cast
Georgia is situated far from Hollywood, between Eastern Europe and Western Asia, but the filmmakers were able to entice the cast members to join them at this exotic locale with surprising ease due to Renny Harlin's involvement and the sheer strength of the script. "I do not think it was that difficult to get people involved in a story like this," claims Mirza Davitaia.
From the early stages of casting British thespian Rupert Friend was Renny Harlin's first choice to play Thomas Anders, an American journalist desperate to get his story out to the global community and spur them into action on Georgia's behalf.
"Rupert Friend's a top professional and has really worked hard to make the role his own and I think he's doing a fantastic job," seconds George Lascu.
Popular British actor Richard Coyle takes on the role of Anders' sidekick and cameraman Sebastian Ganz while Emmanuelle Chriqui rounds out the dynamic trio as a young Georgian teacher who's thrown together with Anders and Sebastian when a tragic bombing occurs at her sister's wedding. Having never starred in a war film or a political drama, Emmanuelle Chriqui relished this opportunity "to play such a strong woman who is the voice of this place in a lot of ways" and calls her leading men "a dream team."
With very little prep time, the principal cast often reacted with genuine shock during their more stunt-heavy, explosive scenes. "We've been in explosions, in buildings being blown apart, in gunfights. It's insane! I've never experienced anything like this in my life," exclaims Emmanuelle Chriqui.
Jonathon Schaech embodies Capt. Rezo Avaliani of the Georgian army's special forces who facilitates as the journalists attempt to disseminate their tape of the ongoing atrocities. For his role, Jonathon Schaech was trained by Stunt Coordinator Vladimir Orlov in hand-to-hand combat while the Georgian Army trained him to use AK'47s and other weapons correctly.
Val Kilmer plays veteran journalist 'The Dutchman', who along with British thespian Kenneth Cranham as Stilton and German actress Antje Traue as Zoe, rounds out the tight-knit coterie of international war journalists suddenly caught behind enemy lines.
Antje Traue fully embraced her role as a young but seasoned war photographer who uses her feminine wiles to the fullest, donning mini-skirts and high heels to gain the group access to restricted areas and information and began honing her own photographic skills as part of her research.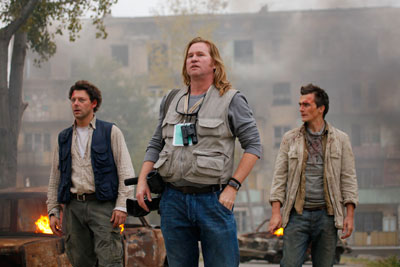 Andy Garcia as Georgia's President
While screening a documentary about Georgia and its president, producers George Lascu and Mirza Davitaia noticed the genuine resemblance between him and world-renowned actor Andy Garcia and were delighted when Renny Harlin convinced Andy Garcia to take on the role of President Mikheil Saakashvili.
"He was very enthusiastic about the movie and very excited about the possibilities of what we were about to do. He was very complimentary and energetic and emotionally appreciative of the situation that he found himself in here in Georgia and the amount of support that he had and the enthusiasm of the Georgian people for what he was doing," Andy Garcia says of Renny Harlin's infectious energy.
Andy Garcia was also drawn to the project by the universality of the film's anti-war theme. "The ideas of the movie are beyond that character in a way. The movie's about a greater character, the conceit of peace and freedom and independence of spirit and mind. And that's what all countries should have. And that's really why I am here," explains Andy Garcia.
President Saakashvili personally welcomed Andy Garcia and many of the other cast and crew members to Georgia and spent time with them during filming. Andy Garcia says, "The President has been very gracious and extremely supportive."
"Georgia. It's such an exciting time to be here. There is so much change and you are in this country that is really trying to make a name for itself and try to be on its own two feet. And the people, the culture, the food, the passion of this place - it has been phenomenal," Emmanuelle Chriqui rhapsodises.
More About the Production
With a multi-national crew hailing from over a dozen countries including Morocco, Italy, Peru, Canada, Australia, Bulgaria, Russia, the United States and Georgia, 5 Days Of War's six-week shoot was based in the Georgian capital of Tbilisi, Georgia.
Made with full cooperation of both the Georgian government and military, the latter which provided the production with the necessary military manpower as well as artillery, helicopters, tanks, 5 Days Of War is the biggest-budget film ever made in the country and the first ever made by Hollywood.
"The Georgian government is trying to attract foreign film industry and they are doing their best to help us on every level," explains Mirza Davitaia. It was this very participation which enabled the filmmakers to complete massive, very logistically complicated scenes which would not have been possible otherwise due to budgetary restrictions.
Property Master Dirk Buchmann, who oversaw all necessary weapons, action vehicles, animals and props for the actors, also received invaluable assistance from Georgian authorities. After a careful survey of the script and determination of which prop elements would be necessary to usher the director's vision to the screen, Dirk Buchmann presented the Ministry of Defense with his initial working canvas which included 16 T-74 tanks, 16 BTRs (armored, 8x8 wheeled personnel carriers), 140,000 rounds of blank ammunition, 300 AK74 rifles, four SU25 jets (the Georgian Air Force's most advanced jet, MI24 attack helicopters and several HU-I military helicopters. Once these numbers were established and approved, Harlin and First Assistant Director Mary Ellen Woods went about earmarking the actual elements necessary for each respective shoot day.
"If we say we want forty tanks, we get forty tanks. Anywhere else they would say you can have four tanks and in CGI we'll replicate them," enthuses Mary Ellen Woods.
One of the most challenging scenes for the filmmakers to coordinate was the staging of the epic mass exodus from the village of Vaziani, which is one of the biggest crowd scenes in recent motion picture history. The set itself was approximately 1.5 to 2 kilometers long and the scene featured one thousand Georgian extras, sixty military vehicles, nine helicopters, one hundred civilian cars with their belongings, trucks and two hundred and fifty heads of livestock.
With such a wealth of artillery and military personnel available to the filmmakers, Renny Harlin and team did not have to rely on CGI to multiply a crowd of a hundred extras to thousands or a few helicopters into dozens for the exodus scenes. Renny Harlin says, "we actually do it all for real, it all in camera."
"The scale of this film is massive thanks to the help of the Georgian military" adds Mazic Lascu.
"The first day we had jets, helicopters, a camera helicopter, hundreds of extras, probably fifty-sixty pieces of armored equipment, and shot in probably three separate locations; we made three mini-moves in a day and that was our first day. It was the biggest first day that any of us, including Renny Harlin, has ever had in our life."
For such scenes, Renny Harlin would communicate via radio directly with helicopters while Stunt Coordinator Vladimir Orlov and the SFX team stood alongside to coordinate.
"Renny Harlin is a machine," lauds Schaech. "He literally is commanding the Georgian army himself. He's able to put all the elements together in the big Hollywood style we're accustomed to yet there's a heart and passion behind this film and I know that Renny Harlin is going to bring a uniqueness that makes this film both an art film as well as a commercial property."
Other Locations
The filmmakers were also allowed to shoot in several villages where the Russian-Georgian conflict actually occurred, namely in Gori, the birthplace of former Soviet dictator Joseph Stalin. Although still visibly bearing the scars of its brief Russian occupation, the village not only agreed to re-experience these unpleasant events as the filmmakers restaged battle scenes in the central square but many residents also actively participated in various scenes, for example, playing the roles of extras in the gruesome Gori military hospital scenes.
As part of his research process, Production Designer Marc Greville-Morris viewed actual footage from the war and from the Gori hospital and set out to imbue his sets with as much reality as possible. "For me what was important was to take the 'Hollywood' out of the war," states Marc Greville-Morris.
"The art department and props department did such a good job that the difference between the Russian soldiers and the actors was almost zero. It was very emotional for the people because it looked so real," recalls Mirza Davitaia.
Recreating the scenes in the Gori Hospital proved painful for the cast as well. "When we were wrapped, it was a vision that really stayed with me because I knew it had actually happened there. They recreated this awful scene in the hospital and it was like living a true nightmare," remembers Emmanuelle Chriqui.
Shooting in the half-abandoned villages of the Tsalka district presented its own set of unique challenges. This location was so remote that there was no housing available for cast or crew. "The conditions we had in our first week of shooting were absolutely grueling. Eighty-five percent of the crew slept in train cars that we brought in," recalls George Lascu, noting that Renny Harlin's work ethic kept the cast and crew duly inspired. "He's the hardest working director I've ever worked with."
The Presidential Address
On 12 August 2008, as Russian troops headed ever nearer to Tbilisi, President Saakashvili delivered his presidential address outside the Parliament building as five European presidents stood alongside him in support of the nation. In order to replicate this speech for 5 Days Of War, the filmmakers made an open call for extras and nearly eight thousand enthusiastic Georgians volunteered their services for the scene.
While seven cameras rolled simultaneously, Andy Garcia's speech as their president elicited a genuinely emotional response from the audience.
Renny Harlin's Mantra: Keeping It Real
Renny Harlin turned to celebrated DOP Checco Varese to shoot 5 Days Of War. A survivor of three shootings and several helicopter crashes, Varese began his career as a major network news cameraman and spent over a decade shooting the world's major conflict zones, from the Columbian Drug Wars to the Bosnian and Chechnyan Crises. "With his background as a news cameraman in these crazy hot zones, he was absolutely the right man for the job," says Renny Harlin.
Checco Varese was immediately drawn to the subject matter "which clearly mirrored his own experiences as a news cameraman" as well as to the opportunity to work with Renny Harlin, whose directorial chops he had long admired. "Renny Harlin's an extraordinary action director and has more experience with action that any director I've ever worked with," says Checco Varese.
Of their initial discussions, Checco Varese recalls "Renny Harlin talked about using the language of an action movie to tell a real story about war and the ramifications and the effect on regular people. It's a human drama told through action." The two also set out to deglamorise the film's action and honestly portray the horrors of war.
Checco Varese shot 5 Days Of War with the high-definition red camera system and worked in collaboration with Digital Imaging Technician Michael Mansouri to achieve the highest quality image integrity possible. "It's a fantastic camera especially because we designed the look to have this feeling of immediacy and high definition is a medium that is immediate," explains Checco Varese. "And because we're shooting a story that happened two years ago through the eyes of a cameraman, it's a fantastic camera for it."
Of the film's vast scope, Checco Varese says, "there are no small days on this film but like Renny Harlin said, "it's the little movie that didn't know it was little."
Costume Designer Elvis Davis' primary challenge was replicating the military dress of the hundreds of Russian soldiers appearing in the major conflict scenes. Consulting his invaluable research tome "Camouflage Uniforms of the Soviet Union and Russia: 1937-to the Present," Elvis Davis soon discerned that it would be impossible to locally source a sufficient number of Russian military uniforms and one Russian camouflage pattern in particular. As this pattern was highly visible in his reference photos and all the footage from the war, he opted to have 500 meters of the material printed in Turkey and then once it arrived had all uniforms made within one day.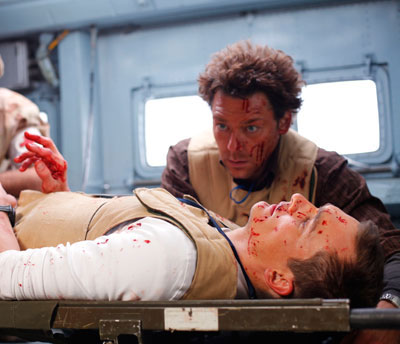 "The Russian uniforms are absolutely the same as what the 58th Russian Army, which is massive. It is historically accurate in what they wore in that week of war," says Elvis Davis.
Although the Georgian Army supplied all the Georgian military uniforms for 300-400 extras, Elvis Davis and his department saw to it that the approximately 300-400 extras arriving in their own Georgian army uniforms were supplemented with the necessary missing elements, ex. helmets or assault vests.
Production Designer Marc Greville-Morris credits Renny Harlin's clarity of vision with making the project a fantastic professional experience for him. "It's great to work with a director who does prep and knows every scene and by the time we shoot he knows exactly what he wants."
"We wanted to be as historically accurate as possible but we discussed a lot at the beginning, not getting into the politics of it and it being much more about the people who get in the middle, the civilians who get caught in the middle of a war," recalls Marc Greville-Morris.
Marc Greville-Morris' favorite scene is the Georgian wedding feast which gets bombed during the festivities. He and his team transformed a dilapidated building into a traditional Georgian wedding feast with the knowledge that the filmmakers could utterly destroy the building while filming.
"What he did with this - it almost looked like a burnt out hull of a building - and turned it into this beautiful area to have this wedding reception. I think he just did an amazing job," says George Lascu. "Mark Greville Moriss loves to build, he does it economically and the stuff looks great. It doesn't look over-built, it doesn't look like a set piece in a movie," he continues.
The available military hardware increased the production value for Marc Greville-Morris' production design but also proved useful in unexpected ways as well. "It's the first time I've used tanks to move set dressing, meaning other blown-up 55-ton tanks that cranes could not move," he laughs.
Conclusion
"In the early part of my career I got to make some movies that were entertaining and successful but I always felt that I was missing something as a person, as an individual and as an artist. But with this movie, my dream of who I am and why I do what I do has come true and I have made a movie that is about something and that has meaning," says director Renny Harlin of his experience making 5 Days Of War