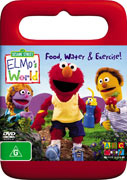 Join Elmo as he explores why food, water and exercise are essential parts of our life! An apple talks about his family tree, Elmo scuba dives to depths unknown, and you can even join in the exercise by groovin' to the Bunny Hop!
With Elmo, your preschooler can learn about foods from around the world, dip into deep water and stay healthy and strong with exercise!
Review:
A children's icon, kids just adore Elmo, whatever comes out of the cute red monster they listen to, what better way to educate your children about Food, Water and Exercise then than with Elmo.
Rated: G
Duration: 50 mins.
RRP $14.95
Available through
www.abcshop.com.au