Will they be stuck in the game forever...?
Cast: Dwayne Johnson, Jack Black, Kevin Hart, Karen Gillan, Nick Jonas, Bobby Cannavale
Director: Jake Kasdan
Genre: Adventure, Family
Rated: PG
Running Time: 119 minutes

Synopsis: In the brand new adventure Jumanji: Welcome to the Jungle, the tables are turned as four teenagers in detention are sucked into the world of Jumanji. When they discover an old video game console with a game they've never heard of, they are immediately thrust into the game's jungle setting, into the bodies of their avatars, played by Dwayne Johnson, Jack Black, Kevin Hart, and Karen Gillan. What they discover is that you don't just play Jumanji –Jumanji plays you. They'll have to go on the most dangerous adventure of their lives, or they'll be stuck in the game forever…

Jumanji: Welcome to the Jungle
Release Date: December 26th, 2017
Trailer
About The Production
'The spirit of Jumanji flows through this continuation of the story," says Dwayne Johnson. For the actor/executive producer and so many of his generation, the original Jumanji film captured a spirit of imagination that became the spine of the new film. 'We wanted to bring that spirit of wonderment, of overcoming fears and discovering who you are – it's all woven through Jumanji: Welcome to the Jungle. Every once in a while, a movie comes down the road that you just know in your gut, has a special quality to it."
For Dwayne Johnson, one of the keys to achieving that was to approach the new film as a continuation – another Jumanji adventure in the same universe as the first film. 'We all have tremendous love and reverence for the original movie – I've always been a huge fan of Robin Williams and his performance and that movie meant a lot to me and my family at that time," he says. 'So, while the jungle came into our world in the original Jumanji, we go into Jumanji in this film."
Producer Matt Tolmach is also a longtime fan of the original film and of Chris Van Allsburg's children's fantasy book that inspired the franchise. Upon looking at the 1995 feature with fresh eyes, he says, 'I immediately felt there were more Jumanji stories to be told. My first thought was, -What's the next chapter in that story? What's the next Jumanji adventure?' It was a natural step to continue what began over 20 years ago."
Matt Tolmach and writer Chris McKenna saw a new direction for Jumanji: they would turn the concept on its head. Rather than bringing the jungle into our world, Jumanji: Welcome to the Jungle would bring the players into the jungle – and not just that. 'The game evolves, from a board game to a video game – the game will do what it has to do to be played," Matt Tolmach explains. 'And video games are a perfect fit for the world of Jumanji: you get to leave your world behind as you become someone else – an adventurer, a doctor, a hero. This would be a great way to explore classic timeless themes – being yourself and embracing who you are while also challenging yourself to do things you never thought were possible. They have to go and be somebody that seems completely different from who they think they are – except maybe they're not so different after all. It's not a coincidence that you became this character who is seemingly so different than you are – you just need to go on this journey to figure out what you are capable of. You always had it inside you."
'Our lead characters are actually teenagers who are played by adult actors," says Jake Kasdan. Matt Tolmach had previously worked with Jake Kasdan on several films and thought he'd be the perfect choice to direct. 'This is a time of self-discovery for them, but it plays out in this fantastical context. So, as they are figuring out who they are in real life, they suddenly find themselves occupying other people's bodies in this game – people who, on the surface, are nothing like them. I thought that was a really funny idea, but also really interesting. What would you discover about yourself, if you could spend a day in somebody else's body?" Still, the movie is a comedy with plenty of kickass action. 'I love movies like this – I've always wanted to make a big adventure movie," says Jake Kasdan. 'So, it's a coming-of-age comedy that we shot on location in Hawaii with big action sequences and a lot of visual effects."
'We wanted to build a classic action adventure movie with really high stakes," says Matt Tolmach. 'The stakes are very real; you can die in Jumanji. We knew there would be tons of comedy in the movie, but we wanted it layered within action that was visceral and exciting."
About The Characters
In the film, four teenagers – Spencer, Bethany, Fridge and Martha – who seemingly could not be more different are mysteriously pulled into the world of Jumanji. Very quickly, they realise that they will need to figure out how to work together in order to survive. In their new personas, they are each uniquely qualified to do specific tasks – but all of them (well, most of them) are also uniquely hindered by weaknesses that will slow their progress.
An archeologist and international explorer, Dr. Smolder Bravestone is the consummate action hero: fearless, faster than a speeding bullet, able to climb anything, exceptional skill with weapons – and he does it all with his trademark 'smoldering intensity." His weaknesses? None. Who does that sound like? None other than Dwayne Johnson, who plays the role.
But inside Dr. Bravestone is Spencer, a neurotic gamer with a fragile constitution, portrayed by Alex Wolff. Allergic and very nervous, Spencer is everything Dr. Bravestone is not… or so it seems.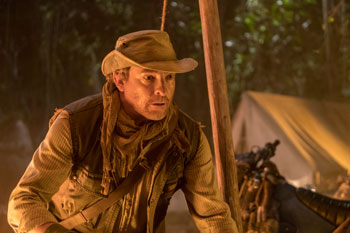 Dwayne Johnson relished the chance to play against type, a character completely unlike his persona as The Rock or any of the many action hero roles he has brought to life. 'Spencer is the most wonderful, insecure, lovable, allergic to everything, fun character I've ever played," says Dwayne Johnson. 'I've never had the opportunity to play a teenage boy. He's not a big physical guy, he's just little Spencer who morphs into me. I'm channeling this scared, little 16-year-old boy and it was a challenge."
A challenge, because the whole movie hinges on audiences believing that Dwayne Johnson is actually an anxious teenager. But Dwayne Johnson says that even though today he is a confident, grown man, that wasn't always the case. 'Even when I was 16, I looked 46. I was six-foot-four and 245 pounds, and had a thick mustache – but whatever I looked like on the outside, on the inside I was still a teenager, trying to figure out who I was. So, I held onto that spirit of being a teenager – I wanted to make sure that everyone watching this movie was thinking -That's Spencer' and not -That's the Rock.'"
'There's truly not another actor in the world that would make this idea as much fun as it is with DJ," says Jake Kasdan. 'And he committed himself to the role, fully. He totally embraced the chance to play with – and against – his persona. He absolutely captured this kid.
When Bethany (Madison Iseman), the school's self-obsessed queen bee, is drawn into the game, she chooses to play a 'curvy genius," Dr. Shelly Oberon, who will help navigate Jumanji as an expert in cartography, archeology and paleontology. Just one thing: Shelly is a nickname for Sheldon. The imageconscious Bethany is suddenly, in her words, 'an overweight middle-aged man" – that is, Jack Black. (And Bethany is not surprised when Shelly's weakness turns out to be endurance.)
For Jack Black, the appeal of the role was twofold. First, he would enjoy channeling his inner teenage girl – and to do it right, he made sure that he and the young woman with whom he shared the role were on the same page. 'In my mind, I know how to be a hot babe. It's in my toolbox," says the comedian. 'But the teenage girl I know is circa 1980s, so before we started filming I asked Madison Iseman a ton of questions. I had to do my research. -What are you listening to now? What's your favorite music and what TV shows are you watching?' I watched and listened and got into that headspace. Madison Iseman was very helpful."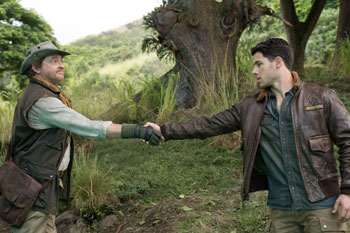 But not only would he enjoy the role – he'd get to play the role under the direction of Jake Kasdan, one of his favorite collaborators; the director and actor first worked together in 2001 on the comedy Orange County. 'Jake Kasdan is one of my favorite directors to work with. Orange County was the funniest film and the best on-set environment. He's super smart and super funny and we had such a good repartee. So, immediately, I was intrigued and wanted to jump in and party with him again. He knows how to tweak my brain to make the best acting happen. He's a good acting scientist."
'Jack Black is one of my all-time favorite people to work with. I have a thousand percent confidence in his brilliance, always," says Jake Kasdan. 'So, when we asked him to play this teenage girl, I wasn't sure exactly what it would look like, but I knew he would be amazing. He is Bethany, every second he's on screen."
Literally the big man on campus is the confident jock Fridge, played by Ser'darius Blain. When he's drawn into Jumanji, his status only grows – sort of. He's now Franklin 'Moose" Finbar – an expert in zoology and a weapons valet… but a vertically challenged one – the size of Kevin Hart. And as if that's not bad enough, his weaknesses add to his humiliation: strength, speed… and cake. 'When Fridge is picking his character, of course he picks -Moose' Finbar. Moose sounds strong, big, tall, just like Fridge is," says Kevin Hart. 'And he isn't. He ends up being myself, which is a very small, petite man. Everything that he thought he was, suddenly, he's not. He was big and tough in real life, but in the game, he's small. He's not that tough, he can't do all the things that he used to do. And suddenly he's in compromising positions as the complete opposite of himself, which really doesn't sit well with him at all. And it really doesn't sit well that Spencer is now bigger than he is. But he has to take a step back and let Spencer be the leader."
'Kevin Hart is just a ball of fire energy," says Jack Black. 'It's kind of awesome to be in a movie with him, although I did feel some pressure to be funnier a little more often. It was like, -Damn, I've got to pump my game up.'"
'I think Kevin Hart's one of the funniest people currently residing on Earth and it's incredible to have people like that in your movie," says Jake Kasdan. 'As soon as we started, it was instantly clear to me that I was working with somebody with comedy superpowers. He can be funny with a full speech or just a look."
The outspoken but socially awkward Martha, portrayed by Morgan Turner knows that high school years can be bumpy – and life will get better in college and beyond – but that doesn't make her daily existence any easier to bear. Until now, she's coped by blending into the background… but as the powerhouse Ruby Roundhouse, the martial arts master and killer of men, Martha finds herself as a skilled badass who commands everyone's attention. It's unfamiliar territory, to say the least, but she has no choice but to step up and fight for survival.
The Scottish actress Karen Gillan, known for her roles in the BBC series 'Doctor Who" and her role of Nebula in the Guardians of the Galaxy franchise, embodies Martha's warrior persona. Jumanji becomes her proving ground to discover what she is really made of.
'For me, Martha's learning curve is where the fun is," says Karen Gillan. 'She is an introverted, socially awkward teenage girl who is forced to inhabit the body and eventually the mindset of someone so utterly different. I'm a little awkward at times, but I've been able to play these strong, badass characters, and I usually have to overcome my own weird awkwardness; with Martha/Ruby, I got to embrace that side and really have some fun."
'I had been a fan of Karen Gillan's for a long time," says Jake Kasdan. 'And the way she plays Martha " as this very intelligent, but slightly awkward introvert who is discovering her own power before our eyes " is one of my favorite things about the movie. She plays all the levels of the character so well."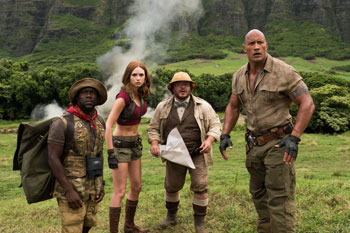 Alex, portrayed by Nick Jonas, is another player in the game who will either help them in their quest – or be a sign of the danger that awaits them.
'Alex's avatar is a pilot – Jefferson -Seaplane' McDonough," says Nick Jonas. 'He's been in the game for a while and has had a bit of a tough time getting through it.
As the movie goes on, we find out that the story's a bit more complicated…" Dr. Bravestone's rival explorer and adventurer, Van Pelt, sets in motion a plan that could keep our heroes in Jumanji forever. The role is played by Bobby Cannavale,
'Van Pelt is obsessed with pursuing something elusive and mythic for the sake of pure discovery," says Bobby Cannavale. 'It's kind of an old-school idea, being an explorer. We live in an age when most people think we've discovered everything there is to discover, so very few people actually go on these expeditions. There's something really exciting about the idea of stepping into the unknown that we don't see anymore."
One of the ways that Jake Kasdan was able to keep the actors in balance and the comedy flowing was by giving his actors the room to find the funny. As Jack Black recalls, 'Karen Gillan and I have a great scene where I teach her how to flirt. That day reminded me of the fun Jake and I had back in the old days on Orange County, just riffing it and working it. Our scene was like a living organism – it was just happening in real time. It was exciting."
'It's a dream cast," says Jake Kasdan. 'They're all so funny and so completely game" and they worked so well together. And they're all very physical actors, as well" which was important, because there's a ton of action in the movie. And they all embraced that aspect of it fully."
About The Design
To bring the exotic location of Jumanji to the screen, the cast and crew made the sacrifice of transporting themselves to the dangerous jungle interior of… Oahu, Hawaii. (It's a tough job, but somebody had to do it.)
Both Jake Kasdan and Matt Tolmach felt that securing authentic jungle locales for filming was essential. Besides providing a wealth of production value to the film's overall look, it would inform practically executed stunt sequences and more importantly, cast performances.
'For the audience to believe that our heroes really had been pulled into the jungle, we really had to go to the jungle," says producer Matt Tolmach. 'Fortunately, Hawaii had a variety of lush jungle environments that gave us everything we needed. It's a dramatic setting that heightens the tension and provides an incredible contrast with the everyday life of the real world in the film." The island offered a variety of jungle environments, including Waimea Valley, the North Shore and Kualoa Ranch on the island's lush windward side with sweeping ocean and valley views for miles.
While the jungle locations made for a natural tableau, the creative eye of production designer Owen Paterson would elevate it to a unique landscape befitting the fantastical video game world of Jumanji.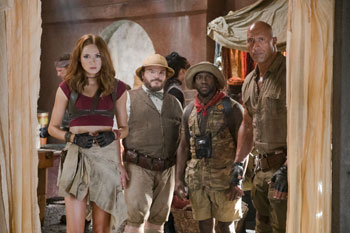 A veteran production designer whose feature films credits include Captain America: Civil War and The Matrix franchise, among numerous others, Paterson and his team of set designers, construction workers and set decorators would build multiple sets on the island, including an enormous transportation warehouse housing an enormous fleet of cars, boats, planes, and a helicopter.
Another impressive set built from the ground up is Alex's tree house, a refuge that was no movie magic – it was an actual treehouse built around a sprawling Banyan tree and hidden in the jungle foliage. The challenge for this set was ensuring the design, construction and décor for the set was comprised of salvaged or repurposed items from around the island.
'The treehouse was really cool. I would spend some vacation time there if I could," says Nick Jonas. 'Not only was it a great place to really introduce my character and give the backstory of where he'd been all this time – it also became a way for us to respect the original film."
In addition to the jungles of Jumanji, Paterson would also need to create the realworld setting for the film's bookend scenes, establishing two very distinct visual backdrops. 'The exotic fanciful world of Jumanji is such a contrast to the smalltown America setting of Brantford," says Paterson. 'It was a welcome challenge to be able to experiment and play to develop the world of Jumanji. It was especially satisfying to see our ancient temples, Alex's tree house and other sets layered so seamlessly within the beautiful lush green jungles and waterfalls of Hawaii."
In Jumanji: Welcome to the Jungle, the animals run the gamut from oversized mosquitoes, rhinos, hippos, snakes, jaguars, all cursed by the Jewel of Jumanji, so there's a menacing quality to even the most benign animal. But in real life, the cast would have their own encounters with Mother Nature. While Hawaii is well-known for not having snakes on any of its islands, filming within the rain forests, particularly at night, came with its fair share of critters. There were sightings of feral pigs but it was the creepy crawlies that kept cast and crew on edge – including the stinging pinch of centipedes.
The last six weeks of filming would bring the cast and crew back to the mainland, where the city of Atlanta, Georgia would provide the suburban locations for the Brantford scenes as well as sets for various jungle locations: the bazaar scene, the Jaguar statue, and the maze of booby-trapped tunnels.
The exotic but wildly dangerous bazaar operates as a crossroads for the denizens of Jumanji. It's here where the teens face a host of new challenges that they hope take them to the next level. 'From a design standpoint, there are multiple beats that we really had to follow to drive the storytelling – from the characters' entrance, to the placement of a tent for a central sequence, to a spot in the bazaar where we find out what Fridge's cake weakness is all about, and finally to an encounter with Van Pelt's dragoons," says Paterson. 'From there we layered in some great textures and elements of a rough-and-tumble marketplace where anything goes. It looked like a real bazaar – Ronald Reiss, the set decorator, layered in food, spices, brass and carpets, just like you'd find in the Middle East, but it's also supposed to be a videogame, where a character would go to find weapons, so we layered those in as well. My intent was to create a real bustling space with an exotic feel that provides a nice visual contrast from the jungle."
Paterson's design for the revered Jaguar statue would end up being a hybrid comprised a practical build of a 120-foot-high section, with Jerome Chen's visual effects team laying in the midsection to the base, which was a massive rock formation at the Hawaii locations where the bulk of the film action was shot. The 40-foot high Jaguar head was made from a combination of sculpted foam and concrete adorned with plaster paint to age the stone look.
To further link the Jumanji board game to the video game version, the filmmaker wanted to mimic some of the iconic imagery in subtle ways to surprise and enchant audiences with some nostalgia. Paterson translated the animal game tokens – an elephant, crocodile, and rhinoceros from the board game and integrate them into the ancient temple designs as large vine-covered statues that lead Bravestone and the others toward the Jaguar statue.
Costume designer Laura Jean Shannon says she had an enormous amount of creative license when conceptualizing her designs for the characters. Armed with a wealth of research and imagery based on everything from contemporary and classic video games to historical events and even classic films, she created entirely new costumes that drew on all of these influences.
With a diverse cast of characters both in and out of the world of Jumanji, Shannon's aim was to give each their own defining look. Shannon and her team came up with their own videogame lexicon that touched upon every type of hero, from the classic adventurer with an enviable video game arsenal of powers and weapons to the archetypal warrior princess, all while weaving in subtle comedic elements.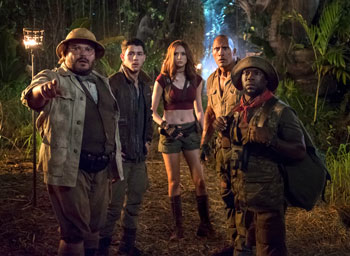 'My goal for Ruby Roundhouse was to create a stunning poster woman for that iconic female videogame character," says Shannon. 'She's got a tactical harness, weapons belt, and some Kevlar elements. We layered it over a highly stylized top with jungle shorts and boots. Karen Gillan creates the comedy by contrasting that costume with her character, a smart young lady who all but hides herself at school yet has been thrown into this badass videogame heroine." 'Ruby's look was a lot of fun," says Karen Gillan. 'It was interesting to highlight the familiar trope, particularly from 90s video games, of the way women were portrayed in those games. And then to put a twist on it and inhabit the costume with a girl who would never in a million years dress that way. It allowed for a lot of comedic moments."
Shannon is equally enthusiastic about her designs for Van Pelt and his Dragoons. In the film, Van Pelt's greed to possess the Jaguar of Jumanji's emerald eye places a curse on all of Jumanji, as the jungle animals fall under his evil spell and do his bidding. That premise jumpstarted Shannon's design plan for Van Pelt and his army of mercenaries. Van Pelt's look was that of the quintessential handsome explorer wearing a dashing full-length duster coat, but as he comes under the spell of the Jewel of Jumanji, he becomes increasingly darker and menacing. Meanwhile, his minions would begin to morph with the animals of the jungle – a bulletproof vest would be made from a rhino head; an armadillo shell would be leg armor. (All pieces were crafted from synthetic material.)
'Van Pelt actually has a physical transformation as he becomes cursed," says Shannon. 'I wanted there to be an element to the dragoons where they have an affinity, a respect, for the animals around them. We went with everything – gators, snakes, armadillos, bats, ravens, bears, rhinos, and scorpions, to name a few. We couldn't have done any of it without some really amazing craftspeople who created these animal inspired pieces, but all done with synthetics. They all did a fantastic job."
Shannon's design story was so detailed she gave each squad of dragoons – explorers, military and bikers – their own spirit animals, so to speak. As the evil sinks deeper and deeper in Jumanji, each group embodies the essence of their animal more and more. The explorers are identified by jungle animals, while the military are noted by larger game, and the bikers by flying animals. This attention to detail ultimately gave a logical and creative cohesiveness to her overall designs that harmonized nicely with Paterson's production design to fully realise Jumanji.
About The Stunts
When it came to executing the full-throttle action to complement the comedic aspects and propel the adventure of the storytelling, Jake Kasdan and Matt Tolmach turned to veteran stunt coordinators Gary M. Hymes and Oakley Lehman as well as second unit director Jack Gill to oversee the film's action.
Key to their approach was to keep the stunts character-driven stunts, highlighting the characters' videogame powers and weaknesses.
For example, in the Albino Rhino sequence, gigantic albino rhinos stampede towards our heroes. Dwayne Johnson, Jack Black, Kevin Hart, Karen Gillan and Nick Jonas would spend days harnessed into a full-size, customized helicopter mounted on a special-effects gimbal rig elevated twenty feet in the air. That rig was able to simulate various flying maneuvers, tilting, spinning, ascending and descending at high speeds. Taking advantage of the stunning Hawaiian vistas, many of the stunt sequences would be built around the island topography, most notably when dozens of dragoons on motorcycles barrel through the jungle and jump over steep bluffs in pursuit of our heroes.
When it came to filming multiple fight scenes, Hymes and Lehman would use a complex system of customized wirework set up in the often unpredictable jungle environment to capture the highly stylized gaming style fights. Weeks of design, rigging with heavy equipment, and rehearsal would follow to visualize the practically executed beats in each sequence.
Dwayne Johnson and Kevin Hart are known for their intense workout regimens, but it was Karen Gillan – whose character is an expert in various martial arts techniques and 'dance fighting" – did the most extensive work with the stunt team to learn the extensive fight choreography for her scenes. The stunt team says that the Brazilian fighting style Capoeira is probably the most comparable to Ruby's special powers, but the stunt team combined several martial arts techniques to create their own moves – part dancing, part lethal fighting.
About The Visual Effects
Visual Effects Supervisor Jerome Chen, whose film credits include Suicide Squad and The Amazing Spider-Man, would be tasked with visualizing the menagerie of animals in the film as well as the spectacle of eye-popping action sequences.
The Oscar®-nominated VFX artist says that he had two very personal reasons for signing on to the project. 'Jumanji has a huge nostalgic place for me," says Chen. 'I saw it in the theaters when it came out, and the effects were very unique for its time – the animals and the whole notion of a game that could come alive. So I was excited to be involved for that reason. But it also happens that the visual effects supervisor on that movie was a man named Ken Ralston, who would become one of my mentors. From a professional standpoint, I couldn't resist the opportunity to work on a franchise that one of my mentors supervised." For Jumanji: Welcome to the Jungle, Chen faced a challenge that he has not yet faced in his career. 'I've never done photo-real animals before," he says. 'I was really intrigued by that, partially because recent movies have done photo-real animals at a very high level."
It was important for the animals to be photo-real, Chen says, because Kasdan wanted the film's visual effects to have some aspects that were very grounded in order to sell other aspects that would be inspired by the film's videogame setting.
'Jake Kasdan really wanted to ground the effects – the movement, texture, and feeling of them all had to be real. Because of that, we could push their size – the elephants and rhinos are one-and-a-half times the size that they are in real life; the jaguars that guard the peak at the end of the film are twice the size of normal jaguars. They are larger than life, more ferocious."
Also, because the animals are cursed and controlled by the villain in the story, Chen could enhance the animals with unique attributes to make them even more exciting. 'That was the really intriguing part: how we would execute the animals, deal with the human interaction, and make the animals fun while at the same time dangerous and believable," he says.
Chen also worked with Second Unit Director Jack Gill and the stunt team to enhance the actors' fighting abilities into a videogame reality. 'When Dwayne Johnson punches someone, he can fly 30 feet. Karen Gillan can leap 30 feet with a combination of practical wires assisted by visual effects," he says. 'To get Jack's illusion across, I supplemented it by removing wires or adding debris to make sure the stunt is successful."
Finally, visual effects were a key component in selling the idea of Van Pelt as a scary villain who controls the animals around him. 'He's actually made up of all the vermin and rodents, the grossest animals you can imagine – they inhabit his body. He even uses animals specifically to punish people who fail him. There's one scene where one of the dragoons lets our heroes escape and Van Pelt punishes him by having a scorpion come out of his mouth!"
Jumanji: Welcome to the Jungle
Release Date: December 26th, 2017
Trailer