Two Thirds of Kids Unequipped to React to Unsafe Situations
While the safety of our children is a continuous concern, new research finds that just one in three (30%) Australians understand the importance of teaching children the skills necessary to identify unsafe situations, what are public and private body parts and how to seek help from trusted adults when they feel unsafe.

The research of over 2,000 Australians carried out by children's charity Act for Kids reveals that two thirds (61%) of parents do not believe their child knows what to do when they feel unsafe. A staggering 45% also admit that their child would struggle to identify a safe adult to confide in.

Executive Director of Services with Act for Kids, Dr Katrina Lines, said the findings are both incredibly surprising and scary.

"Almost three quarters of the Australians haven't heard of protective behaviours and aren't really sure what they are, that means that they don't understand the importance of them for children," she said.

Nicole Stewart, a full-time mum to five-year-old Charlotte Stewart, said she was never taught explicitly how to recognise and manage unsafe situations.

"I was only able to talk to Charlotte about protective behaviours in very broad terms, based on what I had been taught as a child.

"As a parent, this was of absolute concern to me. Now that Charlotte is becoming more independent, I was concerned that she did not have the necessary awareness or knowledge to protect herself if she was in an unsafe situation.", Nicole said.

Nicole's daughter Charlotte recently completed Act for Kids' Learn to be safe with Emmy and friends™ protective behaviours program at her school. Following the program, Nicole admitted that Charlotte didn't previously have the awareness to realise that she was in an unsafe situation, nor would she have known how to voice her fears or remove herself from an unsafe situation prior to completing the program.

Dr Lines explained that Act for Kids deliver the program nationally, comprising of five, one hour in-classroom sessions.

"So far, this program has been delivered to over 27,000 children who have learnt the vital skills necessary to ask for help, preventing them from experiencing abuse or harm," she said.

Learn to be safe with Emmy and friends™ is the only gold standard, evaluated protective behaviours program in Australia, which teaches children how to keep themselves safe and work towards reducing violence and abuse in the community.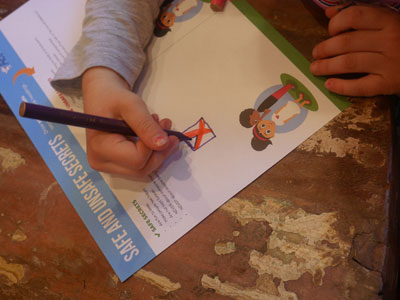 A recent collaboration between Act for Kids, Griffith University, QUT and James Cook University found that children who had completed the protective behaviours program demonstrated an increased knowledge of interpersonal safety and an increase of confidence in disclosing harm.

The study also recommended further integration of parents in teaching these skills to improve children's personal safety skills.

As a Partner Investigator in the study, Dr Katrina Lines said it's not a child's responsibility to keep themselves safe, but they do have a right to know how to ask for help if they need it.

"If you empower children with the knowledge of how to ask for help, then they are more likely to ask for help from people they trust and from people who will listen to them and help them," she explained.

Nicole said the program has definitely improved Charlotte's personal safety knowledge.

"After completing the program and learning all about private and public body parts, Charlotte was reluctant to remove her clothing for a doctor's examination and said she was scared, especially as it was not her usual GP," she said.

"I told her that it was safe to remove her clothing as in this case, the doctor needed to examine her and that I was there to make sure she was safe.

"As parents, I believe we need to protect our vulnerable young children by giving them the ability to protect themselves if they are ever confronted with an unsafe situation," highlighted Nicole.

During Child Protection Week, Act for Kids is highlighting the need for parents and schools to work together to teach protective behaviours to provide our children with the ability to detect and react to unsafe situations.

"For a minimal investment from schools or parents, Act for Kids can deliver the five-week program to students in grade one. We recommend that anyone interested in learning more about protective behaviours, or about our program to visit www.actforkids.com.au," said Dr Lines.

The names of Nicole and Charlotte have been replaced to protect privacy.


Interview with Dr Katrina Lines, Executive Director of Services with Act for Kids
Question: Are you surprised by the findings of the new research from Act for Kids? What surprised you the most?

Dr Katrina Lines: We were certainly surprised by the number of Aussie parents that didn't know what protective behaviours were, it was over 70%! It shows that there is a real lack of understanding around what exactly they are, why they're so important for our kids and how they can safeguard families against violence and abuse.


Question: How can parents teach their children what to do when they feel unsafe?

Dr Katrina Lines: It's important that parents have everyday conversations with their children around safety and their feelings. In Act for Kids protective behaviours program, there are a number of key themes to help young children learn how to prevent potential abuse or harm, these are:

• You are the boss of your own body and you decide who touches you.
• If something happens that makes you feel unsafe, you need to find a trusted adult, and tell them repeatedly what happened until they listen and help you.
• You will never get in trouble for telling the truth!
• Your private parts are just for you! Even your family, friends and your doctor needs a good reason to ask to see them.

We don't keep secrets that make us feel worried or scared, that are about our private parts or are about anyone being hurt. We need to tell a safe adult if someone asks us to keep an unsafe secret!


• Question: How can we educate our children about which adults in their lives are safe to confide in?

Dr Katrina Lines: Helping them to identify a safe adult can be achieved by asking your child a series of questions about the adults in their life. When identifying a safe adult, we might ask things like; are they old enough to drive a car? Are they someone we see all the time? Are they someone that will listen and help?

By teaching children this little checklist it helps them to identify people that they can go to should they ever feel unsafe. It's also important that safe adults aren't just people in their home, teach them that they can ask their teacher, principal, doctor or even the police for help!


Question: What are other protective behaviour skills parents need to teach their children?

Dr Katrina Lines: Teaching children how to identify their 'Early Warning Signs', so the little indicators in their body that tells them they are feeling nervous, or unsafe such as heart racing, sweating palms and an upset tummy for example. It's also important that from a young age, you teach your children about private and public parts and use the correct anatomical names for them. Talk about what are safe secrets and unsafe secrets and what you should do when someone asks you to keep an unsafe secret. But most importantly, empowering your children with the knowledge that they have the right to feel safe all of the time is key!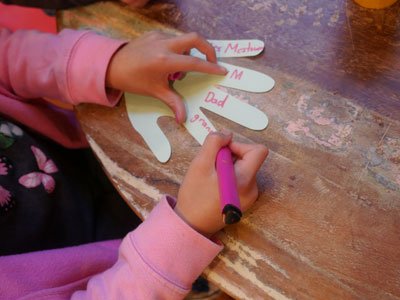 Question: Why is it important that parents work in conjunction with schools on these essential skills?

Dr Katrina Lines: Parents, schools and community services all need to work together to ensure that children are taught and able to retain these important messages. Working together means that the language around safety will all be the same, messages learnt at school can be discussed at home with parents being on the same page. It's everyone's responsibility to keep kids safe – and providing them with education around how to protect themselves is all of our roles.


Question: How does the Emmy and friends program help prepare children to protect themselves?

Dr Katrina Lines: The Learn to be safe with Emmy and Friends program delivers protective behaviours to children in a fun and interactive way across five weeks. In each one hour lesson, children will learn a new theme and also continue discussions about previous lessons. This ensures that children are retaining the messages and can build on that knowledge each week. They read books, do interactive games on the floor and learn rhymes and sayings to recite, all of this is building essential protective behaviours skills in a way that they will not only enjoy, but remember!


Interview by Brooke Hunter