Dr David Dunn Oral Health in the Festive Season Interview
As we enter this year's party season, Australians often forget the importance of maintaining their oral health, falling victim to rich foods, red wine and sugary drinks which can be harmful to our teeth. The key to combatting teeth staining or damage over the festive period isn't abstaining from everything, or just giving up and accepting your fate.



Interview with Dr David Dunn, Principal Dentist at Macquarie Centre and Philips Sonicare ambassador
Dr David Dunn is the owner and principal Dentist of the Macquarie Street Centre for Implant and Aesthetic Dentistry.

Dr Dunn graduated with Honours from the University of Sydney with a Bachelor of Dental Surgery in 1981. He is a Fellow by examination of the Royal Australasian College of Dental Surgeons, and is also a member of the prestigious Pierre Fauchard Academy. A prominent member at the Global Institute for Dental Education and Co-Chair of their Australasian Masters Aesthetic Program Dr Dunn prides himself on providing the highest standard of dental treatment.

Lecturing frequently both in Australia and overseas, Dr Dunn has earned an international reputation as a leader in the field of cosmetic and implant dentistry. He has been called upon to impart his knowledge of the latest in cosmetic dental treatment at The Royal Australasian College of Dental Surgeons 2000 Congress, The Australian Dental Association Congress, the Asian Pacific Dental Congress, New Zealand Dental Association Congress, Nobel Biocare World Conferences, and numerous local programs.

Passionate about creating the perfect smile for his patients, Dr Dunn implements attractive, functional and long-lasting solutions in cosmetic dentistry through high quality treatments such as Philips Zoom whitening and Invisalign orthodontics.

www.macquariestreetdental.com.au
www.facebook.com/MacquarieStreetDental


Question: What are the basics for maintaining oral health?

Dr David Dunn : Maintaining a healthy smile doesn't have to be an arduous task. If you arm yourself with some good basics, you're well on your way. First, ensure you visit your dentist at least once (preferably twice) a year. Having a professional examination at the dentist will not only flag any oral health issues that you may be experiencing, ensuring a timely response, but it will also provide a professional clean, resulting in the removal of stains and plaque build-up. Your oral health is also bolstered by your at-home oral care habits. I recommend arming yourself with an electric toothbrush, as they are clinically proven to remove more plaque than regular manual brushing. My favourite at-home tools are the Philips Sonicare range. The Philips electric brushes utilise a gentle sonic brushing action, which has been proven to be both gentle on your enamel and gums, and also extremely effective at giving you a superior clean as compared to manual brushing. It is important to brush for two minutes, twice a day as well as incorporate flossing into your everyday routine. Whilst many people admit to failing to floss every day, it is a vitally important step towards maintaining healthy teeth and gums. Flossing can be made simpler and easier with another product in the Sonicare range, the Philips AirFloss. Finally, monitor the foods and drinks you are consuming, given that many of our favourite everyday treats, including tea and coffee, can be highly acidic, and thus damaging to our tooth enamel.


Question: And, how can we increase maintenance during the festive season when we eat richer foods and consume sugary treats?

Dr David Dunn : There are three key factors that affect the health and appearance of our teeth: our oral health routine, diet and lifestyle choices. A good rule to follow is to brush your teeth twice a day, however, some groups may need to increase that number to up to three times a day (e.g. those with orthodontic fixed banding or braces), especially during the festive season. A significant proportion of the tooth surface is unreachable by brushing alone. Flossing at least once a day is therefore absolutely necessary. Areas of plaque form in between your teeth and below the gum line and even the best toothbrushes can't reach them. The plaque or bacterial deposits in these areas can lead to tooth decay and cavities, alongside contributing to gum diseases such as gingivitis and periodontitis.

Reviewing your diet and lifestyle will also help you avoid staining and plaque build-up during the party season. There are certain stain-causing foods and drinks, which when regularly consumed can stain the enamel and cause discolouration of your teeth over time. If you do indulge in richer foods and sugary treats, make sure you clean your teeth soon afterwards, or rinse your mouth out with water to remove any sugar that can adhere to the surface of your teeth. Saliva and fluoride both contain minerals that help repair weakened enamel however they will only do so much to counter the effects of sugar on your teeth.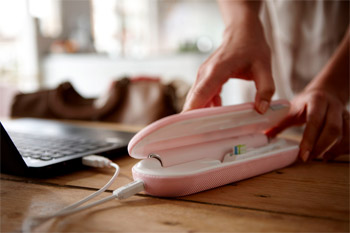 Question: How can we protect our teeth from red wine stains?

Dr David Dunn : Red wine stains are an extremely common concern when it comes to your oral health. On top of brushing your teeth twice a day, flossing and regular dental check-ups, we recommend drinking water in between sips of wine to negate the acidic environment created by such foods and drinks. Eating while you drink wine can also help, given that the food particles can help effectively brush away the stains.


Question: How do rich and sugary foods impact our teeth?

Dr David Dunn : Regular consumption of food and beverages that are high in sugar cause the most damage to your teeth. Sugary foods that are high in carbohydrates will lead to decay, whilst many sports and energy drinks are highly acidic, leading to erosion of the enamel. When sugar is consumed it interacts with the bacteria that naturally occurs within the mouth. The bacteria feed on the sugar to produce acids that attack the tooth's enamel, and if teeth are not regularly cleaned these acids create holes or cavities in the tooth.


Question: How can we reduce the impact of rich and sugary foods on our teeth?

Dr David Dunn : The first step is to consciously limit or avoid drinks and foods that are high in sugar. Start reading labels and make yourself aware of the sugar content. When choosing drinks, be sure to consume fluoridated tap water and plain milk instead of soft drinks, alcoholic drinks, juice or cordial that are high in sugar and acidity. Also, try cutting down the sugar added to cups of tea and coffee.

If you are a smoker, even if you consider yourself only a social smoker - give up the cigarettes. The effects of nicotine on your teeth are noticeable and are ageing your smile. Nicotine stains your teeth enamel, causing it to yellow prematurely. By avoiding cigarettes, not only will the yellow staining resolve, but your general oral health will also improve.


Question: What are your top tips on maintaining a healthy smile?

Dr David Dunn : The top tips for maintaining a healthy smile is firstly ensuring regular visits to your dental care provider. Having a professional clean and examination at the dentist every 6 months will remove most superficial stains on your teeth, and leave your smile brighter and looking healthier. Following this, home care is extremely important, and it is best to equip yourself with the appropriate tools for your individual situation. Using a sonic electric toothbrush is a great way to improve the efficiency of your brushing technique. Electric toothbrushes are clinically proven to remove more plaque than manual brushing. I recommend using the Philips Sonicare range in combination with flossing for superior plaque removal. The sonic action does the work for you, and thus prevents the dangerous -scrubbing' action that most time-poor people use with a manual brush. Finally, be sure to consider changing lifestyle and diet habits that may be damaging your dental health.


Question: What are the best and worst foods and drinks for our teeth?

Dr David Dunn : Foods and drinks that are high in sugar and acidity are detrimental to your oral health. To maintain a whiter smile for longer, avoiding too much coffee, tea, red wine, berries, and foods such as curries and tomato sauce, will help protect against plaque buildup and staining.


Question: What are your thoughts on brushing with charcoal craze?

Dr David Dunn : The -charcoal craze' is based on the theory that activated charcoal will bind to the stains, tartar and bacteria in your mouth, leading to a whiter smile. What concerns me is that many companies selling the charcoal products are not selling proper and safe charcoal. If you are looking for a truly whiter and brighter smile, I recommend chatting with your dentist about using a well-tested product. A treatment by your dentist will deliver a superior result than over the counter products, and is guaranteed to be safer and deliver more effective results. If you have discolouration or staining that won't budge, teeth whitening is a great option. The Philips In-Chair Zoom teeth whitening treatment is the most effective treatment available and can whiten the existing colour of your teeth by up to 8 shades. It is suitable for almost everyone and results are achieved in just one hour.


Interview by Brooke Hunter