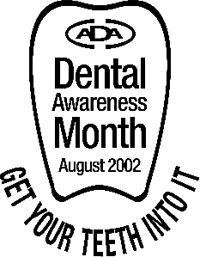 DENTAL AWARENESS MONTH AUGUST 2002
'DENTAL CARE FOR DIFFERENT AGES'

In 2002, The Australian Dental Association, Victorian Branch (ADAVB) will launch Dental Awareness Month.

Over the past 20 years, the ADAVB has promoted a week-long community health education campaign known as Dental Health Week. In 2002, the week has been extended to a month-long campaign, the theme of which is 'Dental Care for the Ageing'.

This theme highlights the importance of adapting dental care regimes to suit dental health needs at specific life stages.

Dental Health and Older Australians:
In 1998, 2.3 million people or 12% of the total population were aged 65 years or over. The dental health of this group is an important and relevant issue. With 90% of older Australians having some degree of treatable dental disease, the ADAVB is alarmed at the number of older Australians who are ignoring their dental health, to an extent that many are entering nursing homes with severe dental diseases.

The ADAVB, in conjunction with The Alzheimers Association, Dr. Jane Chalmers, a recognised leader and researcher in the field of geriatric and special needs dental care and Colgate Oral Care have developed a video for Carers - 'Residential Care - Dental Health', which will be launched 9 August, and thereafter distributed to residential care facilities throughout Australia. In addition to this, the ADAVB will initiate a program of speakers who will visit aged care facilities, clubs and organisations patronised by older people in order to assist in raising awareness about dental health issues specific to older Australians. Dr. David Curnow says, "The ADAVB believes that the improvement of the oral health of older Australians is a challenging and complex issue, but certainly an achievable goal."

Good oral health care habits that will benefit people throughout their lives start at a very early age.

Children's Dentistry:
Parents and carers of infants and very young children need to be aware of nursing decay, which can affect baby teeth extensively. Teeth most often affected are the top front teeth. Bottle and breast-fed babies are both susceptible. Babies left with a bottle as a pacifier and those who are frequently nursed, especially at night, run the danger of bottle or nursing decay due to the prolonged exposure to milk or juice.

President of the ADAVB, Dr. David Curnow says, "Good dental care in young children is a key factor in good dental health in later life. The ADAVB advises parents to take their children to their first dental appointment once their first teeth have appeared. In addition to this, parents need to start brushing their children's teeth using a soft brush and a pea-sized amount of children's toothpaste once the child can reliably spit out excess toothpaste."

A common decay problem seen in preschool children is due to frequent exposure to sugary, starchy and acidic foods and sugary beverages. Such frequent snacking promotes dental decay because the repeated presence of food in the mouth feeds plaque that produces acid, causing decay.

Dental Health and Teens:
The ADAVB believes that the dental health of young Australians, especially those who might be leaving home for the first time, or who might no longer be covered by their family insurance, could be at risk.

Dr Curnow says, "It is vital that young people maintain their dental health by cleaning and flossing daily. They should also watch their diets and keep sugary foods and beverages to a minimum. Regular check ups can help prevent disease and costly dental work, which might be required if early signs of decay are ignored. Prevention is always better than the cure". Additionally, young people who play sport need to consider wearing a mouth guard to protect them against dental injuries as well as jaw fractures and concussion.

* * * *

Free advice on all dental health care, products and services can be obtained on Tuesday 13 August from 9am-9pm by calling the ADAVB's Dental Health hotline number on freecall 1800 678 383.

Dental Awareness Month is sponsored by Braun Oral B, Colgate Oral care, Kraft Cheestiks, Wrigley's Extra Sugarfree gum and Listerine. Dental Awareness Month is a community awareness program coordinated and funded by the Australian Dental Association and selected sponsors.