DoubleTree by Hilton Melbourne – Flinders Street
Imagine living in a Melbourne laneway, amongst the milk crates and graffiti… wonder no more, Melbourne is getting a Graffiti Loft!
Melbourne is recognised as one of the leading street art capitals of the world. Graffiti is not only ingrained in the city's cultural identity, it is also one of the key attractions for locals and travellers alike. Located in the heart of the CBD and opposite the iconic Flinders Street station, DoubleTree by Hilton Melbourne – Flinders Street hotel is only minutes away from many of the city's best street art laneways, namely Hosier, Degraves and AC/DC lanes.
Partnering with local street artists 90 Degrees, DoubleTree by Hilton Melbourne - Flinders Street is bringing the cities laneways into the hotel room, where guests will be able to immerse themselves in Melbourne's creative art scene. The room will be packed with Instagram worthy moments; complete with original artwork, colourful murals, tagged furniture and graffitied bed linen. Guests will also enjoy a specially designed eatable graffiti snack and be entertained with a collection of street-art themed DVD's and books.
90 Degrees was born in 2013 with a mission to create graffiti with impact. Daniel Wenn, founder and creative lead of the company, has had a lifelong love affair with street art. His first work dates back to the late 1980s. 'I remember when I was younger, seeing graffiti on the train into the city and wondered who did it and how they did it," he said. As a graffiti artist with a preferred style of traditional characters and lettering, he has worked extensively both domestically and abroad.
'Our curated room series has been a fantastic success. It captivates our guests with a seasonal experience that also supports a local Australian brand. We are excited to continue the momentum this winter with 90 Degrees," said Garry Lucas, general manager of DoubleTree by Hilton Melbourne – Flinders Street. '90 Degrees has brought the celebrated Melbourne laneway scene into the room. Our guests are able to relish in this vibrant side of Melbourne's culture, from morning to night."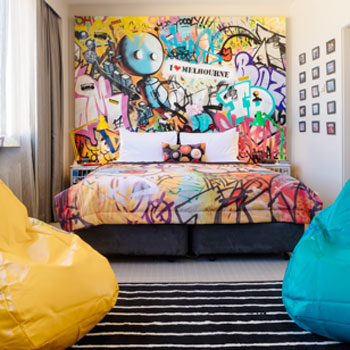 DoubleTree by Hilton Melbourne – Flinders Street will have the -Graffiti Loft' package available for the general public to book between the 8th of July to the 2nd of October, 2017.

The 90 Degrees Graffiti Loft package includes:
Overnight accommodation for two in the 90 Degrees Graffiti Loft
Buffet breakfast for two
Eatable graffiti snack delivered to your room
Collection of street-art themed DVDs to watch
Collection of street-art books to read
|
For a truly unforgettable Melbourne getaway, head to http://www.hiltonmelbourne.com.au/graffitiloft/ to book your Graffiti Loft stay.
Package available from $259 per night at DoubleTree by Hilton Melbourne - Flinders Street
@DoubleTreeMelbourne @DoubleTreeHiltonFlindersStreet
Note: Limited availability. Terms and Conditions apply.