Donny Galella Spring Racing Tips Interview
With the infamous Melbourne Spring Racing Carnival just around the corner, women all around the country are starting to plan the many outfits to take them from trackside to birdcage this November.

Race days require you to have up to eight different outfits, which tends to be a huge expense for many and while we may not all have access to our own personal stylist but celebrity stylist and Target Ambassador Donny Galella has provided his top tips on how to dress for the races, without breaking the bank.

Carry a clutch - Leave your oversized handbag or tote at home. Only carry the essentials.

Day-time modesty - Remember it's daytime and you're going to the racetrack, not a nightclub. Don't display too much skin, especially in the décolletage area. Avoid sequins, short hemlines and lycra.

Plan that fake fan - No Tandoori tans. If you're going to fake it, do it a few days in advance to allow yourself time to fix any mishaps. Choose a natural tone of take tan

Always look at yourself in a full length mirror before you leave home - Make sure your dress compliments your headwear, shoes and clutch. Don't over accessorise, let your hat be the main focus.

Monochrome isn't just for Derby Day - This year we will see loads of black and white. The best thing about black and white? These pieces can easily be incorporated with other wardrobe staples for dressy work wear or a nice dinner out.

Be mindful of Melbourne weather – As the saying goes, Melbourne has four seasons in one day. While blue skin, goose bumps and chattering teeth can leave you feeling less than best, this racing season will see the return of suits and jackets with skirts or pants so you're always prepared for the rain, hail and shine!



Interview with Donny Galella
Question: What advice do you have regarding fascinators and hats?

Donny Galella : We are seeing a massive move away from feathery big hats to much smaller more refined headpieces, such as cat or bunny ears, crowns and delicate ornate metallic pieces. All the celebrities are wearing them this season and Target has a range of these starting from $20.


Question: What headpiece suits what type of dress?

Donny Galella : A floral headpiece always compliments a feminine outfit, while a modern look suits an edgier headpiece such as lace cat ears or a metallic crown made from leaves. For a tailored look, team a pant suit with a large brim style hat.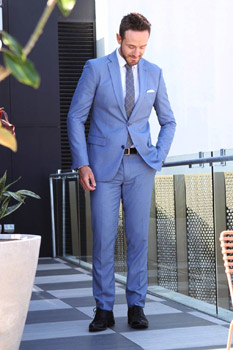 Question: What colours will we see during this Spring Carnival?

Donny Galella : This season, we're set to see a lot of white from head to toe, as well as the classic black and white combination. When it comes to colour, khaki, orange, red and cobalt blue will be popular track side choices


Question: What are your main tips for choosing the perfect dress for the upcoming Spring Carnival?

Donny Galella : Always choose a dress that suits your body shape and accentuates your best features. Target has options that suit every shape and size. My second tip would be to factor in the type of race day, for example, if attending Derby Day in black and white, make sure you budget enough for shoes, a clutch, a head piece and jewellery. The races don't have to be super expensive, it's very easy to pull together a great look for less.


Question: What is the etiquette in regards to the length of dresses suitable for the races?

Donny Galella : Remember to keep it classy – we're talking about the races not a night club! Dress should ideally be knee length or just above, to avoid flashing too much skin. Sequins are also a no-go. Always check the dress code and regulations prior to shopping for your frock as some race tracks are cracking down on showing certain areas, such as the midriff.


Question: Should we avoid strapless dresses?

Donny Galella : Strapless styles may be on trend but are probably not the best option for the races. If you are utterly in love with a strapless style perhaps look at wearing a cropped cape over it or a blazer on your shoulders for a little extra coverage.


Question: Are pants still a huge no no in regards to dressing for the Spring Carnival?

Donny Galella : Pants are fast becoming a hot new track side trend and all the leading fashionistas will be doing pant suits and culottes style jumpsuits this season. I particularly love a chic pant suit or a jumpsuit.


Question: How can we plan for the temperamental Melbourne weather?

Donny Galella : Always come prepared with a backup option, such as a cropped cape or blazer you can simply throw over your outfit. If it looks like its going to rain, swap the stilettos for a pair of thicker heels to avoid sinking in the grass and have a trench coat on standby.


Question: How can Target keep us stylish on a budget?

Donny Galella : This season Target have the most incredible range of stylish headpieces from $20 and have covered everything from cute lace cat ears to golden leaf crowns. In my time, I've seen similar pieces retail at over $300! They've got a huge range of spring racing dresses ion all sorts of styles, colours and shapes so there truly is something for everyone. The thing I love about Target is that it's a one stop shop - you can grab your dress, headpiece, shoes and clutch all under the one roof. With prices starting as low as $49, you can easily pull together your entire outfit for less than $200.


Question: Which celebrities do you look to for Spring Carnival inspiration?

Donny Galella : In my eyes, Cate Blanchett can do no wrong, she always looks impeccable. I love her sense of style and the fact she isn't afraid to take a risk. I also love Diane Krugar, Emma Watson and Emma Stone. Kate Waterhouse is the pinnacle of racing style, with looks that are appear effortless, chic and stylish. Racing has been in her blood for many years and I've loved watching her style evolve.


Question: What are your tips for ensuring a fun day at the races for someone who's never been before?

Donny Galella : Always wear some kind of headwear – it's what the races are all about! Consider your outfit from head to toe – everything from your hat right down to the heels. Shoes are particularly important, given you'll be in them all day long so make sure they're somewhat comfortable – you don't want to be walking around bare foot at the end of the day! Carry some chic ballet flats with you to change into if you can't resist an uncomfortable pair! I would also suggest carrying a clutch with only the essentials. It's hard work looking chic and fresh all day long so keep hydrated. For Spring racing, make sure your look reflects the season, including your headwear. Felt or wool based hats are suitable for Autumn or Winter, while straw or sinnamay based hats are much more suitable options for Spring.


Interview by Brooke Hunter