simple dinners
How many times have you opened the pantry or fridge and thought, 'there's nothing to eat'? simple dinners is your saviour.

Whether it's noodles or rice from the pantry or vegies from the fridge, Donna will show you how to take everyday star ingredients and turn them into delicious weeknight dinners.

Donna has always been of the school that if you have an egg in the fridge, you have a meal on the table. She takes the same approach to pantry items and fresh staples, from bread and pasta to canned beans and couscous. If you have these versatile basics on hand, all you need to do is grab a few fresh ingredients on your way home and you have a quick and flavoursome dinner on the table.

The book is proof that the simplest things are often the best. Like classic flavour combinations that deliver big results with minimal effort, old standbys are given a makeover, and Donna's easy shortcuts for everyone to enjoy. Divided into 13 chapters and categorised by a simple pantry or fridge ingredient as the starting point, the book is also filled with handy tips and time-saving hints. There are over 140 new recipes that celebrate everyday kitchen ingredients and give you the confidence to make every weeknight a success. simple dinners will change the way you think about cooking and makes weeknight dinners the simple and enjoyable affair they should be.

At the age of eight, Donna Hay skipped into a kitchen, picked up a mixing bowl and never looked back. She later moved to the world of magazine test kitchens and publishing, where she established her trademark style of simple, smart and seasonal recipes all beautifully put together and photographed. It is food for every cook, every food lover, every day and every occasion. Her unique style turned her into an international food-publishing phenomenon as a best-selling author of 20 cookbooks, editor-in-chief of the bi-monthly donna hay magazine, weekly newspaper columnist, creator of the donna hay for Royal Doulton homewares collection plus a food range, and shop owner of her general store in Sydney, Australia. Donna is a working mum to two beautiful boys.

Donna has completed production on her first television series, Donna Hay - fast, fresh, simple., a 13-part, half-hour cooking series for The LifeStyle Channel, bringing her approach to food to life.

Books by Donna Hay include: a cook's guide, fast, fresh simple., seasons, no time to cook, off the shelf, instant entertaining, and the simple essentials collection.

We all know Donna Hay for her impecable style & presentation. Once again Donna Hay brings relief to stressed out time poor parents who are desperate for inspiration and motivation to creat easy dinners, that fast, fresh and tasty.

Donna Hay Simple Dinners
Publisher: Donna Hay
ISBN: 9780732294731
Price: $39.99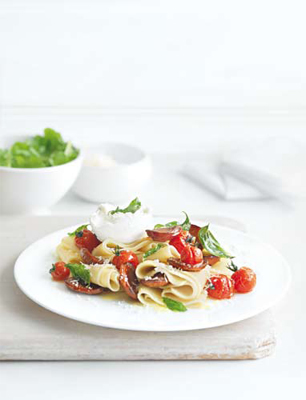 Pasta with Chorizo, Tomato and Basil
Ingredients
vegetable oil, for frying
1 cup basil leaves
3 chorizo, thinly sliced
500g truss cherry tomatoes
400g pappardelle
2 tablespoons olive oil
1 tablespoon finely grated lemon rind
1 clove garlic, crushed
sea salt and cracked black pepper
2 x 125g buffalo mozzarella, torn
finely grated parmesan, to serve

Method
Preheat oven to 200°C (400°F). Heat the oil in a small saucepan over high heat. Carefully add the basil leaves a few at a time, as they may spit, and fry until crisp. Drain on absorbent paper and set aside.
Place the chorizo and tomato on a baking tray lined with non-stick baking paper and roast for 15 minutes or until chorizo is golden. While the chorizo is roasting, cook the pasta in a saucepan of salted boiling water for 10-12 minutes or until al dente. Drain and keep warm.
Add the olive oil, lemon rind and garlic to the pan and cook for 1 minute. Return the pasta to the pan with the chorizo, tomato, salt and pepper and toss to combine. Divide the pasta between plates and top with the mozzarella, parmesan and fried basil leaves to serve.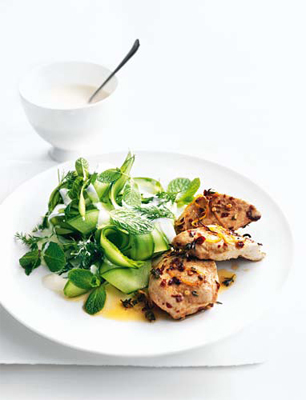 Spice-Baked Chicken with Tzatziki Salad
Ingredients
1 teaspoon ground cumin
½ teaspoon dried chilli flakes
1 tablespoon thyme leaves
1 tablespoon shredded lemon zest
1 tablespoon olive oil
4 x 200g chicken breast fillets, trimmed

tzatziki salad
½ cup (140g) thick plain yoghurt
2 tablespoons lemon juice
sea salt
4 cucumbers, sliced lengthways with a vegetable peeler
1 cup mint leaves
½ cup chopped dill leaves

Method
Preheat oven to 200°C (400°F). Place the cumin, chilli, thyme, lemon zest and oil in a large bowl and mix to combine. Add the chicken and toss to coat. Place the chicken in a baking dish lined with non-stick baking paper and roast for 15 minutes or until chicken is just cooked through.
While the chicken is cooking, make the tzatziki salad. Place the yoghurt, lemon juice and salt in a bowl and mix to combine. Divide the cucumber, mint and dill between plates and spoon over the dressing. Slice the chicken and serve with the salad.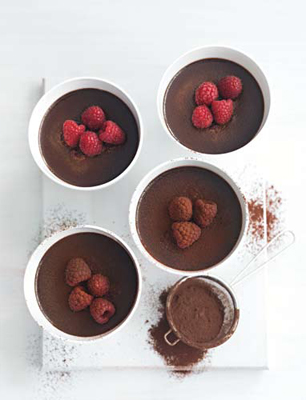 Baked Chocolate and Raspberry Custards
Ingredients
125g dark chocolate, chopped
1 cup (250ml) milk
1 cup (250ml) single (pouring) cream
2 eggs
2 egg yolks, extra
½ cup (90g) brown sugar
¾ cup raspberries, plus extra, to serve
cocoa, for dusting

Method
Preheat oven to 150°C (300°F). Place the chocolate, milk and cream in a saucepan over medium heat and stir until the chocolate has melted and the mixture is hot but not boiling.
Place the eggs, extra yolks and sugar in a bowl and whisk until well combined. Slowly add the hot chocolate mixture and whisk to combine. Divide the raspberries between 4 x 1-cup (250ml) capacity ramekins and pour over the chocolate mixture.

Place the ramekins in a baking dish and pour in enough hot water to come half way up the sides of the ramekins. Bake for 35 minutes or until the custard is just set. Top with extra raspberries, dust with cocoa and serve warm or cold.