Seasons by Donna Hay
Enjoy the best of every season, the best of donna hay magazine

Donna Hays new book celebrates the best of every season

Where would we be without the changing seasons? Spring sends us rushing outdoors for picnics and fresh salads, while summer gives us seafood on the barbecue, juicy berries and stone fruit. By autumn were ready for root vegetables and hearty soups and when winter rolls in, its time for slow-cooked roasts and stews.

Seasons is a celebration of the most beautiful seasonal stories that have appeared in donna hay magazine. A compilation of the magazines most gorgeous location stories, Seasons is a visual delight featuring the best recipes of spring, summer, autumn and winter.

Unlike any of Donnas previous cookbooks, this luxurious, evocative book takes you out of the kitchen and into the great outdoors. From a picturesque apple orchard to a stormy winter beach and a misty nut farm, Seasons is a visually rich and stunning book designed to inspire and delight. Its sure to take pride of place on many a coffee table.

Fresh, simple, special and inspiring, Seasons will appeal to those who love to cook - and love to look. It captures Donnas signature style of fast, fresh food thats great for everyday entertaining.

Donna is the editor-in-chief of donna hay magazine, best-selling author of 17 cookbooks, newspaper columnist, creator of homewares and a food range, and now shop owner of her first general store in Sydney.

www.donnahay.com

Review: A truly inspirational recipe book, that will make family dinner or entertaining easy, exciting and successful everytime. Donna Hay is the queen of the kitchen with an paralled style. Seasons by Donna Hay makes a wonderful gift for yourself, or to family & friends who love cooking.

Donna Hay Bio
At the age of eight, Donna Hay skipped into a kitchen, picked up a mixing bowl and never looked back. She later moved to the world of magazine test kitchens and publishing, where she established her trademark style of simple, smart and seasonal recipes all beautifully put together and photographed. It is food for every cook, every food lover, every day and every occasion. Her unique style turned her into an international food-publishing phenomenon as a best-selling author of 17 cookbooks, publisher of donna hay magazine, newspaper columnist, creator of homewares and a food range, and now shop owner of her first general store.Books by Donna Hay include: no time to cook, off the shelf, modern classics,the instant cook, instant entertaining and the simple essentials collection.

Seasons by Donna Hay
RRP: $49.99

www.donnahay.com

Here are just a couple Donna Hay Recipes, the Seasons book has 100's of recipes to choose from to suit any season.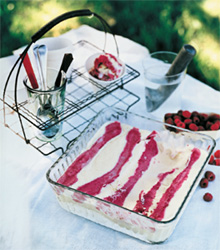 Raspberry Ripple Semifreddo
Ingredients
360g raspberries
3 eggs
2 egg yolks, extra
1 vanilla bean, split and seeds scraped
1 cup (220g) caster sugar
1¾ cups (435ml) single cream

Method:
Place the raspberries in the bowl of a small food processor and process until smooth. Set aside. Place the eggs, egg yolks,vanilla and sugar in a large heatproof bowl. Place over a saucepan of simmering water and whisk the mixture with ahand-held beater for 4-5 minutes or until thick and pale. Remove from the heat and continue whisking until cool.

Whisk the cream until soft peaks form and gently fold into the egg mixture. Reserve 2 cups (500ml) of the mixture andpour the remainder into a 3 litre-capacity (12 cup) dish. Fold the reserved mixture through the puréed raspberriesand spoon stripes over the semifreddo. Place in the freezer for 4-6 hours or until set. Serves 10.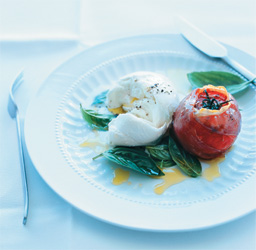 Caprese Salad
Ingredients
4 vine-ripened tomatoes
4 slices prosciutto
sea salt and cracked black pepper
extra-virgin olive oil, for drizzling
2 x 125g buffalo mozzarellas+, torn
1 cup basil leaves
1 tablespoon white wine vinegar
2 tablespoons extra-virgin olive oil, extra

Method:
Preheat oven to 200ºC (390ºF). Wrap tomatoes in prosciutto and place on a baking tray lined with non-stick baking paper. Sprinkle with salt and pepper and drizzle with oil. Roast for 10-15 minutes or until the prosciutto is crisp. Serve with the mozzarella and basil and drizzle with the vinegar and extra oil. Serves 4.

+ Mozzarella made from buffalo milk is the most highly prized variety. It's deliciously moist and silky in texture.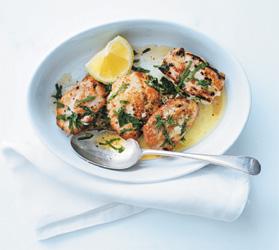 Garlic Chicken
Ingredients
1 x 200g chicken breast fillet, trimmed
olive oil, for brushing
3 cloves garlic, crushed
1 tablespoon sea salt
chopped flat-leaf parsley leaves, lemon juice
and 1 lemon wedge, to serve

Method:
Brush chicken with oil and cook in a hot frying pan 2-3 minutes each side or until cooked through. Add garlic and sea salt and toss with the parsley and lemon juice to serve. Serve with a lemon wedge. Serves 1.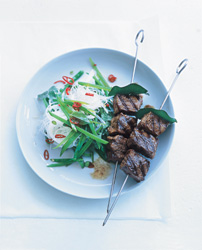 Chilli and Kaffir Lime Beef Skewers
Ingredients
1 small red chilli, chopped
1 tablespoon fish sauce
2 tablespoons lime juice
¼ cup (60ml) peanut oil
700g rump steak, cut into pieces
6 kaffir lime leaves, blanched
noodle salad
150g dried rice vermicelli noodles
¼ cup coriander (cilantro) leaves
100g snow peas (mange tout), sliced and blanched
basil leaves, to serve

Method:
Place the chilli, fish sauce, lime juice and peanut oil in a bowl and stir to combine. Place the steak in a bowl, pour over half the lime marinade and toss to coat. Cover and refrigerate for 30 minutes.

To make the noodle salad, place the noodles in a bowl, cover with boiling water and soak for 6-8 minutes or until tender. Drain and rinse under cold water. Place the noodles, coriander, snow peas and reserved marinade in a bowl and toss to combine. Heat a char-grill pan or barbecue over high heat. Thread the steak and lime leaves onto skewers and char-grill or barbecue for 3-4 minutes each side for medium rare or until cooked to your liking. Divide the noodle salad among plates, sprinkle with the basil leaves and serve with the skewers. Serves 4.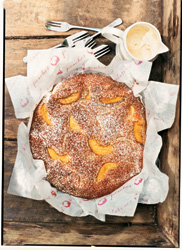 Lemony Peach Cake
Ingredients
175g butter, softened and chopped
¾ cup (165g) caster (superfine) sugar
2 tablespoons finely grated lemon rind
3 eggs
1 cup (150g) plain (all-purpose) flour, sifted
1 teaspoon baking powder, sifted
¼ cup (70g) natural yoghurt
3 peaches, sliced
icing (confectioner's) sugar, for dusting
double (thick) cream, to serve

Method:
Preheat the oven to 160°C (320°F). Place the butter, sugar and lemon rind in the bowl of an electric mixer and beat for 6-8 minutes or until light and creamy. Gradually add the eggs, beating well after each addition. Add the flour, baking powder and yoghurt and beat until just combined.

Spoon into a lightly greased 25cm-round cake tin lined with non-stick baking paper. Top with the peaches and bake for 1 hour or until cooked when tested with a skewer. Allow to cool for 10 minutes in the tin, then turn out onto a wire rack to cool. Dust with icing sugar and serve with cream. Serves 6.