Safe House
Cast: Denzel Washington, Ryan Reynolds, Vera Farmiga, Brendan Gleeson, Sam Shepard, Ruben Blades, Nora Arnezeder, Robert Patrick
Director: Daniel Espinosa
Genre: Action/Thriller
Rating: M
Duration: 115 minutes

The CIA's best agent has become their most dangerous threat.

Two-time Academy AwardR winner Denzel Washington (Training Day, Unstoppable) and Ryan Reynolds (TheChange-Up, The Green Lantern) star as unlikely allies in Safe House - the next explosive action-thriller to hitthe small screen on Triple Play, Blu-ray. and DVD, June 7, 2012.

Tobin Frost (Denzel Washington), one of the CIA's most dangerous traitors, resurfaces in South Africa afteralluding capture for almost a decade. When Frost is captured and taken to the local safe house forinterrogation, brutal mercenaries attack, forcing one rookie agent, Matt Weston (Ryan Reynolds), to take theinfamous fugitive on the run.

Weston struggles to deliver Tobin to the next safe house, as the traitorous manipulator toys with his moralityand youthful idealism. A deadly challenge has been set for the inexperienced operative, as he is eventuallyforced to fight alongside his untrustworthy ally in a bid to stay alive long enough to reveal who wants themdead.

Packed with intense action and thrilling suspense, Safe House takes you on a deadly ride through a covert world, where no one and no place is ever safe.

Safe House is available on Triple Play, Blu-ray. and DVD from June 7, 2012.

Special Features DVD:
. Behind the action of Safe House

Special Features Blu-ray:
. Making Safe House
. Hand-To-Hand Action
. Shooting The Safe House Attack
. Building The Rooftop Chase
. Behind The Action
. Inside The CIA
. Safe Harbor - Cape Town
. Picture In Picture
. Scene Explorer

Verdict: Daniel Espinosa's Safe House is a fast paced and heart racing film starring first class, action favourite Denzel Washington and the multi-talented Ryan Reynolds.

Seriously full-on-action takes you on a breathless chase through Tobin Frost's (Denzel Washington) adventure where he has the capability to get into not only Matt Weston's (Ryan Reynolds) mind but the audiences, too.

The quick cut filming techniques mean you can't take your eyes away from the screen, even for a minute, without missing a vital clue in the thrilling puzzle. The thoroughly entertaining, Safe House is a must-see, action-packed film suitable for anyone who wants to be encapsulated with pure suspense for nearly two hours!
Rating: *****
-Brooke Hunter

Safe House
RRP $39.95
Blu-ray RRP $44.95
Triple Play RRP $49.95 (Blu-ray + Digital copy + DVD)



Safe House Interview with DENZEL WASHINGTON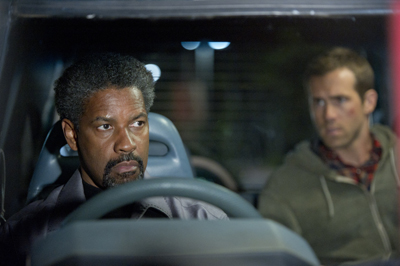 Question: My favorite line in the movie is, "I only kill professionals." It reveals the cockiness that Tobin has, but it also seems like he's goading Matt. Did you view their relationship as cat and mouse or as a sort of secret mentorship?

Denzel Washington: I don't think it was a mentorship so much. He's very cynical and he's just trying to warn him that "it's not what you think it is," as he finds out. The only reason I don't kill him is that we needed to keep him alive for the rest of the picture. [laughs] I'd have shot him right there in the train station if it was up to me. It's almost the ultimate insult --you're not even worth getting rid of.


Question: That decision comes back to bite him on the ass.

Denzel Washington: Yeah. And a few other places.


Question: You usually play sympathetic and often conscientious characters. We've often seen badass Denzel, but we rarely see bad Denzel. How did you shed your compassionate skin to don the cloak of Tobin Frost?

Denzel Washington: It's all acting. You don't really know who I am. These are just the parts I play. Training Day (2001) was the easiest part I've ever played -- it's closer to me than some of the other parts I've played. We all have different sides of ourselves. You may not have killed someone -- you don't have to kill someone to play a killer -- but you may have wanted to. At one point or another you tap into what that anger is or what may take you over the edge, but ultimately it's acting.


Question: What was something new that you learned about Cape Town and South Africa after being there so long?

Denzel Washington: That it's beautiful. I had gone to Cape Town 15 or 16 years earlier, but only for two days. Spending five months there was great. It's a really beautiful place with such diverse topography, from the wine country to the ocean, to the townships to Table Mountain. It's just a beautiful country.


Question: A friend of mine made an interesting comment about your career. He said that on top of your great performances and the roles that you pick, you never work on these outrageously budgeted films. Is there a certain formula that you use in picking roles?

Denzel Washington: I've just never been offered a $200 million picture, quite frankly. I've just never been offered one.


Question: Do you think after this will be more action roles hopefully?

Denzel Washington: After this, hopefully not. I'm off to something else. The picture I made after this we made for a smaller budget, not a small budget, a $30 million budget with Bob Zemeckis. And I made a picture about an alcoholic that delves into that whole world. I'm producing a smaller budget film about a bunch of high school students, and I look forward to getting behind the camera again, directing, and at some point also getting on stage again. So I like to keep it moving.


Question: What was the most difficult stunt for you in this film?

Denzel Washington: Nothing really that difficult -- maybe banging around in the trunk of that car. That wasn't the nicest... Also, probably getting waterboarded. That was disorienting.