Arbitrage
Cast
: Richard Gere, Susan Sarandon, Brit Marling, Tim Roth, Nate Parker
Director
: Nicholas Jarecki
Genre
: Drama, Thriller
Rated
: MA
Running Time
: 100 minutes
Synopsis
: A taut and alluring suspense thriller about love, loyalty, and high finance, Arbitrage stars Golden Globe winner Richard Gere (Chicago), academy award® winner Susan Sarandon (Thelma and Louise) and academy award® nominee Tim Roth (Rob Roy).
On the eve of his 60th birthday, New York hedge-fund magnate Robert Miller (Richard Gere) is the portrait of success in American business and family life. But behind the gilded walls of his mansion, Miller is in over his head, desperately trying to complete the sale of his trading empire to a major bank before the depths of his fraud are revealed. Struggling to conceal his duplicity from loyal wife Ellen (Susan Sarandon) and brilliant daughter and heir-apparent Brooke (Brit Marling), Miller's also balancing an affair with French art-dealer Julie Côte (Laetitia Casta).
Just as he's about to unload his troubled empire, an unexpected bloody error forces him to juggle family, business, and crime with the aid of Jimmy Grant (Nate Parker), a face from Miller's past. One wrong turn ignites the suspicions of NYPD Detective Michael Bryer (Tim Roth), who will stop at nothing in his pursuits. Running on borrowed time, Miller is forced to confront the limits of even his own moral duplicity. Will he make it out before the bubble bursts?
Release Date
: 27th September, 2012
Richard Gere Arbitrage -
www.femail.com.au/arbitrage.htm
Creating the World of Arbitrage
Nicholas Jarecki always wanted the world of the film to feel real, devoid of typical movie convention and false notes. Because of his intricate knowledge and research, he has crafted a film that tries to show in an entertaining and easy to understand way how the world of finance and its key players really do work.
One of the most challenging aspects of the filmmaking was creating a billionaire's world with a low budget. "We had to document that New York and it's expensive!" says Nicholas Jarecki. He wanted the real places that these people go to so the audience could get a real sense of the world these characters live in.
"It was very important for Nicholas Jarecki to shoot this film in New York and that could have been a challenge," Robert Salerno explains. "However, his friends opened a lot of doors, and we were very fortunate to get access to places that we normally wouldn't have been able to otherwise. They add another layer to the reality of what we are seeing. We see the glamour in the Dassault jets, the banquet halls and tuxedos, but we also end up seeing the sadness underneath. I think it's one of the most realistic portrayals of this world I've seen on screen."
Nicholas Jarecki's contacts gave them access to such prestigious New York landmarks as The Four Seasons, The Plaza Hotel and the GM Building on Fifth Avenue that serves as Miller's trading empire, probably one of the most prestigious offices in Manhattan. "I didn't think we would ever get The Four Seasons or the GM building -- I thought we'd be in a banquet hall in Long Island, but it's another testament to our director who wouldn't compromise on any level so we ended up shooting in some of the most beautiful and iconic locations in Manhattan," adds Kevin Turen.
Additionally, Nicholas Jarecki 's neighbor in New York turned out to be a Judge so she arranged for them to shoot in the Grand Jury room in the criminal courts in Manhattan at 100 Center Street which no film had every shot in (and where the next day Dominique Strauss Kahn received his indictment!). Location manager Damon Gordon, also managed to secure full access to the Triborough Bridge, which had never been shot before.
"After everything had collapsed for what seemed like the 19th time, it was finally happening for real, and the night before the shoot, Kevin Turen said to me -- 'no compromises, no gimmicks.' That became our mantra. We brought that commitment and enthusiasm and we found it in like-minded, passionate New Yorkers who supported us."
Nicholas Jarecki surrounded himself with an incredibly strong team in costume, design and cinematography. Together they were able to make the world he wanted to create very real as well as bring a high level of beauty to it. "I wanted a very modern, contemporary look for the film, teeming with wealth -- the end of the gilded age, which Beth (Production Designer) created," says Nicholas Jarecki. "We had extensive meetings because I knew the locations intimately. I'm a big fan of design and Christian Liaigre was my reference point for what we should see. Everything had to be dripping with luxury and authenticity was the key."
For a first-time director, the role of the cinematographer is always critical. "One of the most important people on this film is Yorick Le Saux, our Director of Photography," beams Laura Bickford. Before hiring Le Saux, Nicholas Jarecki met with 35 cinematographers over the course of a year when he was trying to envision the picture. Towards the end, Kevin Turen, Nicholas Jarecki and Laura Bickford watched the five-hour miniseries Carlos, on DVD. "We were actually looking at a few minutes of it to evaluate an actor's work. Ten minutes in we yelled out, 'Who's this DoP?! Let's get him!'"
"We were blown away by the style of it," recalls Laura Bickford. After watching I Am Love and Julia, Nicholas Jarecki and Laura Bickford flew to London, and Yorick Le Saux took the train from Paris to meet them at their hotel. "It was a quick coffee and somehow we knew at the end of it that we were old friends -- kindred spirits. And I felt I could learn everything from him. He was clearly the guy." Once Yorick Le Saux was on board, they spent a month planning the look of the film.
"Yorick Le Saux is a master craftsman and artist. I was so lucky he came on board," says Nicholas Jarecki. "We shot this film pretty quickly and with over 60 locations, we were moving all the time. But I knew we needed a classic feel to the film. So without enough resources or time -- how do we get that? And the answer is Yorick Le Saux. Right from the beginning he said we would make a plan and then we would throw it all out to maintain spontaneity in the moment and the chance of happy accidents. And after a month of storyboarding and shot listing, that's exactly what we did," he laughs.
Arbitrage was filmed on 35mm and they spent weeks in postproduction tweaking the colours to get the picture as beautiful possible, "to paint a strange, fused portrait of our 'golden New York,' a bit of a chaotic mess -- much like Robert Miller himself," explains Nicholas Jarecki.
Cliff Martinez who recently scored Drvie and Contagion wrote a haunting score which provided the film's final dimension. Notes Nicholas Jarecki, "Cliff Martinez's score further unlocks the emotional heart of the film while driving it forward with an unrelenting tension and intrigue. New York as he hears it is a scary place, but filled with moments of love and life."
On the Set
Reflecting upon the experience of his first feature film, Nicholas Jarecki comments that he quickly lost any intimidation about working with such a gifted and award-winning cast. "Right from the beginning, we were all partners, and they brought an enthusiasm and commitment to it that was incredible. I had the right group of collaborators so by the time we got to set, we knew each other really well and we knew what we were looking for."
If any of the cast were apprehensive about working with a first-time director, their doubts were erased after that intense rehearsal period which prepared them for a 31-day shoot. "Nicholas Jarecki is incredible. He has a deep enthusiasm for making movies, unlike anything I have ever seen before," says Brit Marling. "His energy affects everyone. The thing that's amazing about working with him is that he always talks to actors in terms of story and character, instead of being result-orientated which makes it much easier for me to do my job. I love that he comes at it from that perspective; it's marvellous."
Richard Gere was always impressed with Nicholas Jarecki 's screenplay -- his entrance to the project initially. "As a writer, he's kind of astonishing, and as a director he's still learning, but his instincts are terrific and I think this is probably the first of a long career for him," he says.
Tim Roth and Nicholas Jarecki spent a lot of time at Fanelli's restaurant in New York City discussing the script and Tim Roth actually ended up creating two new scenes for the film. Notes Tim Roth, "I loved what he was doing with the script, but I liked the execution of it even more. On set, he's tightening the screws as we progress in the story, increasing the pressure with each step. Robert's options get narrower and narrower and the audience will feel that tension." Adds Nicholas Jarecki, "It was the unrelenting dimension Tim brought to it -- he was ferocious, like a mad dog after a bone, and those instincts brought the character off the page. He truly elevated what I wrote-he made Bryer his own."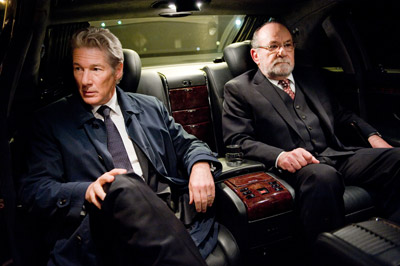 Nate Parker enjoyed working with a writer/director. "He's really big on comfort. I asked him on set -- 'how do you control your actors?' and he said 'I don't. I've already seen the movie in my head a thousand times -- it's old to me. Now I'm looking for ways you guys can help me make it new again.' I love that perspective," adds Nate Parker.
"Making this film was a dream come true -- the absolute best part of my short life so far and I felt lucky every day I got to do it. I hope I get that chance again soon," says Nicholas Jarecki. "When you work with this degree of passion and commitment from a cast and crew, it's enormously fulfilling. Nobody was getting big money -- they were all there to make a great movie and that devotion to the work carries a long way."
Concludes Nicholas Jarecki, "Someone smart said that changes in quantity effect a change in quality. There were so many thousands of decisions and contributions made every day by every single person who worked on our movie and they all strived tirelessly to make them the best they could be. I know that the quantity of effort did change the quality -- it went straight up. I'm really proud of what we accomplished."