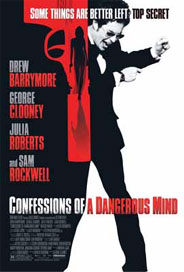 Released:July 24 2003
Cast: George Clooney, Drew Barrymore, Sam Rockwell, Julia Roberts, Rutger Hauer
Director: George Clooney
Genre: Comedy/Drama
Rated: MA 15+
Running Time: 113 Minutes
Awards: Winner Best Actor - Sam Rockwell - Berlin Film Festival 2003
Winner Best Screenplay - Charlie Kaufman - National Board of Review, USA 2003
Winner Special Achievement Award - George Clooney - National Board of Review, USA 2003
Some Things Are Better Left Top Secret
Synopsis:
Young, energetic and focused on a top career in the growing television industry, Chuck Barris (Sam Rockwell) finds himself being followed by a suspicious character (George Clooney as Agent Jim Byrd), who quickly lures him into a secretive and dangerous world: that of a CIA operative. While Barris gains notoriety as a dynamic television producer of shows such as The Newlywed Game, The Dating Game & The Gong Show, he regularly executes assassinations for the United States government. As ratings rise, Barris incorporates his shows into his secret life: winning couples find themselves shipped off to fabulous Helsinki and romantic West Berlin for their dream dates. It isn't Paris, but it provides chaperone Barris a cover for his covert missions.
As Barris basks in the glamour of his two worlds - entertainment and espionage - his life begins to spiral out of control. He is torn between the woman who loves him (Drew Barry more as Penny) and the mysterious woman of his fantasies (Julia Roberts as Patricia). He receives mass criticism from the public, which accuses him of contaminating the airwaves and finds himself marked for death by a traitor operative.
Barris must regain control of his life. Both of them.
My Verdict:
Confessions Of A Dangerous Mind marks the directorial debut of George Clooney from a screenplay by Charlie Kaufman (Adaptation, Being John Malkovich). George has created a very slick movie that is pacy and inventive.
Sam Rockwell is sturdy as Chuck, giving him a slight unstable mindset. Anyone who created the idea behind The Gong Show must have been slightly awry and Sam shows various sides to Chuck's character. One minute he is an assassin, the next he is romantic and loving to his partner Penny. George Clooney is almost an outsider as Agent Byrd. His small role is pivotal to the movie as he is the character that introduces Chuck to become a member of an elite group - the CIA. The two female leads - Drew Barrymore and Julia Roberts - are two very different characters. Drew as Penny is a very sweet forgiving person who is devoted to Chuck, Julia as Patricia is a cold selfish woman, yet Chuck is inexplicably drawn to both. Watch out for the cameos by Brad Pitt & Leonardo DiCaprio who appeared for no fee as a favour to their friend Mr Clooney.
Confessions Of A Dangerous Mind is one insight into the mind of a man who led an extraordinary life. Whether you believe the Chuck Bariss story is incidental because the movie is not meant to sway you either way. Besides, anything is possible and Chuck's story may well be plausible but that's not the point. Here is a movie that is a great story regardless and definitely worth a look.
-
Christina Bruce