Thanks to Napoleon Perdis and the release of Duet Makeup Remover, here is your chance to win a Napoleon Duet Pack including:
* Napoleon Perdis Duet Makeup Remover &
* Peep Show Mascara in Madame Curl Curl.
NAPOLEON PERDIS DUET MAKEUP REMOVER

Napoleon Perdis hits a high note on his latest path to skin perfection with the new Duet Makeup Remover, in store now. Think Sonny and Cher, Diana Ross and Lionel Richie, Janet Jackson and Luther Vandross, this innovative action formula is like the perfect duet, combining the effectiveness of an oil phase to dissolve mascara and long wearing lipstick and a water phase to help float it away. Music to your ears, eyes and lips!

Duet Makeup Remover brings the ultimate duo, Napoleon Perdis and Melissa George, back in the spotlight again corresponding with the third Melissa George campaign in 2007 for Napoleon Perdis. The campaign is for the existing Long Black and Peep Show mascara ranges.
Long Black Mascara, renowned for it's unique angled brush, and the five Peep Show mascaras which volumize, lengthen, prime and curl lashes are formulas that can be removed in a wink with the new Duet Makeup Remover - the perfect partner to any mascara.
The formula is gentle enough for the most sensitive of skin around the eyes and will remove lipstick while conditioning lips at the same time leaving the eyes feeling soft, supple and completely clean - free of any oily residue. A guaranteed number one hit!
Duet Makeup Remover contains key ingredients such as Aloe Vera to rejuvenate and heal dry skin, Cucumber Extract to reduce redness and irritation and Fennel Extract to restore skin to its natural balance.
Australia: Duet Makeup Remover - $45
Stockist Number: 1800 814 572
New Zealand: Duet Makeup Remover - $48
Stockist Number: 0800 507 897
The new Duet Makeup Remover is available now in all Napoleon Perdis concept stores, David Jones Department stores, select independent retailers in Australia and NZ, and online at
www.napoleonperdis.com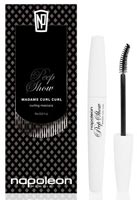 NAPOLEON PERDIS MADAME CURL CURL

is the ultimate eye-opener, seductively bending the will of most stubborn lash and delivering an eye-enhancing curl that lasts throughout the day. Her super flexible film and elastic formula both lengthens and lifts while she coaxes lashes into good health with a dose and much needed moisture.
RRP: $30.00
The Peep Show Mascara in Madame Curl Curl is available in all Napoleon Perdis concept stores, David Jones Department stores, select independent retailers in Australia and NZ, and online at
www.napoleonperdis.com
Melissa George InterviewsMusic Within, 30 Days of Night -
www.femail.com.au/melissa-george-music-within-30-days-of-night-interview.htm
Turistas -
www.femail.com.au/melissa-george-turistas-interview.htm
Amityville Horror & Alias -
www.femail.com.au/melissa-george-amityville-horror-pf.htm
The Amityville Horror -
www.femail.com.au/the-amityville-horror-review.htm
Derailed -
www.femail.com.au/derailed-review.htm
Order Now from Chaos
Order Now from Sanity
This competition is now closed