PLUMMER SHOWS NO SIGNS OF SLOWING DOWN
EXCLUSIVE Christopher Plummer, The Last Station, Imaginarium of Dr Parnassus Interview by Paul Fischer
Four decades since Christopher Plummer became an international movie star with his iconic star turn in Robert Wise's Oscar winning classic The Sound of Music, Christopher Plummer continues to dazzle audiences on stage and screen with a variety of fascinating and eclectic characters, including both Tolstoy and Dr Parnassus.
Arguably the greatest survivor of the two-fisted drinkers' school of acting that included the likes of Richard Burton, Peter O'Toole and Albert Finney, classically-trained actor Plummer established himself on both sides of the Atlantic as one of the finest stage performers of his generation, particularly on stage in Shakespearean roles. After headlining for three of the world's most noted theater companies, Great Britain's National Theater, The Royal Shakespeare Company and The Stratford Festival in his native Canada, Plummer starred in a host of movies; most memorably playing Baron Georg Von Trapp in the smash hit "The Sound of Music" (1965). Though he remained prolific both on stage and onscreen, earning awards in several mediums, Plummer languished for the next few decades in mostly mediocre projects that were beneath his level of talent. But in 1997, he delivered a Tony Award-winning performance as the besotted actor John Barrymore in "Barrymore" that earned him considerable attention that had previously eluded him. From that point on, he became a much in-demand character actor, playing "60 Minutes" correspondent Mike Wallace in "The Insider" (1999), Captain Christopher Newport in "The New World" (2005), and a managing partner of a power law firm in the excellent political thriller, "Syriana" (2005). While he occasionally returned to the stage, as he did with a sterling Broadway performance as the titular "King Lear" (2004), Plummer enjoyed his late-life success on the big screen after his long struggle to achieve it.
Born on Dec. 13, 1929 in Toronto, Ontario, Canada, Plummer was raised by his father, John, who worked at McGill University, and his mother, Isabella, the granddaughter of Canadian Prime Minister John Abbott. Plummer's parents divorced the same year he was born. Having gone to live with his mother in Montreal, the young lad discovered the theater at a young age, taking in various stage productions, ballet and opera throughout his youth. When he was attending Jennings Private School, he worked as a lighting designer on a production of "A Midsummer Night's Dream," which prompted him to trying acting. His first notable role came when he played D'Arcy in "Pride and Punishment." Following high school, he trained with the Canadian Repertory Theatre in Ottawa, where he was in countless productions in a mere two years, including "The Infernal Machine," which also featured a young William Shatner, and "Cymbeline." In fact, both Plummer and Shatner worked together in radio drama for the Canadian Broadcasting Company. Though he made his small screen debut in a televised production of "Othello" (CBC, 1951), Plummer spent most of the decade honing his chops on the stage.
Plummer left the comfortable confines of Canada to join a repertory company in Bermuda, where he performed in productions of "The Little Foxes," "The Petrified Forest" and "Nina," which led to touring with American theater companies. He soon found himself making his Broadway debut as George Phillips in "The Star Cross Story" (1954), starring Katherine Cornell, but the show only lasted one night. Also that year, he again starred with Cornell in Christopher Fry's "The Dark Is Light Enough," followed by a turn in the short-lived "Home Is the Hero." Plummer found great critical success portraying the Earl of Warwick in Jean Anouilh's "The Lark" (1955), opposite Julie Harris. Following a Paris production of "Medea" (1955) opposite Judith Anderson, he returned to Canada and joined the Shakespeare Festival company in Stratford, Ontario, where he thrived in the title roles of "Henry V" (1956), which also starred Shatner as the Duke of Gloucester, and "Hamlet" (1957). Plummer demonstrated equal facility with comic parts like Sir Andrew Aguecheek in "Twelfth Night" (1957) and Benedick in "Much Ado About Nothing" (1958).
On American television, Plummer appeared in "Kraft Theatre" productions of "The Light That Failed" and "The Web," while playing Miles Hendon in the adaptation of Mark Twain's novel, "The Prince and the Pauper" (CBS, 1957). Following Hallmark Hall of Fame productions of "Johnny Belinda" (NBC, 1958) and "Little Moon of Alban" (NBC, 1958), he made his feature debut in "Stage Struck" (1958), Sidney Lumet's remake of Zoe Akins' 1933 stage play, "Morning Glory." In an attempt to settle down, Plummer married actress Tammy Grimes in 1956 and a year later had his only child, Amanda Plummer, who grew up to become a notable actress in her own right with performances in "Agnes of God" (1985) and "Pulp Fiction" (1994). After divorcing Grimes following four years of marriage, he portrayed Mercutio in a Shakespeare Festival production of "Romeo and Juliet" (1960). Making his London debut, he portrayed King Henry II in "Becket" (1961), which earned him the London Evening Standard Award for Best Actor. After playing Christian in a production of "Cyrano de Bergerac," Plummer reprised "Hamlet" for a televised production marking the 400th birthday of Shakespeare in 1964. Widely hailed by critics, his sterling performance marked a significant breakthrough for the young actor.
Following a strong portrayal of the reckless emperor Commodus in "The Fall of the Roman Empire" (1964), Plummer had his greatest success on the big screen with his performance as the aloof widow Captain Georg Von Trapp in "The Sound of Music" (1965). Starring Julie Andrews as a young nun sent by her convent to be a governess for the numerous Von Trapp children, only to fall in love with the captain, "The Sound of Music" was a monster hit, an Oscar winner and the last of the old-fashioned Hollywood movies before the more experimental films of the late-1960s and early-1970s. Though his performance was exquisite as usual, Plummer's singing left something to be desired - at least compared to Andrews - which led director Robert Wise to overdub his voice. He next starred in "Inside Daisy Clover" (1966), a critically panned drama about a tomboy-turned-starlet (Natalie Wood) who reaches stardom in Hollywood, only to suffer a mental breakdown. Plummer made a cameo appearance as Field Marshal Erwin Rommel in "The Night of the Generals" (1967), which he followed with a starring turn as the titular "Oedipus the King" (1968).
In the Cold War-era spy thriller, "The High Commissioner" (1968), Plummer starred as a corrupt Australian diplomat wanted for a 25-year-old murder who falls under the uneasy protection of a detective (Rod Taylor) after he becomes targeted for assassination. He next joined an all-star cast as a Canadian fighter pilot in the World War II epic, "Battle of Britain" (1969), starring Laurence Olivier, Michael Caine, Robert Shaw and Trevor Howard. Plummer had something of a setback with his next film, "Lock Up Your Daughters!" (1969), in which he played the fastidious judge Lord Foppington, who hears the case of three sailors and their lascivious adventures that landed them in jail while on shore leave. Plummer entered the 1970s a heavy drinker - all in good fun, of course - and went from one mediocre role to another with the occasional triumph thrown in. After portraying the determined Duke of Wellington opposite Rod Steiger's Napoleon Bonaparte in "Waterloo" (1970), he wallowed in the supernatural thriller, "The Pyx" (1973), also known as "The Hooker Cult Murders." Back on Broadway, Plummer delivered a sterling performance in the title role of "Cyrano," which earned him a Drama Desk Award for Outstanding Performance as well as a Tony Award for Leading Actor in a Musical.
Plummer parlayed his continued onstage success to the big screen with a strong portrayal of British author Rudyard Kipling in John Huston's "The Man Who Would Be King" (1975). In "The Return of the Pink Panther" (1975), he filled in for David Niven as Sir Charles Lytton, also known as the Phantom, who once again steals the fabled Pink Panther diamond. Returning to television, Plummer earned an Emmy Award for Outstanding Lead Actor in a Limited Series for "Arthur Hailey's 'The Moneychangers'" (NBC, 1976), an epic drama about two powerful bankers (Plummer and Kirk Douglas) who engage in fraud and corruption while the surrounding inner city crumbles and decays around them. He next co-starred in the controversial, but highly-rated television miniseries "Jesus of Nazareth" (NBC, 1977), in which he played Herod Antipas, son of Herod the Great (Peter Ustinov) who was partly responsible for the deaths of both John the Baptist (Michael York) and Jesus (Robert Powell). Though he offered a superb performance in "International Velvet" (1978), critics largely shunned the mawkish sequel to the Elizabeth Taylor classic, "National Velvet" (1944).
After playing a psychopathic bank robber in "The Silent Partner" (1978) and co-starring opposite Harrison Ford in the woeful World War II romance "Hanover Street" (1979), Plummer rounded out the decade playing Sherlock Holmes to James Mason's Dr. Watson in "Murder by Decree" (1979), an uneven thriller that had the famed duo investigating the notorious serial killer, Jack the Ripper. He next co-starred opposite Christopher Reeve and Jane Seymour in the romantic fantasy-later turned-cult favorite, "Somewhere in Time" (1980), which he followed with an appearance in "The Shadow Box" (ABC, 1980), starring Joanne Woodward and directed by Paul Newman. Following forgotten television movies like "Dial M for Murder" (NBC, 1981) and "When the Circus Came to Town" (CBS, 1981), as well as the mystery thriller "Eyewitness" (1981), Plummer delivered a stunning performance as Iago opposite James Earl Jones in "Othello" (1982), which famed Broadway critic Walter Kerr deemed "quite possibly the best Shakespearean performance to have originated on this continent in our time." He next portrayed Archbishop di Contini-Verchese, friend and mentor to the young, conflicted Father Ralph de Bricassart (Richard Chamberlain) in the acclaimed four-part miniseries, "The Thorn Birds" (ABC, 1983).
Though he never lacked for work, Plummer was challenged to find higher-quality projects as he got older. He appeared in many forgettable films, often elevating the material more than it deserved to be, including the sci-fi thriller "Dreamscape" (1984), the botched adaptation of Agatha Christie's "Ordeal By Innocence" (1985), the easily dismissed biopic of sculling champ Ned Hanlan (Nicolas Cage), "The Boy in Blue" (1986), and the abhorrent "I Love N.Y." (1987), allegedly directed by celebrity photographer Gianni Bozzacchi, who credited himself as the anonymous Alan Smithee. Though he occasionally appeared in enjoyably hammy roles, as he did in "Dragnet" (1987), Plummer struggled throughout the rest of the decade to find suitable material for his unparalleled talents. Once again, he found solace on the stage, touring the United States in the title role of "Macbeth" (1988), though he returned from the role to star in the abysmal espionage thriller "Mindfield" (1989). It soon became clear that his luck would fail to change in the early part of the 1990s, which started with the actor playing a homeless magician named Shitty in John Boorman's misfire domestic comedy, "Where the Heart Is" (1990).
In his first regular series role, Plummer portrayed Alexander Addington, an international businessman who vows to combat terrorism after his wife is kidnapped, in "Counterstrike" (CTV/USA Network, 1990-93). While on the show, he reunited with old friend William Shatner for "Star Trek VI: The Undiscovered Country" (1991), playing Chang, a one-eyed Klingon trying to forge peace with the Federation. Following a small role as a chaplain in Spike Lee's "Malcolm X" (1992), he starred opposite Jason Robards, Jr. in a Broadway revival of Harold Pinter's "No Man's Land" (1994). Plummer soon found himself landing a better slate of films, including the gloomy drama "Dolores Claiborne" (1995) and Terry Gilliam's excellent "12 Monkeys" (1995). He also had a string of made-for-cable films like "Kurt Vonnegut's 'Harrison Bergeron'" (Showtime, 1995), "We the Jury" (USA Network, 1996) and "Skeletons" (HBO, 1997). But despite a strong presence onscreen, Plummer's reputation was still reliant on his outstanding stage work, which culminated in a sterling performance in "Barrymore" (1997) as the legendary actor and sot John Barrymore. Though reluctant at first to tackle the part, Plummer gave it his all and earned his second career Tony Award for Leading Actor in a Play.Because of his acclaimed Tony Award-winning performance, Plummer found the doors to more serious dramatic roles swung wide open. After playing Franklin D. Roosevelt in "Winchell" (HBO, 1998), he delivered a dead-on performance as "60 Minutes" journalist Mike Wallace in the controversial tobacco feature "The Insider" (1999), which starred Russell Crowe as a scientist for Brown and Williamson who blows the whistle on tobacco companies knowing the danger of their product. Though overshadowed by the award-caliber performances of Crowe and Al Pacino, who portrayed "60 Minutes" producer Lowell Bergman, Plummer was nonetheless memorable as Wallace, particularly in a scene were he dressed down a corporate flunky played by Gina Gershon. After playing British prosecutor, Sir David Maxwell-Fyfe, in the two-part miniseries "Nuremberg" (TNT, 2000), he had a pivotal role as a psychiatrist treating schizophrenic mathematician John Nash (Russell Crowe) in the Oscar-winning picture, "A Beautiful Mind" (2001). In 2002, Plummer was cast as David in the historical drama "Ararat," which he followed as Uncle Ralph to the title character in "Nicholas Nickleby" (2002), while co-starring opposite Sharon Stone and Dennis Quaid in the supernatural thriller, "Cold Creek Manor" (2003).
In 2004, Plummer remained an in-demand supporting player, appearing as Aristotle in Oliver Stone's disappointing historical epic "Alexander" and as Nicolas Cage's grandfather - one of a long line of American treasure hunters - in the Jerry Bruckheimer-produced blockbuster, "National Treasure." Another Tony nomination, but no win, came his way after an awe-inspiriting performance as "King Lear" (2004) at the famed Lincoln Center Theater in New York. The following year was a busy one for the actor, which included an Emmy-nominated performance as the arrogant Cardinal Bernard Law in "Our Fathers" (HBO, 2005), which focused on the sexual abuse cases that plagued the archdiocese of Boston in 2002. After a turn as Diane Lane's father in the romantic comedy misfire "Must Love Dogs" (2005), Plummer was an influential, seemingly untouchable managing partner of a law firm overseeing the dubious merger of two oil companies in the complex political potboiler "Syriana" (2005). He next appeared in Terrance Malick's "The New World" (2005), a lyrical, but ultimately meandering take on the settlement at Jamestown, Virginia in 1607 and the ensuing love affair between Captain John Smith (Colin Farrell) and a young Native American girl, Pocahontas (Q'Orianka Kilcher).
Plummer next appeared in "The Lake House" (2006), an odd romantic drama about a doctor (Sandra Bullock) and an architecture school dropout (Keanu Reeves) who live in the same house but two years apart and fall in love via letters exchanged through a mysterious mailbox that bridges time. He teamed up again with Spike Lee for the director's impressive genre piece, "Inside Man" (2006), playing the founder of a bank who calls in a well-connected fixer (Jodie Foster) for the rich and powerful to keep quiet a secret buried inside a safe deposit box, while his employees are held hostage by a master thief (Clive Owen) battling a negotiator (Denzel Washington) in an effort to pull off the perfect heist. After a supporting role in the low-budget teen comedy, "Man in the Chair" (2007), Plummer earned his seventh Tony Award nomination for his Broadway performance as Henry Drummond in "Inherit the Wind" (2007). Turning to animated features, he voiced the villain Charles Muntz, who does battle with a 78-year-old balloon salesman (Ed Asner) in the jungles of South America, in Pixar's "Up" (2009). In "The Last Station" (2009), he delivered a stirring portrayal of Russian novelist Leo Tolstoy during his last tumultuous years, in which the author struggled to reconcile his vow of poverty with his enormous wealth. Plummer earned nominations at the Golden Globes and the Independent Spirit Awards for best supporting actor. Plummer will next be seen in the Terry Gilliam's mesmerizing Imaginarium of Dr Parnasssus, and in this exclusive interview with Paul Fischer, Plummer waxes lyrical about these two disparate films, the stage and yes, that 1965 classic he'd rather not talk about.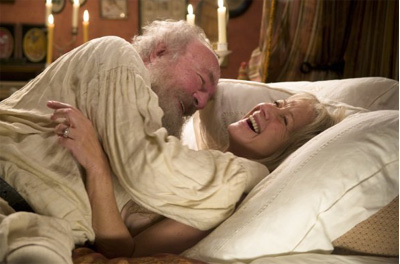 QUESTION: It's incredible to me that the older you get, the richer the roles are for you.
CHRISTOPHER PLUMMER: On screen. Yes.
QUESTION: On the screen, yes.
CHRISTOPHER PLUMMER: On the stage, they've always been rich.
QUESTION: They've always been rich on the stage. On the screen, when - when so many actors are complaining about the dearth of decent roles, you seem to be finding them.
CHRISTOPHER PLUMMER: No, no, no. You're absolutely right.
QUESTION: How picky are you in what you decide to do as an actor?
CHRISTOPHER PLUMMER: Well, I can be picky now, I think. I've made enough loot that I can sort of coast, but I don't want to coast. I want to keep working. And as I get to my advanced age - the prospect of working is three times more attractive, because it keeps you from forgetting that you're old. I used to pick because of the location, so if it's the South of France, I don't care how bad the script is but the Cote D'Azur - well, all right, for six weeks. The Italian Riviera. But that was in the '60s, when all those sort of were rather made like that. Everybody had four-hour lunches, and got back to the set, haven't even read the script. And it showed. Those great movie epics, that if I watch them now, I think, "God, they are so slow." One of my favorite drinking buddies in those days was one of your countrymen, Rod Taylor.
QUESTION: Now when you read this Last Station script, how familiar were you with Tolstoy's life?
CHRISTOPHER PLUMMER: Well, it isn't an actual episode in Tolstoy's life, I don't think. It mirrors what happened. But I thought that was great fun and half the battle to get me to play the part. I thought it was well-written and there was a chance to redeem him from a kind of universal view that he was dry. He wrote these long, heavy going - wonderful though they were, human novels. But was he fun? Did he have a lark every now and then? And yes, of course I grabbed that scene, where he behaves like a young idiot with Helen in the bedroom. And thought just, "Dammit, there must be some wonderful, childish stuff." He did have to have a mite of the old twinkl about him. That was very attractive. So that was one scene that, as written, made me want to do the film.
QUESTION: Is it important to you, at this particular stage, to do any kind of research on something like this or is it all on the page?
CHRISTOPHER PLUMMER: Well, of course I've read him. We all read him as children, practically. It was almost compulsory to read Anna Karenina and War and Peace, but I did read the letters, which I thought were fascinating and very insightful. There wasn't much I could glean from them in the performance of this movie, and there are no decent recordings of his voice so you can't imitate him. I just decided to instinctively have fun, and try to make a Tolstoy I thought Tolstoy should be.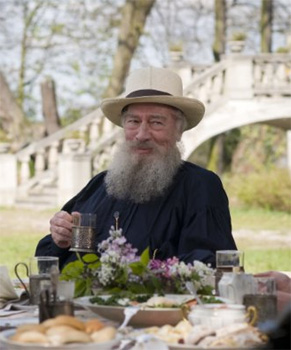 QUESTION: Tell me about working with Helen Mirren,
CHRISTOPHER PLUMMER: That's an absolute treat. I mean, I've known her before, but I've never worked with her, I'm always dying to work with her and it was the most fun I have had in a long, long time. I've nothing but love, and to enjoy ourselves in our theatrical way.
QUESTION: And talking about theatrical - a performance of yours that I loved was Parnassus, which I saw in Toronto, an extraordinary film by Gilliam. Was he also enormously fun to play? I mean, was this a kind of great theatrical character, for you to tap into?
CHRISTOPHER PLUMMER: Well, you know, I've played so many - I've played King Lear, so really, it's just another theatrical role which, of course, I have to underplay. There was so much going on. I always tell Terry, there's so much going on in your films, Terry, so many sub-plots, so many stories, so much scenery - and wonderful, wonderful effects to look that I can't do any acting. I've just got to underplay this whole person. And I'm glad I made that choice.
QUESTION: Now you worked with Terry before on 12 Monkeys, But it was quite a while ago. How do you think he has evolved as a filmmaker?
CHRISTOPHER PLUMMER: I thought Parnassus, most of it, was vintage Gilliam. I thought it was a simply beautiful film to look at , the other world that he created. There were some extraordinary effects in it. And bizarre, right up his alley. He had to actually lessen the number of people, and the number of plots, so it would be easier to follow, than some of his films, which get a bit busy.
QUESTION: Do you want to try to return to the stage as often as you can?
CHRISTOPHER PLUMMER: No, I'm going to be playing Prosperoi in The Tempest next summer. We'll try it out, and maybe come to New York or London. I don't know, so I'm still cracking the great ones. So is Helen, by the way. Did you know that she just played Prospero?
QUESTION: She played Prospero in The Tempest?
CHRISTOPHER PLUMMER: Yes. [LAUGHTER] Yes. They call it Prospera.
QUESTION: That's so funny.
CHRISTOPHER PLUMMER: And Julie Taymor did the direction.
QUESTION: Directed it? Oh, that'll be interesting.
CHRISTOPHER PLUMMER: -- And so, God knows what that's gonna look like. I thought, "What a terrible thing to do to me. I'm gonna have to wear a dress now."
QUESTION: So where does this boyish passion for acting come from, that you still seem to have at at this stage in your life?
CHRISTOPHER PLUMMER: Oh, iit's the most fascinating job. I mean, it's a vocation, a hobby, a job. It's everything to me. I won't go as far as saying it's a religion but I think it's more fun than religion. It's - romance, and escape. And I've been escaping all my life. I love it.
QUESTION: When you look back at some of your early work, from the '60s and '70s do you cringe?
CHRISTOPHER PLUMMER: No. No, I don't think I was that bad. [LAUGHTER] But Iyou're talking about the screen.
QUESTION: Right.
CHRISTOPHER PLUMMER: I made my mark in the theater, in the mid-'50s. And I continued to try and keep that standard going for the rest of my life. And I hope I have. Films are another matter. The theater is our medium, and the writers. Screen is the medium of a committee, largely so I'm not responsible for how things ended up.
QUESTION: Do you find it increasingly frustrating when you've played this extraordinary array of rich characters on stage, and in some cases on screen, that The Sound of Music is still regarded as your most successful film, and the one that everyone talks about?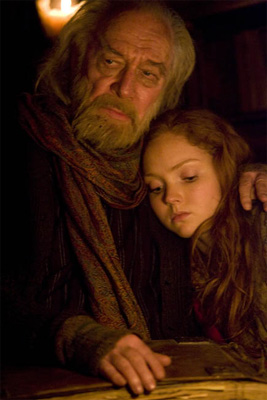 CHRISTOPHER PLUMMER: Well, I suppose that's the average, because the world has seen it so many times. And there's a whole new generation every year, poor kids, that have to sit through it. [LAUGHTER] But It was a very well-made movie, and it's a family movie and we haven't seen a family movie, I don't think, on that scale for ages. I don't mind that. It just happened to be not my particular cup of tea.
QUESTION: Yet you've remained friends with Julie all these years -
CHRISTOPHER PLUMMER: Oh, yeah. Julie - it had nothing to do with the people involved. It was the subject matter I always found a bit saccharine.
QUESTION: Yeah, singing nuns and Nazis are not really your cup of tea.
CHRISTOPHER PLUMMER: No, not really. Unless the nuns are interesting, and kind of kinky. [LAUGHTER]
QUESTION: What are your future plans now apart from The Tempest?
CHRISTOPHER PLUMMER: I have about two or three more films to do, which are coming up. I don't want to say what they are, because in this particular day and age, the dates change, and suddenly the money goes out then they disappear. But I've just made two films in California and one particular good one.
QUESTION: Which one?
CHRISTOPHER PLUMMER: Called Beginners. It is about a family and it's a true story. Very cleverly-written by Michael Mills. And that's a small film, but it's a super little script. It's touching and funny. And I hope that can generate some heat.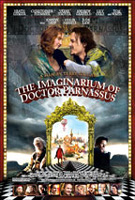 The Imaginarium of Doctor Parnassus
Starring
: Heath Ledger, Christopher Plummer, Lily Cole, Andrew Garfield, Verne Troyer, Tom Waits, Johnny Depp, Colin Farrell, Jude Law
Director
: Terry Gilliam
Genre
: Science-Fiction/Fantasy
In THE IMAGINARIUM OF DOCTOR PARNASSUS, director Terry Gilliam continues the trippy tradition he began with inventive films such as TIME BANDITS and BRAZIL. This time, he reteams with Heath Ledger of THE BROTHERS GRIMM, Christopher Plummer of 12 MONKEYS, and Tom Waits of THE FISHER KING.
The Last Station
Starring
: Helen Mirren, James McAvoy, Paul Giamatti, Christopher Plummer
Director
: Michael Hoffman
Genre
: Dramas
Fact and fiction converge in this talent-driven drama based on Jay Parini's novel about Leo Tolstoy. THE LAST STATION focuses on the marriage between Tolstoy (Christopher Plummer) and his wife Sofya (Helen Mirren) in its final years. James McAvoy stars as a young man who works for the couple, while Paul Giamatti plays an advisor to the writer who fights his wife over financial issues.