The Fighter
Cast: Mark Wahlberg, Christian Bale, Melissa Leo, Amy Adams
Director: David O. Russell
Genre: Drama, Action, Sport

Synopsis: A look at the early years of boxer "Irish" Micky Ward and his brother who helped train him before going pro in the mid 1980s.

About the Production
"What about my brother? He taught me everything I know.
I can't do it without him."
-Micky Ward

Inspired by an incredible true story, comes the gritty, affectionately humorous, yet stirring comeback tale of the unlikely boxing hero, "Irish" Micky Ward (Mark Wahlberg), and his half-brother, Dicky Eklund (Christian Bale), who had to come apart as opponents before coming together as brothers in a scrappy fight to win a long-shot championship and strengthen the bonds of their family.

Years in the making, The Fighter was shot in just 33 days on the blue-collar streets of Lowell, Massachusetts. Early on, producers David Hoberman and Todd Lieberman fell in love with the story of Micky and Dicky and saw that it was about so much more than just an underdog's athletic victory. Star/producer Mark Wahlberg, director David O. Russell and a close-knit cast and crew united behind a vision to bring Micky and Dicky's deeply human family to life in a series of alternately comic, tender, bruising and triumphant moments that unfold as much in the living room as in the boxing ring.

The story begins as Dicky, the town's pride who once went toe-to-toe with Sugar Ray Leonard, has fallen on hard times. Meanwhile, Micky has become the family's fighter, with his fledgling career managed by his mother Alice (Melissa Leo). Yet, despite his gutsy left hook, he keeps getting punished in the ring. When Micky's latest mismatched fight nearly kills him, he is persuaded by his iron-willed new girlfriend, Charlene (Amy Adams), to do the unthinkable: split with his family, pursue his own interests and train without his troubled brother.

Then, Micky gets the shot of a lifetime at a title fight, but it soon becomes clear that it will take his brother and the whole family to get him there. Defying the naysayers, he sets out on a bid for redemption that will bring Dicky, Charlene, Alice and the entire Ward/Eklund brood back into his corner, resulting in one of the sport's most surprising strings of victories. Out of nowhere, Micky will become a champion, known as a resilient and loyal battler who fought, hardest of all, for his family.

"The Fighter is about family, love, relationships and overcoming adversity. The drama of the story is as powerful as the boxing is exciting," explains Mark Wahlberg, who trained intensively for several years to take on the physically and emotionally demanding lead role of Micky Ward. "David O. Russell really had a great view of the script, of this world and the people in it. David got that scrappy spirit of the movie, and we did exactly that."

Paramount Pictures and Relativity Media present in association with The Weinstein Company a Relativity Media, Mandeville Films and Closest to the Hole Production a David O. Russell Film The Fighter starring Oscar®-nominated Mark Wahlberg (The Departed), Christian Bale (The Dark Knight, Terminator Salvation, Batman Begins), Oscar®-nominated Amy Adams (Enchanted, Doubt, Julie & Julia) and Oscar®-nominated Melissa Leo (Frozen River, 21 Grams, The Dry Land). David O. Russell (Spanking the Monkey, Flirting with Disaster, Three Kings) directs from a screenplay by Scott Silver (8 Mile) and Paul Tamasy (Air Bud) & Eric Johnson and a story by Keith Dorrington & Paul Tamasy & Eric Johnson. David Hoberman, Todd Lieberman, Ryan Kavanaugh, Oscar®-nominated Mark Wahlberg, Dorothy Aufiero and Paul Tamasy serve as producers. The executive producers are Tucker Tooley, Darren Aronofsky, Leslie Varrelman, Keith Dorrington and Eric Johnson. The film is co-produced by Jeff Waxman and Kenneth Halsband.

Release Date: January 20, 2011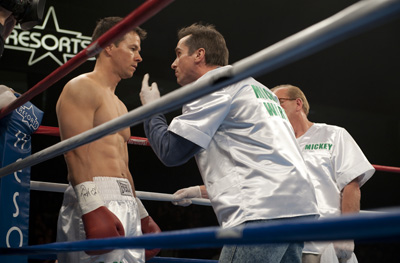 From the Streets to the Screen: About the Story
The story of Micky Ward's hard rise and unexpected transformation into a sports legend was such a gritty, real-life fairy tale that many people who heard about it remarked that it sounded just like a movie. Bringing the story to the screen would take nearly as much passion, devotion and hard work on the part of a whole team of filmmakers as to match Micky's own bid for a championship title.

What excited producers Todd Lieberman and David Hoberman was that it was also about the invincible bonds between brothers and a family's quest for redemption. Those elements made the story worth fighting for, say the producers.

"We got involved in The Fighter when screenwriters Paul Tamasy and Eric Johnson brought us a 15-minute DVD on the lives of Dicky Eklund and Micky Ward," explains David Hoberman. "When my partner Todd Liberman and I watched it, we were in tears. It's a story of overcoming the odds, of redemption in the face of adversity, and that's the kind of story we love to do. We asked them right away if we could partner with them and they said yes."

Adds Todd Lieberman: "I must have watched that DVD five hundred times. It was truly inspiring to learn about the story of these two brothers and what they overcame throughout the years. We felt it had a lot of parallels in terms of its mix of drama, redemption and brotherly love."

The story would take three years and a fighting spirit on the part of the filmmakers to get to the screen. Mark Wahlberg had long wanted to make a movie about Micky Ward and Dicky Eklund. David Hoberman and Todd Lieberman were thrilled to team up with Mark Wahlberg and director David O. Russell spurred the production into a rough-and-ready, fast-paced production schedule that immersed the cast full bore into their characters and the crew into the world of blue-collar boxing in America.

"Clearly, he was going to be the perfect Micky Ward," says David Hoberman.

Adds Todd Lieberman: "From the moment we started enquiring into the story, we knew that Mark Wahlberg wanted to play Micky. Micky had always been one of his heroes and he knew this story as well as anyone." Having worked with Mark Wahlberg twice before, including on the critically acclaimed Iraq War thriller, Three Kings, everyone was excited to see what David O. Russell's notably creative perspective could bring to The Fighter's mix of visceral sports drama and emotionally exposed family portrait.

"The great thing about David O. Russell is that he's so passionate about everything he does and he's not afraid to fall in love with ideas and things and people. I think it's what makes him such a terrific director," says David Hoberman.

"I've known David O. Russell for a couple of years now and we had looked at working together. As soon as I sat down with him, I saw and heard his passion for the movie," comments producer Ryan Kavanaugh. He adds, "He was approaching it from a very artistic point of view, but understood that this was a commercial story. We told him to keep the heart and soul, but that we needed more Rocky out of it. He gave us everything we wanted and then some."

Adds Todd Lieberman: "David O. Russell brought to the material a real charm and sense of humor. He saw that even though these characters are flawed, they are also entertaining, revealing and loveable, and he really helped bring all of that to the screen."

David O. Russell also saw The Fighter as a love story. He approached it not only as Micky and Dicky's story as brothers, but also as the story of Micky's quest to reconcile his tight-knit family to the woman he loves, and he put the collision course between Charlene and the family at the center of the narrative. "The Fighter is about people who are really human, all too human, like every one of us," he says. "These are the best types of film characters and they are also authentic Lowell characters. Lowell is a very particular working class town outside of Boston and this family is a large presence there. They have a very particular way of living and being. The mother is this bleached blonde force of nature with the cigarettes and the glass in her hand, managing her sons careers over two decades. Then you have Dicky, who is the biggest hero out of Lowell since Jack Kerouac, who is this warm, charismatic, loose kind of guy who's also a little outrageous. And then here comes his younger brother, Micky who is quiet and disciplined and can't quite figure out how to separate himself from his family."

He continues: "I wanted to tell the story of these people and their world. They are in some ways heartbreaking, in some ways hilarious, yet always very, very real."

To write the first drafts of the script, screenwriters Paul Tamasy, who produced the film as well, and Eric Johnson, who also serve as executive producers, spent lots of time in Lowell, interviewing everyone connected with the story, which turned out to be a good portion of the community. In the 1920's Lowell, long a major East Coast manufacturing center, forged on the bedrock of hard-working immigrants, had experienced a downturn as its mills and factories began shutting down. Meanwhile, boxing became an outlet for a lot of the town's young men and the ring became one last place they could still hope to hit it big.

"There were something like thirty boxing gyms at one time in Lowell," explains Eric Johnson. "It was seen as a way into a better life and out of poverty. After the mills closed, there was such high unemployment, boxing became a kind of opportunity."

Paul Tamasy notes that the Ward/Eklund family came across as the quintessential Lowell clan. "They're very representative of the town in how tight they are and how much they believe that, no matter what, family is an anchor," he says.

After an initial draft from Eric Johnson and Paul Tamasy, David O. Russell continued working with screenwriter Scott Silver, who earlier penned the Detroit-set drama 8 Mile starring Eminem, to give the brothers story additional layers of grit and comic bite.

As production approached, it became a bottom-line priority to David O. Russell to involve the entire Ward/Eklund family, and the town of Lowell, in the process which, in turn, he says added a daily dose of real-life inspiration to cast and crew.

"We wanted to be absolutely respectful of who these people are and, at the same time, be completely direct about the truth of their story," David O. Russell reflects, "and they inspired us to do that because they are so comfortable in who they are."

Micky Ward says David O. Russell stayed true to the promise of depicting the family with compassion and honesty, as well as a storyteller's instincts. "He said right from the get-go that he wanted to make this as real as possible and that's what he did. He really listened to me and to Dicky and he was never afraid to try absolutely anything."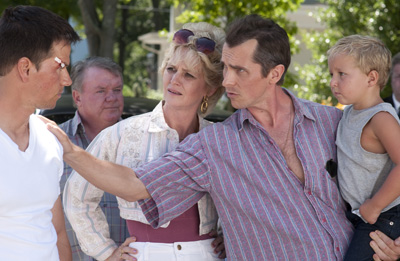 Irish Thunder: Mark Wahlberg is Micky Ward
When it came to casting Micky Ward - the underdog boxer dubbed "Irish Thunder" for his sudden blasts of power as he won an astonishing string of fights in a match's final moments - there was never any doubt that Mark Wahlberg would take the role.

Mark Wahlberg had been passionate about making a film about the up-and-down and then triumphant relationship of boxing brothers Micky Ward and Dicky Eklund for years and, in fact, had already personally approached the two about doing a movie. He not only stars in The Fighter, but also serves as a producer.

Long before the film received its "green light," Mark Wahlberg went into hardcore training. For three years, he brought his athletic trainer with him on all his other film projects and was constantly working out. "That often meant getting up at four o'clock in the morning," he says, "going to the gym for two hours, taking a shower, then going to do another job, all while hitting the mitts in the trailer in between takes."

Adds producer Ryan Kavanaugh, "Mark Wahlberg has been incredibly passionate about this movie for years and years. Mark Wahlberg lived with it for so long and believed in it so deeply. He became Micky Ward in every way."

Working with trainer Bo Cleary, Mark Wahlberg was paired with real sparring partners so he could take his skills to the next level. Mark Wahlberg summarises: "Every day I lived and breathed boxing to become Micky Ward. I knew the kind of expectations Micky had and mine were just as high. I wanted to be believable in every aspect of the role, including the boxing. I didn't want to rely on editing or choreography. I wanted to look and be the part, for real."

The result was that by the time shooting started, Mark Wahlberg was in near-professional boxing condition. He also was ready to dive into Micky's inner world, one torn by his loyalty to his family and his need to step out into the world as his own man.

"Mark Wahlberg inhabited Micky," says David O. Russell. "He moved like him, dressed like him and got his style of fighting down perfectly. More than that, I think he also he really understood him. Like Micky, Mark Wahlberg's family has been through everything - all kinds of heartbreak. Like Micky, he doesn't give up, ever. He has that same intensity to him. It's a quiet, frightening intensity that when he breaks it out, is extremely powerful."

He goes on: "Mark Warhlberg has been a fighter, he has also been in and out of jail in the past, so he brought all that realness, all that heart and all that experience to the character of Micky. Mark Warhlberg set the bar very high with how much commitment he had to give the role and how much love he had for these people. It elevated everything everyone else did, whether you were the makeup artist or the director."

The real Micky Ward was thrilled that an actor with the charisma and acting chops of Mark Wahlberg would play him. "I also liked that he's a local guy from Dorchester and he knew my history. He's from the streets," says Micky Ward.

Ward, winner of the World Championship title in 2000 against Shea Neary and winner of two "Fights of the Year" for beating Arturo Gatti and one "Fight of the Year" for beating Emanuel Burton, says that he was greatly impressed by Mark Wahlberg's level of commitment in preparing for the role. "He really did his homework," Micky Ward notes. "Through his dedication and perseverance, Mark Wahlberg helped to make this movie happen. I just can't thank him enough."

Most of all, Micky Ward was taken aback by Mark Wahlberg's dedication to getting into fighting shape and learning all he could about Micky Ward's distinctive boxing techniques. "He had my moves in the ring down," muses Micky Ward. "I tap to the head and throw that left hook to the liver and I think he actually hurt a few of his guys in the gym doing that. I was sitting there going "ooh, that hurts."

Micky Ward even stepped into the ring with Mark Wahlberg himself in a few practice bouts. "He punches hard and he knows where to get you, too," Micky Ward proclaims of the man who learned to emulate his style. "He watched me too good! I was sore the next couple of days. I got him back, but he was ready for it. He knew me so well, he knew what was coming."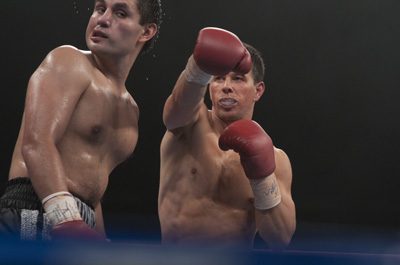 Hard Knocks: Christian Bale is Dicky Eklund
While Mark Wahlberg seemed destined to play the role of Micky Ward, next began the search for an actor who could match him as Dicky Eklund. David O. Russell and Mark Wahlberg both agreed the role would require an actor of unusual dexterity, someone able to get to the heart of a tricky character who is appealingly funny and talented yet also a broken hero in search of redemption.

There were multiple levels to Dicky. As a fighter, he was known for his iron tenacity, his strategy and his stunning speed. Among friends in Lowell, he was known for his charisma, friendliness and humor. On the streets, he had become caught up in a violent life of addiction, one that ultimately led to a 10-15 year jail sentence as his life spiralled downward. Christian Bale, renowned for his ability to penetrate the most intense of characters, from the shadowy superhero Batman in The Dark Knight to John Conner in Terminator Salvation, brought all of these qualities to bear on his performance.

"I'd seen Christian Bale do some pretty amazing things physically and emotionally as an actor," says Mark Wahlberg. "I thought he would be incredible," says Mark Wahlberg.

"Christian Bale was perfect because he is one of those chameleon actors who transforms himself," says David O. Russell. "He spent a lot of time with the real Dicky Eklund and he became him."

"Christian Bale took one look at the material and he loved it," recalls David Hoberman. "He really wanted to invest himself in this role, which we knew is what it would take to show Dicky's full journey."

Dicky Eklund and Micky Ward were also pleased with the choice. "When Christian Bale came on board, Dicky was so happy," recalls Micky Ward. "If you had just met Dicky and you had seen Christian Bale, you'd think it was the same person. He played him to a tee. It was incredible to watch."

Christian Bale was drawn to Dicky Eklund's inner landscape, full of equal parts charm and demons, and couldn't wait to meet him. "Dicky's one hell of a character," he comments. "I was very happy to get to know him. He had such an extraordinary talent, which I don't think he fully appreciated himself, but he was also drawn to extremes. He had extreme ups and extreme downs. Dicky was so naturally gifted that he was able to go drinking all night and then jump in the ring in the morning, but that catches up to you after awhile, and it was hard for him to fulfill on his potential. He could have been champ. Yet, he always had a big heart."

He was also was riveted by the script's portrait of Dicky and Micky's complex but undefeated sibling relationship. "The two brothers were absolute opposites," he says. "Micky was all about hard work and discipline. They were such total opposites that Micky was a prison guard at the same Billerica Jail that Dicky served time in. Yet they were also as closely bonded as only brothers can be. They really needed each other. They were on such different paths in their lives, but ultimately, they couldn't do what they each needed to do without the other."

Christian Bale began prepping for the role by transforming his physical appearance dropping almost 30 pounds to reveal a sinewy fighter's physique whittled away by hard living. He, too, began intensive boxing training, working with the real Dicky Eklund to learn his unique moves. A newcomer to the ring, Christian Bale also says he had to learn to think like a pugilist.

"In the ring, you have to learn to calm your mind, because you've got to stop going into that animalistic fight mode when someone is trying to hit you. You've got to calm yourself and get your heart rate down, but once you start training it's really quite addictive," Christian Bale admits.

As Christian Bale began to get more and more into the role on both a physical and emotional level, he spent more and more time with Dicky. "I was initially worried it might be hard to have him on the set, but that isn't the way it was at all," says Christian Bale. "I could never stand by quietly and watch an actor play me, but Dicky did, he really came to trust the portrayal I was giving of him."

Micky Ward says he was awed to see his brother portrayed so completely, with nothing held back. "You could really see Christian Bale's dedication to the character," says Micky Ward. "He'd watch Dicky and he'd really study him. He didn't say much. Christian Bale is not a person of words. I think he just does everything in his mind, but he really gets into his role. I think he plays a better Dicky than Dicky. For me, it was just fun to watch."

Everyone on the set was amazed to see the way Christian Bale brought Dicky to life, especially in his rapport with Mark Wahlberg. Says Todd Lieberman: "Christian Bale really got down Dicky's movements, his speech patterns and the chemistry he has with Mark Wahlberg is not dissimilar to the way the real Micky and Dicky are in real life. The final result is something pretty astonishing. He portrays someone who is very flawed, who has all this innate talent and essentially throws it away for the sake of drugs. And then, in the process of redeeming himself, he comes to realise that his relationship with his brother is more important than his own personal goals and aspirations. That's very powerful."

For David O. Russell, one of the most important things was to capture how Dicky was always a pivotal figure in the town of Lowell, someone almost everyone knew and either admired or worried about and Christian Bale, he says, got that. "Christian Bale's a very quiet guy, but by channelling Dicky, he was able to become this extremely colorful, intense guy who enjoys talking to people everywhere. I mean Dicky is friends with everybody on the street of Lowell, everywhere. He's like the mayor. Christian became that guy."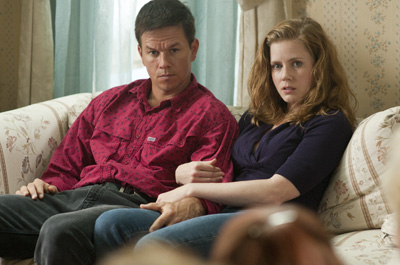 Taking Off The Gloves: Amy Adams is Charlene
To play Charlene, the street-smart female bartender who winds up in Micky's corner, David O. Russell approached Amy Adams, who quickly came to the fore in Hollywood with two very different Oscar®-nominated performances in Junebug and Doubt. Amy Adams was compelled first and foremost by the chance to work with David O. Russell.

"I had met with David O. Russel on another film," Amy Adams recalls, "and I was just adamant that I wanted to work with him. Then, he called me up and offered me this part. I read one scene and knew I had to be Charlene. I got very excited about it."

Amy Adams was exhilarated in part by the chance to take on a character unlike any she's tackled before - a brassy, hard-nosed, working-class woman who knows who she is, takes no guff, says exactly what's on her mind and isn't afraid to throw a few punches of her own.

Says David O. Russell of the role: "Amy Adam's character is a woman who can lay you out with a straight right. She's hard as nails and that's what it took to help Micky. It took someone as tough as she was to help pull him away from this amazing, insane, very powerful force of his family, which was as destructive as it was constructive."

He continues: "Amy Adams was playing against type. She even changed the tone of her voice. Amy Adams is normally a very warm person, but once she started to become Charlene, she wouldn't smile and she was not friendly. One day I said to her 'What's wrong?' and she said "Nothing. I'm just in character." She was in character all the time. She was amazing and her character became so intimidating and powerful - this tough, confident girl who has had a lot of messed up things happen in her past, but is willing to be called out on them."

Adds Todd Lieberman: "It was great to see a completely different side to Amy Adams. She has terrific comic timing, but she's also a very sensitive dramatic actress and, definitely in this, she's got some street in her. There are a lot of different levels to this character. She can be lovable and charming, but she's really scary, too, when she gets riled up on screen."

"We were lucky to get Amy Adams," concludes Mark Wahlberg. "I knew she'd kill it."

The icing on the cake for Amy Adams was collaborating with such a stellar and passionately devoted group of actors. "Everyone was so much fun and so generous and supportive," she says. "I had such a great time working with Mark Wahlberg and everyone brought so much to his or her character. Christian Bale's just unbelievable and inspiring and Melissa, we're close far beyond the set."

Also inspiring for Amy Adams was, as she had anticipated, working with David O. Russell. "He had all these great ideas about Charlene and what he wanted to do with her, how he wanted her to sound with a very specific pacing. He wanted her to be a rock for Micky to come up against in this fast and furious, crazy mayhem that he's living in. We talked about how Charlene is the one who sort of slows him down and makes him take a look around at his life."

She concludes: "David O. Russel really forced me to let go of how I worked in the past and showed me how to surrender to the process of telling this story."

She also had a chance to meet the real Charlene. "I wanted to spend more time with her than I was able to, but I'd seen some tapes of her and talked to a lot of other people about her. She's very grounded and straight forward," she comments. "The energy the whole family brought to the set was really positive. It was inspiring every day to see this group of people who are still so close to each other and their community."

The real Micky Ward agrees that Amy Adams was the perfect choice to bring his wife to life on screen. "She has that feistiness in her," he sums up. "She played a hell of a Charlene."

One Tough Mother: Melissa Leo is Alice Ward
Academy Award® nominated actress Melissa Leo completes the main cast as Alice Ward, Micky and Dicky's mother-turned-boxing-manager and a daunting opponent for Charlene and anyone else who would dare to mess with her sons. Leo, known for her long-running role on television's acclaimed "Homicide" as well as a string of critically admired indie dramas, was Mark Wahlberg's first choice to take on one of the film's most vivid and persistent characters, a force to be reckoned with in her own right.

"There were a lot of different people that they were talking about for Alice initially, but I'd seen Melissa Leo in Frozen River and I said "this is the person you have to cast," remembers Mark Wahlberg.

Donning Alice's trademark bleached hair, high heels and slinky leopard dresses was a big change from the real Melissa Leo, who David O. Russell says is more of a "country girl with flip flops." But Melissa Leo dived into the role with no hesitation.

The director continues: "Alice Ward is a fantastic, colourful character to play. She's someone who loves her sons, but believes she has to be tough as nails for them in this hardcore world of boxing. She has to deal with all of the politics surrounding her sons and worry about them getting ripped off. Alice truly believes that only family can protect you, that only family can guarantee that you're not going to get robbed blind. She can be stubborn and controlling and she's worried that Charlene will pull Micky away from her, but she's always coming from the right place."

Melissa Leo was fascinated by the character, and even more so when she met the real Alice. "In meeting Alice, I felt a great responsibility," she says. "She's so different from me. She's a different age than I am, comes from a different class of people than I do, she speaks in a completely different way and has a different moral foundation. So, it was a big leap to play her and there were a great many people who contributed to the creation of Alice. Johnny who did my hair and Trish who did my makeup are a very important part of Alice along with Mark Bridges who did the costumes and, of course, David O. Russell, who really helped me to create Alice on the screen."

Particularly intriguing to Melissa Leo was Alice's relationship with the woman her son loves: Charlene. "The relationship between Alice and Charlene is so interesting," she muses. "I think it's one of those things that happens when a son ends up being with a woman who is very much like his mother. When that happens, the mother and the wife don't have an easy time of it."

Melissa Leo says she also had a challenge sorting out the seven women who were cast as her daughters. "I taped photos of them up at home and eventually in my trailer to really sort out who was who so that when they all arrived, I was not worrying about names and nicknames," she laughs.

Perhaps the most fun was getting to play the powerful maternal influence to both Mark Wahlberg and Christian Bale. "Getting to know Christian Bale and Mark Wahlberg was an awesome part of this job," she comments. "More different actors you couldn't find, but each brings incredible talents all his own. They were perfect as brothers, so alike and so very different at the same time."

She continues: "With Christian Bale, I watched him become Dicky, using mannerisms that he never would have dreamt of himself, while incorporating himself into Dicky as well. It was a joy to play with and banter with and love him fiercely as my favorite son. With Mark Wahlberg, I felt an enormous respect, but never felt like I really got to fully know him. I think that's akin to how Alice feels about Micky. She loves him, but she thinks he doesn't need her in the way that her older son does."

Ultimately, Alice realises that Micky does need her, and the whole family, but in his own unique way. "The wonderful thing about Alice," sums up Todd Lieberman, "is that you can only argue that everything she did, she did out of love for her kids."

In the end, Melissa Leo passed the ultimate test, as the real Micky Ward found himself alternately amazed and moved by her performance, "She had it right to a tee from the hair and the lipstick to the way she moved and talked. It was incredible," he says.

Rounding out the cast is an accomplished group of actors that includes Jack McGee ("Rescue Me") as Micky's father, who sees his son getting short shrift amidst the family mayhem. "Jack McGee was fantastic, "says David O. Russell. "He was a great spirit on the set. He opens his mouth and he's just so real, so authentic. He's from the Bronx and he totally understood these people and who they were, and they were like his own family."

"I've never played somebody who is still alive before," comments Jack McGee. "I met with George Ward and he spoke quite honestly and gave me a good sense of the kind of man and father he was and still is. The Ward and Eklund families were very complimentary. They let me know how much I reminded them of their father."

In another interesting turn, the real Mickey O'Keefe, the Lowell policeman who helped to train Micky and clashed with Dicky over his lifestyle, portrayed himself in the film. Mickey O'Keefe has been a police sergeant in Lowell for over 30 years and is still on the force.

"It was Mark Wahlberg's idea to cast Mickey," explains David O. Russell. "Mark Wahlberg wanted the realness and the intensity of someone who knew fighting and knew Micky and Dicky and nobody knew these guys better than Mickey O'Keefe because he trained both of them."

Mickey O'Keefe remembers getting the call from Mark Wahlberg to be in the movie and initially thought that he was joking. When he realised Mark Wahlberg was serious, the two of them went out for dinner. Mickey O'Keefe still had doubts. "Mark Wahlberg said I could do it because, as a police officer, you act," he recalls. "If somebody wants to commit suicide or you're involved in a gun situation or whatever, you're thinking on your feet. So, I said "I'll give it a shot."

Recalls Mark Wahlberg of Mickey O'Keefe's initiation as an actor: "Mickey O'Keefe looked at me like "I don't know what I'm doing,' I just said 'Will ya shut up? Shut up and be yourself. You're fantastic! Just learn your lines and we'll help you. You're going to be great."

That approach worked, says David Hoberman. "It turned out that Mickey O'Keefe was unbelievable because he brought in a naturalism nobody else could have gotten to."

Of his real life student Micky Ward, Mickey O'Keefe says, "Micky was different than everybody else. He was a kid who just had it. They couldn't get a better name for the film than The Fighter because that's what he was - a fighter. His brother was a great boxer. There's no taking that away from him, but Micky's a fighter. He never stepped back from anybody, even in the Sanchez fight when he was getting his ass kicked. He never wavered and then when push came to shove, he knocked the guy out with that left hook to the body. It's like getting hit with a bolt of lightening. You can't breathe; you can't talk. You just want to die and when you see people fall, that's real. You know he pulled it off. You know it was a great fight."

In addition to Mickey O'Keefe starring as himself, Micky Ward's real sisters also played important roles in the film. "We had to have them in the movie," says David O. Russell. "They're just amazing people." Micky Ward's real life Uncle Gerry also appears in the movie, reliving his role as head of the local paving company where both brothers worked.

David O. Russell says that it was not only unusual, but a challenging balancing act to use so many real family members in the film. "We didn't want to be reckless about these people's reputations, but we wanted to be authentic and not pull any punches. So, I said to them time and again, 'What makes any story compelling and amazing is the stuff that we all go through that's emotional and fractured and crazy and messy and funny and heartbreaking."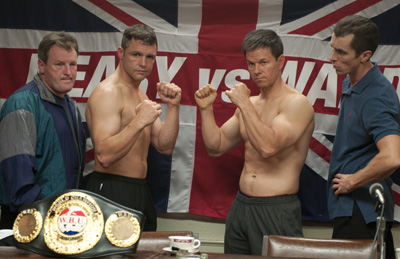 Ring Side: Recreating Micky Ward's Fights
While The Fighter is as much about family as it is about fighting, David O. Russell was committed to capturing the agony and the ecstasy of Micky's historic bouts in as visceral and true a way as possible. He neither wanted to romanticize the "sweet science" of boxing nor to over-choreograph the fights, but to let them play out almost in real time with the raw, palpable, stripped-down realness of documentary footage.

This was no easy task, as the entire film was shot at a rapid-fire pace, in just 33 days, but David O. Russell says that only helped to bring a heightened level of focus and intensity. In the end, all of the scenes in the ring were shot over just a couple of days right at the beginning of production - a trial by fire.

Since the three main fights were originally aired on HBO, it was decided to bring in an actual HBO crew to shoot some of the footage in the same multi-camera way HBO typically uses to shoot their popular fight coverage. (A fourth fight was shot in a smaller venue, without the HBO cameras, to give what Russell calls, "a looser feel.") The unadorned footage seemed to capture the human struggle at the core of boxing with greater power than any swirling camerawork ever could.

Mark Wahlberg says that one of the reasons that the plan worked is that at the beginning of the shoot, he was in his best fighting shape. He later gained weight to shoot the part of Micky's life when he was heavier set, but the most important element of the boxing scenes for Wahlberg was to give the audience a sense of Micky Ward's physical courage and wicked left hook that came out of nowhere just when it looked like he was finished for good.

"I wanted the film to have some of the most realistic boxing ever seen on screen. That was my goal," Mark Wahlberg says, adding that he watched ever single bout Micky Ward ever fought "at least a hundred times each."

To that end, he never held back once the cameras were rolling. "We wanted to duplicate the actual fights so we did do some choreography but, to make it more real, we wanted to actually take some of the punches," he confesses. "There are times when we were not really hitting each other but, for the most part, we wanted to get in there and just take it."

Mark Wahlberg perfected the move that Ward was best known for: getting inside the arms of another boxer and taking him down with a precisely placed, perfectly timed body shot.

"We wanted to capture what made Micky so unusual," says David O. Russell. "There are very few fighters who drop people with a body shot like that. He had a very particular fighting style, which really represented his personality. He was a steadfast, disciplined, never give up kind of fighter, who could take a lot of punishment and he was also that kind of person."

For Micky's opponents, David O. Russell searched for boxers who might resemble the men Micky went up against in real life. Fight Coordinator Ben Bray recruited Miguel Espino, one of the top-ranked middleweights in the United States to portray Alfonso Sanchez in one of the key fights of Micky Ward's career. A trio of stunt men with boxing experience stepped up to play the other three boxers: Peter Cunningham portrays Mike "Machine Gun" Mungin, Anthony Molinari portrayed Neary and Anthony "Ace" Thomas played the role of Castillo.

"We all studied the fight tapes of the individual matches and worked on getting the moves down and gaining or losing weight to resemble the guys were playing," explains Anthony Molinari.

Boxing legend Sugar Ray Leonard portrayed himself in the film and it didn't take much coaxing from golfing buddy Mark Wahlberg to get him to be part of the production. "I just called Sugar Ray Leonard and said "Sugar Ray Leonard, I need you," Mark Wahlberg notes. "Everyone was saying that we couldn't have the real Sugar Ray Leonard in the movie and that we'd have to get somebody younger. I said Sugar Ray Leonard still looks like he's 25 years old!"

At one point during the shoot, while the HBO crews were resetting cameras, Sugar Ray Leonard actually took off his jacket and climbed into the ring with Mark Wahlberg. He shared some of his reminiscences of fighting Dicky Eklund with the actor as well.

"You know, it was funny," says Mark Wahlberg. "If you go back and you watch the Dick Eklund-Sugar Ray fight, there wasn't one person in there rooting for Sugar Ray Leonard. And, if they were, it was only a couple of people and you couldn't hear them because of all the crazy, rowdy fans that were there for Dick Eklund. Sugar Ray Leonard said he had never been so scared in his life because obviously it was very hostile territory, a very hostile time in Boston. Racial tension was really bad back then. He said he wasn't so much scared in the ring, but he was scared of everything that was going on outside the ring. To have that be the case and then to come back thirty years later and have the place give him a standing ovation, it was very nice. He appreciated it a lot."

For the most part, however, it was tough, gruelling work for Mark Wahlberg as he and the other boxers recreated hard-fought round after hard-fought round in a very sma