Charlies Angels are back!
Even if you were not around the first time to enjoy these foxy 70's crime fighters, you can find out all about them this month at femail.com.au. We are celebrating the long awaited release of the enivitable.
blockbuster - today's recreation of Charlies Angels. Their aim is the same - to protect and serve society. However todays Angels have a little help from current state of the art film technology, which has resulted in a mind blowing action packed kick ass femme flick, starring Cameron Diaz, Lucy Lui and Drew Barrymore.So take a walk down memory lane and enjoy the original Angels content, femail has dug up for your enjoyment, then move on to the latest news on todays powerhouse Angels.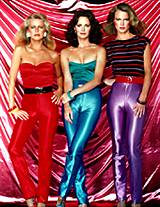 Once Upon a Time...there were three little girls who went to the Police Academy...and they were each assigned very hazardous duties...but I took them away from all that...and now they work for me...my name is Charlie.
Good morning Charlie, sound familiar? That's because this was just about how every Charlies Angels episode began. The Angels could be seen talking to an intercom that now looks like a dinosour age radio! Never the less this was how the Angels received instructions (from the mysterious Charlie who was only ever heard and not seen) on how to fight crime for that particluar mission.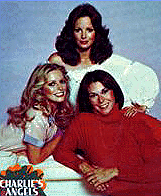 The old Angels crew was constantly changing - Playing the super-sophisticated Kelly Garrett was Jaclyn Smith the street smart chick.
Kate Jackson played the intelligent Angel, Sabrina Duncan.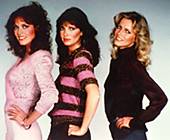 There was of course Farrah Fawcett the athletic Angel known on screen as Jill Munroe. Fawcett was then married to Six Million Dollar Man star Lee Majors. Fawcett becane dissatisfied with the creative direction of the show, and was looking to launch a career in films. She left the series after one season, only to return in guest shots over the remainder of its run on ABC.
Fawcett's replacement was Max Factor modeling sensation Cheryl Ladd, who likewise became a star playing Jill Munroe's sister, Kris, for three seasons. Kate Jackson was also replaced, in 1979, by Shelley Hack, as Tiffany Welles, who was in turn replaced the next year by Tanya Roberts as Julie Rogers. Ultimately, the series ran for 114 episodes before being canceled in 1981 and entering television history as one of the defining series of the era.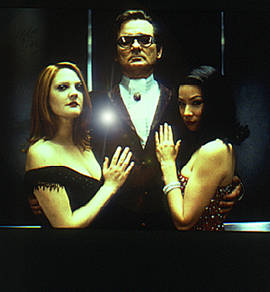 Dylan - Drew Barrymore
The bad girl with a big attitude and a big heart. Tough talking and ass kicking she knows how to get things done, but she may not remember what she did last night....
Alex - Lucy Lui
She's sexy and sophisticated with a seventh level blackbelt. She can hack into the Pentagon and crack any code, but she can't boil water.
Natalie - Cameron Diaz
She's a five time jeopardy winner and a pro car race driver, she's a beautiful blonde and can kick any mans ass. Oh, and she wears Superman underwear.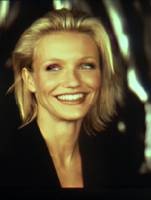 Charlies Angels Movie Preview
A trio of elite private investigators armed with the latest in high-tech tools, high-performance vehicles, martial arts techniques and a vast array of disguises unleash their state-of-the-art skills on land, sea and air to track down a kidnapped computer ace and keep his top-secret voice-identification software out of lethal hands.
They're beautiful, they're brilliant, and they work for Charlie. In Charlie's Angels, a sexy, high-octane update of the original '70s action-comedy TV series, Natalie (Cameron Diaz), Dylan (Drew Barrymore) and Alex (Lucy Liu), alongside faithful lieutenant Bosley (Bill Murray), must foil an elaborate murder-revenge plot that could not only destroy individual privacy worldwide, but spell the end of Charlie and his Angels.
Eric Knox (Sam Rockwell), the handsome, brainy founder of Knox Technologies, has just been kidnapped from his own office. Knox has designed a voice identification software program that works more accurately than current fingerprinting techniques-a scientific breakthrough that would mean disaster in the wrong hands.
Following Knox's disappearance, Knox Technologies President Vivian Wood (Kelly Lynch) knows there's only one man-and three smart, sexy detectives-to turn to. Hired to track down Knox, Charlie's Angels set their sights on his rival, Roger Corwin (Tim Curry), who owns Red Star Systems, the world's largest telecommunications satellite network.
Undercover as geishas, belly dancers and racecar drivers, the Angels and Bosley search for clues and further infiltrate Corwin's circle of friends and business associates. It appears the Angels are well on their way to solving their biggest case yet... until Dylan responds to a mysterious phone call that puts all their lives-including Charlie's-in danger once again.
-
Paul Fischer