Carrie Preston True Blood Interview
Always up for the next challenge, Carrie Preston is gearing up to shoot the fourth season of the highly rated True Blood, the HBO series from creator Alan Ball (mastermind of "Six Feet Under"), alongside an international ensemble of actors, including Stephen Moyer and Anna Paquin. She also completed two episodes of The Good Wife last season, playing Chris Noth's new lawyer. Carrie Preston can be next seen on the big screen starring opposite Jennifer Connelly and Ed Harris in Dustin Lance Black's What's Wrong With Virginia? Also on the horizon is her harrowing turn as a struggling single Mom in A Bag of Hammers, with Rebecca Hall and Jason Ritter. Carrie Preston is also busy with the post production of her feature film, That's What She Said, in which she directs.
Carrie Preston's breakout Outer Critics Award nominated turn as "Miranda" in George C. Woolf's Broadway production of Shakespeare's The Tempest with Patrick Stewart, led to roles in major television series such as Lost and Desperate Housewives along with scene-stealing turns in Duplicity with Julia Roberts and Clive Owen; Woody Allen's Vicky Cristina Barcelona; the Oscar nominated Transamerica, playing Felicity Huffman's sister; Alan Ball's Towelhead opposite Aaron Eckhart, the Daisy 3 Pictures' (her production company) film Ready? OK!, and the critically acclaimed independent film, That Evening Sun, with Hal Holbrook, which just completed its theatrical run. Carrie Preston made an auspicious big screen debut as one of the two sexy, Southern bridesmaid sisters in the Julia Robert's blockbuster My Best Friends Wedding. Some other film credits include playing the 50's housewife Sally, struggling with her Rock Hudson-esque husband in Straight-Jacket; playing the lead in the indie festival hit Lovely By Surprise; Mercury Rising with Bruce Willis ; For Richer or Poorer with Tim Allen and Kirstie Alley; Guinevere with Stephen Rea and Sarah Polley; Woman Wanted with Holly Hunter and Keifer Sutherland; Stepford Wives with Nicole Kidman; and Robert Redford's The Legend of Bagger Vance.
On television, she was a series regular on the sitcom Emeril, starring the chef Emeril Lagasse. Guest appearances include Felicity Huffman's sister (again) on Desperate Housewives; Private Practice, Lost, Numbers; The Inside; the series finale of Arrested Development; Wonder Falls; playing two killers and one victim on Law and Order: Criminal Intent; Sex and the City with Sarah Jessica Parker; Spin City, with Michael J. Fox; Union Square; Significant Others; and Trinity.
A crucial role playing "Ophelia" in Hamlet 15 years ago at the Alabama Shakespeare Festival is where Carrie Preston met her husband, Emmy Award winning Michael Emerson, who was playing Guildenstern in the production. Since then, the two have both starred in the movies Straight Jacket, Grace and Glorie, and The Journey. Keeping it in the family, Carrie Preston played Michael Emerson's mother in a flashback on his hit series Lost. Michael Emerson also had a role in the film 29th and Gay, which Carrie Preston produced and directed.
Ture Blood
Buy Now from Fishpond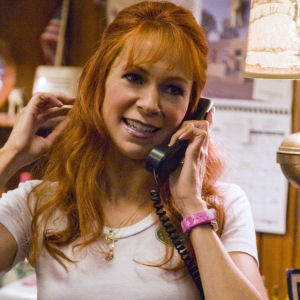 Interview with Carrie Preston
Question:
Are you able to give us an indication of what happens in Season 4 of True Blood; we know Sookie Stackhouse is a fairy but what's next?
Carrie Preston
: This is the season of the witches. So you will get to see how that gets played out. You will also get to see Arlene struggling with the same dilemma she had at the end of season 3. Only the problem has grown.
Question:
Can you talk about working with Aussie, Ryan Kwanten?
Carrie Preston
: I think Ryan Kwanten is one of our strongest players. I don't think the world really realizes just how good he is or how difficult his role is because he makes it look so playful and effortless. I have a great respect for him, and I never tire of watching him work. I'm usually critical about Aussies and Brits playing American southerners because that's where I grew up. But Ryan Kwanten nails it every time.
Question:
What is a typical day on the set of True Blood?
Carrie Preston
: I shoot a lot of my scenes in Merlotte's, which takes place on a sound stage in Hollywood. The exterior of Merlotte's is on the backlot of the Warner Brothers lot. If we are shooting the interior bar scene, I'm usually one of the first actors to arrive. I usually get into costume first and then they bring me in to have my makeup and hair done. This can take a while with me because there's so much to be done. Then we rehearse the scene on set while the crew watches and sets marks. We finish getting ready while the crew lights the stage and rehearses camera moves with our 2nd Team, who stand in for us actors. Once they are ready, we come back and commence shooting the scene from every angle. This repeats all day until the day's work is done. We take our lunch about 6 hours after the main crew are called, which is about 8 hours after I arrived. So "lunch" could be 1am in the morning, if you are having a night shoot.
Question:
You've starred in Shakespearean movies; can you talk about the degree of difficulty involved in the Shakespearean dialogue?
Carrie Preston
: I haven't done Shakespeare on film, but I've certainly done my share of Shakespeare plays. I started studying how to act Shakespeare when I was a teenager, and then I went to Juilliard in New York, which is a classical training program. But I am still learning. It's a life long process, but I love trying to figure out how to make that poetry sound like it's being spoken by a real person for the first time.
Question:
How does that compare to your accent on True Blood?
Carrie Preston
: We don't do accents in Shakespeare unless they are called for in the production. Generally Americans perform Shakespeare with a standard American dialect, which is clear and basically void of any regionalisms.. Sometimes directors want to place a production in a certain context. So they will, for example, do a production of "The Merry Wives of Windsor" and set it in a trailer park in Alabama. Then the actors would do an accent for that particular production. Although Shakespeare is challenging, I think all forms of acting have the same goal: to figure out what the person you are playing wants, how they will get what they want and why they are saying what they are saying in order to get what they want and what are the obstacles in the way. That's universal, no matter what words you are speaking.
Question:
What does it take to get into playing the character of Arlene Fowler?
Carrie Preston
: I grew up in the south, so I know women like Arlene. I also trust the writers, and I let their words take me where I need to go.
Question:
How are you similar to the character Arlene Fowler?
Carrie Preston
: We are both strong women. I'm not narrow minded like Arlene, but we have the same work ethic. We both deeply care about what we do for a living.
Question:
Do you have a favourite True Blood moment?
Carrie Preston
: I loved playing the scene in season 2 with Rutina Wesley (Tara) when I admitted that I thought I had my way with Terry but blacked out afterwards. We had a great time shooting that scene.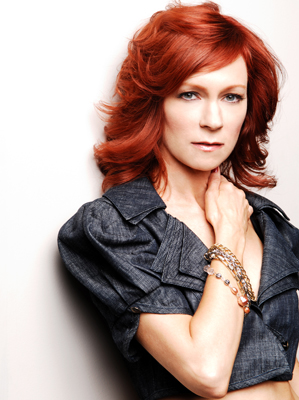 Question:
Why do you believe the fans love True Blood so much? What is it about the vampires and supernatural theme that draws big crowds?
Carrie Preston
: In this youth obsessed world of ours, I think people love the idea of living forever. With True Blood, one gets to see what it would be like live forever as a young, sexy, passionate creature.
Question:
Can you talk about why you've chosen to stand in front of the camera and behind in directing and producing roles?
Carrie Preston
: Directing and producing allows me to exercise all of my creative muscles, not just the acting muscle. I find that it enhances my acting career because it teaches me so much about all aspects of filmmaking, and I carry that knowledge with me when I'm in an acting role. I understand better what the director needs from me and what the crew is doing when they are lighting and preparing the set for the shoot.
Question:
Do you have a preference between acting and directing?
Carrie Preston
: Acting will always be my first love, but directing has become something that really fuels me creatively. When I am between acting gigs, I can always focus on getting another directing or producing project off the ground.
Question:
What projects are you working on at the moment?
Carrie Preston
: Besides shooting Season 4 of True Blood, I am in post production on a film I directed and produced called "That's What She Said". It's a comedy written by Kellie Overbey and starring Anne Heche, Marcia DeBonis and Alia Shawkat. I hope to have it ready to submit to festivals in the next month or so. I'm very proud of it.
Interview by Brooke Hunter
Image:
http://dimitryl.com/