The Cannes International Film Festival might be over for another year but the memories will linger longafter the red carpet has been rolled away. The prestigious French event turned 60 this year and noexpense was spared to make it a memorable bash indeed.
Anyone who was anyone popped into town during the 11 days to enjoy the festivities and stars like George Clooney, Brad Pitt, Angelina Jolie, Jude Law, Matt Damon, Joaquin Phoenix and Eva Mendes, were just a few of the Hollywood hotties to walk the famous red stairs.
But Cannes is about spectacle as much as anything else. Last year the prize went to Borat and hisfamous lime green man-bikini (a fashion trend that thankfully has not taken off). This year JerrySeinfeld caused the biggest stir when he donned a padded bee suit and flew from the top of the CarltonHotel (courtesy of a heavy duty wire) down to the beach where hundreds of reporters caught his stunt oncamera. It was all done to promote his upcoming film The Bee Movie - which also stars Chris Rock and Renee Zellweger - and it proved an effective way to get the attention of the harassed media.
The other event that was the talk of the Croisette was the annual amfAR Cinema Against Aids fundraising night. It's primarily for the mega rich where a seat at the ritzy do can cost upwards of 10,000 euro (which all goes to charity). Hosted by Sharon Stone it was a lively night with the Basic Instinct star proving a dab hand at MCing and getting the well-off to part with even more cash. The highlight of the evening however goes to the woman who paid a whopping 250,000 Euro for a kiss from George Clooney. Those spotted at the event included Misha Barton, Daniel Craig, Toni Collett (who was on the Jury this year), Rose McGowan, Naomi Campbell and Claudia Schiffer
That was just one of many glittering affairs taking place at Cannes. The Variety party people went allout and that do managed to attract pretty much every celebrity in town (Leonardo di Caprio seemed to be enjoying himself as was George Clooney). Then there was the elegant Chopard party where expensive champers and tasty chocolate nibblies flowed all night long (Don Johnson was seen shaking his thang on the dance floor and the Whale Dreamers party gets brownie points because they went to the trouble of erecting Arabian style tents on the beach complete with cushions and drapes although sadly no camels. Yes Cannes is a magical place not least because for a few days eachMay you get to pretend that you belong among the rich and the famous. That is of course if you manage to talk your way into the exclusive soirees.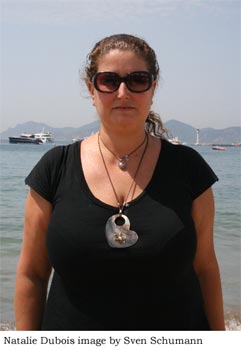 One person who has no trouble getting in to where ever she wants to is Natalie Dubois the French dynamo behind the only celebrity gift suite at Cannes this year.
Celebrity gifting is a booming business in the States primarily because it's a win win situation for allinvolved. The companies who gift the stars are happy to give away thousands of dollars worth of products if it means an A list celebrity will be seen with their goodies. As for the celebrity well everyone loves getting free stuff right? Yes and no says Natalie Dubois. Of course free schwag tends to put a smile on most celebrities faces but at the end of the day they "don't just want the same thing at every suite," says the reigning queen of the upmarket goodie bag. Which is why the Parisian born L.A, based Natalie Dubois has managed to carve a name for herself in such a short space of time.
"I started by accident a little over two years ago," recalls Natalie Dubois with a laugh. Prior to that she was in event production, but even then her clientele list read like a who's who of Hollywood; Celine Dion was a regular, Sean Penn, Steven Segal, Ashanti, the royal family of Japan and even Michael Jackson.
But while on holiday in Tahiti the owner of a exclusive jewellery shop asked her if she was interested in doing his PR. "At that time I wasn't doing PR," she says. "I was just organising events but I met a lot of people in Tahiti and they were like oh my god you have access to all these Hollywood stars and finally I thought maybe I can use this amazing jewellery on the red carpet and that's how it all started."
From the get-go Natalie Dubois' gift suites were unlike any other. She used her 12 years of event production experience (and several years as a foreign correspondent) to "mix up everything," she says. "I'd worked with a lot of luxury goods and fashion and stars and press members so when I did my first gift suite everybody in LA was talking about it because they never saw a gift room like this. A lot of other people [who run the suites] don't care," she adds. "I've been to other gift suites in LA and they just get the money of the clients and then they don't getthe stars. So my goal was if I do this I'm going to do it well. I'm going to put my French touch on it andall my experience. I want only A list so my first event we had only six celebrities but they were alltop of the line."
That was January 2005 and the goodies totalled around $38,000. 28 months later, the Cannes gift bag was worth almost double that.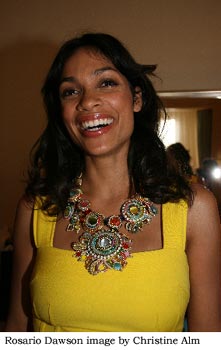 Tucked away discreetly on the first floor of the ritzy Carlton Hotel, Dubois' 'glamourous space' was theplace this year for celebrities and socialites to come to have their pick of the best in fashion, beauty andjewellery. There were clothes from top Italian designer Patrizia Pepe and Couture gowns from LefrancFerrant (who lent many an amazing gown for the red carpet events). Jewellery from Maria Callus and Doric Csengeri (the most gorgeous and unique hand sewn pieces you have ever seen) and there was even the Magnet Therapy range of jewellery which not only looks fab but has the added benefit of keeping aches and pains at bay (apparently Paris Hilton is a big fan of the range, which she buys for her dogs). Elizabeth Grant's lush cosmetics were a hit, particularly the new range of high-end creams launched at the festival with the ampoules of caviar being the leading lady of the collection. Then there were trips to Bora Bora (both the Saint Regis and the Nui Resorts) Kenya and the Caribbean, Tahitian pearls from Robert Wan, Maggie Coulomb's silk sarongs and Fendi and Calvin Klein sunglasses. Star studded clients included Rosario Dawson, Pamela Anderson, Minnie Driver, Ivana Trump and Leonardo di Caprio's mum - to name a few.
Natalie Dubois was clearly delighted that all her hard work paid off. This is her fifth major suite in the last year and to keep abreast of her competitors she is constantly on the go in search of the most luscious, exotic products from around the globe. Natalie Dubois knows that its all about being first and setting the trends not following them. "We created the wave of all these stars going to Tahiti," she says proudly. "Because we gave gift certificates first to Eva Longoria. We sent invitation to so many stars when we started and it took around two years for people to start going from Hollywood to Bora Bora but we were the first."
The DPA name now reigns supreme in L.A., which is why it comes as a surprise to learn that Natalie Dubois is already on the look out for her next challenge.
"Its time for something else," she admits after a pause. "You know I'm a Gemini, I like to build thingsto the top and after I reach the top in that field I drop it and my goal when I started was that I'm goingto do the best gift room with the best celebrities and the best products and I think the last suite I did(before Cannes) at the Golden Globes we really reached the top. We really had an amazing suite and that's why I'm stopping in Los Angeles because I really cannot do better and I do not want to be lost in this 35 gift room at Oscar time."
Her plan is to continue gifting in Europe for now, then move into film production.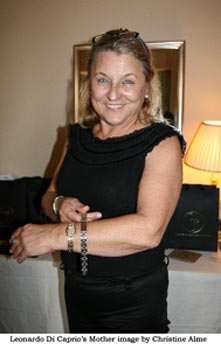 "We're the only people from Hollywood to do Europe and we did Cannes and we're the official gift lounge at Venice Film Festival, we do the French awards the Cesar's and because of this it makes us very different, more exclusive than anyone else in Hollywood," she says. "But for me since I arrived inLA I wanted to do movies so that's my next step. That's why I'm stopping the gift lounges I'm going tobe producing a movie."
While she can't say too much at this stage, Natalie Dubois can reveal that she's partnered with a "huge A list celebrity" who is "mega big, American and one of the most glamourous ladies" in Hollywood. "So that's going to be my first movie as producer and we thought we would be able to announce it in Cannes but it's a real life story and we haven't finalised all the paperwork with the real life person that we're doing the story on. So because of that we have to be extremely careful but it's really amazing."
Which sadly means the celebrities will just have to go back to receiving the same old same old when it comes to the free stuff.
Gaynor Flynn
Stars Join in Cannes to Help Raise Record-Breaking $7million to Support amfAR's AIDS Research and Prevention Programs
Most Successful Event in amfAR History
Event presented by Bold Films, the M*A*C AIDS Fund and The Weinstein Company
Cannes, France, May 24, 2007--Sharon Stone, Harvey Weinstein, Matt Damon, George Clooney, Andy Garcia, Goldie Hawn, Kurt Russell, Diego Luna, Michelle Yeoh, Dita Von Teese, M*A*Cs John Demsey, Bold Films Michel Litvak, Palisades Pictures Vincent Roberti, French Vogues Carine Roitfeld and amfARs Chairman of the Board Kenneth Cole were among those who came out to support the fight against AIDS last night at amfAR's 14th Cinema Against AIDS gala in Cannes. The star-studded event, which was sponsored by Bold Films, the M*A*C AIDS Fund and The Weinstein Company, raised $7 million for amfAR. Hewlett-Packard Company, Quintessentially, Warner Home Video, Chopard and Nassiri Music were the event's co-sponsors.
Other guests who attended the gala at the Moulin de Mougins in support of amfAR were Asia Argento, Ellen Barkin, Mischa Barton, Zoe Bell, Elodie Bouchez, Carla Bruni, Naomi Campbell, Amira Casar, Roberto Cavalli, Georgina Chapman, Don Cheadle, Maggie Cheung, Toni Collette, Rosario Dawson, Catherine Deneuve, John Galliano, Jean Paul Gaultier, Nicolas Ghesquiere, Elliott Gould, Julian Lennon, Rose McGowan, Elle Macpherson, Eva Mendes, Svetlana Metkina, Kylie Minogue, Nassiri, Petra Nemcova, Stefano Pilati, Sarah Polley, Brett Ratner, Denise Rich, Michelle Rodriguez, Robert Rodriguez, Princesse Clotilde de Savoie, Claudia Schiffer, Julian Schnabel, LWrenn Scott, Victoria Silvstedt, Mario Testino, Tracie Thoms, Ivana Trump, Jerry Weintraub, and Kerry Washington.
The evening opened with Sharon Stone, amfARs Chairman of the Campaign for AIDS Research, kicking off the record-breaking live auction by selling two of her Louis Vuitton vanity case designs for $95,000 each. The auction continued as longtime amfAR supporter Harvey Weinstein joined Stone to call the Oceans 13 cast to the stage to help auction two vacation packages for a total of $700,000. George Clooney boosted the packages value by adding a kiss which he gave to the lucky winner at the end of bidding. Kylie Minogue was moved to give an impromptu performance of Locomotion and Cant Get You Out of My Head after guests bid $300,000 for the chance to see her perform. M*A*C VIVA Glam spokesperson Dita Von Teese performed her safe-sex themed 'Lipteese,' mesmerizing everyone in the room, and Julian Lennon closed the evening with Stand by Me. amfAR Chairman of the Board Kenneth Cole made opening remarks in which he urged each individual to continue the fight against AIDS. In addition to driving heavy bidding, Sharon Stone tearfully expressed her gratitude to the generous guests in the room. M*A*C s John Demsey, when introducing M*A*C Viva Glam Spokesperson Dita Von Teese, emphasized that "you can be exciting, you can be safe, and you can be sexy," and Harvey Weinstein expressed how proud he was to be able to produce such funds for the hard working scientists and researchers who fight this struggle every day.
Other highlights of the auction:
Roberto Cavalli and Elle Macpherson auctioned off a Milan Fashion package that included two tickets each to the following shows: Alberta Ferretti, Fendi, Gianfranco Ferré, Missoni, Roberto Cavalli, and Versace. Sergio Rossi donated a handmade crocodile bag designed especially for amfAR and a pair of custom-made shoes. To inspire bidders, Cavalli generously added in a watch for each attendee, and the package sold for $200,000.


Kerry Washington, Harvey Weinstein, Bolds Michel Litvak, Palisades Pictures Vincent Roberti, and Brett Ratner offered up a private screening of an upcoming Weinstein Company movie in New York for up to 76 people and a walk on role in Bold Films next picture, Middle of Nowhere, starring Susan Sarandon, and walk on roll in Terminator 4. A walk-on role in an upcoming Brett Ratner film was added in by Ratner during bidding.


Goldie Hawn and Kurt Russell auctioned off a Dubai vacation package, from Jumeirah Hotels & Resorts, for $90,000.


Ivana Trump outbid guests, winning a Francesco Vezzoli Bette Davis portrait for $200,000.


Möet Hennessy donated a contemporary art piece designed in honor of Killian Hennessys one hundredth birthday paired with a selection of rare cognacs, wines and spirits. Bidding closed at $200,000.


Julian Schnabel donated a plate portrait which was snapped up by Roberto Cavalli for $300,000, and followed up by donating a collaborative piece created by Mario Testino and himself. This one-of-a-kind art offering sold for $400,000.


Michelle Yeoh modeled the Chopard necklace composed of pink pearls, multicolored briolette sapphires, and diamonds set in 18K white gold. The piece sold for $500,000, the highest bid of the night, to a generous bidder who received a thank-you kiss from Sharon Stone.


Following M*A*C Viva Glam Spokesperson Dita Von Teeses 'Lipteese,' Diego Luna and Eva Mendes auctioned off lunch with Dita Von Teese at the The Ivy in Los Angeles as well as the Christian Louboutin Swarovski-covered cowgirl boots worn at the 'Lipteese' debut for $60,000.


Rosario Dawson and Tracie Thoms auctioned a one-of-a-kind signed Mario Testino photograph of Sophie Marceau for $300,000. Following that bid, Mario offered to photograph a few guest tables for a grand total of $200,000.


Mischa Barton wore a Sabine Römer necklace featuring a 2.37 carat diamond surrounded by 6 carats of white and black diamonds that she and Gemma Ward auctioned off for $60,000 to Bolds Michel Litvak.


Rose McGowan and Robert Rodriguez auctioned HPs Ultimate Digital Entertainment Makeover.


Petra Nemcova auctioned a Fendi package which included two premium tickets to amfARs CINEMA AGAINST AIDS Rome event which takes place on October 26th, 2007 and a Fendi Selleria Travel Fur in grey platinum mink. Julian Schnabel was the highest bidder.


Sharon Stone, accompanied by Claudia Schiffer and Naomi Campbell, offered the chance to lead the life of French Vogues Carine Roitfeld. The package included tickets to a variety of ready-to-wear shows including Chanel, Christian Dior, Emanuel Ungaro, Givenchy, and Yves Saint Laurent, as well as a private presentation of Azzaros spring/summer collection among other things, and went for $175,000.

amfAR's annual Cinema Against AIDS gala has been an important and successful fund-raising event for the Foundation since 1993, generating more than $29 million for essential AIDS research. Past events have been hosted by Dame Elizabeth Taylor, Sharon Stone, Demi Moore, and Sir Elton John.

amfAR recognizes American Airlines for its commitment to the fight against AIDS and its generous support for amfAR's mission.