Bruce Willis and Helen Mirren Red 2
Cast: Bruce Willis, John Malkovich, Mary-Louise Parker, Anthony Hopkins, Helen Mirren, Catherine Zeta Jones, Byung Hun Lee, Brian Cox, Neal McDonough
Director: Dean Parisot
Genre: Action, Drama, Comedy
Rated: MA
Running Time: 116 minutes

Synopsis: In Red 2, the high‐octane action-comedy sequel to the worldwide sleeper hit, retired black-ops CIA agent Frank Moses reunites his unlikely team of elite operatives for a global quest to track down a missing, next-generation lethal device that can change the balance of world power. To succeed, they'll need to survive an army of relentless assassins, ruthless terrorists and power-crazed government officials, all eager to get their hands on the technologically advanced super weapon. The mission takes Frank and his motley crew to Paris, London and Moscow. Outgunned and outmanned, they have only their cunning wits, their old-school skills, and each other to rely on as they try to save the world and stay alive in the process.

Red 2
Release Date: August 29th, 2013



Production Information
Former CIA black ops agent Frank Moses (Bruce Willis) has spent his life dealing with bad guys. Hand-to-hand combat, diplomatic intrigue, jumping out of moving things are his tools of the trade. Only when it came to a burgeoning relationship with Sarah Ross (Mary-Louise Parker) did things get shaky for him.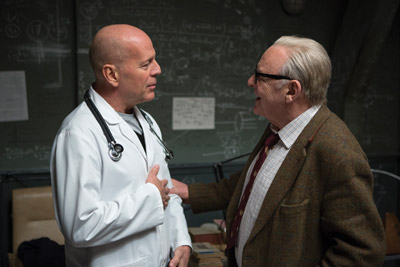 Frank is now content in their quiet life but Sarah is worried that he hasn't killed anyone in months and that things are getting a little stale between them. She wants to mix things up a little so that their lives are filled with adventure, romance and danger"things they can do as a couple.

Sarah is about to get her wish to 'be one of the guys" and Frank learns that keeping the girl is a lot more work than getting the girl and while saving the world can be hard, relationships are ridiculously hard.

The high-octane action-comedy sequel to the worldwide hit of 2010 finds Frank Moses and his old partner Marvin Boggs (John Malkovich) still in the not-so-sedate life of retirement, but are now being dragged into a whirlwind as a next generation weapon"Nightshade"from the Cold War that went missing on Frank and Marvin's watch has apparently resurfaced. And everyone now thinks that the two of them know its whereabouts. MI6 has given Frank and Marvin's buddy, deadly sharpshooter Victoria (Helen Mirren) a contract to eliminate the duo. In addition, a corrupt U.S. official (Neal McDonough) is sending another contract killer Han (Byung Hun Lee) after them which is music to Han's ears, since he has an old score to settle with Frank.

Their mission has them hop scotching the globe from London to Paris to Moscow where they cross paths with Frank's old flame Katja (Catherine Zeta-Jones) and all of them are trying find a long-ago locked away genius scientist Edward Bailey (Anthony Hopkins) who might be able to unravel the mystery of Nightshade, save themselves and save the world.

About the Production

The filmmakers were cognizant that in order to hold onto the comedic elements of the story they had to commit to the action and adventure first and then 'the concerns of the characters which at times seem ludicrous become believable," says director Dean Parisot. 'The structure is of an action movie but the characters are comedic because they can't resolve their absurd issues which are happening during a lot of extreme violence."

While the movie is filled with exotic locations, a scintillating car chase through Paris, and action galore, at its core it's a relationship movie and the difficulty of lifer in the Black Ops game (Frank) and him wanting to do the right thing keep his fragile china doll (Sarah) safe. She wants the opposite and finds an ally in Marvin.

'Frank is ill-equipped to handle a basic relationship and Marvin is only too happy to dispense advice on how to make a relationship work, yet there's a good chance Marvin knows nothing about the subject," says Bruce Willis.

'The old adage -a stopped clock is right twice a day' is applicable here because Marvin is most likely idiotic about relationships and any knowledge he thinks he has probably came from a self-help book because I can't see Marvin in a relationship," notes John Malkovich.

Frank gets a more sophisticated and educated angle on relationships from Victoria who is well versed in mixing work and romance. 'I think Victoria is in charge of Frank's emotional life to a certain extent," says Helen Mirren who reprises her role as Victoria. 'Marvin may advise Frank, but Frank pays attention to Victoria who actually has had relationships in the context of her work. 'She's balanced in a strangely perverse way but understands that you could die at any time, so you have to commit and move forward," notes Dean Parisot.

'The great thing about all these characters is that while they lead the most extraordinary lives they have very ordinary problems and are saddled with the same inefficient inadequacies that the rest of us have," says Helen Mirren.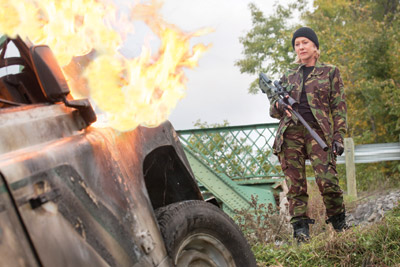 On the other hand, Sarah, while more emotionally stable, is not all together when it comes to her spy skill set. 'She's not a good liar; not very crafty and just doesn't have a lot of valuable traits at her disposal," says Mary Louise Parker. And when she meets Frank's ex-flame (Katja) and sees the polish sophistication and sheer sultriness…Well, Sarah has her work cut out for her. 'She just wants to be one of the gang and for a while all she can fall back on is her earnestness."

'From the beginning, our goal was to provide the audience with a bigger, more expansive experience than the first movie," says producer Lorenzo di Bonaventura. 'But one of the dangers with sequels is that they can get too silly and soft and Bruce Willis and myself were very cognisant of that during the development. Frank Moses is still a hard guy who's going to pull a gun before he asks a question and Bruce was always grinding, pushing, analysing because he wants the best out of the movie."

What remains from the first movie, however, is the almost retro feel of the dialogue between Frank and Sarah. 'Bruce and me always thought that our interplay should have a 1930s screwball comedy feel to it," says Mary Louise Parker.

The interplay between the two actors gave Dean Parisot a lot of options in the editing room: 'Mary-Louise Parker and Bruce Willis play off of each other so brilliantly that I chose to go with a lot more two--‐shots than singles because I didn't want to cut away from either of them," says Dean Parisot. 'It's a lot like the chemistry of the old Tracy-Hepburn movies and it was great fun watching them on set get to a fantastic place in the scene."

With Morgan Freeman's character dying in the first movie, the creative team had a challenge of more than just setting scenes in London and Paris; they needed firepower within the story and the cast to fill it. 'We have powerhouse actors with Bruce Willis, Mary-Louise Parker, John Malkovich, Helen Mirren and Brian Cox from the first movie, so we have to cast actors who can hold the screen with these folks and also create roles that challenge everyone as actors," says producer Mark Vahradian.

Without tripping the gag on Anthony Hopkins' character of Edward Bailey, Anthony Hopkins reached back into British history to create an armature for his character. 'Tony was sending me emails a couple months before production trying to create this character and it was detailed as to what shoes Bailey would wear," recalls Dean Parisot. 'He reads the script over and over and slowly evolves a character that is so much more than what was written."

'I do go a bit overboard in reading the text… at least a couple hundred times," says Anthony Hopkins. 'But I do it so that I have a framework for improvising because you can open your brain up and not worry about the text because you know it cold. That's when acting gets fun," says Anthony Hopkins.

Catherine Zeta-Jones took the cliché of the female Russian spy and turned it on its head by adding comedy and quirkiness to tilt the character. 'My goal was not to make it one dimensional"the type we've seen in Bond movies," she notes. 'When I read the script the first thing I did"well, after saying yes"was to go through scores of fashion magazines and send them off to Dean so we could visualise what Katja was about."

Her scenes on the streets of Paris certainly were worthy of the iconic reputation the city has won for its history of fashion. 'There was something wildly intense and eccentric what Catherine Zeta Jones wore for the scene where she and Bruce's character track down David Thewlis's character of The Frog," says Dean Parisot. 'Along with our costume designer Beatrix Pasztor, the two of them found the character in the wardrobe."

David Thewlis also starting working on his character of The Frog in pre-production by sending Dean Parisot photographs. They settled on a James Joyce look for his character of The Frog, a misanthrope who has the goods on any and all nefarious activity around the globe. He uses his ill--‐gotten knowledge to fund his devotion to the most expensive wines.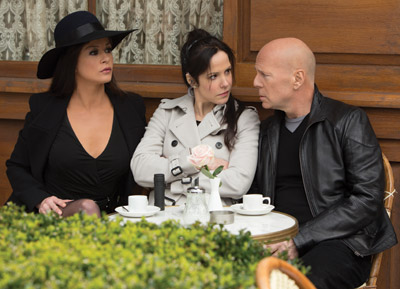 The anticipated sequel began production Sept. 14, 2012 in Montreal at the Olympic Stadium. Built for the 1976 summer Olympic Games, the facility, like nearly all the multi--‐use stadiums built in the 6 United States during the 1970s, is rarely used. The concrete dominated structure's concourses have a very 'bunker-like" look, so it dovetailed nicely with the need for the British government's MI6 secret location.

Production continued for 14 shooting days with locations including a spectacular home that doubled for 'The Frog's" Paris apartment. Built in 1914 by famed architect Jean-Omer Marchand it is located on Wood St. in Montreal's fashionable Westmount section. Other Montreal locations include a former branch of the Royal Bank of Canada in Old Montreal; St.-Andrew's church in Chateauguay; the opening scene of the movie was shot in a Costco; the City of Montreal's Finance Building stood in for the Kremlin's headquarters and north of the city in St-Colomban was the set for Hank's Internet Café, which 30 years earlier was the resort the Colford Inn.

Five scenic days were then shot in Paris (as opposed to movies which will have an establishing shot of the Eiffel Tower, then cut to interior shots).

'It was important to us to shoot in Paris," notes Lorenzo di Bonaventura, 'because Paris gives a sense of romance and the romance between Frank and Sarah is looking for its footing. She wants adventure and to be in Paris on a mission is beyond romantic for her."

The city was also chosen because it's the place where Frank and Katja see each other for the first time and it gives an insecure Sarah a reason to 'up her game" and buy clothes in Paris to at least try and close the gap between her and her perceived rival.

The first day, October 10, was in front of and inside of the Hotel Regina, facing Jardin des Tuileries (The Tuileries Garden) and the Louvre immediately around the corner. A couple hundred onlookers watched from the across the street and for the day the shoot became yet another tourist attraction in Paris.

Much of the Paris shoot revolves around a car chase involving the characters of Bruce Willis, John Malkovich, Mary-Louise Parker, Catherine Zeta-Jones and David Thewlis' quasi-man-of-mystery character 'The Frog" on Pont Lorenzo de la Tournelle on the east side of the majestic Gothic masterpiece, Notre Dame. A specially retrofitted Citroen was rigged so that it could drive down the steps to the bank of the Seine.

On October 12, the car chase sequence moved to neighbourhood in the shadow of the Pantheon on Rue St. Etienne du Mont on the Left Bank and a day later moved around the corner to Rue de la Montage Ste Genevieve which the locale for Midnight in Paris when Owen Wilson's character caught his nightly other worldly taxi tide. For Red 2 the scene of Frank and Katja reminiscing over a dinner at an outdoor café was mere yards from the Woody Allen movie. 'When we scouted the location it was during the day and it was not until we came to shoot at night did we realise where we were," notes Dean Parisot.

The company moved on to London with the first scene shot featuring Bruce Willis, John Malkovich, Mary-Louise Parker and Helen Mirren on a Thames riverboat cruise. London's Fishmonger's Hall was utilised as the Iranian embassy in its courtyard and the ornate Banqueting Hall.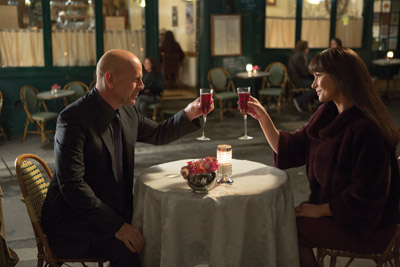 A street in Moscow was created on October 27, a quiet Saturday in the shuttered financial district in central London that, appropriately enough, had a chill factor in the 20s when the day began. 7 Closed since 1994 as the realisation that the Cold War was truly over, RAF Upper Heyford in Oxfordshire posed as a Russian airfield with the Dunsfold aeropark (another shuttered RAF base) the locale for the German airfield.

The scenes that take place in Paris' Hotel George-V was done with a variety of London locations; the Langham Hotel, the stately Hedsor House in Taplow and the Luten Hoo estate which has been used for such movies as Four Weddings and a Funeral, War Horse and Eyes Wide Shut.

The inner sanctum of the Kremlin was built in East London at Tobacco Dock. Built in the early 18th century as a warehouse for the storage of tobacco from the New World, the most recent incarnation of the building was a shopping mall until it shuttered a few years ago. The ground floor of arching brick passageways made it ideal to give of a sense of foreboding for the scenes.

Red 2
Release Date: August 29th, 2013