A Good Day To Die Hard
Cast
: Bruce Willis, Jai Courtney
Director
: John Moore
Genre
: Action, Crime, Thriller
Rated
: M
Running Time
: 98 minutes
Synopsis
: Bruce Willis returns in his most iconic role as John McClane - the "real" hero with the skills and attitude to always be the last man standing. This time the take-no-prisoners cop is really in the wrong place at the wrong time after traveling to Moscow to help his estranged son Jack. With the Russian underworld in pursuit, and battling a countdown to war, the two McClanes discover that their opposing methods make them unstoppable heroes.
A Good Day To Die Hard
Release Date
: March 21st, 2013
Bruce Willis reprises his iconic role as police detective John McClane in A Good Day to Die Hard, set against the backdrop of deadly corruption and political vendetta in Russia. McClane arrives in Moscow to track down his estranged son, Jack, (Jai Courtney), and is stunned to discover he's working undercover to protect a government whistleblower, Komarov. With their own necks on the line, the McClanes are forced to overcome their differences in order to get Komarov to safety and thwart a potentially disastrous crime in the most desolate place on Earth - Chernobyl.
When McClane learns the truth about his son's profession, he calls him the "007 of Plainfield, New Jersey." But it's a long way from Plainfield to Moscow, and John and Jack are about to have a family reunion they will never forget.
It is now 25 years since Die Hard exploded into theatres, launching a new cinematic hero, John McClane, and changing the paradigm of action movies. McClane is identifiable and relatable. An ordinary man forced by circumstances to attempt an extraordinary task. That is what separates him from the comic book heroes of most action movies, and has made McClane one of the most popular characters in film history.
Near the entrance to Freedom Square Park in Budapest, across from the U.S. Embassy, the spirits of two American icons -- one real, one cinematic, both mythical - intersect in the shadow of a Soviet war monument. A bronzed statue of Ronald Reagan stares down the 16-foot solid concrete memorial, topped by the USSR star. Just steps away, inside a gargantuan building once housing Hungary's communist TV station, legendary Bruce Willis strolls through a makeshift set that doubles for a Brooklyn police precinct.
The specter of the former Soviet Union looms large over the park, the Reagan statue, and the storyline of A Good Day to Die Hard. During the waning years of the Iron Curtain, the movie's Russian antagonists, Komarov and Chagarin, initiated a plan to steal tens of millions of dollars' worth of plutonium from the Chernobyl nuclear plant. Twenty-seven years later, the finale of this larcenous symphony will be played out in Moscow, its crescendo reverberating through the halls of Russian courts, the fortunes of powerful oligarchs, and the lives of two unexpected American interlopers: John McClane and his son Jack.
The Brooklyn police station sequence, where McClane learns his wayward son has been jailed in Moscow, marks the character's first appearance in the film, as well as the first day of shooting for Bruce Willis. It's a drizzly Budapest morning in early May, but the intermittent rain hasn't dampened the spirits of the crew, or Willis, who seems content stepping back into the shoes of the role he originated 25 years ago.
Bruce Willis is McClane, and he embraced the opportunity to pay another visit to the beloved character that has a habit of finding himself in the wrong place at the right time. Does trouble find John McClane or does John McClane seek it out? "Well, he's certainly attracted to trouble," says the actor, "but yes, trouble also seems determined to find him."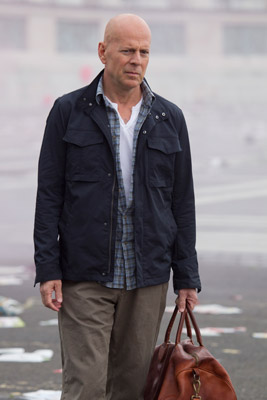 "I find it an interesting exercise to reach for the bar we set with the series, and I enjoy checking in with McClane at different stages in his life," Bruce Willis continues. "In this story, he's at a point where men tend to reflect on their past. For McClane, it's the estranged relationship with his son. They haven't spoken in some time, and the first news he's received of him is about his arrest in Moscow."
The premise for the script (written by Skip Woods and Jason Keller) originated with an idea from Bruce Willis, who was interested in exploring a father-son story against a dangerous backdrop that would force them to find a way to overcome their differences to survive.
Their differences are plentiful and deep. "Jack does things by the book, and John seldom follows the rules and uses whatever is at hand to deal with the situation," Bruce Willis explains.
Says producer Alex Young: "The question became, how can we take the spine of this - a relationship between a father and son, who are cut from the same cloth but have a strained past and big misunderstandings - and put them in a place where they're trapped and can't call for help?"
Moscow, with its wealth, nefarious underworld and geographical maze, filled the bill. It's a city of enormous size and scale, yet one that, owing to its history, can be placed on lockdown with little delay. It remains a major hotspot for international intrigue and has an unmatched reputation for show trials of political prisoners - such as the one that sets the stage for this narrative.
Producer Wyck Godfrey says the challenge of seeing McClane "apply his skills in a foreign land, where he's a fish out of water, is an intriguing element of the movie. He doesn't know the language, the culture or the lay of the land, so he has to do something he hasn't done before - rely on someone else."
That someone else is his son. Like previous Die Hard movies, A Good Day to Die Hard centres on family members in peril and John McClane's willingness to do anything to save them. In the first two movies it was his wife; in the fourth, his daughter. Now his son is in trouble, and McClane fears it may already be too late to stop Jack's spiral into a life of crime.
"It's something John can't ignore because it involves his family - and as we learned in previous Die Hard films, you don't screw around with John McClane's family," says John Moore.
John Moore embraced the opportunity of helming a new Die Hard picture and working with Bruce Willis. "Bruce Willis is the most zealous guardian at the gate of what's right for John McClane, and what's right for Die Hard," says the director. Nobody knows the character and the franchise better than Bruce Willis."
Bruce Willis' John McClane is dropped off at the airport by his daughter Lucy (Mary Elizabeth Winstead, reprising her role from Live Free or Die Hard). He arrives in Moscow and learns that Jack, far from being a criminal, is a CIA operative, three years into an undercover mission to protect the Russian thief-turned-whistleblower, Komarov. Having grown a conscience, Komarov is determined to testify against his former partner, Chagarin, and thwart his ambitions for higher political office.
"This is a twist on the usual scenario in which McClane is the unexpected party guest who ruins some criminal mastermind's well-conceived plan," says Alex Young. "This time, he spoils his own son's painstaking and dangerous undercover operation.
The role of Jack McClane went to young Australian actor Jai Courtney, who co-starred in the 2010 season of the series Spartacus: Blood and Sand, and as Tom Cruise's fearsome adversary in Jack Reacher.
"I auditioned a couple of times for the role of Jack McClane, and of course wasn't expecting anything to come of it," Jai Courtney recalls, "because I knew they were casting a really wide net. I had just wrapped Jack Reacher in Pittsburgh, and was homebound to Sydney. Literally, I was walking down the jet way to my connecting flight at LAX when my agent called and said, don't leave - they want you to read with Bruce Willis! I did a test with him a week later, and some time afterwards got the good news. It's been a fantastic experience. Bruce Willis is one of those guys I grew up watching on screen and the Die Hard franchise is so iconic."
Adds Bruce Willis: "Jai Courtney got the character and he just seemed like family - like a McClane." And John Moore notes that, "Jai Courtney brings an intelligence and suaveness to the character. But he's also a much more physical presence than we initially envisaged for Jack. But once Jai Courtney auditioned, we said, let's go with the big guy because he's right for the role."
As the son of New York's most famous cop, Jai Courtney's Jack proves that the apple doesn't fall far from the tree. He displays his father's sense of duty, courage and willingness to place his life in danger to protect others.
"Jack has been living as a Russian, speaking the language, and infiltrating different groups to try to get the goods on Chagarin and make sure he isn't able to harm Komarov in prison," says Jai Courtney. "He's shocked when his dad arrives at a crucial moment and blows his cover. He doesn't want his help; in fact he wants nothing to do with him. Jack is determined to prove he can do this on his own terms and that he's his own man."
With Komarov's trial date approaching, Jack intentionally has himself jailed so he can keep a closer eye on the Russian. When the two men are brought to court together, Jack assumes he has everything under control. He does not.
Chagarin has sent his henchman Alik (Rasha Bukvic) and a paramilitary team to bust Komarov out of the courtroom. A thunderous explosion suddenly hurls spectators and jurors against and through walls.
"The bad guys break in to nab Komarov, and we've turned it into a Brechtian drama," jokes director John Moore. "Blowing up a building is not the usual way to grab somebody because the risk of injury to the target is quite high. But because Jack and Komarov are in bulletproof safety boxes, it's quite ingenious."
Jack and Komarov manage to flee the destruction, as a stunned John McClane runs after them. Jack and Komarov commandeer a truck, and, with Alik in close pursuit and John bringing up the rear in his own "borrowed" vehicle, they embark on one of the most spectacular chase sequences ever put on film.
"We shot over highways, through narrow streets, across bridges, totally destroying dozens of high end cars," says John Moore. "It's epic."
Much of the action was captured on Moscow's famed Garden Ring, a circular avenue in the city's center consisting of 17 streets and 15 squares. "It's the equivalent of shooting a huge car chase on New York's Fifth Avenue, or London's Piccadilly Circus," John Moore explains. "But we had to shoot there to capture the scale of the chase."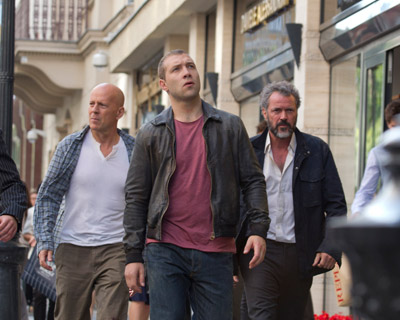 Many thought filming on the Garden Ring was inconceivable because it's impossible to shut down the major (and often gridlocked) roadway. But with the help of Moscow's police department, Moore "filmed the hell out of the chase," capturing vehicles speeding over 150 mph. Careful scheduling and preparation also helped. "The planning of the chase was a thing of beauty in and of itself," adds John Moore. "We got in and out there like Special Forces."
With Jack's cover literally blown in the aftermath of the chase, he and his father try to get Komarov safely out of Moscow. The shell-shocked Russian suddenly finds himself stuck between the feuding McClanes, a more dangerous proposition than prison, as John appears to be half-cocked and fully loaded. But the three men are intent on making their way out of town by any means necessary, and begin to form an uneasy alliance.
Says internationally acclaimed actor Sebastian Koch (The Lives of Others): "Komarov is wary of the McClanes and tries to find a way to exert himself into the decision making. He has cooperated with the CIA in his efforts to nail Chagarin, but he has his own ideas of how to take down his enemy, and his own ambitions about life after prison. Komarov has a daughter (Yulia Snigir) with whom he has a difficult relationship, so he understands and is sympathetic with John McClane's estrangement with his son."
"Komarov is mysterious," Sebastian Koch continues. "He's not always sympathetic, and we don't know what's driving him. I've been allowed to fully explore the character, often just relying on little movements, looks and expressions. John has been really open to that, and it's been rewarding to be able to play a complex, intelligent person in the midst of all the chaos."
While possessing an action movie pedigree, Sebastian Koch's on-screen interactions with Bruce Willis and Jai Courtney provide A Good Day to Die Hard with underlying elements of road movies and escape thrillers. The characters embark on a risky physical and emotional journey as they navigate menacing terrain and circumstances. The trio is eventually cornered in the ballroom of an old hotel and menaced by a gang of Russian hitmen.
Eschewing the stereotype tracksuits and American jogging shoes, Alik and his crew look as if they own the bank - not steal from it. Rasha Bukvic remarks, "Alik is a sophisticated, cultured gentleman who dresses impeccably and views killing as just another one of his many talents. He is furious these two American cowboys ruined his plans to finish this assignment quickly and go to the ballet. He intends to make them suffer for his inconvenience, but learns the hard way that not dying when expected is a McClane family trait."
Under a hail of gunfire, the McClanes manage a desperate escape, and must regroup to figure out how to get to rescue Komarov, who is now in the hands of Alik's men. Jack McClane is out of answers, and must turn to John for help.
Says Jai Courtney: "Jack takes a methodical approach to his work, probably out of a backlash to his father's knack for winging it and hoping for the best. But he's now in a situation where there's no book to guide him, he has no answers and is at the breaking point. His dad's instincts are to never quit, regardless of the cost, and in this terrible situation Jack sees that very clearly - maybe for the first time. It gives Jack deeper insight and respect for John's values. It's a turning point."
As they try to slip out of Moscow and make their way to Chernobyl, the McClanes encounter an assortment of the bizarre, beautiful and lethal elements of Moscow nightlife: expensive cars, gorgeous women, and relentless threats from a brutally powerful adversary. They will need each other, and all the luck they can get.
"This is a father-son story in which they are trying to complete a dangerous mission while also attempting to mend a fractured relationship," says Wyck Godfrey. "Jack's first reaction is, Get out of here, dad, I don't need your help. But what he really wants is to hear his father say, you're doing great, son, I'm proud of you. And that's the beauty of this story. We're playing out a relationship drama in the midst of a thrilling Die Hard story."
Adds Jason Keller: "John and Jack find themselves off the grid, in deep trouble, with no help. Jack doesn't know what to do, and his father pulls him back and says that we can do this. And the key moment in the film happens when Jack chooses to swallow his pride and accept John's help. Now you have two McClanes working together, which is more than our bad guys ever bargained for."
About the Production
"THAT's in the movie!" director John Moore gleefully shouts after calling cut. Smoke, dust and powder slowly clear the air, as the actors step out of the room and the crew begins the unenviable task of cleaning up the destruction. Bruce Willis and Jai Courtney have just destroyed a safehouse set.
After a few weeks of shooting narrative story elements, today the production is bringing the heat - the thrilling action that audiences associate with the franchise. "Now it feels like were making a Die Hard movie," says Bruce Willis.
It's mid-May, and cast and crew have assembled in one of Budapest's oldest and most interesting structures, the Express Building. Located across the street from Freedom Square Park, the building was constructed in the 1880s, and once served as inspection headquarters and naval officers lodgings for the bustling Danube shipping industry. The building's exterior is adorned with sculpted ships and nautical emblems. Its small courtyard, circular staircases, wrought-iron balconies and maze of connected rooms and hallways have made it a popular filming location in Budapest. Here, production designer Daniel T. Dorrance and his team have created a CIA spy nest and safehouse, where Jack McClane's operation is directed by his boss, agent Collins (Cole Hauser). The room is filled with computers, wall maps, surveillance equipment, radio scanners and requisite junk food wrappers.
After the debacle at the courthouse, the McClanes and Komarov retreat to this safehouse, where Collins is stunned to find Jack's father tagging along. It is a tense and potentially violent moment.
"Collins is furious that Jack has violated protocol and brought his father into a situation that jeopardises the security of the mission," says Cole Hauser. "He doesn't understand that the mission plan has already been blown to bits."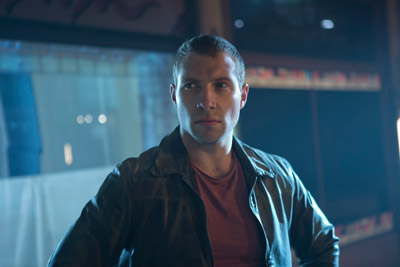 Agent Collins is confronted with reality when Alik's men blast into the building and a firefight ensues. Over the course of five days, and 100 setups, the production will blast the set into smithereens.
Wire ratchets yank stuntmen through the windows and hurl them 80 feet down to the courtyard floor, just one of countless wire gags designed by stunt coordinator Steve Davison. More than 50 stuntmen-American, Hungarian, Czech, and Slovakian-worked on specific sequences, from free falls and ratchet pulls to the mammoth car chase and helicopter attacks.
"We have a couple of the best stuntmen in the world on this show, and the whole team is top notch," says Steve Davison. "The Die Hard shows are sort of the ultimate in action movies, and every stuntman in the business wants to be in the game."
As both head coach and referee of the new installment of this franchise, director John Moore was committed to taking the series to the next level. His unique visual style and background in action-oriented movies such as Behind Enemy Lines and Max Payne convinced Fox executives and producers he could move the ball downfield.
Says Alex Young: "John Moore had an absolute vision of evolving the show, in the way that the Bourne and Bond movies have evolved, and putting his own stamp on it. He brought a new visual style to the franchise and has come up with some amazing action sequences. He also understood very deeply the heart of the father-son story. Enormous pressure and expectations come with this job, and he never shied away from it, not even for a moment."
The work was painstaking but never dull: "It's not unusual for us to spend 12 hours doing a shot that will be three seconds on screen, but there's no other way," John Moore explains. "This is analog filmmaking. We are doing as much as possible in camera and only using VFX to enhance or paint in backgrounds."
Funny, exuberant and animated on set, John Moore was delighted when a take went well, buoyantly ringing the little bell that sat on his podium. In creating the movie's visual style, John Moore wanted the camera work to be almost entirely handheld, using three cameras and long lenses to capture tight close-ups. The improvised camera movements place the audience inside the action, as if they're part of the story, instead of detached observers viewing from a distance.
Wyck Godfrey, who has produced two other films with John Moore, says, "Some of the most exhilarating times I've had making movies is when John Moore has pulled off something incredibly difficult or that he's improvised on set. His enthusiasm is infectious."
John Moore says, "McClane is in a strange world, with little or no initial control over his environment. He's unable to anticipate things as he normally might. He's caught off guard, and we want the camera to mimic that surprise and confusion."
Dorrance and his art and construction departments (which totaled 350 people) created 58 sets for the movie. Of those, there are around 30 midsized sets, and ten significantly large sets. At one point, according to Dorrance, 500,000 square feet of set construction was happening all at once. Three of the biggest sets were built on stages in Budapest's Raleigh studios, including the previously mentioned courthouse where Jack and Komarov initially escape. After its demolition, that set was reconstructed into the spacious ballroom of the "Hotel Ukrainia."
The cavernous interior set covers most of Raleigh's Stage 6, and is designed, according to Dorrance, in "garish Rocco style architecture." The 150' x 80' wide ballroom is covered in faux marble, each sheet having been hand-dipped into a bath of various soft colours to achieve the marble effect. Twenty painters, 80 carpenters and ten metal workers spent eight weeks building the, closely coordinating with the SFX and stunt departments.
The room was dressed with breakaway chandelier, chairs and piano, while the walls and columns were designed with pre-determined bullet-hit holes, filled with squibs. The McClanes ultimately escape the hail of gunfire by leaping over a bar, which has cutouts for the placement of breakaway glass. The windows are made of tuffen glass, designed to break into small bits, and the glass-paneled ceiling is made of stained sugar glass. This will all come crashing down on the McClanes in an explosive shower - a nod to the first film, when shattered glass made mincemeat of John's bare feet.
This beautiful ballroom, which took months to build and light, was systematically destroyed during more than a week of shooting. During a confrontation with Alik, the McClanes are fired upon by a helicopter hovering just outside the ballroom. The amount of destruction is epic, even for a Die Hard movie.
Through fortuitous timing and a remarkable amount of cooperation from the Hungarian government, the production was able to use one of their military's Mi:24 attack helicopters for the sequence. The Russian-made Mi:24, one of the most reliable in the former Soviet air force, is being mothballed by Hungary's air force and gradually replaced by NATO aircraft. Production gained access to one of them just weeks before it was slated to be decommissioned, and was allowed to fly it over Budapest air space at specially permitted maximum and minimum altitudes.
Risk and fear of heights was uppermost in actress Yulia Snigir's mind when told she would later be inside the helicopter with the doors opened, taking flight over the skies of Budapest. Her first reaction: no way.
"I'm afraid of heights - I have a severe phobia and can't even look out over a balcony," Yulia Snigir admits. "I was petrified. But I went to my dressing room, got into character, and came out ready to go. You see, my character of Irina is much braver, much stronger than me. As Yulia Snigir, I could never have done it. But as Irina, I had no fear. It turned out to be one of the most amazing experiences. I could see the entire gorgeous cityscape of Budapest from several hundred feet in the air."
Along with the Mi:24, the movie features the Russian made Mi:26 "Halo" - the largest helicopter in the world, weighing 25 tons and capable of carrying another 25. (It is said the only thing powerful enough to airlift an Mi:26 is another Mi:26). The craft is 38 meters long, with a 60 meter-wide berth. Its 30,000 horsepower engines turn eight rotors, each 14 meters long. Top speed: 250 knots.
John Moore is an aerial enthusiast (with boxed editions of "Air Forces Monthly" magazine to prove it) and says, "This is the first time an Mi:26 has been seen in a Western movie. It's fantastic to be able to showcase this monster, and do things with it that have never been attempted before."
If the copters were the icing, the cake itself was the aforementioned vehicle chase that consumed nearly two-and-a-half months shooting, and involved hundreds of vehicles.
The massive endeavour would stretch over an entire summer of shooting. Twelve separate road pieces were involved, each with a different stunt. In fact, an entire 190-person stunt unit was created to shoot the action elements of the chase, led by 2nd unit director Jonathan Taylor and assistant director Sean Guest. Close-ups and dialogue were shot by the main unit. The stunt unit became a fixture on the streets of Budapest - flipping trucks, smashing cars, and racing large vehicles around narrow corners.
Jonathan Taylor filmed the car chase with multiple cameras on every take - placing lenses in not only the camera vehicles and chase trucks themselves, but in the cars that are being hit, the cars passing by, motorcycles, building windows, you name it.
Says Sean Guest: "We pushed it to the limit. Then we went a bit further."
Of particular concern were the "hero" vehicles - the ones driven by Jack and Komarov (a Sprinter van) and John McClane (a Unimog and G Wagon). Several versions of each hero vehicle were required, some with specially-designed exterior front driving pods for the stunt drivers, which allowed cameras to shoot the actors in the cabs of the trucks with no obstructions.
Alik is "giving chase" in the most hellacious vehicle on the road -- a custom-made MRAP (Mine Resistant, Ambush Protected), a vehicle designed for warzones that can decimate anything in its path. The filmmakers decided early on to design and build the MRAPs rather than purchasing pre-made versions, in order to design very specific capabilities into the vehicles.
The chassis for the main MRAP is from a Russian made ZIL truck, equipped with an eight-liter, 500 horsepower Dodge Ram engine, a specially made camshaft, massive off-road shocks, and racing tires. It sits nine feet tall, eight feet wide, and weighs about 8,000 pounds.
Says John Moore: "The statistics are amazing - it goes three times as fast as the military version. It's a beast!"
At one point, McClane tries to catch up to the two lead vehicles by crashing through a guardrail and literally crawling over other cars. Stuntman Larry Rippenkroeger was responsible for achieving this stunt, which production referred to as the "gridlock stepladder."
Bruce Willis himself did some of the driving for the gridlock stepladder sequence, including steering the G wagon through enormous concrete pipes and working to bring it under control after a fishtail spin.
The gridlock stepladder sequence was filmed on a section of the "Hungaroring," the Formula 1 racetrack. Production received a long-term rental on a large grass parking area on the infield - which provided a secure, safe environment for some of the biggest vehicle stunts that were too time-consuming and risky to perform on surface streets. A 350-foot asphalt tarmac was put in, as well as a bridge overpass with adjoining walls. This, in turn, was bordered by the largest green-screen ever assembled -- 750 feet long and 45 feet high. You can see it from space," jokes Dan Dorrance.
The gargantuan greenscreen enabled the VFX department to add plate shots of Moscow skylines and traffic. While Budapest did a stellar job impersonating the city, producers say, there are some features of the Russian capital that cannot be faked.
What Budapest lacked in Moscow's sheer size and dimensions, it made up for in its beauty and fascinating architecture. The production filmed in 32 practical locations, utilising several of the city's most prominent landmarks and public squares including the picturesque, Parisian inspired Andrassy Avenue, the Elizabeth Bridge and the popular tourist stop, Heros Square ("Hosok Ter"), adorned with large statues of Hungary's iconic historical figures.
Heros Square serves as an entrance to an enormous park, and is cornered by two of the country's renowned museums. One of them, the Museum of Fine Arts, doubles as the exterior of the courtroom where Komarov and Jack McClane are brought in to face charges. It is a chaotic, volatile scene, as hundreds of protestors have come to spew venom at Komarov for his alleged crimes against the state. Actual Budapest police and military personnel are used in the scene as extras, along with dozens of police vehicles, tanks, flags and protest signs.
Production was granted unprecedented access to Budapest's Franz Liszt Airport (doubling for New York La Guardia) for a scene featuring Mary Elizabeth Winstead, reprising her role as John's daughter, Lucy McClane.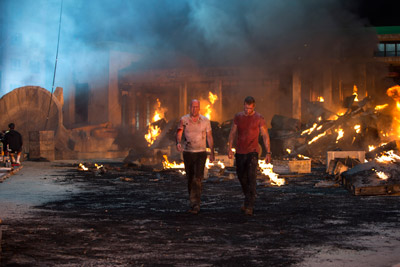 "In some ways it feels like it was just yesterday when we shot Live Free or Die Hard and in other ways it feels like a lifetime ago," Mary Elizabeth Winstead says. "There was mention of Lucy's brother in the earlier film, and now I'm excited to meet him in the form of Jai! I also like the way the dialogue is a bit cryptic between John and Lucy, because that's how a lot of families are. They tend to dance around things that are emotionally difficult or painful."
While nearly all the films locations were in Budapest, the production had to travel nearly an hour outside town to find the biggest and most intriguing set of all: Chernobyl. A former Soviet military base in the village of Kiskunlachaza, abandoned after the collapse of the USSR, provided the appropriately chilling landscape.
The creepy, deteriorating facility was dressed by Dorrance's art team with Soviet statues and murals painted on the sides of rotting concrete buildings. Rented military tanks, jeeps and trucks are scattered throughout the grounds. In addition to adding a large façade to one building, the art department poured a large concrete deck to serve as a landing pad for the Mi: 26 helicopter, which plays a key role in the end sequence.
Cast and crew alike were awed by the Chernobyl set when they arrived in the evening of June 23 for the first of eight non-consecutive night shoots. "It's incredible - I've never experienced anything like it," says Sebastian Koch. "The set feels so desolate and creepy that you can't help but imagine you are back in that time and place."
The Mi:26 is intended to serve as a getaway vehicle for Alik and his thugs, but the McClanes have something else in mind. Flying and landing the gargantuan copter required a crew of six, and the sound and fury it creates cannot fully be appreciated until you are standing a hundred yards away.
The "Halo" was procured on loan from the Republic of Belarus. Transporting the fuselage across the Belarus/Ukraine/Hungarian borders, with the enormous amount of requisite permits and red tape, was an adventure in itself. Summation: Six months of planning, a week of slow, circuitous, wide-load travel on highways with police escorts, covering 1,300 kilometers, and some very close calls with low bridges.
Avoiding the activity surrounding the Mi:26, the McClanes make their way to the bank building, and disappear up a ladder to the next level. When Bruce Willis and Jai Courtney next appeared on the bank rooftop, they were instantly transported, through moviemaking magic, to an entirely different set 50 miles away at Raleigh Studios. Indeed, the Chernobyl sequence involved three large scale elements designed to look seamlessly connected: the military base at Kiskunlachaza, the rooftop exterior set at Raleigh, and the interior bank set, constructed on Stage 4. The latter was converted from what was once the courtroom set, but with added architectural and design elements.
The bank interior is the largest and most interesting of the film's interior sets, measuring 300 feet long and 60 feet high. Covering two full soundstages, it encompassed an exterior façade, a cavernous lobby, a large circular steel door, a safe deposit room and a hidden door and secret vault lined with metallic shelves and cases. The rusted, heavy metal interior of the vault lends a creepy science fiction look to the sequence.
"A lot of Soviet architecture connotes popular sci fi imagery, with its simple, streamlined design, functional aesthetic and large scale," says Dan Dorrance. "This space should appear untouched in 30 years, with a foreboding reminder of contamination."
Dan Dorrance and set decorator Jille Azis adorned the main lobby, which is 80 feet by 80 feet, with old typewriters, metal file cabinets, classic swivel desk chairs and 70s lamps. Jille Azis sourced the Soviet pieces from the UK, Austria and Hungary, particularly scouring Budapest flea markets, which are still a good place for communist era memorabilia. They even found 1980s metal safe deposit boxes from as far away as Oklahoma, where a gentleman was gutting an old bank and selling them on eBay.
Says producer Wyck Godfrey: "Dan Dorrace and John Moore have had a wonderful collaboration on all these sets, capturing the emotional vibe of the scene through production design. The bank interior, for example, expresses a sense of unknowable dread-what might we find in here? - instilling the entire sequence with the atmosphere of a horror film. The rooftop set, built just outside this stage, looks like it could cave in any moment."
The bank rooftop was the principal location for the final week of shooting, all of it night work, where the entire story comes to a head in a firestorm of helicopter attacks, explosions, gunfire and trademark McClane heroism.
As post-production wrapped on the massive project, the filmmakers took time to reflect on the personal and lasting impact of the original Die Hard. Producers Alex Young and Wyck Godfrey both have vivid memories of watching the film, transfixed, in a dark theater, awed by what they saw.
"I was with two friends in Johnson City, Tennessee, and we had never seen anything like it," Wyck Godfrey recalls. "We immediately got back in line and saw it again."
Alex Young had a similar experience. He was just out of high school and happened to be working the summer of 1988 in Tulsa. "They advertised the movie as being in 70mm, which was rare. I managed to get my beat-up old car to the mall, and I sat there mesmerised, absolutely blown away." Like Wyck Godfrey, Alex Young immediately returned to the line to see it again.
"It's one of the greatest American movies ever made. I watch it anytime it's on. It's seminal to me. I wanted to be John McClane, and I still do."
Concludes John Moore: "Bruce Willis set the standard 25 years ago with Die Hard, jumping off buildings, smashing through glass and doing it all for real. We wanted to continue that obligation to shoot realistically and for the action to be epic and fun."