Black Swan Review
Cast
: Natalie Portman, Mila Kunis, Barbara Hershey, Vincent Cassel, Winona Ryder
Director
: Darren Aronofsky
Genre
: Psychological Thriller, Drama
Rated
: MA
Running Time
: 108 minutes
Synopsis
: A psychological thriller set in the world of New York City ballet,
Black Swan
stars Natalie Portman as Nina, a featured dancer who finds herself locked in a web of competitive intrigue with a new rival at the company (Mila Kunis). A Fox Searchlight Pictures release by visionary director Darren Aronofsky (The Wrestler),
Black Swan
takes a thrilling and at times terrifying journey through the psyche of a young ballerina whose starring role as the Swan Queen turns out to be a part for which she becomes frighteningly perfect.
Black Swan
follows the story of Nina (Portman), a ballerina in a New York City ballet company whose life, like all those in her profession, is completely consumed with dance. She lives with her retired ballerina mother Erica (Barbara Hershey) who zealously supports her daughter's professional ambition. When artistic director Thomas Leroy (Vincent Cassel) decides to replace prima ballerina Beth Macintyre (Winona Ryder) for the opening production of their new season, "Swan Lake," Nina is his first choice. But Nina has competition: a new dancer, Lily (Kunis), who impresses Leroy as well. Swan Lake requires a dancer who can play both the White Swan with innocence and grace, and the Black Swan, who represents guile and sensuality. Nina fits the White Swan role perfectly but Lily is the personification of the Black Swan. As the two young dancers expand their rivalry into a twisted friendship, Nina begins to get more in touch with her dark side with a recklessness that threatens to destroy her.
Verdict
: Psychological thriller, Black Swan is 'beautifully disturbing'.
Natalie Portman and Mila Kunis provide gripping performances in their portrayal of ballerinas in this fascinating insight into the tireless world of professional ballet.
Natalie Portman stars as Nina Sayers, a young woman who has dedicated her entire life to ballet; this has caused her to become isolated within her choice of dance and she is often unable to relate to others.
Petite, Nina is cast as the Swan Queen in the first production of the season, Swan Lake. Whilst Nina is perfect for the role of the 'innocent' White Swan she is unable to let go enough to divulge into portraying the 'evil' Black Swan. Ballet director, Thomas Leroy (Vincent Cassel) seduces and challenges Nina to reach her full potential whilst Lily, (Mila Kunis) Nina's opposite, challenges her as the 'perfect' Black Swan as she has the ability to dance with effortless passion. As the emotional pressures of the leading role takes control of Nina she battles through her distinct personality traits and physiological visions.
Innocent Natalie Portman's raw interpretation of Nina's grace, perfection and captivating complexity leads the film. Whilst Mila Kunis' character Lily is laid back and fun natured providing a comparison to Natalie Portman's sensitive character.
Natalie Portman is surrounded by astounding direction from the truly sensational Darren Aronofsky and strong acting from the supporting cast. Barbara Hershey provides an outstanding performance as Nina's mother, Erica; a former ballerina who lives vicariously through her only daughter; her facial expressions alone can showcase her inner thoughts.
Black Swan is a fulfilling film that will have you on the edge of your seat with anticipation; I thoroughly enjoyed the film and the density of the storyline which evokes thoughts that stay with you for hours after the film ends.
Black Swan is flawless - a must-see for those who consider themselves quality film fans…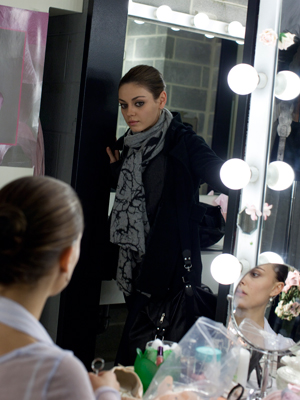 Rating
: *****
Brooke Hunter
Release Date
: 20th January, 2011
Website
:
http://www.foxsearchlight.com/blackswan/