Elizabeth Banks Love and Mercy
Cast: John Cusack, Paul Dano, Elizabeth Banks, Paul Giamatti
Director: Bill Pohlad
Genre: Biography, Drama, Music
Rated: PG
Running Time: 120 minutes

Synopsis: We all know the music, but few know the true story of musical genius, Brian Wilson and his struggles with brilliance and balance. Love & Mercy paints an unconventional portrait of the artist by interweaving seminal moments from his youth and later life, as it explores how Brian came to be who he is today.

The role of Brian Wilson is masterfully shared between Paul Dano (12 Years A Slave, Little Miss Sunshine) as the younger, 1960s Brian; and John Cusack (Maps to the Stars, High Fidelity) is Wilson in the 1980s. The film explores the many challenges Brian has faced, both from his point of view in his younger years; and from the perspective of his now wife Melinda (Elizabeth Banks) when she meets Brian in his 40s and under the questionable medical care of Dr. Eugene Landy (Paul Giamatti).

The Beach Boys were already experiencing chart topping success with Surfin' Safari, I Get Around, Help Me Rhonda, California Girls and Good Vibrations when Brian found himself driven to move in a new musical direction. Whilst this would ultimately lead to the creation of what is widely ranked as one of the greatest albums of all time – Pet Sounds – and songs like Wouldn't It Be Nice, Sloop John B and God Only Knows; it also lead to the band breaking up and Brian breaking down.

Love and Mercy
Release Date: June 25th, 2015



Interview with Bill Pohlad
Question: What is the film, Love & Mercy about?

Bill Pohlad: Overall, the film is about the search for identity, explored here through this amazing personality, Brian Wilson. Brian is a recognized musical genius, but the film tries to get deeper into who he is and what drove him including his struggles with mental illness. So in that sense we wanted to get beyond the biopic, celebrity side of the Brian Wilson story and get to who he is as a human being, a human being with some profound struggles, and how we treat people with these kinds of challenges. We've seen people like Brian being taken advantage of before and families who in general don't know how to deal with them. And that was certainly the case here. Brian had a close family but what he was dealing with was beyond them. The film explores all of these challenges from both Brian's point of view in his younger years, and then from the outside, from Melinda's point of view in his later years. And that was by design on our part to explore how Brian got to be who he is.


Question: What initially drew you to this project and how did your role evolve from producer to director in telling this story?

Bill Pohlad: I had been looking at projects to direct and we had been developing a couple of other things at River Road. This was something that came across my desk, and it was something that intrigued me. There's no question I'm a big music fan, but I didn't grow up as a Beach Boys fan to be honest. But more recently I had become more appreciative of Brian's music. And even more so than the music, it was his struggle, what he's been through and exploring his experience that attracted me to it. Oren Moverman, our screenwriter, was on the list to direct the film but as we got to know each other better and started working on the script together, it was actually Oren who said to me, 'You should direct this"you have a clear view of what you want the story to be." So it was really his urging that pushed me over the edge. I had the desire to direct, but it was nice to have Oren's support and that's what kind of led to the final decision.


Question: What was the development process like in terms of finalising the script with Oren Moverman?

Bill Pohlad: When the story came to us, it was in a different form and there was a different script. With the support of John Wells, Claire Rudnick Polstein, and everyone at John Wells Productions, we started over and hired Oren Moverman to write the script. I had always seen the story as this kind of split take from young Brian's point of view and then Melinda's point of view. It was a different way to go about it with two actors playing Brian at different times in his life and that was one of the attractions to Oren because of what he had done with 'I'm Not There." I was intrigued by that model and so Oren and I met and started working together on the script.


Question: What was the experience like, stepping behind the camera again in an anticipated return for you as director?

Bill Pohlad: It had been a long time. I got away from it for quite a number of years though I had always harbored the desire to direct again. But I was trying to keep it in the background too because I didn't like the idea of 'oh, the producer wants to be the director..." So I sort of kept it down until I found something that I really was interested in. With 'Love & Mercy," I had worked so closely with Oren, by the time the real part of the directing started I was already so familiar with the script. It was already inside me at that point. It wasn't like picking up a script and trying to get up to speed. It was a part of me and so the actual process of directing came very naturally. There was never a time when I felt like, 'What am I doing?" I mean you are always feeling that way on a day to day basis as a director creatively, but the process didn't feel overwhelming to me. It felt great to be honest.


Question: You describe the film as a 'gradual unfolding" of Brian Wilson's life"can you elaborate on that?

Bill Pohlad: If you're doing a traditional biopic it's mostly in chronological order and you're laying out the beats of a person's life. With a biopic, there is a certain expectation that you're going to cover all of the main points of somebody's life. But with Brian, I always said if we were going to do a biopic, it would have to be a miniseries because his life is so full of dramatic material. While I didn't want the film to be saddled with the obligation of hitting every beat and chronologically relaying it in that way"I did like the idea of playing out the Pet Sounds era of Brian Wilson chronologically. Then in his later years with Melinda's storyline, we meet Brian and it's a gradual unfolding because we're getting to know him through her eyes. It's an unfolding of how this man who we see so young and vibrant in one strand of the story, becomes this other person who is clearly in a different place in his life. Things have gone on with him that have had a pretty serious impact on who he is. As Melinda gets to know him, we get to know and see those elements of how he got there and ended up in this place.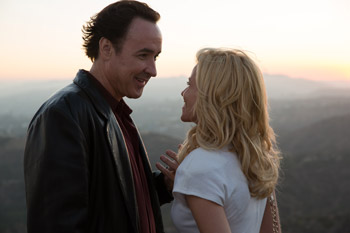 Question: How did the decision to cast two different actors for the part of Brian Wilson come to be? And how did their respective portrayals and performances capture one man?

Bill Pohlad: It really was a creative decision that I felt strongly about from the beginning. There were times when we did consider actors and thought, well maybe he can play both. It was attractive to think of some great actor in that age range in between perhaps doing a tour de force kind of performance. But there was something more intriguing about having two different people and having them come together. At the beginning when you meet them both in different times you don't really know they're the same person. It's only as the film starts to reveal itself that it becomes clear.


Question: Paul Dano was the first casting decision to be made"tell us about working with him and what he brought to the role.

Bill Pohlad: His record of performances over the years is really stunning. I've always been excited about him as an actor and looked forward to working with him at some point. With the young Brian, you look at Paul and there's a physical resemblance that I was excited about. But it was also Paul himself and the roles he's played. Obviously some are darker edgy roles and kind of hard to warm up to. So it was really exciting thinking about Paul playing this very gentle, sensitive, funny and odd guy and certainly a genius in his own way. He was the symbol of youth and potential, and where he can go with his creativity"and Paul played that really positive but still deep and interesting character. I was a very easy decision to make casting Paul. He was the only and first one on the list and thankfully he agreed to do it.


Question: John Cusack gives an incredible performance as an older Brian Wilson. Talk about that decision to cast John Cusack and working with him.

Bill Pohlad: John is a similar situation. Though I think the image of a younger Brian, at least for me, is more well-known than Brian in his 40s. I'm not sure that people really are that connected with what Brian looked like at that time. We kept trying to think of who could play that. I honestly didn't think of John at first because physically he didn't necessarily strike me in the same way Paul did until I started watching a little more film of Brian at that time in his life. And there was one piece of footage in particular that I looked at and thought, wow"it really was John. And then the excitement really starts because you can relate with him on a physical level as well as just the excitement of having John's talent be brought to bear on this character.


Question: Music was obviously a very important part of this film. How did you balance delivering the necessary musical score from both Brian Wilson and The Beach Boys' collections"without having the music take too much of a front seat in the story?

Bill Pohlad: This was intended to be a film that explored Brian Wilson's humanness and character. It wasn't intended to be a Beach Boys biopic, but certainly his music and interaction with the Beach Boys is a big part of who he is too. I can't say we didn't want to use Beach Boys music, but it was a matter of finding that balance so the music didn't overwhelm the film. It's not about riding on the music, but riding on the character and letting the music kind of help it along. You don't want to go overboard because sometimes it can be so forced to try and make a song literally speak to some part of the story when that's not really what the song was intended to be in the first place. It's creating a feeling or an ambiance is what it really is, and finding those ways to use the music to reflect the story without using the music as a crutch to tell the story.


Question: What was it like working with Atticus Ross on the score?

Bill Pohlad: That was equally as exciting as using the Beach Boys' music. We knew that there was going to be a score here because we envisioned that what goes on in Brian's head would be a big part of the movie. Choosing the right person to help on this so called original music was a big part of it. Our first breakfast together, Atticus and I were completely in sync on how to approach it and the excitement of trying to envision what was in Brian's mind and using Beach Boys or Brian's music in a new way. I remember Atticus said to me, 'How do you write a score for a Brian Wilson movie? It's like you're competing against this brilliant composer." The idea of using Brian's music and working with it, rearranging it in a way that allowed us to create a score that's inspired or manifested by Brian himself was a bit daunting but incredibly exciting. And Atticus ended up delivering on such a monumental level. It was so thrilling for us to work with Brian's music and weave it into what became an original score. I think it's really one of the great things about the film and I hope people will appreciate it for what it is.


Question: What was your approach to portraying the beach boys in the film as ancillary to Brian Wilson?

Bill Pohlad: It's a story about Brian Wilson and it's told in part from Brian's point of view and in part from Melinda's. And it's supposed to be an intimate, personal story that way. If we were trying to tell a Beach Boys biography, that would be different. But that's not what we were going for"this is a very intimate story of Brian. The Beach Boys play a role in it, his brothers, his cousin are people he interacted with and were huge parts of his life"but we were trying to explore the life inside Brian Wilson.


Question: Describe the look and feel of the film"particularly in terms of working with cinematographer Robert Yeoman and production designer Keith Cunningham.

Bill Pohlad: We're dealing with primarily two specific eras in Brian's life"the early to mid-60s and the 80s and early 90s. Each has its own look. It would be easy to look at it from a production design perspective and say the eras defined how the two parts of the film look, but it was more than that. We wanted to infuse, both from Bob and Keith's standpoint, a feel to the different storylines so that you could tell them apart. Weaving the two parts of the film sounds like a good idea but if you blend them too much people are going to lose their way and where they are in the story. Those two eras having such distinctive looks and contrast with each other helped, but we also wanted the feeling of the 60s to be warmer and more romantic even though Brian went through a lot of difficult points. The 80s is cooler and slightly harder edged in both the way we shot it and the way the production design came off to be reflective of those points of view.


Question: What was it like working with your costume designer Danny Glicker on creating the look over the different decades?

Bill Pohlad: With Danny, the title 'costume designer" feels inappropriate. It's way too limiting. From our first meeting, he brought such an obvious breadth of knowledge of the world and insight into the characters. It was almost intimidating. But Danny ended up being one of my most trusted partners in the process and his contributions go way beyond the costume design which I think is spectacular on its own.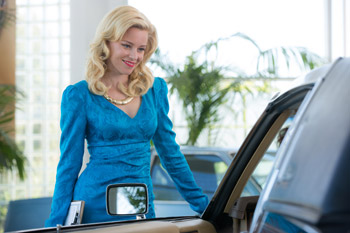 Question: Tell us about collaborating with your editor, Dino Jonsӓter

Bill Pohlad: The relationship between editor and director is such an important one and can be very tricky. Once production is over and a director steps into the editing room, you're basically spending six or seven days a week together in a dark room for months. And it was especially tricky here because no one really knew much about what my style was going to be. But Dino turned out to be a perfect fit for me. While I think we generally have similar sensibilities, there are differences too. But they were healthy differences that allowed us to push against each other for the good of the film.


Question: Talk about the locations and historical settings you shot most of the film at.

Bill Pohlad: It was a big decision to shoot in southern California. Obviously these days there are a lot of strong reasons to shoot in other places to get the benefit of some of the incentives that help make the budget go down a little easier. But in this case it was hard to consider going somewhere else to tell the Brian Wilson story. One of the biggest reasons to stay in California was that we could shoot in some of the original locations, primarily EastWest Studios where the Beach Boys actually recorded most of Pet Sounds and a good part of Smile and Good Vibrations. And that studio in particular has done such a great job of keeping the original feel of those studios from the era. When you walk in it's almost like you're going back in time and Keith, our production designer, helped that along a lot. So that was such a special thing"the ghosts in the studio, so to speak, and that whole romance of being in that space meant a lot. It made for so many magical moments when we went in to recreate those times.


Question: What would you like for audiences to take away from the film, and what would you like them to know about Brian And Melinda Wilson?

Bill Pohlad: I don't think that people really know what went on with Brian and what he really faced. Again, he has lived an extraordinary life and the fact that he was able to create such amazing, affecting and emotional music is something that we all benefit from in these later generations. But the challenges that he had to face in order to bring that music forward is important for people to recognize. And I think they will be able to appreciate it even more so. For people also dealing with similar challenges, the world can be quite harsh to artists or sensitive people who go against it. I think it's important to try and tell that story and I guess let people reflect on who they might know, or who we all encounter that we think are strange, odd or whatever. Hopefully it helps us to look at them in a different way and hopefully the film helps us learn to treat each other better.


Love and Mercy
Release Date: June 25th, 2015