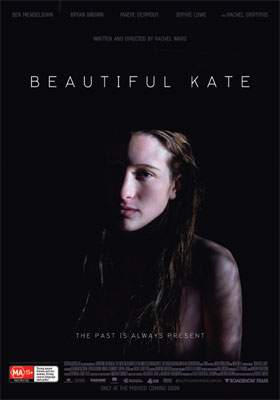 Ben Mendelsohn, Rachel Griffiths, Bryan Brown, Maeve Dermody, Sophi Lowe, Scott O'Donnell, Josh McFarlane
Director: Rachel Ward

Set on a homestead in the Australian outback, Beautiful Kate is the story of Ned Kendall, his relationship as a teenager with his twin sister Kate, and the emotional aftermath of a series of tragic events which unfold when he is sixteen.

Told in parallel narratives of past and present, the story follows adult Ned's return home after an absence of twenty years. The impetus for his visit is that his father Bruce is dying and has demanded his return. Along for the ride with Ned is his 21-year old fiancée, Toni, a sexy waitress/wannabe actress who knows nothing about Ned's family and is surprised to learn of the existence of his twin.

When Toni stumbles on Ned's diary, which recounts the sexual awakening of the three siblings growing up in isolation, she is astonished by the revelations. Unable to cope with the shock, Toni flees back to the city leaving father and son alone together. Past events become clearer to Ned and he realises, almost too late, that he has wrongly held his father responsible for what happened all those years ago. Seeing the truth for the first time Ned is able to let go of his obsession for his beloved sister and begin the emotional journey of reconciliation with his estranged father.

Getting it made

Set in the Australian outback, and filmed on location in South Australia's Flinders Ranges and Adelaide, Beautiful Kate is described by writer and director Rachel Ward, as 'a gothic love story.'

Based on the novel by American author Newton Thornburg, Rachel first read the book many years ago, but it wasn't until 3 years ago that she revisited the novel, and reacquainted herself with the story, "I figured that it's hard enough to come up with a story let alone structure a script, so if you're going to bother making a movie and go down that road which is long and fraught with obstacles, you better start with a bloody good story!"

The world of Beautiful Kate inspired her because it went beyond the overly reproduced Romeo and Juliet love story scenarios, to a different kind of taboo love. As Rachel says "how do you find a believable love story today where two people are genuinely prevented from being together? That kind of story is hard to find unless you're living in the depth of a civil war zone."

Originally Beautiful Kate was set in 1970 Idaho, USA, with much of the novel seen through flashbacks set in the 60's. Rachel updated and moved the novel to Australia, set it in the modern day with flashbacks to the 80's. When writing the screenplay Rachel envisioned Australia as the setting for this story "one of the themes is going through puberty in isolation and what better place than the Australian outback, to explore that theme?"

Rachel Ward was keen to avoid making an urban gritty drama like so many current Australian films. For Rachel Griffiths, who plays Sally, this was part of the appeal of coming on board the project, "in this movie there's this element that the bush is not what it was. There's been no rain, it's on hard times, it's post climate change, it's not riding the sheep's back into glory. I found that really interesting to compare the two Australia's of past and present. We get a sense of 30 years ago, where we were and how we lived on the land and that sense of dying communities and increasing isolation of bush communities, I think isolation is a really great character in this."

The script was 3 years in development and went through endless drafts. After the first years work, the script was scrapped and Rachel began work again with a new script editor. After a further two years, Bryan finally deemed it was ready to seek investors. Bryan admits that 'it's a battle at times to try and get what you want on the page. I know for Rachel it was frustrating , it's also frustrating at times from my point of view where I can feel it's not necessarily there on the page yet, and have to tell her it's more work, but that's all part of the process, especially if you going to end up with a good script.'

When Rachel and Bryan felt they might kill each other if they didn't bring on a third party, Rachel approached co-producer Leah Churchill-Brown, having seen and been impressed with her previous feature film Suburban Mayhem. Leah says, 'I read the script and I loved it. I was completely engaged by the way the story unfolded. It was nothing like Suburban Mayhem, which was much darker. Beautiful Kate is a far more evocative and romantic script.' Once Leah boarded the project it took her and Bryan 2 years to get the film financed. Leah and Rachel took the project to SPAAmart where they met with Roadshow, the Australian and New Zealand distributors, and another funding market in Victoria, 37 South where they found their international sales agent Tom Strudwick from The Works. With those two key elements in place the FFC came on board with a letter of intent and funding fell into place.

Leah found the experience of co-producing with Bryan a very collaborative one. 'It's great having another producer to share responsibility with and Bryan has the most amazing financial head. He is a great financial problem solver. I like to think of myself as having an easier touch with people whereas he is straight down the line. Plus he has so much more experience - I think we have made a good combination. I would work with another producer again as it's very lonely producing on your own. To have someone when you are feeling 'we are never going to get there', to be able talk to someone who understands certain things and have a collaborative experience, that's great.'

Casting

Beautiful Kate spans decades and a lot of the film is told in flashback, this meant having two actors for each key role. Finding the right cast was always going to be difficult however casting the lead role of Ned, for director Rachel Ward was clear, 'Ben Mendelsohn just IS Ned and in a way the choice was so obvious that I was scared of it.'

Ben Mendelsohn responded immediately to the script and liked the way that Rachel handled the provocative material, 'Ned is a great character because he is someone that is significantly conflicted. Rach is extremely supportive and I think she is able to handle this material with a deft touch. It's a pretty full on story and that's part of what is so attractive about the whole thing… but it's handled and written in a very good manner.'

Rachel had always wanted Bryan Brown to play the role of Bruce but Bryan felt differently about it. 'The funny thing about that is that if I had read the script, or it had come by me, my initial reaction would have been that I wasn't old enough to play Bruce. I thought it was a good role but I didn't necessarily see me as the actor to play Bruce', says Bryan.

He continues, 'I think that's basically because when we meet Bruce he's coming to the end of his life. He's carrying a lot of, I don't know if bitterness is the right word, but he's got a fair amount of baggage. But Rachel had determined that I was right for the role, so there were enough arguments about the script, there was no time to start arguing about me playing Bruce so I just copped it. As it so happened I really enjoyed playing Bruce, but it took me a long time to come to terms with being able to play him.'

For Rachel Griffiths taking on the role Sally was mixture of Rachel Ward's passion for the project, filming in the Flinders Ranges and the opportunity to work with Ben Mendelsohn again. 'The first time I met Rachel she had this incredible book of images and textures and I could see she was so clear in her vision of the movie she wanted to make. I think that gave me permission to not have to worry about the big picture; I could just focus on what I was doing.'

Rachel Griffiths found two aspects of her character she could really explore. 'One was that I really love the Flinders, the land, and the environment. I was staying on a station where I met a girl who had grown up in that place, and she had such a strong sense of her land, and her sense of place, and she said that when she's away from it, she just closes her eyes and goes back to that sense of place. So I really wanted to explore that, about how much place is a character for somebody. And secondly I really love my brother, and that's not hard to get to because I love Ben so much, so I knew that would be really easy. It's the third time I've worked with Ben and it just gets more and more fun'.

With the lead adult roles filled, Rachel, Bryan and Leah had the difficult task of casting the younger leads. Casting a younger Ned was a gruelling process because he had to look like Ben Mendelsohn, so Rachel cast Ned's twin sister, Kate, and the older brother, Cliff, first.

Beautiful Kate is Sophie Lowe's feature film debut as an actress. When Sophie, who plays Kate, walked out of the audition room she knew she must have done something right as she recalls, 'my audition was weird, I just remember Rachel looking at me really weirdly and then when I walked out the door she was almost following me and I thought oh cool, that must be a good thing, and it was!" When Sophie found out she had the part "I went through about 7 emotions - I started crying and then I was happy crying and then sad crying, I don't really remember what went through my head, it's just so surreal, it's still surreal.'

Sophie found the role of Kate quite a challenge, 'Kate's crazy and confident and I've always wanted to play a role like that. Kate changes into a woman in the film. She starts her period and all that stuff that every girl goes through but without her mother it's a bit harder, she doesn't have anyone to talk to and no one to tell her that she's alright, so she latches on to her brother to help make her feel normal.'

Josh McFarlane who plays Cliff was delighted to get the role as it's a character that he very much relates to, "I think I am quite similar to Cliff, he is a pretty level headed guy and I think I am a pretty level headed guy as well. I guess he has little sensitive streaks which I can also see in myself.'

Although Rachel auditioned about 60 boys alongside Sophie to find the perfect younger Ned, she had immediately wanted to cast Scott O'Donnell when she saw a photograph of him. Says Rachel, 'I thought there was something special about him right away but he kept missing his auditions and then we couldn't find him. At the last minute I had a phone call from him and he sounded great, so I took a punt and flew him into Adelaide to test him for the character of young Ned.' Scott O'Donnell recalls the moment he got the part, 'I'd finished my audition and drove back to the airport and got on the plane. I was just about to go to sleep and someone grabbed my arm and I freaked out because I thought I was in trouble. This lady goes, 'Scott O'Donnell', and I said 'yeah' and she says, 'you've got to get off the plane!' I grabbed my stuff out of the top locker and everyone was looking at me like I was a terrorist or criminal, and then the lady said 'you have to call Bryan Brown immediately'. Then she walked me up to the terminal and left me there and I didn't know where to go! I then got picked up from the airport and was told I'd got the part. I started freaking out really badly. I only had my clothes on me, that's all I had. After that we went back to the office, I got my hair done, they rushed me into wardrobe, they were taking photos of me, I was calling people. It was chaos, but great chaos - probably the best feeling I've ever had'.

With an enthusiastic young cast and a wonderful, experienced older cast in place the final pinnacle role to fill was that of Ned's girlfriend, Toni, which is played by the very talented Maeve Dermody. Bryan Brown enthuses, 'she's got a great character in Toni. In a lot of hands the character could have been annoying or cheap, but Maeve has really made her a very important part of the film, of the outsider, looking at these people, looking at this family and at the mess that it's in and she's been able to bring a certain humour to that, to their situation. She's a terrific young talent.'

As director Rachel Ward says, 'I just felt like the stars were aligned and something was on my side because those guys just fell into my lap. If just one of them hadn't been there I don't think the story would have worked as well".