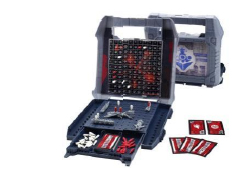 CLASSIC BATTLESHIP Movie Edition Game
Based on the debut BATTLESHIP motion picture coming soon, this movie themed version of the classic BATTLESHIP game brings to life all the excitement of the big screen. Sink your opponent's fleet before he sinks yours in this heart-pounding, action packednaval combat game. Choose to command the navy or the alien fleet, and defeatyour enemy with new special ops cards that allow you to fire out complete columns ofcoordinates, fire as many shots as you have ships, or force your opponent to reveal unhitcoordinates. The classic "hit" or "miss" game comes in two folding hard cases thatmake it convenient to transport and store all of the pieces for easy play.
Age: 7+
Players: 2
RRP: $36.99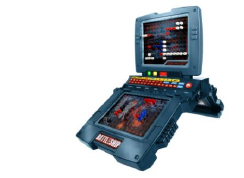 DELUXE BATTLESHIP Movie Edition
Batteries: 3 AA (incl.)
Power up and choose a side with this electronic edition of the classic BATTLESHIP game.Features an all-new naval fleet and alien ships so you can recreate the battles from theupcoming BATTLESHIP motion picture by Universal Pictures. Light, Sounds, and Specialweapons such as the American and Japanese Destroyers help players seek out anddestroy their enemy's ships. Send out jets for recon missions or even scan the water withthe Aircraft Carriers before firing. The BATTLESHIP movie comes to life as players huntdown their enemy and take 'em out in DELUXE BATTLESHIP Movie edition.
Age: 8+
Players: 1-2
RRP: $69.99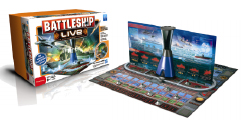 BATTLESHIP LIVE Game
Batteries: 4 AA
Go live! In this fun version of the classic BATTLESHIP game, the electronictalking tower calls the plays! With motion sensing, sound effects andeven surprise game-changing events, the tower guides the game fromstart to finish while you plot your strategy and command your ships.Launch the spy plane to spot your enemy and use your ship's specialpowers to sweep for mines, launch air attacks, fire missiles and more.With so many things to do, this "naval battle" is more thrilling than ever!
Age: 8+
Players: 2
RRP: $69.99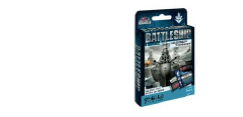 BATTLESHIP: HIDDEN THREAT Card Game
Attack and defend to sink the enemy fleet with the BATTLESHIP: HIDDEN THREAT Card Game. It's all thefun of the classic BATTLESHIP game, with exciting card play action that only takes 15 minutes to play!Play peg cards to hunt down hidden enemy ships, while your opponent does the same. Boost yourattack and defense with special cards and ship powers. Be first to sink the enemy fleet, and you win thegame.
Age 7+
Players: 2
RRP: $9.99