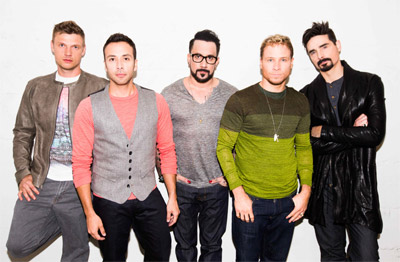 Backstreet Boys In A World Like This


With two decades in music under their belts, Backstreet Boys have a well-earned reputation as one of the finest exponents of pop we've ever seen – in fact, they are the best selling boy band in history with more than 130 million albums sold worldwide. In their twentieth year, founding member Kevin Richardson returns to the fold for the first time since 2005, for the release of the group's eighth studio album, In A World Like This, available online from 2nd August and in physical format from 9th August.

The album will be preceded by the lead single, In A World Like This, a Max Martin ['I Want It That Way", 'Everybody (Backstreet's Back)"] penned track that builds from a lithe acoustic guitar into an unshakable chorus, 'In a world like this where some back down, I know we're gonna make it." The single In A World Like This hits Australian radio today and features an epic video depicting Richardson, lead singer Brian Littrell, A. J. McLean, Howie Dorough, and Nick Carter in fine form!

The Grammy Award-nominated pop juggernaut is excited about what the future holds, particularly given their independent status.

"It's a natural evolution," Littrell says. "We're not trying to be something that we're not. The subject matter is a little different. We have the freedom to do whatever we want now, and it's an invigorating feeling. The music is just Backstreet Boys."

Richardson elaborates, "Like always, there's a little bit of everything. There's some R&B. There's some straight-up pop. There's some rock. At the end of the day, we're singers. We sing with emotion, soul, and passion. I hope people feel that. We just aimed to make a versatile record."

In order to accomplish that goal, they headed to the UK early in 2012, living and writing together with producer Martin Terefe [Jason Mraz, Train]. Back in Los Angeles, they enlisted the talents of Max Martin [Taylor Swift, Pink, Katy Perry, Maroon 5], Morgan & Prophet, Justin Trugman [The Saturdays], and Dan Muckala [LeAnn Rimes, Leona Lewis). In between recording, they also returned to the stage as a five-piece for a very special performance as part of Good Morning America's "Summer Concert Series", shattering the top morning show's previous attendance record.

2013 started with a bang - Backstreet Boys were honored with a star on the Hollywood Walk of Fame. They then launched a worldwide tour beginning with sold out arenas across China, and now, with the release of In A World Like This imminent – it won't be slowing down!