ISRAEL'S AYELET'S HAS HIGH EXPECTATIONS.
EXCLUSIVE Ayelet Zurer, Angels and Demons Interview by Paul Fischer.
Beautiful Israeli actress Ayelet Zurer is making quite the name for herself as an international actress. Ayelet was born and raised in Tel Aviv. After finishing school and her services in the army, she moved to New York, where she developed her acting skills at the New Actors Workshop School. She moved back to Israel in 1991. In 1992, she starred in the television series Inyan Shel Zman (A Matter of Time). In 1993 she played the lead role in the Israeli film Nikmato Shel Itzik Finkelstein (The Revenge of Itzik Finkelstein). During this time she also participated in the cable television show Yetziat Hirum (Emergency Exit). In 1997, she played the role of Shira Shteinberg in the TV show Florentin on Arutz Shtaim.
The following year she got the lead role in the film Ha Dybbuk B'sde Hatapuchim Hakdoshim (The Dybbuk of the Holy Apple Field) starring Moshe Ivgy. In 2000 she participated in the television series Zinzana. She starred in the 2001 movies Laila Lelo Lola (A Night Without Lola) and Kikar Ha-Halomot (Desperado Square). In 2002 she was in the TV series' Shilva and Ha'Block. Her first international role was Steven Spielberg's Munich (which was nominated for an Academy Award for Best Picture), when she played Eric Bana's wife. She later appeared in the American thriller Vantage Point, playing an exotic terrorist and appearing alongside Dennis Quaid, William Hurt and Sigourney Weaver.
Her next international role was in Paul Schrader's Adam Resurrected, where she played Gina Grey, a nurse who falls in love with the title character, a disturbed Holocaust survivor played by Jeff Goldblum. Ayelet Zurer starred in in the Israeli hit TV series, Betipul, a wildly popular drama about a psychiatrist and his patients, starring Assi Dayan. She played the role of Na'ama Lerner, a seductive patient who initiates a romance with the doctor. The series won Ayelet a Best Actress award from the Israeli Television Academy and was remade as the hit Emmy-and-Golden Globe-winning HBO series, In Treatment.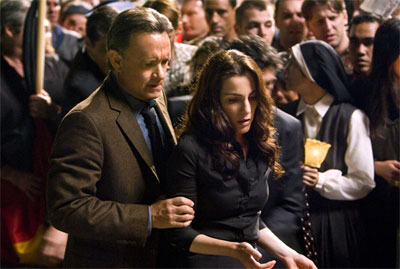 She is best known for her role in Nina's Tragedies (2003) where she played the title role. Nina is a passionate young woman who loses her husband and must carve out a new life for herself. Along the way, she finds herself in a new and uncertain romance and also begins to see a man wandering around the streets of Tel Aviv who looks exactly like her late husband. In 2007, she starred in Fugitive Pieces, the story of a boy who survives the Holocaust in Greece and becomes a troubled young adult who falls in love with her character. In April 2008, Ayelet Zurer was cast as the female lead, Vittoria Vetra, in The Da Vinci Code prequel, Angels and Demons., chosen over more well-known stars, including Naomi Watts, who had been in talks for the role.
Ayelet Zurer's character is the daughter of CERN physicist Leonardo Vetra. Following her father's death, Vittoria pairs with Robert Langdon (Tom Hanks) on a journey to uncover the mystery behind her father's murder and stop a terrorist plot. She has also been involved in theatre, in plays such as HaYoreshet, Madrich Nashim Le'Tohu U'Va'Vohu, Bagdei HaMelech (The King's Clothes), Boh'u Lo Nedaber Al Ze (Let's Not Talk About It), Ohavim Et Ophal, and Monologim Me'Ha'Vaginah. In the United States, she has appeared in plays such as A Midsummer Night's Dream and Richard III. She has also modeled for fashion companies such as Honigman and Golfe. Her pictures are featured in Be'Edolina, a book by Gabi Nitzen. In 2008 she was chosen by TCCandler.com as ninth place in the 100 most beautiful faces of 2008.
Sometimes referred to as the ice princess, due to part of her roles, she is one of the most acclaimed actresses in Israel, often compared to Julia Roberts. Ayelet Zurer has been nominated for numerous awards for the Jerusalem Film Festival, the Israel Academy and the Israeli Television Academy. She won Best Actress awards for her role in Nina's Tragedies and Betipul. She has appeared in many Israeli films and here appeared in the likes of Adam Resurrected, and Munich. Her biggest film to date opens in most countries this week: Ron Howard's much anticipated Angels and Demons playing Vittoria Vetra, who teams up with Tom Hanks' Robert Langdon to piece together a series of murders. Ayelet Zurer talked exclusively to PAUL FISCHER on the phone from New York.
QUESTION: This is a huge film for you. And I'm wondering how nervous you were being part of a film that has so many expectations.
AYELET ZURER: I was truly, honestly, never occupied with the idea of expectations. I think it belongs to the business people, in that sense. I was just so thrilled to work with Ron and Tom, and to have a great part in a movie with them. And that specific part, that I never - you know, I was never worried. And usually, I'm not picking things that way, anyway. So, you know, when I really got the job, I was just happy that I was going to go into this room of investigation science, and all the themes that the movie has. And we have great discussions over the rehearsal period, which we had for about two weeks with the writer of the screenplay. And just sitting at a table with these people were such a great time for me, that I really never found myself asking those questions. But it was overwhelming, in some ways.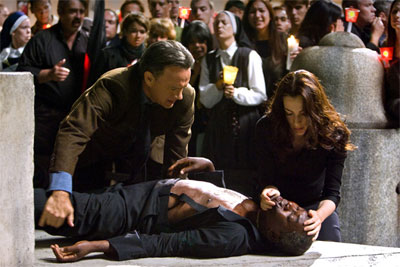 QUESTION: What was your audition process like for this?
AYELET ZURER: Oh, well, I met Ron once really briefly. Like, for five, ten minutes. Which was lovely and nice. But I - you know, I couldn't tell where it was going. And then suddenly he called and said, "Hey, can you come and read with Tom?" And they offered me a certain time of the day, which I had to be prepared for. And I met them at a little theatre in Santa Monica. And t place was very tiny, and there were a few people sitting in the audience. Which, you usually see when you read for a director. But this time I couldn't see them, because it was on a stage, and we did have lights on. You know, theatre lights. And so you can't see beyond the darkness, which is lovely. And I met with Tom, who was funny the first moment I saw him, and gracious, and tried to make me feel like I'm welcomed, and that it is a hideous process for him, too. I think he even said that that way. And then they went and said, "Are you ready?" And I said, "Yes." And they said, "Okay. Action." And the cameras were rolling. And I just had such a good time with him. It was really, really easy. And when it was done, I sort of felt like, "Hmmm. Gosh, it could have gone - you know, I could have done that for hours now." And thank God, they felt the same way.
QUESTION: How different a character is this to the character in the book? I mean, what sorts of changes were there?
AYELET ZURER: Well, I think in the book, because your imagination can cope with description such as the short pants, and the masculine legs, and the great skin, and at the same time, the brain that can - I think there's a point where she's mentioned to exceed Einstein's theory, at one point in the beginning. So, you see, she's really like a superwoman to me. You know, beautiful and smart, and like a superhero kind of creature. The character. And so when it was translated into the movie, Ron really wanted somebody real, so the audience would feel for them. Because it is such a story-driven movie, that the characters should be as real as possible. And so our job was to try to see what had to be dropped. And the first thing was the shorts. [LAUGHTER] Thank God, because I would feel really bad.
QUESTION: Why?
AYELET ZURER: I think when you actually see things, you don't imagine them like you do when you read the book. They don't quite work very well. So I kind of felt like, "Nobody's going to buy it, anyway." If they haven't read the book.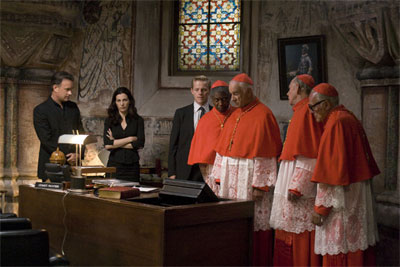 QUESTION: I understand Tom was quoted in an interview recently as saying that originally, there were plans to make you two a couple at some point. You know, to bring in a bit of romance, and to turn your relationship into a bit of a love story. Was that something that you thought was going to be the case? Or was that -
AYELET ZURER: Well, I read the script already without it. With just a bit of a flirt, you know. But not, like, a complete romance. Because I think one of the things that they had to drop was that, because of shortening of the story, really. And you had to, in adaptation. So - yeah.
QUESTION: Do you regret not having had a love scene with Tom Hanks?
AYELET ZURER: [LAUGHTER] It's so funny, that - if I regret? I hope I'll have another movie with him, and maybe then. Then, in that case, it's going to be that case in the next movie.
QUESTION: Obviously this film does comment on aspects of the Catholic Church. And I'm just wondering, as an Israeli, and presumably as an Israeli Jew, did you find it a bit of a dichotomy between your own personal beliefs and the beliefs that were being espoused by this story?
AYELET ZURER: It is almost like asking for me - forgive me if it sounds rude - if an actor plays a murderer, if there's a dichotomy. You know, I'm an actress. My job is to deliver the roles that I'm getting. And if I feel that I can, I will deliver them. And in this particular situation, that was the case. I have - it has nothing to do with my belief, my personal belief. My religion, if there is one, and how I grew up. Plus, on top of that, Victoria, to me, as I was working on it, comes from a world of science. So she really has no religion. And no faith, to be even more precise. Which is the difference between me and her, really.
QUESTION: Do you think the film really does have a point of view? Or do you think that it's a lot more neutral than people assume?
AYELET ZURER: Well, I think it's not neutral, but it doesn't tell you what to think. It sort of raises the question, and leave it out there. Even in the last scene, you can see faith and science together.
QUESTION: Let me ask you about shooting on location. I mean, obviously this movie is filmed both on location and in studio sets. How was it for you working on location in Rome? And do you think that adds to your own performance?
AYELET ZURER: Oh, yeah. Oh, for sure. You know what? 100 percent yes, because when you work on set, in Rome, the people, the art, the food, the crazy traffic around you, the fact that there are hundreds of tourists and people watching, and just the excitement of being there, is so thrilling and full of energy, that it sort of adds to the story. And the story is the story of people chasing a very important thing, while time is clicking. So it kind of supports it. Yeah.
QUESTION: What do you think is the appeal of these stories, which are not special effects-driven movies, which are not action movies, per say, even though there's action in it. What do you think is the appeal of these works as movies?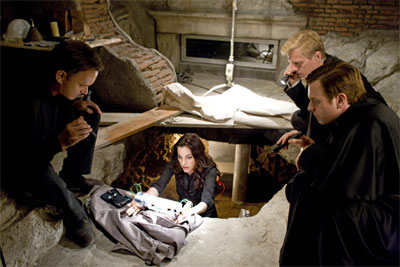 AYELET ZURER: What's the appeal? I think they're more than just action movies. They're - they have really good story. They have history. They have art. And great ideas hidden underneath the appearance. And so, people tend to want to see more, I think, intelligent movies, in that case. And plus, I think something that Dan Brown does, and I think it is something that I've heard someone else saying about his stories, is because they are so well-researched, and he really uses symbols and myths and ideas that resonate deeply inside of us somehow. Because he uses history, then we kind of tend to sort of believe that it's all true. [LAUGHTER] And it's fiction. And that's kind of making it fun.
QUESTION: What is a movie like this - the size of a movie like this - do to your career? I mean, does it open more doors for you that may otherwise have not been open as a result of doing a film like this?
AYELET ZURER: I don't know. It's too soon to say for me, really. I don't know.
QUESTION: Why did you want to be an actor? And how did that come about for you, growing up?
AYELET ZURER: Well, it happened to me because it always came about - came to me. I never really appreciated very much, because I was thinking, you know, that it's kind of fun, but there's nothing to it. I never really made a decision, until I actually had one role which I found to be really profound, because it was influenced by an acquainted friend, who I spent a lot of time before, working on that role. And her personality slipped in, and she was a very interesting character. And then when I portrayed that specific character, it was a play named The Bitter Tears of Petra Von Kant. I think it's a German playwright, Fassbinder. And I did that play, and then I kind of had that strange feeling of forgetting myself, as I was doing it. And I thought, "Oh my gosh. It's actually"-you know, the bug actually started there. Because I realized how deep it actually is, and how much fun, in a more profound way, it is to kind of forget yourself, and portray somebody else. And then I really wanted it, badly. And then I moved to New York, and studied a little bit more, and came back and - you know. My career kind of started, for me, was starting there=, although I already did theatre and TV.
QUESTION: Do you still live in New York? Or do you back home?
AYELET ZURER: I go back home to visit, but I live somewhere else, yeah.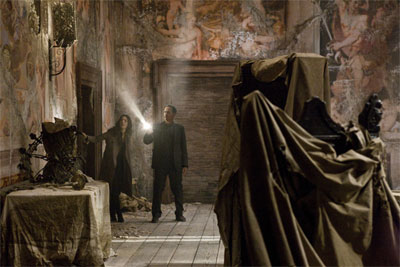 QUESTION: And what else are you working on at the moment? Or, what else have you finished that you're excited about?
AYELET ZURER: I have - that's the movie I've finished, that I'm excited about. I'm working on my own script.
QUESTION: Oh, really?
AYELET ZURER: I have been for a while, yeah.
QUESTION: What kind of script are you writing?
AYELET ZURER: I optioned rights for a book, and I've been developing it. And as I was working on Angels and Demons and talking a lot to Tom, I discovered how he had created Forrest Gump and later on, Castaway. And then I thought to myself, "Oh my gosh, he really - he took it - he took about four to six years on each of the projects." And I thought to myself, "That's really what I want to do. I want to become that"-you know, I was just influenced by that. I said, "This is what I want to be. I want to be doing what I'm doing, but I really wanted to create more." And so since I had those rights for a while, and I didn't do anything with them, I started writing. And it's kind of coming together really nicely.
QUESTION: What kind of a genre is it? Can you tell me what sort of -
AYELET ZURER: It's a drama. A very tiny movie. I would assume not more than $2-4 million, if I get really lucky.
QUESTION: Well, you've got to start somewhere.
AYELET ZURER: I know. I know.
QUESTION: Maybe some of the profits of Angels and Demons can go towards your budget.
AYELET ZURER: Yeah. Let me tell you, they will be the first people that I'll turn to. [LAUGHTER]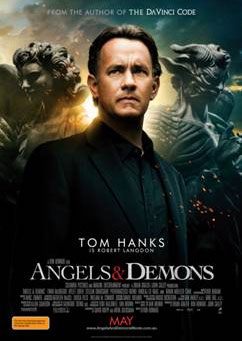 Angels and Demons
Starring: Tom Hanks, Ewan McGregor, Ayelet Zurer, Stellan Skarsgaard, Pierfrancesco Favino, Nicolaj Lie Kaas, Armin Mueller-Stahl
Director: Ron Howard
Genre: Action/Adventure
The team behind the global phenomenon The Da Vinci Code returns for the highly anticipated Angels & Demons, based upon the bestselling novel by Dan Brown. Tom Hanks reprises his role as Harvard... The team behind the global phenomenon The Da Vinci Code returns for the highly anticipated Angels & Demons, based upon the bestselling novel by Dan Brown. Tom Hanks reprises his role as Harvard symbologist Robert Langdon, who once again finds that forces with ancient roots are willing to stop at nothing, even murder, to advance their goals. Ron Howard returns to direct the film, which is produced by Brian Grazer, Ron Howard, and John Calley. The screenplay is by David Koepp and Akiva Goldsman.
What terrifying discovery would make the Vatican turn to Robert Langdon, the man who cracked history's most controversial code? When Langdon discovers evidence of the resurgence of an ancient secret brotherhood known as the Illuminati "the most powerful underground organization in history" he also faces a deadly threat to the existence of the secret organization's most despised enemy: the Catholic Church. Upon learning that the clock is ticking on an unstoppable Illuminati time bomb, Langdon travels to Rome, where he joins forces with Vittoria Vetra, a beautiful and enigmatic Italian scientist. Embarking on a nonstop, action-packed hunt through sealed crypts, dangerous catacombs, deserted cathedrals, and even to the heart of the most secretive vault on earth, Langdon and Vetra will follow the 400-year-old Path of Illumination that marks the Vatican's only hope for survival.