Vibrant and enigmatic, Apollo Blue is one of Australia's most mysterious and exciting upcoming acts – and he has announced his debut single Moonchild, an ode to self-empowerment, out now. Inspired to pursue music and the arts by a serendipitous encounter with Lady Gaga as a teen, Apollo Blue's debut single has been a long time coming – but Moonchild is absolutely worth the wait.

Recorded in Melbourne in 2019, Apollo Blue guided production with audio engineer Jake Rush (Dan Parsons), mixing by James Cecil (The Goon Sax) and mastering by Adam Dempsey (Angie McMahon, Courtney Barnett), Moonchild is evocative of classics The Rolling Stones and David Bowie, but stings with a uniquely modern twist not dissimiliar to indie pop icons The 1975 and Cub Sport. The song is a true journey, from start to finish – there are peaks and valleys, no musical turn is expected but each is fascinating and innovative. Moonchild is a fearless explosion of a debut, with climbing guitar licks, pounding percussion, gentle piano breaths, all held together by Apollo Blue's defining, soaring vocal.

Speaking on the inspiration behind the track, Apollo Blue explains, "Moonchild was written in the middle of the night after I had left a grungy gig and was strutting home in the rain through wintry Melbourne with my favourite black boots and silver glitter pants on. I felt free and powerful still reeling from the excitement of the nightlife. I noticed an on-looker from their balcony and wondered who they were and what they thought of me: a mysterious platinum blonde racing through a storm in the middle of the night. I developed this into an ominous character, The Moonchild, who only emerges at night and lives off of rain clouds and stormy skies. I had a rock energy coursing through my veins and I couldn't wait to get home and transform that feeling and fantasy world into music. The song was written before I could even reach the keyboard…the Moonchild is a metaphor for the powerful, confident force that we all possess inside of us."

Raised in country South Australia, Apollo's life was changed forever at the age of 17, when his musical idol Lady Gaga read his personal letter aloud in front of thousands and invited him backstage to meet her. Gaga's message of self-love and equality was deeply inspiring to a young Apollo Blue, and this encounter with his idol caused him to pursue music and drama in his year 12 studies, cementing his love of art forever. Since then, Apollo has studied music at Collarts in Melbourne under the mentorship of ARIA award winning rock siblings Ella and Jesse Hooper of Killing Heidi, and has made waves across Melbourne's live music scene.
Interview with Apollo Blue
Question: How would you describe your music?

Apollo Blue: I would describe my music as creative, anthemic and emotionally evocative. With every song I write I like to create a world within the story that I'm telling, with characters and a setting, so that when you listen you can see and feel the story too. I love music that creates a fantasy you can escape into, I'd like to think of my music as escapism.


Question: How does it feel to release your debut single?

Apollo Blue: Incredibly empowering. I've been dreaming of becoming an artist since I was a shy 12 year old who wrote poems and secretly sang at night when my family were asleep. To realise a dream that's been over 10 years in the making is very surreal and special. There were many challenges doing this for the first time as an independent self-managed artist, but it all feels worth it to have a piece of art that I'm proud of out in the world.


Question: Can you tell us about Moonchild?

Apollo Blue: Moonchild is my rock n roll fantasy explosion. It follows an ominous character who comes alive at night and rescues people from their sadness and loneliness. I wrote the song when I was strutting home through a storm in the middle of the night after a grungy gig and noticed a woman on her balcony alone drinking a glass of wine. I wondered what she thought of me, a mysterious platinum blonde racing through the rain in glam rock attire. I created an entire story in my mind about this Moonchild who comes alive at night and turned it into a song as soon as I got to my keyboard at home.


Question: Is there a particular message you hope listeners take from your music?

Apollo Blue: I hope Moonchild helps listeners connect with that powerful, confident part of themselves that can rescue them from anything. Although the Moonchild is presented as a character in the song, it's really a metaphor for that powerful part of yourself that comes alive when you feel true freedom and euphoria (the nightlife for me). I want to empower people to feel pride in exactly who they are and own it.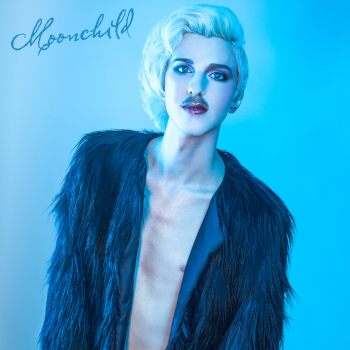 Question: Do you prefer performing live or recording?

Apollo Blue: Writing! Creating the music is probably my favourite part of the process. Seeing an idea I had at 2am laying in bed come to life on a keyboard, then a band, and then a finished recording is incredible. But to answer your question, nothing beats the energy of being on stage and experiencing music with people live. I love the product of recording but the process definitely doesn't come as naturally as performing for me.


Question: If you could have anyone, in the world, attend a show, who would it be?

Apollo Blue: My twin sister, Erini. When she's at a show I always perform my best because regardless of what happens on stage I know I get to spend time with her afterwards and it just puts me in the best mood. The stakes of the performance seem to reduce and I relax and take in the moment. Also Mum & Dad because it's so nice to share these moments with them, they know how far I've come and also end up working the crowd like managers!


Question: Which music/artists are you currently listening to?

Apollo Blue: Today, I've listened to so much Edith Piaf. It was raining all day so I had to lean into the drama of my surroundings and make it French and beautiful. I'm also in a really deep Stevie Nicks phase. I've always adored her writing and singing but lately I've really connected with a lot of her solo work like "Bella Donna" and early demos of "Gypsy". Also, Cub Sport and Lady Gaga are always playing in my house, absolutely necessary staples for every playlist.


Question: What or who was your inspiration to go into the music industry?

Apollo Blue: The first time I really thought about becoming an artist was after watching Nina Simone's documentary "What Happened, Miss Simone?" Apart from being a phenomenal musician, Nina carried herself with such conviction and always had such a fierce artistic perspective. She said in an interview "An artist's duty is to reflect the times...we will shape and mould this [world] or it will not be shaped or moulded at all" and that really resonated with me. I wanted to contribute to something larger than just myself, to connect with people and hold a mirror back to them so they can connect with themselves. Music felt like the most powerful way I could do exactly that.


Question: Tell us about your meeting with Lady Gaga?!

Apollo Blue: It was life changing. I saved up for months to fly interstate to go to Gaga's concert, and decided to write a letter thanking her for her message of self love and equality which helped me learn to love myself and get through really difficult times. I was bullied badly in the country for being feminine and gay before I even knew what that meant. I threw this letter onstage at her concert and she ended up reading it aloud to all of Rod Laver Arena and inviting me and mum backstage to meet her. She was so sweet backstage and strutted straight to mum and I for a hug as soon as she walked in the room. It was everything I could of dreamed of and more. After meeting Lady Gaga I realised I could make anything happen if I really wanted it.


Question: Did you have any pre-conceived ideas about the music industry?

Apollo Blue: I actually studied a Bachelor of Music Performance at Melbourne's Collarts straight out of high school so I was lucky enough to be guided by teachers who had worked in the industry for years like Jesse & Ella Hooper and manager Chrissie Vincent, who gave me such a great insight. I knew coming into the industry that I needed to do a lot of the ground work myself and was prepared to do so. Thanks to their guidance and a lot of preparation my pre-conceived ideas have all been pretty accurate.


Question: What's a typical day like?

Apollo Blue: I'm not sure there is a typical day at the moment during COVID! I'm currently away from my Melbourne apartment with family in regional SA where I grew up, so life has been very different lately. But typically I work my social media/communications job until 3pm and then switch gears to Apollo Blue work organising recordings, creating content for my socials and finally when night falls I become a mad artist and write at the piano for hours. My days tend to differ a lot but my one constant is always creating at night, usually 11pm-3am is when I write most of my music, poetry and creative adventures.


Question: What has been your favourite part of becoming a music artist?

Apollo Blue: Seeing my music connect with people. I'll never forget singing an original "Grey Zone" in Footscray and seeing this beautiful soul crying during the song, I don't think she knew I could see her because it was so dark but it really struck me. When someone directs their full attention and energy to you in such a vulnerable way it feels almost tangible. It's magic.


Question: How would you describe your personal style

Apollo Blue: Futuristic Glam Rock meets a queer fever dream. That just about sums it up.


Question: What's next, for you?

Apollo Blue: I'm about to watch my favourite Drag Queens Trixie, Katya and Violet Chachki on YouTube. Oh music wise? Much more music! I've written a lot of music that I'm hoping to share soon, but I'm still artistically in the world of "Moonchild" at the moment and going to explore that rock n roll fantasy even further. I like creating worlds with my songs and there's still more story to tell. I've also been a theatre kid since high school and have such a love for acting. So hoping to make a bit more time for acting now that my first born, "Moonchild", is out in the world.


Question: Can you share your socials? (links please)

Apollo Blue: Instagram
Facebook
Youtube
Twitter
TikTok


Interview by Gwen van Montfort