Alexandra Duparc – aka SKANDRA – is finally showing the world her own music. The proactive musician and humanitarian has been touring the world since age 15 and working on a countless number of film scores/albums for other artists. Now, the Paris-based Pop artist has released a small collection of her own music – "Rivers," "Tangerines" and "Ashes" – with a full album on the way. SKANDRA recently skyrocketed to fame after her loving husband Ylane Duparc's TikTok went viral – with 18.7-Million views and 4.1-Million likes. In the TikTok, Ylane confesses they blew their life savings on this project and he needs the internet to help him promote his wife's new song and by proxy, her dreams. Alexandra has since been hailed a "multi-talented, humanitarian and artistic genius" by LADYGUNN.

The album itself was created alongside an A-List team including Songwriter/Producer Travis Warner – whose worked with headliners such as Taylor Swift, Adele, Beck, and John Legend. "Rivers" was mixed by producer, mixing engineer, and recording engineer Mike Schuppan – known for his work with Lady Gaga, Paramore, M83, Jimmy Eat World, and Ziggy Marley. The music video for her viral single "Rivers" was filmed in Paris, France and directed by Robin Clive of the SuperVision Creative Agency.

Alexandra's love for writing and creating music blossomed at an early age. From 2004-2019, Alexandra wrote and created over twelve albums. At just 14-years old in 2018, Alexandra both won Poetry Nation's International Poetry Contest and released a book of short stories entitled "Other Halves." At age 15, she joined The Tints band as a singer, songwriter and keyboardist – who she recorded an album and toured the world with. In the two years following the tour, she scored over 30 films alongside renowned Film Music Supervisor Budd Carr. All the while, working on carving out a place of her own in the music industry and eventually releasing a collection of original singles under the artist name 'SKANDRA'.

Aside from music, Alexandra is focused on expanding her self-established non-profit Treehouse, a monthly music and writing event held at pop-up locations in Los Angeles. The pop-up started as an intimate night of live music performances from Alexandra's living room, and has since expanded to accommodate the growing amount of participants and supporters. While currently postponed due to the pandemic, the music-lovers mission of Treehouse remains alive and vibrant with their prevalent online presence. Alexandra has additionally worked with other non-profit organizations to fight human trafficking, and went on tour across the US in 2014 with Falling Whistles to raise awareness and terminate the war in Congo.


Interview with Skandra (Alexandra Duparc)
Question: How would you describe your music?

Alexandra: You know when you walk away from something, lay in bed and think up all the things you wish you had said? That's what I'd say it sounds like. Whether describing a situation perfectly or concluding my thoughts, the music is very much based upon the lyrical content. I tend to build the sonic atmosphere around that. You can feel that the song was written in my bedroom and later, prepared for the world. I love vintage synthesizers and unique uses of instruments so you'll hear a lot of that as well.


Question: Can you tell us about Rivers?

Alexandra: "Rivers" is about the admission that though something may feel like true love, it's obviously destined to end. It sorts through thought processes I had throughout that prior relationship. It's about finding strength in this admission and being okay with it.


Question: Is there a particular message you hope listeners take from your music?

Alexandra: I always hope to bring about catharsis. Whether it's a line that hits home, a musical aspect that resonates with someone's emotions, or provides relief. That's what writing music does for me and I hope does the same for others.


Question: Has living in Paris influenced your music?

Alexandra: Absolutely. There's a different culture here when it comes to music. Especially compared to Los Angeles – where I was born and raised. I remember attending my first show in Paris and watching the audience interact with the performance so deeply and it changed my perspective. It made me want to make music that people felt connected to. It became less about me and more attentive to the listener's needs. It sounds strange but when you've been writing songs as a form of emotional relief, you tend to forget why you're releasing it. It fuelled me with more reason and different ways of doing so.


Question: What's it like working with Mike Schuppan and Travis Warner?

Alexandra: In all the years I've worked with producers and fellow creators, I've never felt a bond like this before. It seems we've created a pack of wolves ready to do anything and everything to accomplish our sonic dreams.

Travis understands music so deeply, and it's not only the technical aspect but on an emotional level. He cares why a song was written. He is considerate when it comes to portraying the story as it happened rather than fitting to some arbitrary mold the industry has created. Mike is a genius. He works with the greats because he's amongst his kind. He makes everything you record sound ten times better within an hour and if you give him a few days, you won't believe your ears. I'd say finding them was the best thing that ever happened to me as a musician. I feel at home.


Question: If you could have anyone, in the world, attend a show, who would it be?

Alexandra: I have a hard time with this question because I keep thinking "whoever WANTS to be there." But after some thought, I guess I would say the members of my first band when I was 12. It'd be amazing for them not only to experience my growth, but also to just sit around afterwards and catch up.


Question: What motivates you most when writing music?

Alexandra: The people in my life. Relationships, the intimate details of someone's being and even the reactions I find myself having are what I study and get inspired by in making art. I love spotlighting the underrated and touching on the uncomfortable. I love seeing flaws and growing from them.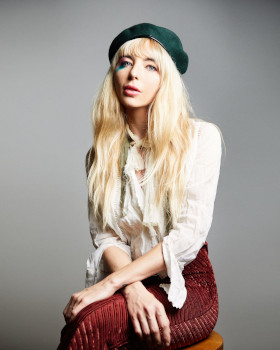 Question: Which music/artists are you currently listening to?

Alexandra: I've noticed that the answer to this question tends to change every week! Right now, I've been listening to Elliott Smith, Angel Olsen and Karen O.


Question: What or who was your inspiration to go into the music industry?

Alexandra: I began sneaking out to shows in LA when I was 11. I remember looking through show fliers and I'd randomly pick shows based on the band's marketing. Their logo, their use of colors or the imagery. This was my only qualifier. I ended up at so many wonderful shows this way. I'll never forget seeing Jenny Lewis of Rilo Kiley get up on stage. It was a female, with fringe and a funny blouse standing at a keyboard and being the front woman of a really good band. I think that moment launched me into believing in myself because that had always been my dream, but not until then, did I know it was possible.


Question: How does it feel to hear your song played all over the airwaves?

Alexandra: It's interesting and exciting. It's hard to imagine millions of complete strangers listening to me sing all over the world, but at the same time, I've worked quite hard to hold that megaphone and I'm very grateful for it. I'm really happy people like it.


Question: What is the biggest challenge you have faced along the way to your musical success?

Alexandra: Though the internet has all of its wonderful parts, it does tend to create this idea that you're one of millions trying to accomplish the same thing. It can make you tired, insecure and more. I'd say the biggest challenge is keeping my head out of the water and continuing to believe in myself no matter what. I've gone through some hardships in life, such as beating Lyme disease and toxic relationships, but nothing has ever stopped me more than myself. It's less about what life throws at you than it is how you deal and what you do with it. I try my best to create more as a result.


Question: What's a typical day like?

Alexandra: I wake up, have some coffee and then write down a list of things I expect myself to do. Whether I'm in Los Angeles or Paris, I do this every morning. As for the rest of the day, it's never the same. I'm either creating or answering emails. I'm either in the studio or in bed wearing pyjamas. Sometimes, I'll take a day to disconnect from everything and read from a book. I do make sure to cook myself at least one meal per day. I find that sourcing ingredients and cooking myself food has been my favorite hobby and gives me time to gather my thoughts.


Question: Can you tell us a little more about Treehouse?

Alexandra: In 2015, I was working on a project and not leaving my house much. I kept getting messages and emails from fellow artists promoting their work. I felt bothered by the fact that their messages didn't impact me. I had no real interest…and I LOVE art. So, I realized it wasn't the bombardment of promotion that bothered me, it was the lack of intimacy. It felt far away. I wanted it right in front of me. I wanted to experience their art. I decided to have about twenty people over at my house we all called the Treehouse. It went so well, I decided to do it monthly. After three months, there were 150 people jammed in my living room and watching through the windows. So, I had to move it out of my house and find new venues every month. We always pick unconventional locations and the owners get behind the cause and do not charge. It's free to perform, free to attend, and art for the sake of art. We've exposed hundreds of artists to thousands of people.

We threw a festival in 2016 with headliners such as Kimya Dawson (The Moldy Peaches), Jade Castrinos (Edward Sharpe and the Magnetic Zeros), Josiah, Vox and Joey Dosik. We had 25 bands, 25 films and it was purely fan-funded.

Treehouse gathers hundreds of people into tight-knit quarters every month. The entire premise is intimacy. We had 7 months' worth of events lined up and had to cancel them all. Peoples' lives and safety are worth it.

So, we took it to Instagram, instead. We launched #QuarantineConcert and over 15K artists participated virtually. Even the lead singer of Walk The Moon dressed up as a Walrus and shredded his keyboard. It's been great.

With racial injustice finally coming to light and a world of artists who need help more than ever, we also decided to take our platform and spotlight Black artists with our Dialogue Interview series.


Question: What's next, for you?

Alexandra: Well, we've just spent two weeks in the studio doing writing demos for the next releases. My producer flies in to Paris soon and we'll wrap up the writing process. My goal is to have a set of songs and videos lined up to be released in early 2021.


Question: Can you share your socials? (links please)

Alexandra: Spotify
YouTube
Instagram
TikTok


Interview by Gwen van Montfort