Another Year
Cast
: Jim Broadbent, Lesley Manville, Ruth Sheen
Director
: Mike Leigh
Genre
: Drama, Romance
Running Time
: 130 minutes
Synopsis
: Spring, Summer, Autumn, Winter. Family and friendship. Love and warmth. Joy and sadness. Hope and despair. Companionship. Loneliness. A birth. A death. Time passes...
In the Spring, happily married Gerri, a medical counsellor, and Tom, a geologist, tend their allotment. They entertain Gerri's lonely work colleague Mary, who gets very drunk, and bemoans her disastrous love life. Gerri and Tom enjoy a warm relationship with their community lawyer son Joe, aged 30, who reports that although his friends are getting married, he is still without a partner.
In the Summer, Ken comes down to London to spend a weekend with Gerri and Tom. Ken works in a government employment office in Hull, and is Tom's boyhood friend from their native Derby. He gets very drunk, and bemoans his tragic, lonely life. The next day, while Gerri celebrates the sunshine at the allotment, Tom, Ken, Joe and a neighbour enjoy a game of golf. A barbeque party follows. Mary arrives late and flustered in her newlyacquired secondhand car. She is frosty towards an innocently amorous Ken, and flirtatious in an urgent and serious way towards Joe, her junior by a generation.
In the Autumn, Gerri and Tom return home from the allotment to enjoy a pleasant surprise from Joe. He has hidden his new partner Katie behind a door. Katie is an occupational therapist, and Gerri and Tom like her immediately. But Mary, who has already been invited to tea, is instantly jealous and hostile towards Katie, and behaves very rudely. Although they all sympathise with her car troubles, Mary's behaviour towards Katie leaves a bad odour with the goodnatured Gerri and Tom.
In the Winter, Gerri, Tom and Joe drive up to Derby for the funeral of the wife of Tom's elder brother,Ronnie. Ronnie's aggressive, estranged son Carl arrives late at the crematorium. Back at Ronnie's house, Carl is confrontational with his father, and with Tom and Joe; he causes other mourners to leave suddenly, and then stomps off in a rage. Gerri and Tom bring Ronnie back to London. Whilst they are at the allotment, Mary shows up at the house unannounced, and in a fraught state. She drinks tea and smokes cigarettes with a bemused Ronnie. On their return, Gerri and Tom are far from pleased to see Mary, especially as Joe is due to arrive with Katie for a family dinner. But after Mary has broken down apologetically, Gerri invites her to stay, albeit reluctantly. At the dinner table, while Gerri and Tom reminisce about the roundtheworld backpacking days of their youth, and Katie and Joe look forward to their impending trip to Paris, Ronnie quietly enjoys his beer and his dinner and Mary faces the sad emptiness of her passing life.
Release Date
: January 26th, 2011
Website
:
http://www.iconmovies.com.au/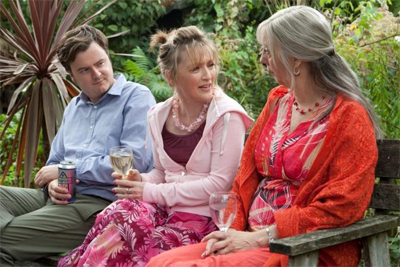 About the CastJim Broadbent (Tom)
A regular collaborator with Mike Leigh, and one of the bestknown faces in British acting, Jim Broadbent works with Leigh for the seventh time on Another Year following the stage plays 'Goosepimples' and 'Ecstasy', the films 'Life Is Sweet' , 'TopsyTurvy' and 'Vera Drake' and the television short 'A Sense of History', which Jim wrote. Winner of the Oscar for Best Supporting Actor for 'Iris', Jim Broadbent has appeared in numerous films including 'Perrier's Bounty', 'The Damned United', 'Harry Potter and the Half Blood Prince', 'The Young Victoria', 'Indiana Jones and the Kingdom of the Crystal Skull', 'Moulin Rouge', 'Richard III' and 'Bullets Over Broadway'. His stage work includes the National Theatre's 'The Pillowman' and Sam Mendes' acclaimed production of Alan Bennett's 'Habeas Corpus'. His performance in the title role of the television production 'Longford' won him a BAFTA.
Lesley Manville (Mary)
Mike Leigh's most frequent actor collaborator, Lesley Manville has worked with the director on 'Secrets and Lies', 'High Hopes', 'TopsyTurvy', 'All or Nothing', 'Vera Drake', the BBC film 'GrownUps', a radio play and in the theatre. Her other screen credits include Robert Zemeckis's 'A Christmas Carol' and the yet to be released 'Womb'. On stage she appeared in the original productions of the modern classics 'Top Girls', 'Serious Money' and 'Les Liaisons Dangereuses', as well as the highly acclaimed revivals of Edward Bond's 'Saved' and 'The Pope's Wedding'. In the last few years, Lesley has worked extensively at the National Theatre appearing in 'His Dark Materials', 'Pillars Of The Community', 'The Alchemist' and 'Her Naked Skin' and recently at the Old Vic Theatre in 'All About My Mother' and 'Six Degrees of Separation'.
Her frequent television work includes Alan Clarke's much acclaimed 'The Firm', and the highly successful series 'Holding On', 'Other Peoples Children', 'Bodily Harm', 'Real Women', 'The Cazalets', 'North And South' and 'Cranford'.
Ruth Sheen (Gerri)
Another Year marks Ruth Sheen's fifth collaboration with Mike Leigh. In 1989, she was named European Actress of the Year as Shirley in 'High Hopes' (opposite 'Vera Drake' costar Phil Davis), and in 1993 she appeared at the Theatre Royal Stratford East in his play, 'It's A Great Big Shame!'. Most recently, she played Maureen in 'All or Nothing', and Lily, the black marketer, in 'Vera Drake'. Other film work includes 'Virtual Sexuality', 'The Young Poisoner's Handbook', 'Little Dorrit', 'Vanity Fair', 'Run Fat Boy Run' and 'Heartless'. On television she has been seen in numerous plays and series including 'Holding On' and 'Never Never', both written by Tony Marchant, 'Bramwell', 'Cracker', 'Tom Jones' and 'Fanny Hill'. On stage, she has recently worked at the Royal Court in 'Stoning Mary', at the National Theatre in 'Market Boy' and at the Soho Theatre in 'An Oak Tree' and 'Leaves of Glass'.
Peter Wight (Ken)
Another Year marks Peter Wight's fifth collaboration with Mike Leigh following 'Meantime', 'Secrets and Lies', 'Naked' and 'Vera Drake', in which he plays the Detective Inspector whose knock at the door of the Drake family home brings their world crashing down. A recognisable face from numerous British television series, including the acclaimed 'Out of the Blue', and 'Early Doors', Peter Wight has also been seen in many films. He has extensive stage credits throughout the UK, including work with the National Theatre, Shared Experience, the Royal Shakespeare Company, and most recently, in Ian Rickson's acclaimed Royal Court production of 'The Seagull' starring Kristin Scott Thomas.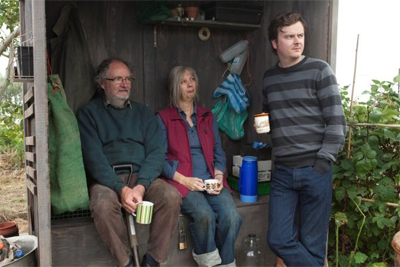 Oliver Maltman (Joe)
Another Year is Oliver Maltman's second collaboration with Mike Leigh, following his appearance as Poppy's brotherinlaw in 'HappyGoLucky'.
An experienced comic character actor, his past shows include:
'Oliver Maltman's Little Black Book' (The Pleasance Edinburgh 2006) and character standup at the Comedy Reserve (The Pleasance 2005). On stage he has appeared with the RSC, and on television he was seen in the highlyacclaimed comedy series 'Star Stories', as well as 'The Kevin Bishop Show' and 'No Heroics'.
David Bradley (Ronnie)
Another Year marks the first time that David Bradley has worked with Mike Leigh. Best known to international audiences as Argus Filch in the Harry Potter films, David is a highly acclaimed stage actor who won the 1990 Olivier Award for Best Actor in a Supporting Role for 'King Lear' at the National Theatre, and has subsequently been nominated for Olivier awards as Best Actor for the recent West End production of Pinter's 'No Man's Land' and Best Actor in a Supporting Role for the National Theatre's 2006 productions of 'Henry IV I & II' at the National Theatre. He has worked extensively with the National Theatre and The Royal Shakespeare Company, and appeared in Sam Mendes' simultaneous productions of 'Uncle Vanya' and 'Twelfth Night' at the Donmar in London and BAM in New York. He has also appeared in numerous television productions, the most recent of which include 'Ashes to Ashes' and 'The Street'.
Karina Fernandez (Katie)
Another Year is Karina Fernandez' second collaboration with Mike Leigh, following her scenestealing film debut as the Flamenco teacher in 'HappyGoLucky'. On television she has been seen in such programmes as 'Married. Single. Other', 'My Family' and 'Happy Birthday Shakespeare', and her stage appearances include Lulu in Max StaffordClark's production of 'Shopping and F***king' at the Royal Court, Lady Macduff in 'Macbeth' at Bristol Old Vic Studio, and 'The Convict's Opera' for Max StaffordClark's Out of Joint.
Martin Savage (Carl)
Martin Savage made his film debut as the drugaddicted actor George Grossmith in Mike Leigh's 'TopsyTurvy'. He was also seen as a taxipassenger in 'All or Nothing' and as one of the arresting police officers, DS Vickers, in 'Vera Drake'. His other film credits include 'The Tailor of Panama', and 'V for Vendetta'. He has appeared in numerous television series, with a regular role in both series of Ricky Gervais's 'Extras' and a guest lead role in 'The Thick of It Special' for Armando Ianucci. His stage appearances include 'A Midsummer Night's Dream' for the Royal Shakespeare Company, in which he played Peter Quince, and 'Faustus' for director Rupert Goold.
Michele Austin (Tanya)
Another Year marks the fourth occasion Michele Austin has worked with Mike Leigh. She appeared in his play 'It's a Great Big Shame!', and subsequently in 'Secrets and Lies' and 'All or Nothing'. Other film appearances include the recently released 'The Infidel' and 'I'll Sleep When I'm Dead'. She has appeared in numerous television programmes, including 'Outnumbered', 'Never Better', 'Secret Life', 'The Canterbury Tales: The Wife of Bath' and 'The Last Detective', and was a regular in 'The Bill', playing WPC Yvonne Fletcher. In the theatre she has worked with Out of Joint , the Oxford Stage Company, and at the Royal Court, Hampstead Theatre and the Young Vic.
Phil Davis (Jack)
Phil Davis is probably bestknown to filmgoers for his role as Cyril, the motorcycle courier, in Mike Leigh's1989 'High Hopes', and more recently as Stan, husband of the title character, in 'Vera Drake'. For this performance he was named Best Actor at the British Independent Film Awards and by the San Diego Film Critics, and nominated as Best Supporting Actor at the 2005 BAFTA Awards. He also worked with Mike Leigh on the television films 'Who's Who' and 'GrownUps' and made a brief appearance in 'Secrets and Lies'. Davis is a wellknown face on British television, with recent appearances including 'The Curse of Steptoe' and 'Bleak House'. His early work includes Alan Clark's legendary, 'The Firm'. On stage he was last seen in 'Philistines' at the National Theatre and in Christopher Hampton's 'Tales from Hollywood' at the Donmar Warehouse. Other film appearances include 'Notes on a Scandal', 'Nicholas Nickleby', 'Face', 'Alien III', 'The Bounty' and 'Quadrophenia'.
Stuart McQuarrie (Tom's colleague)
Stuart McQuarrie is one of the only members of the cast of Another Year to be working with Mike Leigh for the first time. His other film credits include 'Young Adam', '28 Days Later' and 'Trainspotting', and he has extensive television credits. On stage, he appeared in several productions at the Traverse and Royal Lyceum theatres in Edinburgh, and more recently in London at the Almeida, Old Vic, Donmar and National Theatre. For the Royal Shakespeare Company he played Petruchio in 'The Taming of the Shrew'.
Imelda Staunton (Janet)
Another Year is Imelda Staunton's second film with Mike Leigh, following the awardwinning 'Vera Drake', for which she won a BAFTA and was nominated for an Oscar. Her feature film credits include 'Shakespeare in Love', 'Sense and Sensibility', 'Harry Potter and the Order of the Phoenix' and 'Taking Woodstock'. Television roles include 'Cambridge Spies', 'David Copperfield' and the hugely successful 'Cranford'. For her stage work, Imelda Staunton has won three Olivier awards: as Best Supporting Actress for 'The Corn is Green' and 'A Chorus of Disapproval' at the National Theatre, and Best Actress in a Musical for 'Into the Woods'. She has appeared regularly at the National Theatre, most notably in Richard Eyre's production of 'Guys and Dolls'. Other London stage appearances include three productions with the Royal Shakespeare Company; as Sonya in Michael Blakemore's production of 'Uncle Vanya' at the Vaudeville Theatre and with Jim Broadbent and Brenda Blethyn in Sam Mendes' production of 'Habeas Corpus' at the Donmar Warehouse. She was most recently seen in a revival of 'Entertaining Mr Sloane'.