Anna Kendrick Pitch Perfect 2
Cast: Anna Kendrick, Rebel Wilson, Brittany Snow, Anna Camp, Alexis Knapp, Hana Mae Lee, Ester Dean, Kelley Jakle, Shelley Regner, Hailee Steinfeld, Katey Sagal, Chrissie Fit, Skylar Astin, Adam Devine, Ben Platt, Joe Lo Truglio, John Michael Higgins, Elizabeth Banks
Director: Elizabeth Banks
Genre: Comedy, Music

Synopsis: The Barden Bellas are back to pitch slap the world in Pitch Perfect 2, the follow-up to 2012's runaway global hit about a group of lovable misfits with only one thing in common: the irresistible way they sound when they're seamlessly mixed together, mashed-up and arranged like never before.

It's been three years since the Bellas brought their signature vocals, style and attitude to become the first all-female group to win a national title. But when they get banned after a scandal that threatens to derail their last year at Barden, the three-time defending champs worry that this time they've lost their harmony for good.

With just one chance left at redeeming their legacy, the Bellas must fight for their right to win the World Championships of A Cappella in Copenhagen. And as they struggle to balance the pressures of musical domination with senior angst, it will take the power of sisterhood to find their voice and see what it takes to be the world's top pitches.

Pitch Perfect 2
Release Date: May 7th, 2015


About the Production
We're Back, Pitches: The Joy Returns

In 2012, when producing partners and husband-and-wife team Elizabeth Banks and Max Handelman joined with Gold Circle Films' Paul Brooks to bring Pitch Perfect to the screen, they had no idea that the funny, eccentric and formerly internal world of college a cappella would ignite such audience fervor. From the infectious music, quotable lines and endless sass, fans grew obsessed with the sleeper hit that became a cultural touchstone. In fact, it grew to such popularity that the comedy's album became the top-selling soundtrack of 2013 and the second-highest soundtrack of the decade.

Paul Brooks, a seasoned producer who has lived through such film phenomena as My Big Fat Greek Wedding, was particularly gobsmacked by its success. He offers: 'What was intriguing about Pitch Perfect was that, even though it did well theatrically, it was discovered in a big way in the world of DVD and VOD. It was an extraordinary performer, and people and families across all age ranges found it." Some of the biggest fans were ones no one would have expected. 'We had a rep from one of the aircraft carriers in the U.S. Navy send us an e-mail letting us know that all their guys watch it all the time. From those guys to big sports teams, wherever you turned, people fell in love with the movie. This was incredibly gratifying, but of course, it does also deliver a bit of a nice burden in terms of where to go when we decided to do the sequel."

Elizabeth Banks reflects on what drew her to the project initially and why she cared so much about the original directed by Jason Moore and written by Kay Cannon: 'First of all, I loved that it's a story about amazing, interesting women who are really funny. It's an underdog story, which I always find compelling, and most importantly, it's very joyful."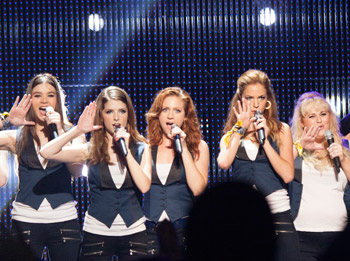 After the runaway success of the first movie, questions and discussions about a sequel were, of course, logical ones. Elizabeth Banks relays that she felt there were many more stories to be told from this world: 'Pitch Perfect 2 allows us to spend more time with characters that people love, and it allows us to tell more about who they are. It was fun to go back and think about where the Bellas would be three years later and share what has happened to these women since we saw them last. The first movie was about their coming together and being freshmen and forming these bonds, and this film is about them graduating, leaving the nest and the anxiety that goes along with that. We wanted to explore the idea of legacy: the friends you take with you and also the people that you leave behind. The girls are graduating from Barden Bellas to Bellas for life."

When it came time for the next chapter, Elizabeth Banks opted to step behind the camera and direct. That wasn't, however, always a given. She offers: 'I produced the first film, and I was there every day. When we were putting together the second movie, we very much hoped that Jason would come on to direct as well. In the lengthy development process, however, he took on another film [Universal's Sisters]."

A multihyphenate herself, Elizabeth Banks had been directing smaller projects over the past few years, but she knew that when the opportunity came up to helm a feature-length motion picture, she would be ready. The filmmaker says: 'I'm also an actor so I haven't always had the time in my schedule to direct a feature, but I knew I was going to be making the time to do Pitch Perfect 2 as a producer, no matter what. It just seemed the natural progression to take on the directing duties as well."

With such an enormous previous hit on their hands, Max Handelman was very aware of the challenges that they would face when creating another chapter in the lives of our heroines. He reflects: 'The Bellas work best, and fans respond best to them, when they are underdogs who are fighting against something and fighting for each other. The fundamental challenge of Pitch Perfect 2 is that when we last saw the Bellas, they were winning the national championship. They gave that phenomenal performance at the finals, so we needed to find a way to make them underdogs again…despite the fact that everyone now knows that they're extremely talented. We felt like we had to rip that Band-Aid off right away to start Pitch Perfect 2, which we do by having them disgrace themselves in front of the president. They become a national disgrace."

The producers worked with returning screenwriter Cannon to open up the Bellas' world. Leaving the comforts of Barden University behind, they would head to Copenhagen, Denmark, to face off against the toughest rivals they've ever encountered. Banks explains this logic: 'I wanted a world competition in which the Bellas would go up against a European competitor. I also knew we wanted it to be their senior year and introduce a couple of new Bellas. We discussed having Beca be the first one who had her foot out the door, ready to start the next chapter of her life but struggling with the responsibilities of the Bellas. Then, visually, I wanted it to improve upon everything that we've accomplished"as well as have the girls looking gorgeous, which they do. The Bellas are more confident than ever, and I wanted the look of the film to reflect that."

For Cannon, writing comedy is not just a labor of love, it's a lengthy commitment. She gives us an example of a pivotal scene from her script: 'Screenwriting is a real process. For example, I knew that I wanted the Bellas to go on a retreat in the wilderness. Then I wrote to what's available. In the process, you research what happens at these retreats, and you write toward that and ask yourself what else you can add. When we were on set, along with the actors, we went through a scene and improvised off of that. It kept evolving and forming as they responded to their environment. For example, at the retreat, they act like they don't like going through the mud, but that was one of the actresses' favorite things that they've ever done."

Bellas Before Fellas: The Cast Reunites

All of the Bellas are back for Pitch Perfect 2, and they're led by their fearless leader, Beca, once again played by the multitalented Anna Kendrick. The actress appreciated that Beca has moved from a wide-eyed freshman to a more polished senior. She agrees with her producers that the singers had to be taken down a peg so they could show us who they truly are"both vocally and personally"and get back up again. Anna Kendrick reflects: 'The Bellas have gone a little too far. They went for an original sound by the end of the first movie, and this time around it's good…but it's a lot. There's too much showmanship and sound, so this movie is about them thinking they need to push it even further, when they actually need to strip back down and find themselves again."

It wouldn't be Pitch Perfect without the one and only Patricia, more affectionately known as Fat Amy. With her signature dry humor, Rebel Wilson discusses just what brought her back for the second chapter: 'When I heard about it, I was like, -Do I get to have a solo in this one?' And then I found out I did, so I was totally in. Then I asked, -Do I get to have a naked shower scene in this one?' When they said, -Yes,' I told them, -You don't even have to pay me then. I'll just do this movie for free.'" Jokes aside, Wilson appreciates that her character has a love story in this chapter. 'You get a bit more in-depth with Fat Amy and what she's going to do when she graduates…as well as how that affects her."

No stranger to odd shower scenes in a Pitch Perfect film, Brittany Snow returns as Chloe, the seventh-year senior who is having a hard time saying goodbye. The performer shares a bit about where we find her character: 'Chloe is so passionate about singing in the Bellas that she's chosen to stay and intentionally fail a lot of her classes. So she's even crazier than the first time, and she's very passionate, which leads to a lot of mayhem because she's extremely overzealous when it comes to singing. She's even weirder than before, which is fun for me to play."

Brittany Snow appreciates that her colleagues once again brought their A game. Discussing Rebel Wilson, she laughs: 'Rebel Wilson is full of surprises, and there's a calmness about her that's fun to watch. She's very confident in who Fat Amy is and knows what's funny. I love seeing her in the trailer before a scene, when she gets still with her jokes and knows what she's about to do. Then when she gets on set, all hell breaks loose. She is very collaborative with all of us and wants to help us out with our jokes."

The Bellas' sultriest member, Stacie, is once again played by Alexis Knapp. The actress muses: 'For Stacie, not much has changed, except her hair color. It is three years later, so everyone's matured, and she's not as wild…in certain ways."

Alexis Knapp appreciates that her director has been such a champion of the sequel and found her to be an inspiration on set. She says: 'I love that women are becoming more empowered and paving the road by having more females directing. That's inspiring to younger girls that you don't have to just be on camera to be in this industry; you can be the boss, too. We need more strong women, and Elizabeth Banks is a fine example of that."

Without a doubt, the Bellas' quirkiest member is Lilly, known for softly uttering non sequiturs at every turn. For her part, Hana Mae Lee has embraced how much joy the character has brought to audiences. She reflects: 'I love Lilly. She's funny and quiet, but she's never shy. I think a lot of people thought, -Oh, she's cute but weird.' What I like about her is that the audience still hasn't figured her out 100 percent, because there are always new things going on with her. She's a character that I would always wonder what she is thinking when she isn't speaking. Even though her lines are pretty out there, deep down Lilly is pretty grounded. She's also super expressive with her wardrobe choices, every pattern and print is definitely thought through. She is so trill."

The actress appreciated that sense of diversity among the girls, noting: 'We don't have any characters in the Bellas that are similar. Everyone has a different personality, a different look and style, and that is what creates a great sound and a mosaic of beauty. Once it's voiced and it's clearly put together, it becomes beautiful."

Ester Dean, who plays the no-nonsense Cynthia Rose, discusses the transformation for all of her fellow thespians: 'In Pitch Perfect, we were becoming friends and getting to know each other. We were going through the shock of learning the dances and singing a cappella, and we just did our job as we were working. This time, we are friends acting together. I've never felt so connected to them as I do now."

Rounding out the core cast of graduating senior Bellas are Kelley Jakle and Shelley Regner, who play, respectively, Jessica and Ashley. Both extremely talented vocalists, Jakle was part of the multiple ICCA-winning SoCal VoCals, while Regner is a distinguished, talented performer in her own right, having appeared alongside Jakle at Carnegie Hall, and currently co-starring on the live sketch-comedy show 'TMI Hollywood."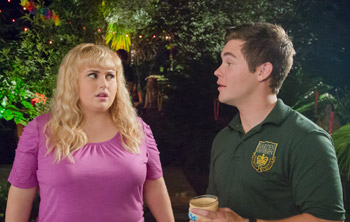 Although one of our favorite Bellas, Aubrey, played by Anna Camp, has graduated, as all the girls know: once a Bella, always a Bella. Now the program director at a corporate boot camp, Aubrey is most definitely her father's daughter and steps in to whip the Bellas into shape after they've lost their way…and their sound. The actress discusses a bit about one of her favorite scenes to shoot: 'We have an a cappella boot camp at the Lodge of Fallen Leaves, and the girls are being worked very hard. At the camp, we've done some water sliding, zip lining, the teepee shuffle"which is a fun exercise on a log"and we've also done a mud pit. They've been put through the ringer, and I'm very proud of them."

The Bellas aren't the only stars at Barden who have returned to campus. Beca's boyfriend, the ever-optimistic Jesse, is supportive of her dreams to become a music producer. Played by Skylar Astin, Jesse wants Beca to know that there will be life after college and her time with the Bellas. Astin shares that Beca and Jesse's relationship grounds the film's comedy: 'The story is hilarious and offers big physical elements that make it that way, but what also made the first one so great were those grounding elements. You have very real people who have both romance and problems. Jesse and Beca bring a nice balance to the real stakes of this world."

Jesse's former Treblemaker"and the love of Fat Amy's young life"Bumper, might have graduated, but he just can't leave his undergraduate university (or his crush) behind. Adam Devine explains where his character has been: 'I was singing backup for John Mayer, and I'm a true talent, but evidently there was some beef there…and some clashing over whether or not I stole his leather bracelets. Bumper is now part of the Tone Hangers, the crew of old dudes in the first movie who Bumper just hated."

Adam Devine and Revel Wilson actually collaborated on the first season of his hit show, Workaholics, before they filmed Pitch Perfect. Their improv set the tone for the rest of the cast. Says the actor: 'It's fun improvising with people with comedic backgrounds because they're able not to freeze up if you don't say the exact lines." There were many takes on set, and that was just fine with Adam Devine. He offers: 'Kay wrote such a great script that is so quick-witted. The jokes just hit you and come at you so fast and so hot that it's an unforgettable moviegoing experience."

Long gone are the days when Jesse's best friend, Benji, was an awkward freshman. Now, he's an awkward senior. Returning in the role is trained singer Ben Platt, who speaks for the cast when he takes a step back to see what the Pitch Perfect cultural phenomenon is all about: 'I don't think any of us expected it, which is why it's been all the sweeter. We just loved it as this little theater-camp movie that we all got to do together, and now you walk down the street and everybody knows Pitch Perfect, Fat Amy and a cappella."

The performer advises where we find the guys: 'Benji and Jesse are the heads of the Treblemakers. They've taken the reins and it's a new group of guys, although they've stayed more like a regular a cappella group. The Bellas have skyrocketed into this global phenomenon, and now that Benji's in the group and that dream has been realized, his new obsession is Emily. She's this freshman who's quirky like he is. He immediately falls for her and spends the entire movie trying to win her over."

Last, but certainly not least, of the returning cast are John Michael Higgins as John Smith and Elizabeth Banks as Gail Abernathy-McKadden-Feinberger, lead commentators of the ICCAs. Of the colorful characters, Higgins shares: 'John Smith and Gail Abernathy-McKay have a podcast called -Let's Talk-Appella,' and they are the play-by-play commentators for these competitions. What's odd is that we don't know anything about them. That's for a good reason, because it's such a strange"and pointless"job that they have. It's a job that doesn't need to be done, a solution in search of a problem. The comic part comes because my character is an unenlightened person. He's a misogynist, a racist and all those things that we're scared of."

As was the rest of the cast, John Michael Higgins was proud to see his co-star and producer tackle directing duties for Pitch Perfect 2. He commends: 'I can't imagine handing the reins over to a better person than Elizabeth Banks. She has great bedside manner and knows this material and how to tell this story better than anybody. That's what you need to be a director. She's incredibly confident, intelligent and a great actress. I'll work with her any time she wants to direct anything, or to act, again."

For her part, Elizabeth Banksloved rejoining her former co-star for some of the comedy's most outrageous scenes. Commenting on the duo, she laughs: 'With John and Gail back saying inappropriate things, who knows what's going to happen between the two of them?" When asked what it's like to give direction to herself in character, she channels Gail, deadpanning: 'What's funny about directing myself is that I am my favorite actress…so it's pretty easy."

Legacies, Kommissars and Packers: New Supporting Cast

From brand new Bellas to a European supergroup, Pitch Perfect 2 welcomes multiple newcomers into the musical mix. Rebel Wilson sums what her fellow returning cast found to be the case on set: 'Our two new Bellas are really endearing and funny. Together, we are such a mixed bag all thrown into the one position of being in the Bellas. There is just something for everyone to relate to in our group." The comic performer pauses. 'Maybe because my character was a foreigner in the first movie, and that really stood out, in this sequel there's a heap of new characters from other countries joining in the fun. The new German rivals are great new additions to the cast."

First up was freshman Emily Junk (neé Emily Hardon), portrayed by Academy Award® nominee Hailee Steinfeld, who blew audiences away when she held her own opposite Jeff Bridges in True Grit. The young actress reflects: 'Pitch Perfect 2 was unlike any other movie I had done before. The fact that I love music and grew up singing and dancing was a big reason why this opportunity was so intriguing to me. I couldn't have dreamed of a better scenario."

Much like Beca in the first chapter, Emily starts her time at Barden as a misfit. Still, whereas Beca is a producer at heart, Emily writes music"although both are just as passionate about their talents…and about being a Bella. Explains Hailee Steinfeld: 'Everything Emily knows about what it means to be a -Bella' comes from her mom, Katherine, who was a legacy. Back in her mom's day, being a Bella was the pinnacle. Now that Emily is officially a Bella, her over-eagerness gets the best of her and she quickly realises the amount of hard work that is necessary to compete as a Bella."

Just as fastidious as the newest member becomes, Banks mapped out the character's arc on Post-it notes in her production office. The director explains why Emily is so important to the film: 'One of the great things I like about this project is the notion of women mentoring other women. I love that Beca mentors Emily, and Emily seeks that out. That's an important message to tell young girls: -You don't get what you don't ask for, so if you want someone to mentor you, go ask for it.' It's a great collaboration that the two of them have. They complete each other, musically."

Speaking of mentors…beloved actress Katey Sagal, whose decades-spanning career impressed all of the actors on set, joined the production as Katherine, Emily's legacy mother who has a five-octave vocal range and was part of the infamous 1981 sorority. She reflects upon her time as a Bella: 'I am very excited to be a part of it. I loved the first movie. My older daughter is in a cappella choirs, so she was extremely excited that I'm in Pitch Perfect 2."

Dean speaks on behalf of her fellow cast when she says: 'Emily, Miss Hailee, is the new Bella, and she's just adorable. We waited so long to figure out who was going to be Emily. So when she came in, it was like she had already been there. We all just fell in love with her from the start, just like Chrissie Fit. They came in with open hearts, ready to roll."

The Chrissie to whom Dean refers is Chrissie Fit, who joined the team to portray Flo, a foreign-exchange student originally from Central America. The performer, who cut her teeth on ABC's General Hospital and the Disney Channel's Teen Beach Movie, reacted just as one might imagine when she found out she'd landed the gig. She laughs: 'When I got the call, I was in the car with a friend and was trying my hardest not to get into an accident because I was freaking out and screaming. I love the fact that it's a band of misfit girls who don't fit in, but somehow get together and sing and harmonize…it all works."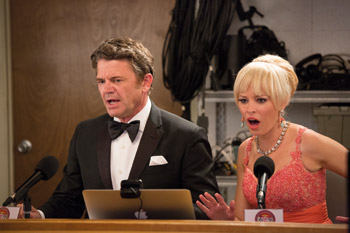 Providing some insight into her character, Chrissie Fit offers: 'Flo is a dose of reality for the Bellas, coming from a different country and having gone through extreme circumstances. So whenever the girls think that something is life-or-death, but it's actually small, Flo injects reality into that situation by telling them something very serious that happened to her. I get to be both sarcastic as well as goofy with everyone else." As Lee discussed, Fit was moved by the story and growing diversity of the Bellas. She says: 'The most important thing for me was the fact that we're seeing a Latina character just be funny and out there in this rock-star group."

Stiff competition for all the Bellas comes in the form of an ambitious and talented German collective"operating in concert to create sonic mastery"that calls itself Das Sound Machine (DSM), which gladly takes over the Bellas' national a cappella tour once the girls disgrace themselves at the Kennedy Center in front of the president. Fronted by the enigmatic Kommissar and her sidekick, the curious Pieter Krämer, DSM is undoubtedly a musical force with whom to be reckoned. When the Bellas discover DSM doing an amazing job, they realize it will take everything in their power to beat their rivals at the world championships and win back their credentials.

Producer Max Handelman details DSM's importance in our story: 'DSM represent the most extreme version of what the Bellas are. They are doing EDM [Electronic Dance Music], this very European electronica sound. Their group is 18 members strong, as opposed to the Bellas, who are 10. Their choreography is even more intense and organized. They're doing amazing mash-ups and even have an elite-level beatboxer. They're the Ivan Drago to our Rocky."

Birgitte Hjort Sørensen portrays the cruel beauty Kommissar, the leader of DSM who both frustrates and bewitches Beca…rendering the usually quick-witted Bella speechless. The Danish actress explains how she came to join the team: 'I loved the first film and was excited that they came up with a part that was right for me. I also love that my character doesn't have a real name; she's just the Kommissar, which is a title. She's very driven, ambitious and in it to win it. Nothing scares her, but she enjoys people who put up a fight. And I think she really likes the Bellas; she thinks they're good. She knows they can never be at her level, but she enjoys watching them try.

'Das Sound Machine is the Bellas' worst fear come true," continues Birgitte Hjort Sørensen. 'And Kommissar is the brains behind the group. Flula's character is definitely the heart, and I love that his mind works in the weirdest way. He can ad-lib like you wouldn't believe and is also quite good at bringing the group together."

Over the past few years, Flula Borg, who portrays Krämer, Kommissar's sidekick, has made quite the name for himself entertaining millions on YouTube. The techno deejay, record producer, singer, songwriter and hype man shares: 'I had been making YouTube videos for some time"digitally sharing my Energies with the world"when someone who was working with the film saw one of my videos and sent it down the chain. Elizabeth Banks saw it and wanted to use me. They originally had a role for a slightly larger, more curve-tastic German lady, but I am so very lucky that they thought perhaps a slightly smaller, less curve-tastic German man would work as well! So, here I am."

Flula Borg appreciated that his director allowed for the use of improv to complement Cannon's brilliant script. He commends: 'Elizabeth Banks always encouraged us to have fun and experiment, and we often got to play and improvise parts of scenes, which created some fun moments and large giggles, for sure! It was a very open set."

Anna Kendrick counts herself among DSM's biggest champions. She says: 'DSM is incredible, and it's so much fun to watch them."

Six enormous fans of the franchise make their motion-picture debuts in Pitch Perfect 2. It just so happens that Clay Matthews, David Bakhtiari, Don Barclay, T.J. Lang and Josh Sitton are current members of the Green Bay Packers, while Jordan Rodgers plays in the Canadian Football League. When they learned that a sequel to their beloved comedy"of which they can quote every one of Cannon's lines"was being made, they reached out to director Banks on Twitter.

They told her they were willing to do anything to be in the film and soon found themselves giving it their all on the set. They sing, dance and even helped to choreograph their own moves in a competitive riff-off sponsored by the oddly named National A Cappella Laser Ninja Dragon League…hosted by none other than David Cross of Arrested Development and Mr. Show With Bob and David.

'Working with the Green Bay Packers was a dream," surmises Anna Kendrick. 'They were this source of joy and energy and commitment. In the rehearsal, they were getting low and were super into it. I remember thinking, -Please, try to freeze the image on your face in your mind so that when we shoot this scene, you can have this exact look on your face.' It was so absurd and wonderful. That brought me a lot of joy, seeing the Green Bay Packers get low, low, low, low."

Skylar Astin agrees that his football co-workers stole the show: 'When I got to rehearsal and saw the Green Bay Packers"they're not hard to miss, they're big dudes"the ice was broken when they started quoting the first movie and saying Jesse and Benji's lines verbatim. They were nervous to sing and I told them, -You don't have to worry, you're singing 'Bootylicious." You'll be fine.' They said, -Why don't you try playing football and see how that goes?' They're all performers at heart, so I think they'll be very happy. They do a lot of end-zone dances, so that helped them to bust it out."

Completing the key cast of lovable weirdoes are the bad boys of the Tone Hangers: Reggie Watts (TV's Comedy Bang! Bang!), John Hodgman (Baby Mama) and Jason Jones (Rosewater). Last, but certainly not least, is Beca's scene-stealing boss (Keegan-Michael Key of TV's Key & Peele), the head of the production house where she is interning. Able to deliver Cannon's delicious lines toward his staff"especially Dax (Shawn Carter Peterson of The Host)"with seemingly effortless aplomb, Key had his fellow cast and crew howling with laughter.

Aca-Wiedersehen, Y'all: Shooting in Louisiana

As did the first film, Pitch Perfect 2 lensed in Baton Rouge, Louisiana. Not only was the city the perfect place for Barden University"complete with the Bellas' house, dean's office (the Old Governor's Mansion in Baton Rouge) and on-campus parties"it served as the ideal location for Beca's internship, the underground a cappella league throw-down (at a mansion on Highland Road) and the world championships themselves, which are set in faraway Copenhagen, Denmark. Production designer Toby Corbett"a former stagehand for Led Zeppelin"describes his reference for it: 'We wanted the world festival at the end of the film to have a scale to it that a large European music festival similar to Glastonbury would have."

During production, in June 2014, a casting call went out as an open invitation to fans of the first film to come to Highland Park for a night shoot. The filmmakers, expecting a modest turnout, had no idea what they were in for. Producer Brooks offers some background: 'I heard that when we created the worlds, it was the biggest base camp, ever, in Louisiana. We had thousands of extras in an open field and big stage; it was a big event for a small movie."

What started out as simply extras attending a concert became something so much more. Continues Brooks: 'We obviously had extras there, but after the very first song, they stopped being that and became a real crowd who just loved everything that all the girls were doing. It was so gratifying, and hopefully an indicator that people will respond to the film we've made. It was so fascinating to see that shift in -I'm here to work on a film' to -I'm digging this because it feels like a great, live concert.' They were cheering and applauding, and we hadn't told them to do so. It was completely spontaneous and on a level that we didn't expect."

Be prepared for an insane Bellas concert, but know that the oh-so-talented DSM takes the stage before the girls in their own knockout performance. Sørensen recalls what that day meant to her: 'The experience that stands out for me the most was doing the world championships in front of 3,000 people who literally carried us. I hope they know that they made us even better. We wanted to give them everything because they were cheering us on. It was such a rush. Shooting from 9, 10 in the evening all the way until the sun came up, they were just nonstop, full of good energy and kept us going. That was amazing."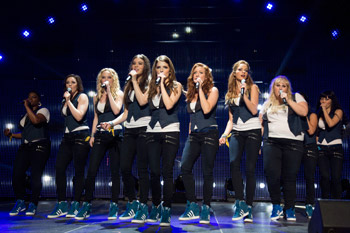 hile exterior shots of Barden were filmed at Louisiana State University's campus, the outskirts of Baton Rouge also served as the location for Aubrey's boot camp at Campus Groma, a Methodist retreat center with all the trappings they needed to get whipped into vocal-bonding shape"from a zip line to challenge courses and a 'blob" cushion in the lake.

As the girls are working with one another to rediscover their sound, they were truly knee-deep in mud and high up in the air. Corbett walks us through the space: 'We wanted to give the sense of the retreat being somewhere isolated, out in the woods"somewhere where the girls would feel a little apprehensive. They're college kids who don't go camping very much; they sing on the weekends. It was important that we find somewhere very woodsy for the retreat. That also provided some interesting comic possibilities for the action."

Not all the fun happened outdoors or in Louisiana. To capture the Kennedy Center scene that led up to 'Muffgate," Rebel Wilson had to train in Los Angeles at an acrobatics school. She shares: 'Before we did the boot camp in Baton Rouge, I trained with my coach, Aloysia [Gavre], who's been in a number of Cirque du Soleil shows and is very skilled in aerial stunts. I went to the Cirque school, and we trained three times a week for five weeks. My favorite move as part of the 40-second stunt routine was one I liked to call -the Death Drop Spread Eagle.' I am afraid of heights in real life, but Fat Amy is not, so I just had to be in my character and Crush It." Her director praises Rebel Wilson's commitment. Commends Banks: 'Rebel got up there and totally nailed it; she was a supertrooper. She inspired everybody, and she inspired herself. I think she did a lot more than she thought she was ever going to, and it was very impressive."

A Cappella and EDM: Learning Vocals and Sets

If there was any doubt about the power of Pitch Perfect music, consider these statistics: Anna Kendrick's cover of 'Cups" had 180 million views and 5 million downloads and inspired countless amazing covers by the film's adoring fans across the globe. And that was just one of the songs from the best-selling soundtrack.

The fascinating blends of musical numbers, all created in the Bellas', Treblemakers' and their fellow a cappella singers' signature styles, have been getting more honed in the past three years. As it's been three years since we've seen the three-time national champs, one should expect that their music and moves have gotten even better since.

Max Handelman explains how Pitch Perfect 2 takes their work to another level: 'When we meet the Bellas again, they are doing Beca mash-ups and have a much more eclectic sound. You're going to hear electronic music and a lot more hip-hop in this film. We have an underground riff-off with country music, '90s hip-hop and a very diverse sound, including an original song written for the film. As well, the performances are all bigger."

For the uninitiated, Dean provides a bit of an aca-tutorial: 'When people hear -a cappella,' they automatically think you just took the music away and are singing the song with a harmony to the lead of the sentence or phrase you're in; that's not what it is. A cappella is literally deconstructing a song"the snare, the drum, the piano, the violin, whatever's in that song"and doing it with your mouth. A cappella performers do every sound, and they replicate that. It becomes almost bigger than the song because what the human mouth and our sounds can do is bigger than what any technical instrument can do."

Fortunately for the Pitch Perfect 2 production, the filmmakers were once again able to secure music director and music arranger Ed Boyer, whose credits include FOX's Glee and NBC's The Sing-Off, as well as music director Deke Sharon, who also was a producer and key crew member on The Sing-Off.

Elizabeth Banks, who affectionately refers to them as 'the godfathers of a cappella," explains their roles in this film: 'Ed is one of our engineers, along with Joseph Magee and Deke, and they train everybody in how to make the noises and move their mouths. It's incredible. Everybody does their own vocals. We built a state-of-the-art recording studio in Baton Rouge so that our cast could go in and record their own vocals. We have a singular track for every actress and actor in the film. We mix and match it all together and come up with these incredible songs. It's a huge undertaking, but I just love the team. No one let me down."

Sharon explains the process that occurred before and after principal photography began: 'We recorded all the music beforehand, and then while we filmed, everyone lip-synched to their own performance. They had to hold the mic right up to their mouths and, no matter how much they spun around, moved and danced, they had to keep that mic anchored in the exact same place…while having all of the energy of performing and singing out loud."

For Platt, it was a treat to be able to work with the two music directors once again. He raves: 'Deke and Ed are the masterminds behind all the a cappella music that's in this movie. They're great at not only picking songs that people love and want to hear done as a cappella songs, but their biggest talent is enhancing them. Every time you hear one of the songs that they've arranged, you think, -I never thought about that as an a cappella song, and I love this version.' They're pretty genius, and they're also good at knowing all of our strengths, so they wrote specifically for us this time."

New to the cast this go-round, Sørensen was thrilled to have such expertise on hand. She says: 'For the vocals, we worked with Deke and Ed. They've done incredible arrangements and were extremely helpful in finding an easy way for us to learn it. I'm not a trained a cappella singer, and it's a very difficult discipline to master. What's great about them is they have such joy in doing this. You can tell it's something that is close to their hearts."

One of the film's executive music producers (and album producers), Julia Michels, advises that audiences are in for a treat not only from the Bellas and Treblemakers, but from the German collective, who slays it every time they're on stage. She says: 'DSM's going to be a big surprise. I'm so pleased with what we have been able to accomplish musically with that EDM sound to make it actually translate into a cappella."

Crazy Youngsters: Songs and Mash-Ups

Opening with the Universal Pictures fanfare"as performed by Elizabeth Banks and John Higgins as Gail and John"the comedy welcomes the Bellas back into our lives as they sing a medley at the Kennedy Center. Just before Fat Amy launches 'Muffgate" and flashes the commander in chief, the girls perform 'We Got the World," 'Timber," 'America the Beautiful" and Miley Cyrus' 'Wrecking Ball."

John Higgins explains that every selection by the musical team was in service of the story: 'Pitch Perfect 2 is about people coming together to make something worthwhile, in this case, music. Music's very powerful in that way. They're singing, dancing and they're growing. That often doesn't happen in comedies. You don't usually grow in most comedies; you deteriorate. These characters molt from college girls to young adults."

Now that the Bellas are officially off the vocal circuit, it's up to the Treblemakers to open up the academic year at Barden University. With a toe-tapping rendition of Mika's 'Lollipop," they perform in front of the student body just before we are introduced to DSM at the car show"which should have been the Bellas' gig. As DSM performs 'Uprising" and 'Tsunami," the Bellas see that they have their work cut out for them if they ever hope to beat the German collective at the world championships.

During the first month of her internship at the production house, Beca performs an insane mash-up with one of modern hip-hop's masters, and together they blend 'Winter Wonderland" and 'Here Comes Santa Claus" more seamlessly than you'd ever imagine.

During the film's signature riff-off sequence "aka the National A Cappella Laser Ninja Dragon League"a cappella versions of songs grouped by such themes as 'Butt Stuff" (e.g., 'Thong Song" and 'Bootylicious"), 'Country Love" ('Live Like You Were Dying" and 'Before He Cheats"), 'I Dated John Mayer" ('A Thousand Miles" and 'We Are Never Ever Getting Back Together") and ''90s Hip-Hop" ('Insane in the Brain" and 'Doo Wop (That Thing)") were bandied about.

As Aubrey forces the girls to get back to the basics at boot camp, they perform standards from the 1940s to today"which include The Andrews Sisters' 'Boogie Woogie Bugle Boy," The Supremes' 'You Can't Hurry Love," Labelle's 'Lady Marmalade," Hanson's 'MMMBop" and En Vogue's 'My Lovin' (You're Never Gonna Get It)." For their showstopper, Fat Amy and Bumper get the chance to profess their undying love for one another with a rendition of Pat Benatar's 'We Belong," produced and arranged by The Outfit.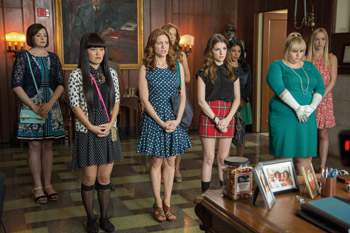 The world championships offer the best a cappella groups on the planet the chance to shine as Journey's 'Any Way You Want It" is covered by masters of the genre, including Pentatonix (as Canadian group Mountain Rhythm), The Filharmonic (as Manila Envy), The Cantasticos, The Singboks and Penn Masala (as The Naan Stops).

During their world championship set, DSM performs 'Light Em Up" and 'All I Do Is Win," while the Bellas blow the roof off the auditorium with 'Run the World (Girls)," 'Where Them Girls At," 'We Belong," 'Lady Marmalade," 'Timber," 'We Got the World" and the original song 'Flashlight," written by Sia, Sam Smith and Christian Guzman"with additional lyrics by Jason Moore"in real life (and new Bella Emily in the film).

Finally, Dean, who has written for some of the top acts in the world"from Rihanna to Beyoncé"wrote and performs 'Crazy Youngsters," the anthemic song from Pitch Perfect 2 that is produced by The Underdogs.

Step It Up: Mastering the Choreography

After working with Elizabeth Banks and her team on the first film, there was no question that Aakomon 'AJ" Jones would return to the Pitch Perfect family to choreograph each performance in Pitch Perfect 2, alongside his assistants Kyndra 'Binkie" Reevey and Codie Wiggins.

Famous for choreographing dance moves for the likes of Justin Bieber and Usher, Jones took what he learned from whipping the a cappella groups into shape the last time around and amped it up. He and Banks partnered together to make everything bigger. Taking the setting from a collegiate world into a professional a cappella scenario is no easy feat, and the scale of difficulty needed to grow.

While the Bellas were the underdogs of the first film and had a progression to excellence, for this comedy they had to be great right off the bat, and rehearsals reflected that status. Of the process, Snow explains: 'Rehearsal this time was a lot more difficult because we actually had to already be national champions. Before, we could be good, but by the end we were getting to the point where we were great, so now, all the numbers that we have to do have to already be great. It was a much bigger process."

Part of the rationale behind creating more challenging choreography is the film's story line. We find that our Bellas are getting more into the showmanship and choreography of the a cappella world, and deviating a bit from their original vocal roots. Case in point, Flo (stunt doubled by Susan Jackson) reflects the Bellas' new over-the-top style by cartwheeling and flipping back and forth across the stage.

Jones explains a particular challenge he found in the sequel: 'I needed to upgrade the choreography while not compromising the a cappella portion"because it's all about singing, first and foremost. So what I did, no matter how intricate the choreography, was to make sure that the groups could literally sing a cappella and do the choreography. I was trying to straddle the fence between steps that make sense for the vocals and steps that make sense for an overall visual."

Anna Kendrick, for one, deeply felt Jones' effortless attitude: 'AJ is just cool as a cucumber. He's a miracle worker. We would have been lost without him. Some of the girls are great dancers; I am not a great dancer. He is a genius at making people like me look like we know what we're doing and look confident. He plays up everybody's strengths. He's worked with the best of the best, but he knows how to deal with people who say, -I can't do that,' to which he says, -It just looks hard; it's going to be great.'"

Of her head choreographer, Elizabeth Banks commends: 'Besides being just a truly great presence around set, AJ is just one of those extremely talented people who I was blessed to have come and work with us. He is incredible and deserves a lot of the credit for how great the Bellas, DSM and each group look in every performance."

While the Bellas have a signature look, so does DSM. Adding this supergroup to the mix required a different approach. Jones explains: 'Visually, they all look like the elite. The way we cast the group, we have 18 members and we made sure that if we hired someone who was 5'7", they are matched with another person who is 5'7", so everyone is symmetrical from day one. The DSM are intricate; their wardrobe [by costumer Salvador Perez] is monochromatic… almost military in a way. We just carried that energy into the choreography, where you see a lot of precision."

As a newcomer, Sørensen wasn't sure what to expect walking into rehearsals. She gives: 'I came in a little scared, both because AJ's so good and he's done amazing things, and also because I'm not a dancer and I wanted to pull it off. AJ, Codie and Binkie together are amazing at creating images. The three of them are able to think visually and communicate it in a simple way."

The choreography team even worked closely with the Green Bay Packers to make sure their signature moves were flawless. That said, Jones' operation didn't stop on the ground. He took it to the air for a very special opening sequence with the Bellas performing at Lincoln Center. Rebel ilson, who had the privilege of going airborne, explains: 'Before we started filming, I got a call from Elizabeth asking me if I would be willing to attempt aerial stunts. So they sent me the first eight pages of the script with this scene, and I thought it was funny and a great -flashy' opening. This might come as a surprise to you, but I'm actually not a stunt lady with natural acrobatic talent."


Pitch Perfect 2
Release Date: May 7th, 2015