Anna Kendrick Mr. Right
Cast: Anna Kendrick, Sam Rockwell, Tim Roth
Director: Paco Cabezas
Genre: Action, Romantic Comedy
Rated: MA15+
Running Time: 95 minutes

Synopsis: Hyperactive at the best of times, Martha (Anna Kendrick; Pitch Perfect) has gone full-on manic since her latest breakup. She babbles, parties like a monster, cooks everything in sight " and is looking to do something terrible when she meets Francis (Sam Rockwell; The Way Way Back). To anyone else, Francis's approach would come across as creepy, but Martha can't help but be intrigued. They seem a perfect match: she's bananas, he's bananas... except he's a deadly sort of bananas. He's a professional assassin.

Francis is a hitman with a cause: he unexpectedly kills the people ordering the hits. Just as Martha begins to realise her new beau wasn't joking when he said he had to step out for a moment to shoot someone, things start heating up for Francis. His services are solicited by a dubious client who's being sought by an equally dubious FBI agent (Tim Roth; The Hateful Eight, Reservoir Dogs). As the bodies pile up, Martha needs to decide whether to flee or join in the mayhem.

Icon Film Distribution presents Mr Right, starring Sam Rockwell, Anna Kendrick, Tim Roth, James Ransome, Anson Mount, Michael Eklund and RZA. Casting, Orly Sitowitz. Music by Aaron Zigman. Music supervisors Maureen Crowe, David A. Helfant. Costume Designer, Jillian Ann Kreiner. Editor, Tom Wilson. Production Designer, Mara Lepere-Schloop. Director of photography, Daniel Aranyo. Executive producers William C. Gallo, Allen Church, Stephen Emery, Max Landis, Avram Butch Kaplan, Mark Roberts, Jennifer Dana, Ross Jacobson, Sheldon Rabinowitz. Produced by Michael A. Helfant, Bradley Gallo, Rick Jacobs, Lawrence Mattis. Written by Max Landis. Directed by Paco Cabezas.

Mr. Right
Release Date: June 23rd, 2016



About The Production
Several years before writer Max Landis' mastery of offbeat storytelling became evident in American Ultra, Victor Frankenstein and the $122 million-grossing superhero hit Chronicle, he dreamed up an outrageous contribution to the rom-com canon in Mr. Right. When the dancing hitman high concept proved too challenging for mainstream Hollywood tastemakers, Circle of Confusion producers Rick Jacobs and Stephen Emery, who also manage Landis, decided to produce the script themselves.

"For all its fun and dynamics, Max's story didn't immediately catch the eyes of the studios, so that became an opportunity where Stephen and I decided to put the movie together organically," Rick Jacobs says. "The great thing about Mr. Right is, it's got a little bit of everything -- action, romance, comedy. The story doesn't fit in one box, which can make it hard for some people, but for us it seemed like a really fun ride to jump on."

In search of a director, Rick Jacobs and Stephen Emery reached out to Spanish filmmaker Paco Cabeza on the strength of his erotic action thriller Neon Flesh. Paco Cabeza sensed a kindred spirit in Landis and his screenplay. "I felt a real emotional connection to the script and laughed all the way through," says Paco Cabeza. "As a writer myself, I realized Mr. Right was the kind of movie I wanted to make in the United States. When I met Max Landis, I realised we're very much alike -- we're both a little crazy."

Paco Cabeza, who made his English language debut directing Nic Cage in action drama Rage, found Mr. Right's hyperkinetic sensibility a refreshing change of pace from conventional genre projects he came across when he moved to Los Angeles. "I looked at something like 300 scripts and Mr. Right was the only one I read where I decided 'I've got to make this no matter what.' It was a shock to find something so close to my heart even though it's about a guy killing people! I've always been attracted to mixing genres, in this case the idea was to take a romantic comedy and turn it around, mix it with action and black humour. And what I love most about the story is that normally, Hollywood movies are black and white. They're very moralistic and simplistic. But in this case, Martha becomes more attracted to Francis because he's a killer."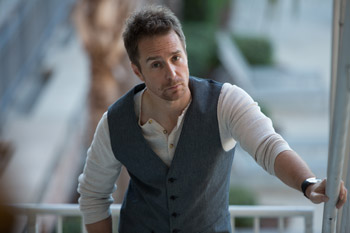 After Paco Cabeza began casting the leads, Amasia Entertainment principals Bradley Gallo and Michael A. Helfant came on board to finance the project. "We'd been tracking Paco, so he seemed perfect for the material," says Bradley Gallo. "But the movie really came to life in our mind when we were able to picture Sam Rockwell and Anna Kendrick as Francis and Martha."

Sam Rockwell's Dancin' Hit Man

Sam Rockwell is that rare Hollywood star who's equally adept in somber dramas like the most recent Broadway revival Fool For Love and BAFTA award-winning Moon as he is playing quirky characters in such black-humoured action fare Seven Psychopaths and Confessions of a Dangerous Mind. When Paco Cabeza met with the actor in late 2012, Rockwell immediately responded to Mr. Right 's subversive sense of humour. "I said 'yes' right away because Max wrote a really fun script that reminded me of movies like Grosse Point Blank in the way it mixed action and romantic comedy," he says. "I saw Mr. Right as being kind of like Mr. and Mrs. Smith-meets-Silver Lining Playbook where you have two dysfunctional bi-polar type people who find each other. They're both hot messes, on edge and scary. Francis and Martha might freak other people out, but they don't freak each other out."

Landis envisioned Sam Rockwell in the title role when he wrote Mr. Right, according to Rick Jacobs. "Sam Rockwell's the only actor we approached for the part. You need someone who can dance and has a sense of romance, but who can also turn that off on a dime and be a threat. It's not easy to find somebody who can pull that off."


Sam Rockwell, who also cites Romancing the Stone, True Romance and James Coburn's tongue-in-cheek '60s-era spy movie Our Man Flint as reference points, approached Mr. Right as an opportunity to ground the story's outlandish premise in universally relatable human behaviour. "The circumstances provided the comedy and the lines in the script were funny, so for me, it was just about making it real and giving the character high emotional stakes," He explains. "If you can do that, everything else falls into place."

Anna Kendrick Tackles Crazy Martha

Like her co-star Rockwell, Anna Kendrick combines dramatic chops -- showcased in her Oscar-nominated Up in the Air performance -- with the natural wit displayed in Pitch Perfect and its blockbuster sequel. When she read the Mr. Right script, Anna Kendrick savored the chance to go a little wild. "The most exciting thing for me was the way Max wrote Martha as someone who's always been a little psychotic," Anna Kendrick says. "He mentioned to me that some script notes suggested he make her this mild mannered girl until she encounters Mr. Right. But I thought it was funny and wise to make Martha bat shit crazy from the get go."

Anna Kendrick also sparked to Mr. Right because she knew Rockwell would be playing the title role. "I always pictured Mr. Right as Sam Rockwell," she says. "I knew he would bring amazing energy to the character. He makes you love this guy who's killing people but because it's Sam Rockwell playing Francis, you're rooting for him."

Director Paco Cabeza sealed the deal with Kendrick after they met in New York and bonded over their shared vision of a bold, unpredictable heroine. "Paco Cabeza showed me a lot of pre-vis stuff on his computer," she recalls. "We talked a lot about making sure that Martha was fun and active and not your typical damsel. For example, when we meet Martha, she's being unceremoniously dumped by her boyfriend and she crawls into a closet and gets drunk. I really liked doing that scene, being able to spout profanity and nonsense where you don't even know what you're saying half the time and you go 'This is my job! I'm at work, these are my co-workers, this is crazy'"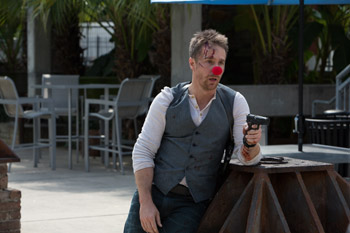 Producer Jacobs says "Often times with movies in this genre, you see the female lead running scared once the gunfire starts. We needed to find an actress who had that America's sweetheart girl next door quality, but underneath all of that, in Mr. Right, the gunfire kind of turns Martha on. Anna knew how to pull off that turn."

Hopping Mad Hopper and a Gang of Thieves

British actor Tim Roth, celebrated for his on-screen intensity in Quentin Tarantino movies Reservoir Dogs and Hateful Eight, brings his gift of menace to Mr. Right in the person of Francis' hyper-violent mentor Hopper. Rockwell was thrilled to work with one of his acting heroes. "Tim Roth comes from that generation of great actors like Gary Oldman, John Malkovich and John Turturro," Sam Rockwell says. "I've seen him in everything starting he's done going back to Vincent and Leo. We had a blast doing a fight scene in the mud while this rain machine poured down on us."

While Hopper hunts down Francis for personal reasons, New Jersey gangsters hiding out in New Orleans also go after Mr. Right. They include Shotgun Steve portrayed by Grammy®-winning rapper/actor/filmmaker RZA. "As a fan of films I love movies like Snatch, and this script had that same kind of energy," says RZA, who branched out from rap music after founding Wu-Tang Clan to become an actor ("Californication") and martial arts movie director (Iron Fist). "I'm hired to kill Francis but they give him the most stupid, uncomfortable clumsiest shotgun you could give somebody, but they still expect him to do the job," he explains.

Getting into his Mr. Right character, RZA deliberately softened his fierce public persona. "I wanted the chance to play around because my last couple of films I've played stern, straight characters. I'm usually the guy with the beard and the sideburns. But Shotgun Steve, he's just a fun guy. I never really shaved my face for a movie, but Paco Cabeza thought it would be cool if we took away some of this character's aggressive look and then let him grow his bravado. The first time I looked at the mirror, I laughed at myself, and took a picture sent it to my wife, and she thought I looked like an old Motown singer, so now my agent is putting me up for those kinds of gigs. But I don't normally shave my face off."

Fleshing out the absurdly dysfunctional Mr. Right universe, casting director Orly Sitowitz rounded up a gifted supporting cast. Los Angeles writer/comedian Katie Nehra plays Martha's wise-cracking girlfriend Sophie. Michael Eklund, who previously worked with Amasia on The Call, outfitted himself with silver teeth to embody tattooed thug Johnny Moon. James Ransone ("The Wire") portrays would-be mastermind Von. And Anson Mount, star of AMC Television's "Hell on Wheels," jumped at the chance to showcase his comedy chops in the person of Von's older brother Richard Cartigan.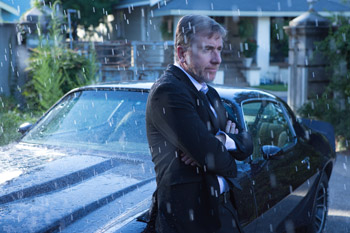 "I fell in love with this character who watches Al Pacino movies to find his hero," Mount says, describing the gang as a "patrician clown team." During pre-production Skype sessions with Paco Cabeza, Mount became inspired to make his already offbeat bad guy even more eccentric. "We talked about, 'Wouldn't it be funny if there were a crime boss who does origami to alleviate symptoms of anger?' The self-help stuff, in a weird way, works for the story in general. If I'm working on becoming a better human being so I can serve the family better, then it denotes a kind of love for my brother that deepens the plot." Producer Jacobs notes, "Anson brought a unique twist to his character: he's smart enough to know there's something wrong but not smart enough to crack the entire plan until it's too late."

New Orleans's Fairy Tale Charm

The Mr. Right team considered shooting in Puerto Rico, Colombia and Argentina before deciding to film the entire project in New Orleans. "We wanted to show a side of New Orleans that we haven't seen before," says producer Jacobs. Filming Mr. Right in 25 days during the fall of 2014, Paco Cabeza and his crew did just that by steering clear of typical tourist haunts. Instead, Francis and Martha's pivotal falling-in-love montage takes place in the only-in-New Orleans attraction known as Storyland. "Every good story has a mythical element to it," says Paco Cabeza. "In the case of Mr. Right, I always saw Francis as Peter Pan, Martha is Wendy and Hopper is Captain Hook who's chasing Francis, and they're both after Wendy. When we shot Storyland sequences, I felt it was perfect because even though this story is dark in some ways, it's very colorful in its aesthetics."

Anna Kendrick had never visited Storyland before. "I couldn't believe no one has ever shot there before," she marvels. "Even though we don't comment on it in the dialogue, Storyland is the perfect setting for the madness of Francis and Martha in that they're walking through this really strange situation, but to them it feels totally normal." Production designer Mara LePere-Schloop, whose art direction credits include Django Unchained and "True Detective," teamed with costume designer Jillian Ann Kreiner (The Ledge) and Spanish cinematographer Daniel Aranyó to transform real-world backdrops into a heightened reality. "When Mr. Right and Martha meet at the bodega, for example, we really went with bright vibrant colours as if they're becoming immersed in this fairy tale world where everything is graphic and bold."

Mara LePere-Schloop drew on New Orleans' rich architectural legacy to transform the historic jockey club, Luling Mansion, into the hyper-masculine headquarters for Richard Cartigan and his gang "The hideaway was an important place where we could add texture and historic elements of the mafia and gambling as a subtle nod to this bygone era," she says Mara LePere-Schloop, who spent two weeks with her colleagues hand-painting and aging the interiors. "All the artwork that you see inside, we printed and framed, and everything relates to some aspect of southern racing culture. We even hung old jockey jerseys from nearby race tracks. In that way, we were able to add layers and layers of history within the hideaway."

Filmmakers shot Mr. Right's twist ending, set in southeast Asia, in New Orleans East. "There's an existing Buddhist temple there which has a lot of great architectural elements along with plantings indigenous to both Louisiana and Vietnam," Mara LePere-Schloop explains. "We went back and forth about whether the final scene should be in set in Europe, which would have been easy to do in New Orleans, but the D.P. Daniel and I kept pushing for something exotic. We wanted something really bright to book-end this romance and keep the story within in this world that we developed."

To create Vietnam in Louisiana, Mara LePere-Schloop added lanterns, market stalls, vendors, tuk tuk, vehicles, scooters and bicycles to the location. "It was fun to create a totally different place to book-end this romance and keep the story within this world that we developed."

Cinematographer Aranyó played a crucial role in capturing the city's unique charm. "The film by Paco that we fell in love with was Neon Flesh, which gets so much of its wonder and style and edge because it's shot so beautifully," says Emery. "We wanted to capture those same qualities in Mr. Right, so for us it was a blessing that Danny came with Paco Cabeza."

Smooth Moves

Making sure Mr. Right featured all the right moves, stunt coordinator Kevin Beard joined forces with fight coordinator James Lew to design Sam Rockwell's eye-popping stunts. "Our challenge was to make all this action come alive," says Beard, whose stunt resume includes Texas Chainsaw 3D and The Expendables "Before the shoot began we had a three and a half hour meeting with Paco Cabeza where the big question was 'How do you do a dance fight and not make it look stupid?' He had us go back and take a look at Harold Lloyd and Charlie Chaplin movies from silent era. Once we started working out the moves, we came up with some cool stuff."

That "cool stuff" minimized CGI trickery in favour of old-fashioned physical fisticuffs. "I'm tired of watching action movies plagued with digital effects where nothing is real," Paco Cabeza explains. "In Mr. Right, everything's real. Sam Rockwell did 99 percent of the action himself, and he did it with grace and speed."

Sam Rockwell rose to the live-action challenge. "I'm not formally trained as a dancer but I have been boxing off and on for twenty years so that helped a lot with the lateral movement, feet agility, that kind of crap," Rockwell explains. "It's all the same stuff."

Cast and crew alike rallied to accommodate the film's demanding schedule. "We did not have a lot of time, I can't stress that enough," says Sam Rockwell, noting that he injured his rotator cuff during the course of production. And on the first day of shooting, he says, one stunt performer went home with seven stitches. "We had three or four major fight scenes and a week to rehearse all of them. If this were a Tom Cruise Mission Impossible movie, we would have been training for months."

Paco Cabeza singles out a couple of Mr. Right slugfests as personal favourites "I love when Tim Roth and Sam Rockwell are fighting in the mud, because you've got rain machine, dialogue, comedy, dancing all at the same time," he says. "My very favorite scene takes place when Mr. Right's fighting in the alley because there's a tango element to it. I shot Neon Flesh in Argentina so I know a little bit about tango, and here, we go from fighting to dancing and back to fighting." Paco Cabeza cut the scene with "Mad Men" editor Tom Wilson. "You can see Mr. Right's feet, and Sam moves so amazingly and his double Zack Roberts is so amazing you can't tell who's who."

Anna Kendrick's Martha also gets in on the action once she learns how to channel her so-called "gift of motion." "The stunt team has been amazing," says the petite actress. "They know how to make you look good even if you're a little five foot weakling. I've had a good time bludgeoning people." Beard sums up Anna Kendrick's performance concisely. "Once she takes on Mr. Right's moves, Anna kicks ass."

An Explosive Cocktail

Blending dancing, violence and romance into one-of-a-kind hybrid entertainment, Mr. Right aims to seduce audiences with its twisted take on the classic boy-meets-girl formula. "I don't have a fucking clue how to categorize this movie, and that's what I love about Mr. Right," says Paco Cabeza. "It's funny, it's a thriller, it has action and a lot of heart. In that sense, it's an explosive cocktail. I love movies that are great roller coasters of emotion, where you never know what to expect. I hope people who see Mr. Right have a laugh and have a good time and say 'Wow, I wasn't expecting that.'"

As producer Jacobs sees it, Mr. Right ultimately succeeds on the strength of its leads. "When people see Francis and Anna fall in love with each other, that's going to be the home run of the movie," he says. "In order to stand out in this day and age, you can't stick to regular conventions. Francis and Martha are so fun and the dialogue is so unique, you're happy to spend two hours with these people."


Mr. Right
Release Date: June 23rd, 2016