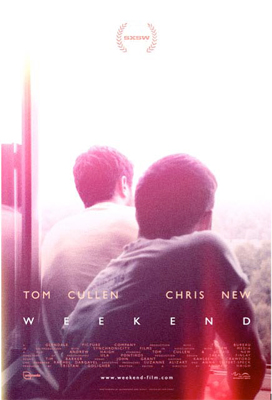 Andrew Haigh Weekend Interview
Cast: Tom Cullen, Chris New
Director: Andrew Haigh
Genre: Drama, Romance
Rated: MA
Running Time: 96 minutes

Synopsis: A one-night stand that becomes something more - an unconventional love story between two young men trying to make sense of their lives. On a Friday night after hanging out with his straight mates, Russell heads out to a nightclub, alone and on the pull. Just before closing time he picks up Glen. And so begins a weekend - in bars and in bedrooms, getting drunk and taking drugs, telling stories and having sex - that will resonate throughout their lives.

Release Date: January 26th, 2012



Interview with Andrew Haigh
Question: Casting the two leads must have been a crucial decision since the film's success rests so squarely on their chemistry and whether the audience believes them in their roles. How did you come to cast Tom Cullen and Chris New, and what was the rehearsal process like?

Andrew Haigh: That was certainly my biggest worry but we were lucky to have a very experienced casting director, Kahleen Crawford (who has cast for Ken Loach and David MacKenzie) and she knew exactly what to look for. We met with a lot of people, individually and in pairs always looking for some kind of spark that would translate on the screen. Tom and Chris had that from their first pairing. The rehearsal period was very short, only a week or so, and we spent most of that time just getting comfortable with each other, honing the script and improvising around it. Apart from the obvious things such as good acting, I also think that chemistry on screen comes from what happens off screen, from the tone of a shoot. If the right atmosphere exists on set you hope when the camera is turned on, a certain mood will persist.


Question: You've worked on films that don't have gay themes and created some that do - what keeps you interested in gay characters and the issues they face?

Andrew Haigh: If you watch many gay themed films you would assume that the only story worth telling was about 'coming out' or repressed love but I wasn't interested in that. I wanted to tell a story about how people deal with their sexuality after they come out. I wanted to explore some of the more subtle aspects of the gay experience, especially how people respond to the weight of being different, of not fitting in. I was interested in whether a person chooses to let their sexuality define them, and if so, then how. I also think that as society has progressed, new concerns and struggles have emerged and I wanted to explore a little of that too. Of course I think it's worth saying that you don't need to be gay to be struggling with issues of authenticity and self-definition, and of course at the heart of Weekend is a story of two people falling for each other. This, obviously, has very little to do with being gay.


Question: Was there much improvisation in the film, or were you all working strictly from the script?

Andrew Haigh: While we always used the script, the cast were encouraged to improvise around it and despite the short shoot we always made time to try different things. It was vital to me that the performances were natural and so we tried to make everything feel as authentic as possible for the cast. This was helped by certain decisions - such as filming in strict story order and not shooting coverage. It was a very conscious choice to shoot long takes and one of the advantages of this was that it gave us the freedom to try different things with each take, without worry over matching continuity. I think this helped enormously in creating the naturalism that was essential for the film.


Question: Were there any films or filmmakers that especially inspired you when making Weekend?

Andrew Haigh: There are certainly a number of filmmakers I admire a great deal and whose work is an influence on me. I am a big fan of some of the modern US filmmakers such as Ramin Bahrani and Kelly Reichardt. Interesting we used many of the locations that were used in Karel Reisz' 'Saturday Night and Sunday Morning' including the famous Goose Fair. In fact the tower block that became the key location for the film was built on the very spot that Albert Finney's character lived before the houses were demolished to make way for new public housing. This was a nice coincidence as the film was certainly an influence for us. I see 'Saturday Night and Sunday Morning' partly as a film that explores how people struggle to find their place within a changing society, and whether they accept the current social mores of the time or fight against them. This is something we hoped to explore with our film also.