Amiena is an award-winning international artist with a unique voice. Her music has appeared in various media formats including the hit TV show Bones. She is a voting member of NARAS/Grammys and a writer/publisher member of BMI and ASCAP.

Amiena has worked with some of the most respected musicians, co-writers, and producers in the business including: Juno Award Winner and Grammy Nominated producer Adrian Bradford, 2 time Emmy winner, Lars Deutsch, Jeff Cardoni, Dwayne Larring, Kenneth Crouch, Chris Mann, and Nitin Sawheny.


Interview with Amiena
Question: How would you describe your music?

Amiena: If one were to hear my previous music which had a chill vibe, and then my forthcoming album, Flares & Halos, it is a literally night and day. The new album, Flares & Halos, is more modern and edgy and, the lyrics are more honest. I would say my new style or path is more alt-pop with a touch of snarky soul. You can take a listen to "Halo" and drop a comment and let me know!


Question: Can you tell us about Halo?

Amiena: Initially, "Halo" was about a guy who I often see at a café I frequent. He is always showing off and I find it hilarious. I imagine that he probably lives in his mom's basement. Around that time, I was writing 'Halo', I was also watching Messiah on Netflix. I realized it is easy follow someone who seems to have all the answers, but all the Messiah on Netflix had were those fortune cookie wisdoms. The song is about more than those two observations though. It is about truth, hypocrisy, living daily life and making fun of this new era of social media hype and the need people seem to have for 'likes' and approval.


Question: Is there a particular message you hope listeners take from your music?

Amiena: Life happens. For "Halo" specifically - roll with it, make fun of the bad and use it to make your world brighter.


Question: What was your first performance?

Amiena: I was a little girl. I sang in a church a song called "Sunshine".


Question: If you could have anyone, in the world, attend a show, who would it be?

Amiena: My dad. He's passed away now- yet it would super cool to see him in the audience as he contributed to my exposure of so many styles of music.


Question: What motivates you most when writing music?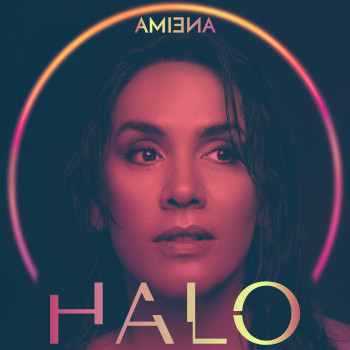 Amiena: Life motivates me.


Question: Which music/artists are you currently listening to?

Amiena: Alicia Keys, Warda, Rascal Flats, Sade, Emeli Sande, Lucas Graham, James Morrison, Aleph…I have a bit of a bipolar playlist.


Question: What or who was your inspiration to go into the music industry?

Amiena: I kinda fell into it. Growing up I was always singing, and it just snowballed.


Question: If you could collaborate with another artist, who would it be?

Amiena: Carole King


Question: What moment in your musical career stands out the most?

Amiena: I was singing and there was a little girl in the front singing along to my song and at that moment, I thought, "this is real. This is what I want to do".


Question: Did you have any pre-conceived ideas about the music industry?

Amiena: None.


Question: What has been your favourite part of becoming a music artist?

Amiena: Writing. Creating and then taking those thoughts / words and translating them into what others can feel and relate to.


Question: What's a typical day like?

Amiena: I wake up. Walk my dog. Feed her. Then I go over my list of things to do, which I NEVER finish. Check emails. Check to see if I have more pre-saves for "Halo". Right now, I am spending loads of time on the computer with the "Halo" roll-out. I walk around my house doing vocal warm-ups and play a bit on my piano. Spattered in between that, I do some housework. Exciting, eh?


Question: What's next, for you?

Amiena: Long term - who knows?!? Whatever it is, writing and music will definitely be a part of it.
In the coming months, I am looking forward to sharing more singles and the album, Flares & Halos. Hopefully shows and a release party as soon as possible too.


Question: Can you share your socials? (links please)

Amiena: Facebook
Instagram
Twitter
Spotify
YouTube


Interview by Gwen van Montfort