American Pie Reunion
Cast
: Jason Biggs, Alyson Hannigan, Chris Klein, Thomas Ian Nicholas, Tara Reid, Seann William Scott, Mena Suvari, Eddie Kaye Thomas, Jennifer Coolidge
Directors
: Jon Hurwitz, Hayden Schlossberg
Genre
: Comedy, Drama, Romance
Rated
: MA
Synopsis
: In the comedy American Reunion, all the American Pie characters we met a little more than a decade ago are returning to East Great Falls for their high-school reunion. In one long-overdue weekend, they will discover what has changed, who hasn't and that time and distance can't break the bonds of friendship. It was summer 1999 when four small-town Michigan boys began a quest to lose their virginity. In the years that have passed, Jim and Michelle married while Kevin and Vicky said goodbye. Oz and Heather grew apart, but Finch still longs for Stifler's mom. Now these lifelong friends have come home as adults to reminisce about-and get inspired by-the hormonal teens who launched a comedy legend.
Release Date
: April 5th, 2012
"American Pie Plaid": Locations and Design
The writers/directors were thrilled with the behind-the-scenes crew they compiled with the producers. "The team we put together to work on the visuals came through big-time," says Jon Hurwitz. He and Hayden Schlossberg had worked with director of photography Daryn Okada on the second and third Harold & Kumar films. "Daryn Okada had so many skills that we knew that we had to have him back with us. As well, Bill Arnold and the whole production design team were amazing."
For production designer Bill Arnold, preparing to create the ultimate installment in the American Pie film saga meant going back to the beginning. He recalls that as soon as he signed on, he bought the three previous films on DVD. He also went back to the studio to see if there were any existing photographs and drawings of the sets. Bill Arnold says that his crew wanted this film "to feel familiar to those who knew the first American Pie, as well as exciting and interesting to a new audience."
With so many sets that had to be built for this film, Bill Arnold recalls that at one point he had 40 people building sets…and that didn't take into account the 40 set painters and those working on the set dressing and other projects.
Although the first film was lensed in California, American Reunion was shot in Atlanta, Georgia. "This whole story takes place in Michigan," Bill Arnold explains. "In Atlanta, we could open up the film and not worry that we couldn't look at palm trees or the architecture that distinguishes Los Angeles. It was a lot more like the Midwest than L.A. Monroe has a beautiful Main Street, and we found a corner that worked as a place to put a mural and the exterior of the local hangout, Dog Years, from the first film. We had a few other scenes that took place down the street, across the street and driving through town that we couldn't get away with shooting in California."
This mural was re-created on the side of a convenience store, and Arnold says the owner was happy to have the artwork on the exterior of his shop. Although Dog Years was the original hangout for the guys, now that all of them were of drinking age, a new bar had to be found. A local tavern near Conyers, Georgia, offered the perfect interior for the bar Jilly's. The bar was supposed to be located in the middle of town, so in Monroe the team found a storefront that could be manipulated for the exterior shot.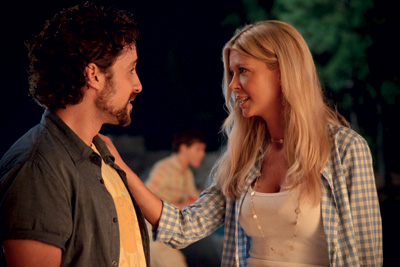 One of the biggest challenges in scouting in Atlanta was finding the exterior of the Levenstein's house in Atlanta. Because a pivotal portion of the story takes place at Kara's house next-door, the team had to find two adjacent houses together that worked. Bill Arnold says that he focused on the big things that would make the audience feel as if they were back home, such as the Levenstein's front door, the hedge and the sidewalk.
The home interiors stayed close to the original in look. Because so much of the movie takes place there, for ease of filming, the house interiors were re-created on a soundstage. Fans will recognise Jim's bedroom, a set that, Bill Arnold says, "should be in the Smithsonian Institute." Oddly enough, Arnold's crew had no problem locating the original wallpaper: The L.A. vendor who supplied the first film still had some in stock. The wallpaper is now appropriately called "American Pie Plaid."
Bill Arnold says that DVDs of the first films were used extensively and captured screen shots helped the art director, Elliot Glick, in his re-creation of the elements they needed. No drawings were kept of Stifler's house from American Pie, so the design team had to make their drawings by watching the films. Additionally, set dressing and decorating were a challenge as they worked to match paint colors, trim and woodwork.
While much of the design work involved re-creating original rooms, the team also had the chance to design Stifler's Mom's boudoir. In the first film, she was seductively located in a room at their lake house. Bill Arnold says: "We now had an opportunity to create what Stifler's Mom's room would look like. It was a lot of fun, discussing how over-the-top we could go. It has a lot of layers and a lot of backstory going on as you look around."
Alternately, Kara's room needed to reflect that of a younger girl than she is in the film. "It has a lot to do with her innocence and what goes on this weekend," Bill Arnold explains. "We wanted it to feel like this was the room where she has grown up. This was her world before Jim, and now it's going to change on this weekend."
The Celebrity Dance-Off sequence proved a challenge for the design team because it had to have that big-Hollywood-production feel on a limited budget. As the sequence is only shown as a television segment, the crew kept it small in scale and used a small, embellished stage space.
The reunion itself required a much bigger scale and was shot in a local gymnasium that was decked out with what Arnold describes as a more "adult motif" than that of the first movie. "Fabric and carpeting on the floor did a lot to change the whole vibe of the gymnasium," Bill Arnold explains, "along with a lot of amazing lighting."
In most films, the crew is behind the scenes. Not in American Reunion. Many of them posed for the photos used in the "senior wish list" section of the yearbook. As well, they brought in old photos of themselves to fill the pages and saw their actual names listed. Bill Arnold and his team went a step further and asked them to add their wishes to the publication. "Some people got a little goofy," laughs Arnold. "Other people got very inspired. But it gave us a great resource to put that together. It was a good mix of real people, and not just one or two people sitting down and writing it out one night."
To discover the lake and bonfire areas, Bill Arnold just asked around. "Part of the joy of being on location is discovering new places," he says. "So if we were looking for a local place, we could ask, 'Where do the kids go? Where do you go to have a picnic or a keg of beer?' A couple of people suggested this place called Costly Mill, which is on the side of an old grist mill. It's a beautiful river and a great place to go at night with your friends. We were able to grab it and make it our own."
For Jon Hurwitz and Hayden Schlossberg, directing the Jet Ski sequences meant that they had to shoot in their bathing suits. "We both rode Jet Skis for the first time," says Jon Hurwitz, who reveals that the week at the lake-with its extremely high temperatures and humidity- was challenging. "It was a crazy week, but the ability to jump into the water between takes was definitely something I looked forward to."
One person who was watching from the shore was costume designer Mona May. To capture the essence of the franchise with an eye to bringing something fresh to American Reunion, Mona May admits that she spent a lot of time hitting the rewind button on her DVD player while watching the previous American Pie movies.
Discussing a few of her selections, Mona May offers: "Oz is now very famous and wearing high fashion, all European designers and beautiful materials. I think Chris enjoyed putting on the cool clothes-the little pocket squares, the beautiful pink shirts with shiny ties and beautiful shoes. As well, we have Mia, the Maxim 'Top 10' girl. We wanted to make Katrina look even sexier so she could play it up."
For the costumer, the character of Finch had to have an eclectic collection of clothes. "We believe that Finch has traveled all over the world, so his clothes are European in fashion," she says. "You could even say 'high fashion,' with cool layers of linens and scarves. His signature look is one of scarves and jewelry-cool, not ostentatious in any way. Real costume is when you don't know that they're wearing it. You see this person and think, 'Oh, I have a cousin like that' or 'I saw a guy like that on the street or a girl like that in a club.'"
Mona May explains that Michelle may start out as a mom in jeans and a T-shirt but her style changes as she cranks up her dull sex life. Alyson Hannigan was quite open to having sloppy clothes at the beginning of the film, which makes for a bigger contrast at the end. "It's great when you have these transformations and you can show how they've grown," says the costumer. "This movie's full of surprises: You see Jason Biggs in an S&M outfit, running around in leather shorts. It's absolutely crazy."
Finding "alternative" costumes like the leather shorts proved to be a challenge in Atlanta, but Mona May caught wind of an alternative bar called The Eagle that had a leather shop inside. Although the store was closed, she got in touch with the owner, who agreed to open the store for a private shopping trip for leather harnesses and more. That trip was followed by one in which the props department discovered whips and various other items. "Everyone was so helpful," says Mona May. "I think it's for the love of movies that they will open up a shop at midnight for us."
Of course, for the costuming department, the reunion scene was pivotal. Mona May and her staff worked with the rest of the production design team to bring the colors together. As there was a lot of blue and silver on the set, the crew brought out a number of jewel tones in the clothing. Mona May shares: "Even though the audience grows older, we all want to feel like we're still young forever. With the help of film magic, we can, beautifully."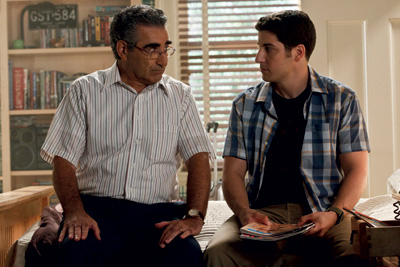 Fights and Falls: Stunt Work of the Film
No American Pie film would be complete without its fair share of falls. For the scene at Stifler's party in which a group of 18-year-olds fights our stars from the Class of 1999, Hayden Schlossberg says he and Jon Hurwitz wrote a simply planned flight sequence. Once they began to film, it had the requisite complexity. "We wanted it to be real," he reflects, "but we wanted it to be funny. We tried to find a balance."
Eddie Kaye Thomas as Finch got into the action in the scene at Stifler's party in which the fight breaks out; in it, he wields a lacrosse stick. "We talked about it for a while, and then we saw the stunt guys do it," he remembers. "It was brilliant, because we knew that we couldn't have a good fight sequence. That would be ridiculous if we knew what we were doing. But at the same time, we're not The Three Stooges. It was the perfect balance of heart and good intention and having no idea how to fight. It looked great."
"I had to be on the ground during this fight scene, and I'm basically naked," laughs Jason Biggs. "I had this leather bit barely covering my groin. We're on the ground and I had an allergic reaction to the grass, and then there are all these water bugs…huge. They said they were water bugs; I called them cockroaches. Jason Biggs does not do bugs."
Bugs were the least of Biggs' problems during one of the bedroom scenes. Luckily, a stuntman took the fall for him. "Kara has been taken to her bedroom by Jim and Stifler," explains stunt coordinator Tom McComas. "When her father comes in, they both hide. Stifler winds up in the canopy, and it gives way and he falls through and lands on the bed." To rig the scene, the stunt team took away half of the bed and the canopy and replaced them with boards. With half the canopy open, the stuntman simply rolled over and fell through the fabric. He landed next to a well-protected stuntwoman portraying Kara.
Through swerving cars and motorcycles, flailing fists, bruised butts, the American Pie gang had a blast coming together for the fourth time. "We're the biggest American Pie fans that you're going to find out there," reflects Jon Hurwitz. "We sought to make a movie we would love. It's got a lot of surprises, laughs, heart and great performances."
Once again, concludes Jason Biggs, it's great to be known as that "guy with the pie."
Interview with Jason Biggs -
www.femail.com.ay/jason-biggs-amercian-pie-reunion.htm