Her Legend Begins
Cast: Alicia Vikander, Dominic West, Walton Goggins, Daniel Wu, Hannah John-Kamen
Director: Roar Uthaug
Genre: Action, Adventure
Rated: M
Running Time: 118 minutes

Synopsis: Lara Croft is the fiercely independent daughter of an eccentric adventurer who vanished when she was scarcely a teen. Now a young woman of 21 without any real focus or purpose, Lara navigates the chaotic streets of trendy East London as a bike courier, barely making the rent. Determined to forge her own path, she refuses to take the reins of her father's global empire just as staunchly as she rejects the idea that he's truly gone. Advised to face the facts and move forward after seven years without him, even Lara can't understand what drives her to finally solve the puzzle of his mysterious death.

Leaving everything she knows behind, Lara goes in search of her dad's last-known destination: a fabled tomb on a mythical island that might be somewhere off the coast of Japan. But her mission will not be an easy one; just reaching the island will be extremely treacherous. Suddenly, the stakes couldn't be higher for Lara, who"against the odds and armed with only her sharp mind, blind faith and inherently stubborn spirit"must learn to push herself beyond her limits as she journeys into the unknown. If she survives this perilous adventure, it could be the making of her…earning her the name tomb raider.

Tomb Raider
Release Date: March 15th, 2018
www.tombraider.com.au


About The Production
Her Legend Begins

Starring Alicia Vikander in the title role, the epic feature "Tomb Raider" reveals an all-new origin story that not only takes audiences inside Lara Croft's very first adventure, but also completely into the heart and mind of a character who, in order to find her place in the world, must connect her future with her past. The film explores not only the choices she makes but why she makes them, as we discover how she came to be one of the greatest and most popular action heroes of all time.

The film is peppered with numerous touchstones from the hugely successful, critically acclaimed 2013 "Tomb Raider" videogame"the biggest seller in the entire franchise's history"which served as a key source of inspiration for the filmmakers, as did the updated take on the character herself. Director Roar Uthaug, who grew up playing all of the games, states, "I was blown away by the game play, and of course by the character of Lara Croft, a kickass girl who solves all the puzzles, avoids all the traps and raids the tombs. But when I saw what they had done with the game in 2013, I was really excited with the authentic, gritty take on the character, and thought it was definitely something that would transfer to the big screen."

Prolific veteran producer Graham King, who obtained the film rights to the property several years back, says he, too, was eager to bring this expanded conception of the character's history to cinemas. "Lara Croft is one of the rare strong and successful female leads in the genre world, especially in movies. It's been quite a while since we've seen her and I think the timing couldn't be better to revisit her character and introduce her origins, in a way that speaks to today's world. The tone has changed, the story has a lot of drama and emotion to it, along with practically nonstop, incredible action sequences, and I think a modern audience will enjoy going through this journey with her as much as the gamers do."

Growing up, Alicia Vikander was also a player, and an even bigger fan. "As a young girl, I didn't have any videogames, so I was always very excited to go to our friends' houses who did," she recalls. "I remember when they played "Lara Croft," what struck me was that I hadn't seen a girl being the lead character in a game before. She was not only a woman, but she was extremely fierce, determined and capable, and that really drew me to her. Of course, I was only about ten, so I mostly spent my time in the game doing the training in the big Croft manor!"

Alicia Vikander, who naturally advanced her level of play as she became a teen and beyond, says, "When I heard about this film, I went and bought the newer games as well. It really felt like it was the essence of Lara from the earlier versions, but now we got to follow her from the beginning. For me, she's like the superheroes and action heroes we love; by seeing their journey to become the 'super' versions of themselves, we get to feel close to them and get to understand them, emotionally."

As in the games, the filmmakers aimed for the action in the film to feel real and the audience to feel as if they're in the midst of it all, experiencing the events through Lara's eyes: running at full speed, fighting at full force, shooting a bow and arrow while dodging bullets"along with all manner of deadly obstacles"and solving impossibly intricate puzzles with mere seconds to spare. It takes every ounce of strength, skill, smarts and stamina Lara can muster to get through any one of her amped-up exploits, which is precisely why enthusiasts the world over love her videogames: they drop the player in the middle of the action and take them on the virtual ride of a lifetime, every time.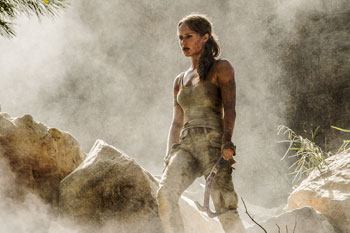 The screenplay was crafted by Geneva Robertson-Dworet and Alastair Siddons, from a story by Geneva Robertson-Dworet and Evan Daugherty. "I've been playing 'Tomb Raider' games for most of my life, watching all the while as Lara Croft, the fascinating character at the heart of the expansive mythology, has grown into a true pop culture icon," Evan Daugherty says. "It was an honor to help shape this dramatic new reinvention of the character and the franchise."

In the film, Lara's journey really begins when she's asked to acknowledge an "official" end to her father's life. Feeling cornered, what the rebellious young woman accepts instead is one last puzzle box containing a clue to her dad's fate, which leads her to believe things might not be so final, after all. What she finds will ultimately take her far from home, even to the farthest corners of the Earth.

"The father-daughter relationship is at the core of our story," Roar Uthaug notes. "He abandoned her, yet she clearly cannot let go of him. It's created a void in Lara that she's been trying to fill, and this final puzzle box quite literally provides the key that starts her investigating what happened to him, and leads her to embark on this great quest."

"At some point, we have to face up to who we are"and who we're meant to be."

Casting A Legend

Bold, resilient, with a nearly unwavering inner resolve that helps her meet any challenge. Add to that smart, relentless, honorable, vulnerable and human…and a complete badass. Those are just some of the traits the filmmakers were hoping to find in their Lara Croft. In Alicia Vikander, says director Roar Uthaug, they found them all, and more. "What's interesting to me about Lara Croft is that when she falls, she gets hurt, but she picks herself up and keeps fighting for what she wants," the director observes. "In our film, that goes whether she's in the boxing ring, a bike race, or a race for her life. Alicia is just as relentless, she doesn't quit. She brings authenticity to every scene and such engagement to every part of the process. If it's an emotional scene or a funny moment or a big action sequence, everything she does rings true."

Alicia Vikander embraced the opportunity to work through the mental as well as the physical challenges her character faces, which are often intertwined as Lara pushes through one complication after another. "I was very impressed that the film included all the characteristics you see in her in the games," the actress says. "For our purposes, she simply hasn't had to use all those tools yet, and that's what the film is about. It's also nice to play a girl who takes up room, who dares to be loud and outspoken, yet open to showing her vulnerability. It's all there, within her, and we get to discover it with her as she finds herself in situations that bring out her fears as well as her survival instincts, and the warrior in her."

King states, "Alicia Vikander really does make everything feel real"from working out clues to her dad's last-known whereabouts to hanging off the wing of a rotted-out World War II plane. I was standing comfortably by a monitor as she shot that scene, by the way, and I felt nervous, as if she really was in danger and I was going through it with her."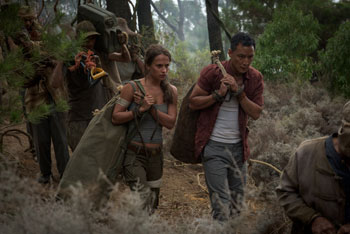 Alicia Vikander, originally from Sweden, was eager to work with fellow Scandinavian Roar Uthaug, who hails from Norway. "I've seen several of Roar Uthaug's films and I think he's great. His passion clearly lies with genre films and all the classic elements that kind of film has, yet his stories are also very emotional," she relates. "I really felt for his characters in 'The Wave,' and I was excited to be a part of what he would do with this big adventure, knowing his ability to keep you connected to the emotional side."

In the film, Lara Croft's heart and heartache clearly come from her connection with her dad, seen through Lara's childhood recollections. Alicia Vikander says, "Her mother died young, so her dad was her sole parent, and they were very close. He told her fantasy stories, taught her how to use a bow and arrow and go on treasure hunts, and to solve riddles and puzzles. But as she got older, the outside world took up a lot of his time, and she saw her dad disappear more and more into his work. Or so she thought. Then one day, when she was about 14, he left for another one of those trips…and never came back.

"When we meet her in the beginning of the film," she continues, "seven or so years have passed since she last saw her dad. But she is someone who hasn't been able to mourn, someone who can't really let go. Not without answers."

Despite her steadfast devotion to his memory, Lara has avoided anything to do with her father"such as the house she grew up in and his holdings company"because to involve herself in what remains of his life without him would, to her, mean accepting his death.

"Lara, your father's gone, but you can pick up where he left off. It's in your blood."

Croft Holdings' longtime executive Ana Miller says those words to Lara…as she's bailing the younger woman out of jail. Played by Kristin Scott Thomas, Ana is educated and refined, and she doesn't hide her disappointment that Lara is not. Ana is also hopeful; she is one of the few who's known Lara long enough to see through the tough façade she puts up as she struggles through life, unwilling to accept her father's death or the inheritance that goes along with it. Ana believes it's time his daughter and heir, now 21, steps in to fill his corporate shoes. Lara quickly assures Ana that she's "not that kind of Croft."

By all appearances, Lara is right.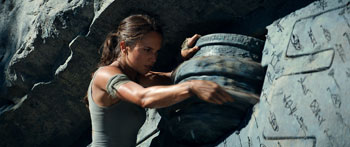 What neither of them knows is that Lara is, in fact, exactly the kind of Croft her father was. They knew the corporate giant with the vast portfolio of global companies big and small, and the loving father who called his little girl "Sprout." But Richard kept his real interests hidden, and the pursuits that took him around the world were important enough to him to leave behind his only child, never imagining it would be forever, or that she would one day follow in his elusive footsteps.

Richard Croft began searching for proof of the supernatural following the death of his wife, Lara's mother. What began as a means of staying connected to her turned out to be a calling"one that he kept from everyone in his daily life, including Lara, and one that clearly took precedence over boardrooms and business deals. It would seem it also took his life. Roar Uthaug offers, "Everyone thought Richard Croft was this successful businessman living in a giant mansion in the British countryside, and he was. But there was a secret life also that nobody knew about."

Lara draws her first hint that there may have been more to her father than she knew after she meets with Croft Holdings' solicitor, Mr. Yaffe. Played by Derek Jacobi, Yaffe was once very close to Richard, and sympathises with Lara's plight. Upon legally accepting her father's death, Lara is to receive an initial, seemingly symbolic bequest. But it's this gift"a Japanese puzzle box"that inspires Lara to solve the riddle of her father's disappearance.

Dominic West plays the loving yet wayward father who may have left his daughter. However, as she discovers, he also left behind a video message for her that will change the course of her life forever. Like Alicia Vikander, West was drawn to the complexity of the characters amidst this high-octane action story.

"I've got three daughters," he says, "so I suppose that was at the heart of what appealed to me most when I read the script. I was amazed by the emotional depth of the father-daughter relationship in this big action movie."

As a parent, West found the most difficult aspect of getting into his character was "understanding how this guy essentially abandoned his daughter, who'd already lost her mother. It must have been a very great burden of responsibility that he felt, that would lead him to do that, so I tried to imagine how that might feel."


When Lara uncovers Richard Croft's secret life and what turns out to be his life's work, she learns of an archaeological project her dad believed was a grave threat to the human race. His recordings warn her of the danger, and he instructs her to destroy everything as a means of protecting her. "As hard as it is for Lara to comprehend, she also realises through Richard's message and his files that his choice to leave ultimately came down to caring for the future of his child, foremost, but for the world as well," West says. As it turns out, "Tomb Raider" is not West's first film with Vikander. "I've even played Alicia's dad before," he smiles, referring to their work in the 2014 film "Testament of Youth," a World War I drama. "When I got the call to do this part I was really delighted, and I accepted the job with alacrity."

Oddly enough, realising just how far away her father went on his last excursion makes Lara feel even closer to him. And, like any dutiful daughter, she completely ignores her father's wishes, instead setting off to find the last person to see him alive.

The first leg of her odyssey takes Lara to Hong Kong, in search of a man named Lu Ren. She finds him…sort of. The Lu Ren Lara encounters is actually the son of the man her father had been in contact with. But for Lara, any Lu Ren will do, so long as he can captain a boat and take her to the island of Yamatai, her father's last-known destination. Daniel Wu plays Lu Ren, who, while he may indeed have a boat, doesn't appear to be any more seaworthy than it is. "He's not in a really great state when Lara meets him," Wu allows. "He's pretty drunk, actually. And his boat, the Endurance, is more of a rusty bucket of junk. But they discover that his father also disappeared seven years ago, leaving the son in debt and having to take over the family business"tours, sightseeing, smuggling, anything to pay the bills, none of which he wants to do. So, he's closed the book on finding his father, but Lara hasn't."

But for Lu Ren, money talks, and while he feels no personal obligation to go along with her, Lara makes it worth his while. "She basically pays him to take her to the Asian version of the Bermuda Triangle, and he's desperate enough for money to agree to it," Wu says.

Like Alicia Vikander, Wu has been a gamer for years. "I'm a fan of the videogame franchise," he says. "It was a really cool female action hero you could play, and my girlfriend at the time"now my wife"played a lot. I was really attracted to the project once I found out Alicia Vikander was involved and it was an origin story, and that they'd be filming in South Africa, which is a very special place to me. I got married there."

In fact, both the actual location, as well as the location it was dressed to be when Lu Ren first meets Lara, were personal to Wu. Alicia Vikander recalls, "We did our first scenes in 'pretend' Hong Kong, built in Cape Town, and I was impressed, but Daniel was even more so since he's lived there. It was cool to hear him tell stories as we walked around the set."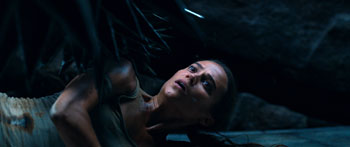 Wu was thrilled to be part of the international cast and work with the multicultural crew, and to work with Roar Uthaug. He, too, is a fan of "The Wave," and says, "That film is a great balance between human drama and event movie. Combining the two together so well takes a certain sensibility, and Roar Uthaug is able to do it." The actor also took to Uthaug's directing style. "He's a man of few words, but he's very clear and concise, so it's great to work with him."

Roar Uthaug was also keen to show a different side of Wu, who is no stranger to action sequences, having performed numerous on-screen fight scenes throughout his career. "He's not doing the Kung Fu that we're used to seeing from him," the director says, "but he's still kicking ass!"

Like Lara, Lu Ren must defend himself and others once they arrive on Yamatai. The island, one of some 6,000 scattered off the coast of Japan, has been taken over by a yearslong expedition funded by the Order of Trinity, a militant organization that seeks control over the supernatural in order to control the fate of mankind. No one on Yamatai"not even the man in charge"is permitted to leave until their mission is accomplished.

Mathias Vogel is the ruthless leader of the group of mercenaries assigned the seemingly impossible task of uncovering a 2,000-year-old tomb thought to contain the mummified remains of Queen Himiko, also known as the Mother of Death. According to Richard Croft's notebooks, the contents of the tomb pose a threat beyond comprehension; nevertheless, over the seven years they have been stranded, Vogel and his men have enslaved every fisherman unlucky enough to wash up alive on their shores to dig it up, open it, and presumably earn their way home. After all this time, Vogel has gone quite mad with the apparent futility of the job.

Futile, that is, until another Croft arrives. Vogel admits to Lara that he personally dispatched of her father and, along with him, any knowledge Richard might have had of the tomb's precise location. Vogel also helps himself to Richard's journal, which he has conveniently lifted from Lara's backpack.

Walton Goggins plays the role of the merciless Vogel. Unlike Roar Uthaug, Vikander or Wu, Goggins says, "I've never been a gamer. I think the last game I played was Donkey Kong. I killed it, of course," he laughs. "But I knew nothing about 'Tomb Raider' coming in, and I liked not having the pressure of viewing things through that optic; it was a fresh read for me. I didn't know if my Vogel even existed in the game, and I didn't ask; I knew the filmmakers would honor the canon in various ways. As an actor and a storyteller, I saw my character as a three-dimensional human being and I worked from there."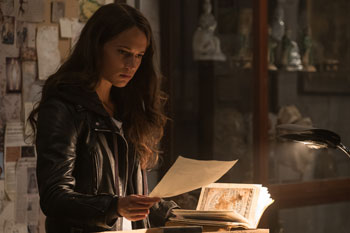 "Walton is a very intense actor, but at the same time brings such joy to the set," says Roar Uthaug. "He was perfect for our villain. He brought a human side to Vogel who, like Lara, has a goal to reach. He just happens to want exactly the opposite of what she wants." Alicia Vikander adds, "Walton is one of the most passionate actors I've met. He came in every day with 100 percent energy, love and care for his role and for everyone on set, always making sure that not only was his character working, but that the scene worked for everyone. He made Mathias Vogel a proper villain, the kind that plays games with your mind and sort of sneaks up on you, which is really scary."

"One of the things that attracted me to this role, other than the people involved," Goggins relates, "is how rare it is to meet a character who is neither at the nascent stage nor the apex of his journey. As I discussed with Roar and Graham early on, my take is that this is a guy who is operating on the worst Wednesday of the longest week of his life, mired in the inertia of repetition. He's almost the anti-Richard Croft in that they both sacrificed their families to find this tomb, if for completely different reasons, but it's ruined both of their lives."

Goggins enjoyed playing Vogel's quiet madness opposite the unharnessed determination Vikander imbued in Lara. "Alicia is a real powerhouse," he says. "I'd met her before and had always thought if we ever had the chance to work together it could be really special, and on the very first take inside Vogel's tent, we looked at each other and said, 'Yeah, this is gonna be good.'"

While Lara is surrounded by people who seem to want something from her, from gym fees and rent money to taking responsibility for her life to actually taking her life, there's one person she can talk to: her flat-mate, Sophie. Close friend and confidante, Sophie is like family to the all-but-orphaned Lara. She is portrayed by Hannah John-Kamen. Roar Uthaug offers, "One thing I was really happy about with this movie is the level of talent we got. From Alicia on"really everyone in roles big or small"we had such great actors in our cast."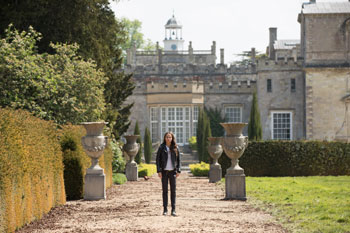 "It'll be an adventure!"

Becoming Lara Croft

By the time Alicia Vikander arrived for principal photography, she was already well into a rigid training schedule, and in great shape. Nonetheless, it took every ounce of the former professional dancer's dedication and discipline, both before and during filming, to achieve the incredible physique necessary to play Lara Croft. The actress pushed herself past her own limits for the physically and emotionally demanding role, embarking on a journey that was, for her, comparable to her character's.

"There is no one tougher than a ballerina," says Magnus Lygdbäck, world renowned trainer and creator of the Magnus Method, a balance of fitness and mind/body preparation. "Coming into the project, I had high hopes for Alicia, and she delivered. She built the perfect Lara Croft."

"Ballet is a hardcore sport," says Alicia Vikander, who left the profession more than ten years ago, but didn't leave her capacity for discipline behind. "There were definitely some similarities to how I trained then and what I did for 'Tomb Raider.'" Her recent training also carried over into her life after the film wrapped. "Through working on this film, I started to rock climb, and I love it," she reveals.

With Lygdbäck's guidance, Alicia Vikander began a combined training and nutrition program seven months prior to filming, and increased the physical work halfway into that initial regimen. Her workouts included a mix of intense weight training and general activities, such as hiking, on her "off" days.

"When you meet Lara in the beginning of the film, she's a regular girl living in East London, but we wanted the audience to know she is a physical being. You see her sparring with her friends at an MMA gym, and she's a bike courier who loves to go out and race in the street. She's a strong girl, and the story sets that tone right away," Alicia Vikander relates.

"Later, we see her climbing, fighting, going underwater…I don't know when in life I would have been exposed to try so many new things, if it weren't for this role! I found it very empowering. For someone petite and not very tall to gain five kilos in muscle, well, it's quite a big percentage of my body weight, yet I felt extremely feminine."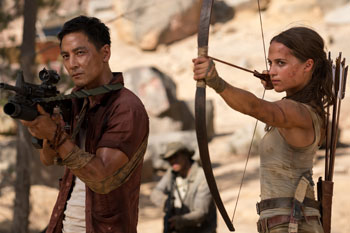 Lygdbäck never had to question the actress's devotion. "People always ask me, is it 50-50 nutrition and training? In reality, especially for a role like this, it's 100 percent and 100 percent," he asserts. "And Alicia Vikander took it even further; she was truly dedicated. If I told her to do 15 reps, she was going to do 16. If I said 20, she did at least 21."

Despite her focus and her tendency to go past the limits set for her, Alicia Vikander does confess that she looked forward to "pizza day" every now and then. "Magnus is so passionate about what he does, but it's all about integrating things into a normal life as well. What we did for this job was for a limited time and to create a very specific body, but you could modify it for everyday life, too."

During production, Alicia Vikander trained for 45 minutes to an hour every morning before heading to set, working in a customised gym that was built on a 24 meters-long truck. Her diet, prepared each day by Chef Lesley Tucker, followed Lygdbäck's strict orders: slow carb and lean protein. Complex carbs included brown rice, quinoa and rice noodles; main sources of protein consisted mainly of salmon, tuna and eggs. Alicia Vikander's favorite meals were runny eggs, poke and Asian fusion combinations, prepared with healthy oils and spices to wake up the palette. She ate five times a day at three-hour intervals.

"Magnus did a fantastic job with Alicia Vikander, getting her ready for everything we had to put her through," says Roar Uthaug. "She trained really hard, for months, to handle all the stunts, which were in just about every scene."

Stunt coordinator Franklin Henson wholeheartedly agrees, attesting, "Alicia Vikander was brilliant, a top-class athlete. She put her heart and soul into everything"wirework, water work, shootouts, aerial stuff, fights, chases... This film has it all and Roar Uthaug was always challenging us to come up with more, and Alicia Vikander was always on board."

As on every picture, there were doubles to do certain stunts, but, Franklin says, "Alicia Vikander did a lot herself"as much as we would allow. She even performed in the boxing match. She got in there and smashed it up!"

Almost as iconic as Lara Croft's physical prowess is her physical appearance. The 2013 videogame had rebooted her look, and costume designers Colleen Atwood and Timothy Wonsik worked diligently to realize it on a real-life person. Tag-teaming between Cape Town, London and Los Angeles, the pair were in constant communication via Skype and cell.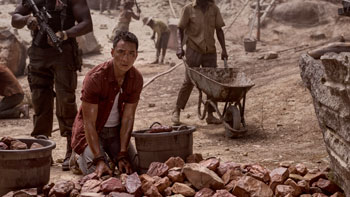 "Cape Town is a lovely seaside community, but we couldn't find what we needed there," Timothy Wonsik notes. "We collaborated from wherever we were, shopping over the phone, shipping things out. Of course, with Colleen, I couldn't have asked for a better partner to problem-solve with.

"It was important to us and to the director to make our Lara Croft look like Lara Croft in the game, because that's what the fan base would look for," he continues. "We started there, tweaking the costume to allow for all the stunt work, incorporating some stretch fabric in the seams of the pants to give Alicia enough leeway to jump and kick and everything else she would be doing on the island set. From the moment she washes up on that shore, it's just non-stop action."

For the character's hero look, taking into account both Alicia Vikander and her doubles, the costume team created 48 pairs of khaki combat trousers in four different stages of breakdown, from clean to dirty; 100 khaki vests in five stages of aging; and 14 pairs of boots in three stages of breakdown. Because Lara is wounded at a certain point in the story, they also created three bandages: one each for her hand, upper arm and leg. These also had to be replaced regularly due to use and the need to reflect Lara's continuing struggles.

Over the hero look and for certain scenes in London and Hong Kong, the designers gave her a hoodie to wear occasionally; underneath her hero costume, Alicia Vikander wore padding for her knees, shins and hips at various times, and a skintight wetsuit for the water scenes.

Throughout most of the movie, Lara wears a fitted tank top, the design of which presented an unusual challenge. "The singlet was actually inspired by the look and feel of leotards Alicia Vikander had worn as a young dancer; it required symmetry between the front and back," Timothy Wonsik explains. "During fittings, we tried several different ones, until Colleen suddenly looked at me and said, 'Do me a favor, take this to the workroom, take it apart and put two fronts together.' So I gave it to the seamstress, she did it really quickly, I brought it back and Alicia Vikander put it on, and it was perfect! We wound up buying 220 singlets to make 110, dying them to get the color right, and of course creating various levels of distress to reflect the storyline."

Atwood and Wonsik's greatest challenge, however, didn't stem from the design of the costume, but the fit. Wonsik says, "I kept hearing from the set, 'Her pants don't fit!' I thought she must be losing weight, but they assured me she wasn't. I walked over to look at Alicia Vikander and realised that the workouts were changing her body: her thighs got bigger but her waist and hips got smaller. Her trainer, Magnus, came over and apologised and said, 'I told you this would happen.' So, we kept taking them in, every few days. We went down like three inches in her waist size over a period of six weeks, till she finally stopped changing shape." While Alicia Vikander spent much of the film in what was essentially the same costume, she wasn't alone. The mercenaries and diggers on the island would have been in their clothes for up to seven years. The designers put together costumes for the guards based on various old military looks, including a pair of 1960s Russian trousers, a French Foreign Legion shirt, and various belts and boots culled from thrift stores, as the base uniform.

For the diggers, Timothy Wonsik says, "I did a lot of thrifting in Los Angeles, and sent over containers and containers of clothes from the '70s and '80s that we tore apart, dyed, and covered with sodium to look like stains. We had to make these guys look utterly filthy, because they had one clothing option the entire time they were on the island."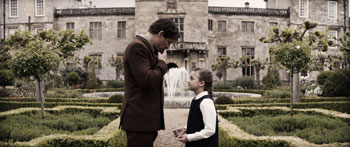 "If Vogel opens that tomb, Himiko's curse will be unleashed on the world!"
Creating The World Of Tomb Raider

Excepting a few sequences captured in parts of London, including Hackney and Shoreditch, and outside Wilton House"an English country home at Wilton, near Salisbury in Wiltshire, which stood in for the exterior of Croft Manor"principal photography on "Tomb Raider" was accomplished in and around Cape Town, South Africa.

"I was very attracted to the style of film Roar and Graham were looking to do," says production designer Gary Freeman. "It was an exciting challenge to go from the slightly hippie culture, artistic part of London to a bustling Hong Kong seaport to an uncharted Japanese island with an almost prehistoric, impenetrable quality to it. Plus, an NH90 stateof-the-art helicopter, a steel-hulled fishing trawler, and a World War II bomber that tips over into a waterfall, all in one film. It was pretty diverse."

All of that, along with creating what, for this film's purposes, would be the very first tomb the iconic Lara Croft would raid, provided Freeman and his teams with a host of creative opportunities.

The exterior Hong Kong harbor sequences were shot on location at Hout Bay, a quaint fishing town 20 minutes outside of Cape Town. Roar Uthaug says, "We filled it with floating walkways, floating restaurants and lots of extras. We had flying wire cams and it was such a fun sequence to shoot."

Roar Uthaug refers to director of photography George Richmond's go-to Spider Cam, which he brought with him from the UK. The camera enabled his team to mount posts, similar to a cable camera but able to shoot in any direction in a three-dimensional environment, including multiple shots at varying heights from above, making it more functional than a crane. Richmond's lighting technicians were also able to control intensity, direction and color temperature from a handheld tablet, making a usually labor-intensive adjustment doable in just minutes.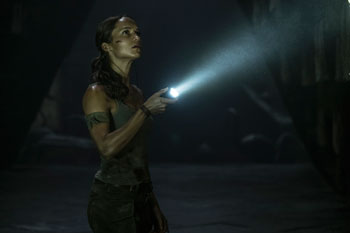 Daniel Wu, a part-time resident of Hong Kong, says he was blown away by Freeman's harbor. "I literally live ten minutes away from a fishing village. When we got to this set, all the details and particularly the props"from the kind of chopsticks to the little posters inside the shops"made me feel like I was home, especially with 300 extras walking around, speaking Chinese. Even the heat of the summer in Cape Town felt like the Hong Kong heat. It was all so impressive and realistic."

Lara's time in Hong Kong is brief; she is only there to locate Lu Ren, and finds him aboard his boat, the Endurance. Freeman put a good deal of research into designing the boat, knowing what the script required of it. "We thought about what sort of boat fit for the area, for the character Lu Ren, and of course that it would be traveling, theoretically, from Hong Kong to a Japanese island over 500 or 600 miles of rough waters. We thought about buying or even hiring a boat, but it was the start of the tuna season in Cape Town and nothing was available. We designed a boat that worked on a pontoon, so it would float in a tank but also have movement when it's 'docked,' and not just be static. It also went on a five-axis gimbal and withstood tons of water from cannons for a critical sequence."

The tank for the Endurance was built at Cape Town Film Studios, which also accommodated additional harbor scenes that required bluescreen work, such as Lara's chase through the seaport. Other scenes accomplished there included the treacherous storm off Yamatai beach, and Lara hanging onto a Japanese bomber wing as she dangles over a waterfall. Sets included the cockpit of the bomber, the Croft family crypt, Richard Croft's secret study, the tomb sarcophagi, and the death pit.

The small, picturesque town of Paarl in the Cape Winelands offered an ideal space for the various forest chase sequences, Vogel's camp, and the tomb entrance. The company's greatest challenge there was the one-hour drive from the city over a course of rough, twisted, dusty gravel roads to reach the set each day. Paarl was also one of the hottest regions"though with temperatures as high as 113 degrees Fahrenheit throughout the area, heat was an issue throughout the shoot; the unit nurse was always equipped with sunscreen.

"Shooting in wine country in South Africa sounded like a good idea, until we found ourselves in a blazing hot quarry with scorpions everywhere," Uthaug laughs.

Fortunately, the production utilized a snake (and scorpion) wrangler to clear the set, making it safe, though he couldn't do anything about the sun.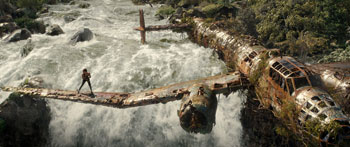 When it came to the fictional island of Yamatai and the tomb within, Freeman says Roar Uthaug's primary creative concern was to keep the look as real as possible. "The tomb entrance was an abandoned granite quarry that we came across, that I think hadn't been used for 80 years. It had great topography, it was interesting, but it also had the scars of the granite excavation. Now, if you're imagining that thousands of years ago someone built a magnificent pagoda underground, you have to think, 'How did they get in there? How did they get out?' Suddenly the scarring worked in our favor. We made it appear overgrown by covering it in vines and general greens detritus, and it looked good."

The interiors of Himiko's tomb were shot at Atlantic Film Studios in the western part of Cape Town. Freeman again conducted a good deal of research before determining his design approach. "We were dealing with an interesting period in Japanese architecture," he notes. "It wasn't the age of classic pagodas you see in Samurai movies. We wanted to construct something truly ancient, almost alien, so when they arrive inside the tomb it's otherworldly. We wanted a mystical quality, and nothing extravagant, but simple, austere, geometric without surface detail. We looked at Chinese tombs, which are more thoroughly documented, and that's where we came up with a pattern. Then we took Japanese symmetry of form and added a slightly modernist take, almost like Brutalist architecture, so it's much cleaner and sharper.

"The result was really about quality of light and a moody atmosphere," Freeman continues, "and George lit it so beautifully that my weird Japanese water birds, which might not sound frightening, were pretty terrifying to see, adding to the sense of dread the characters all felt going in."

"Gary and the art department built some amazing sets for the movie. I remember walking into the tomb set for the first time and it just took my breath away"it was full of traps, secret doors, puzzles," says Uthaug, who was extremely pleased with the work Freeman, Richmond and their talented crews contributed.

"That set was incredible," Vikander states. "So many times, I walked in and pinched myself, because I'm the biggest fan of adventure films and I never expected to walk right into one in such a realistic way. The space that they created and the sarcophagus…everything. The little girl in me was just so thrilled. It was really magical."

The actress loved it so much, she encouraged friends who were visiting during production to bring their kids to set. "I needed to give this experience to them," she smiles, "because really I just wanted to live vicariously through them, knowing they'd be just as excited as I would have been as a kid."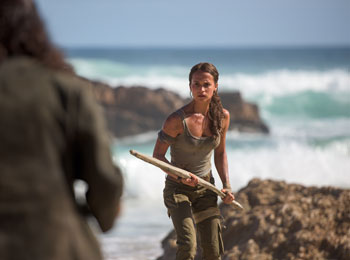 Some of the more unique touches in the film were created by property master Paul Purdy, most significantly the ornate Japanese puzzle boxes employed by Lara and her father and, ultimately, a critical plot point on the island. Purdy's team also duplicated the pick axe established in the game by locating the manufacturer of the originals"only three are left in the world"and having them reproduced. Various pieces were created for scene requirements, including real, hard, soft and "headless" versions. Other important props included the Croft crested key, Richard's notebook, and the Yamatai coded map, along with Lara's signature bow and arrow.

Composer Tom Holkenborg, aka Junkie XL, captured the same energy and intensity felt in the game in his score for the film, enhancing the danger and heightening the action while also underscoring Lara's personal, emotional journey.

"As with any classic adventure that I've loved," Alicia Vikander says, "this film has the big sets, the mystical doors opening and the mysteries inside them evolving in front of you as you go on a truly exciting adventure. At the same time, on this same journey, I love Lara's curiosity and her stubbornness, her passion, and that she dares to open herself up, to believe in magic. I hope audiences get to know this Lara Croft, feel the struggle and the pain she goes through right along with her, and root for her as much as I do."

King agrees with his star, adding, "This movie is absolutely for all audiences"young, old, male, female"because it really does have a strong, emotional family connection at the heart of a big, action-packed, superhero-type film."

"When Lara Croft sets out on this journey, she's not ready for what's coming to her," Roar Uthaug asserts. "She really has to rise to the challenge and, through her many ordeals, discover if she can become the Tomb Raider, ready for any adventure that might be coming for her. I think audiences are going to really enjoy watching Lara find out who she is and what she's really made of."


Tomb Raider
Release Date: March 15th, 2018
www.tombraider.com.au