How I Ended This Summer
Cast
: Pavel Danilov, Grigory Dobrygin, Sergei Gulybin, Sergei Puskepalis
Director
: Alexei Popogrebsky
Genre
: Thriller
Rated
: M
Running Time
: 124 minutes
Synopsis
: Set against the spectacular, otherworldly landscape of the windswept Arctic Circle, writer/director Alexei Popogrebsky's multi-award winning psychological thriller How I Ended This Summer is an immersive and compelling morality tale of isolation and survival against the elements.
Russian heartthrob Grigory Dobrygin stars as Pavel, a young graduate posted to a remote meteorological station over the summer months. His gruff, noncommunicative co-worker Sergei (Sergei Puskepalis) takes pride in the repetitive work and is rattled by Pavel's youthful carelessness and complacency, but the two go about their shared day-to-day lives, albeit with a heavy dose of mutual distrust. But when Pavel receives a gravely urgent radio message that out of panic, fear and intimidation he fails to pass on, he inadvertently triggers a series of events that spin inexorably out of control…
Filmed entirely on location in the easternmost tip of Russia, this absorbing tale features exceptional performances and unforgettable cinematography; Alexei Popogrebsky skilfully exercises a slow-burning grip over the viewer, expansively capturing the majestic yet terrifying landscape to visceral effect.
Release Date
: 7th of April, 2011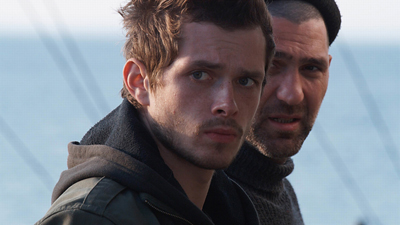 Directors Statement
I think I was 14, a city kid, by chance reading diaries of Pinegin, a companion to Sedov's 1912 tragic effort to reach North Pole. That was a hastily-planned expedition, and when their vessel got ice-bound some thousand miles both from the goal and the nearest dwelling, the leader calmly stated: 'So we will spend the winter here'. (In fact it became two winters for the crew, and eternity for Sedov. This was before radio, emergency air lifts or GPS became consumer goods). At that time 'a winter' felt like half of my life. It still often does.
Ever since I was fascinated with this ability to come to terms with notions of time and space drastically different from our common scale of hours and minutes or blocks and metro stops. This film, essentially, is a story of two personal (and incompatible) time-and-space scales. All of us being city dwellers, we tell the story from the point of view of the younger character whose life experience is much closer to ours.
However, in making this film our effort was to become subjects to the nature of extreme North, to let go of rigid pre-planned concepts and be open and attentive to what it could offer us. And it had a lot to offer. I still can't believe how it felt at times.
-Alexei Popogrebsky
Interview with Alexei Popogrebsky
Question:
Why did you choose Chukotka as the setting for your new movie? Did you consider this polar station as a specific place on the map of the world or as just a conventional space within which your story could develop?
Alexei Popogrebsky
: Ever since I was a kid I have been fascinated by the diaries of polar explorers. Their ability to come to terms with the monstrous vastness of time and space still amazes me. I guess this story of two men living and working in complete isolation slowly developed inside me over the years. Having made two features, I felt I was ready for this challenge. It was clear that for this type of movie we had to merge completely with the actual, real setting. We did some research and found the Valkarkai polar station on the northernmost tip of Chukotka. If you look at the map, it is literally the end of the world. We went there for location scouting in 2007 and fell in love with the place. Back home, a big surprise was waiting for me. I was proudly showing this place on the map to Sergey Puskepalis, who starred in my previous movie, Simple Things, and for whom I wrote one of the two parts in the new script. He looked at it and then stated matter-of-factly: 'I lived near there for nine years'. This is true; when he was a child, his parents worked at a nuclear plant in Chukotka. Thanks to that, Sergey, who plays the seasoned polar meteorologist, fitted in completely with the local workers from the very start. Our plan was for the actors to wear their protagonists' clothes, live their life and follow their routine a hundred percent of the time, which helped a lot.
Question:
Did you shoot at a real polar station or did you have to build any sets?
Alexei Popogrebsky
: The place where we filmed and lived for three months is still a working weather station. To get there from the nearest town, you need to ride for about five hours on a caterpillar transporter across the tundra; there is no road. It has existed since 1932, and there are five people living there now, although once there were twelve, plus the crew of a military radar station nearby [you see glimpses of it in the movie]. There is another mysterious location in the movie, the Fog Station, which has been abandoned since 1981. It is so remote, and so hard to reach, that we were pretty much the only people to visit in the last thirty years. This meant that we had to travel ten miles on an inflatable boat across the Arctic Ocean, and then haul all our equipment up steep rocks. The location and the natural surroundings had a lot to offer; we simply had to be very attentive and have everything blend in with the surroundings. We made sure that whatever sets we built or modified did not stand out from this unspoiled natural and very unique setting. Some of the things we needed simply had to be built. For example, there were four RITEG isotope generators [the radioactive device that appears in the movie] at that location for a few decades, but, naturally, we had to make a replica for safety reasons.
Question:
How many people were there in the crew? Were there any rules you followed while shooting the movie in such a harsh environment?
Alexei Popogrebsky
: The core of the crew was the people with whom I have worked on previous movies. In putting together the rest of the team, we followed two additional principles. The unit had to be self-contained and as mobile as possible, so each crew member had to have multiple skills in film and some extra ones like welding, driving a boat or hunting. We succeeded in this, and at the end of the day, if I had to conquer the North Pole or something similar, I would put together the same bunch of people.
That place is for real and polar bears are a fact of life there. From the very start we made it a rule that no one should venture beyond the station limits alone. During the first two months there were no bear sightings, so somehow this rule became rather relaxed. In September, polar bears became an almost daily occurrence, and I, for instance, had a one-to-one encounter with a bear that I fondly remember as the most terrifying experience of my life. Luckily, there were no accidents, although it's not so much the bears as the elements that are the real threat in the Arctic.
Question:
Why did you choose Sergey Puskepalis and Grigory Dobrygin for the leading roles?
Alexei Popogrebsky
: As I have already mentioned, this is the second time that we are working with Sergey Puskepalis. I met him through his son, who played the lead part in Koktebel. Sergey is a theater director and currently the artistic head of Russia's oldest theater in Yaroslavl. Simple Things was his debut as a movie actor, and he received many awards for his portrayal of an underpaid anaesthetist from St. Petersburg. Sergey has the very special gift of projecting an intense authenticity that is taken to the next level in the new movie. I'd searched for the second actor (and remember, there are only two of them in the whole movie) for quite a while, and casting was finished only one month prior to our departure for Chukotka. I saw Grigory Dobrygin, who was a sophomore student at GITIS, the prime Russian theater school, in a video of a student play. He had no experience in movies, and I can't say everything went without a hitch at the casting. However, I sensed his eagerness, his inner strength and a special connection with his protagonist. The fact that he was born in Kamchatka, which is even farther East than our location, was an unexpected surprise. No matter how tough it was, Grigory worked valiantly, sometimes doing up to twenty-five takes or surviving a twenty-three hour shooting day. Everything you see him doing in the movie he did for real, including plunging into the Arctic Ocean or climbing cliffs. Grigory has a lot of potential, and I am glad that his career has continued to develop. By the way, I was not jealous when he later became a blockbuster action-hero [Grigory Dobrygin stars in Black Lightning - a super-hero blockbuster produced by Timur Bekmambetov - Ed.]. His range is diverse enough to prevent him from becoming pigeonholed in any one single category.
Question:
Pavel Kostomarov, your DOP, is well-known for his documentaries. What elements of documentary cinema did you use while shooting the movie?
Alexei Popogrebsky
: Besides being an excellent cinematographer, Pavel is an accomplished documentary director. When filming Simple Things we used a handheld camera and did a lot of shooting on the street or in a real hospital. That was not a stylisation, but an organic element of the storytelling. The new story dictated a completely different approach, with a lot of wide and vista shots to convey the relationship of man to a vast natural space. A valuable aspect of Pavel's background in documentary cinema, as well as that of Vladimir Golovnitsky, my sound recordist / editor, is their very acute sense of authenticity.
Question:
Is this story connected somehow with modern times and the present day? Or is it outside time as far as you are concerned?
Alexei Popogrebsky
: I write my own scripts, which for me is the most painful part of the whole process. It literally takes years for me to develop a story. In the process, the protagonists become part of me. Or, rather, parts of me take shape and develop into protagonists, who then take on a life of their own as particular human beings. I would never intentionally put elements of parable into my story. However, when the movie meets the audience, if the story grows beyond the concrete time and place in which it is set, and if it strikes some universal or personal chord in a viewer, for me this means that my mission has been accomplished.
Interview by Maria Gavrilova.