Alexander Skarsgård The Giver
Cast: Alexander Skarsgård, Meryl Streep, Brenton Thwaites
Director: Phillip Noyce
Genre: Drama, Fantasy, Sci-Fi
Rated: PG
Running Time: 89 minutes

Synopsis: The Giver tells the coming-of-age story of Jonas (Brenton Thwaites), a young man raised in a seemingly utopian world where everyone appears to be happy. This sense of harmony is created by a strictly engineered existence where the community is deprived of the so-called burden of memories. They have no notion of suffering, hunger, or violence. On the other hand, there's no freedom, no choice and no individuality. Being treated with a regimented daily injection, the humans are genetically designed not to feel emotion or see color, and the scientifically-controlled environment prevents any visual distinctiveness that may stimulate sensation and alter the order of their seemingly utopian world. They live in sameness: identical homes, identical clothes, and an identical family structure.

Families in this unusual society are coordinated by the Council of Elders- matching of husbands and wives, but who do not conceive the two children allowed per family unit: one male and one female who are born to designated "birthmothers" and then family units can apply for each child. The family unit ceases to exist after it has served its purpose of raising the children in a controlled environment. As the children grow older they forget their 'parents-.

Apart from a bright intelligence, and integrity, there is something slightly 'different- and exceptional about Jonas: he has light eyes. At the Ceremony where youth is assigned their vocations, the Chief Elder (Meryl Streep) selects Jonas to inherit the position of the community's Receiver of Memories. In this, most-honored position in the community, he will become the keeper of ancient memories before the time of 'Sameness-.

Jonas enters into training with the current Receiver of Memories, known as the Giver (Jeff Bridges). The old man is kind, but weary as he carries the burden of memory. His coaching with the Giver isolates Jonas from his friends. Absorbing memories from the Giver, Jonas learns about joy and pleasure, as well as true pain, sadness, war and death in the real world. As the dark and deadly truths of the community-s secret past are revealed, Jonas realizes that the model society in which they all live, is actually dystopian; and by depriving the community of memories they will never be conscious of joy, if they haven-t experienced suffering.

Together, Jonas and the Giver come to the understanding that the time for change is now, that the Community has lost its way and must have its memories returned. Experiencing emotion for the first time Jonas falls in love, with his friend, Fiona, (Odeya Rush), and he must race against time to escape and save his own life and the lives of others he loves. With the power of knowledge Jonas discovers that the stakes are worse than imagined, a matter of life and death for Fiona, his younger brother Gabriel, and even the Giver. At extreme odds he must escape to protect everyone – a challenge that no one has ever succeeded at before.

The Giver
Release Date: September 11th, 2014



About The Production
Development

Lois Lowry's science-fiction novel The Giver has sold more than ten million copies worldwide and is Harper Collins's top-selling children-s eBook. Today the 'young adult' fiction is assigned reading by middle schools throughout the United States and has assembled a massive fan base in the youth audience.

Co-producing partner Walden Media spent over a decade developing the project, and Chief Operating Officer, Frank Smith, says, "The Giver is the crown jewel of children's literature, and we are proud to add this film to the list of other great book to film adaptations we have produced like Holes, Charlotte's Web, Bridge To Teribithea, Because Of Winn Dixie, Ramona, and The Chronicles Of Narnia."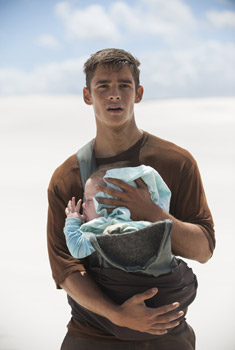 The motion picture adaptation of The Giver represents the fulfilment of a twenty year-long dream for actor Jeff Bridges, who also serves as a producer on the production. "My daughters read the book, but before I had known that they had read the book, I was looking for some material in which to direct my father, Lloyd Bridges," he recalls. "I also wanted to make a movie that my kids could watch at the time. I was looking through a catalogue of children books and I came across this wonderful cover of a book, with this old, grizzled kind of guy on the cover and thought, "Oh yeah, my dad can play that guy!-"

Jeff Bridges says that he was expecting to read a children-s book, "but on an adult level it worked so well, and I thought this was going to be a terrific project for my father to be involved in." Jeff Bridges went as far as shooting, with his own video camera, an entire movie in which he directed his father in the character of The Giver, along with his nephew in the role of Jonas.

Together with his manager at the time, Neil Koenigsberg, Jeff Bridges spent a number of years trying to develop the project that went through numerous incarnations with a variety of directors and screenwriters. "Because it was such a successful book, I thought this will be a movie that will be easy to get made, but that proved not true!"

More than fifteen years ago, a company where producer Nikki Silver was working owned the rights to the property. Nikki Silver concedes that it was by good fortune that she was able to acquire the rights herself, "I-ve always been a lover of children's literature, especially young adult, and The Giver is one of the prize pieces of children-s literature."

Starting at that time, Jeff Bridges and Nikki Silver began to develop and nurture the project together, and tenaciously kept it alive. Nikki Silver explains, "Jeff Bridges had been involved up to the point that I came across the project and I immediately called him to ask if he still wanted do it. I got a resounding 'yes- – and from there it-s been a long journey for myself, Jeff Bridges and Neil". Nikki Silver adds that she kept in close touch with author, Lois Lowry, over the years.

"She loved our vision of it and stayed with us, and here we are today, which is so exciting!" Nikki Silver, who faced similar challenges in getting backing for the project, says, "It was particularly difficult because everybody loved and respected the material. However, it was both a drama and it was for kids, and those words scared a lot of people. But The Weinstein Company stepped up and were willing to take up the challenge with us."

"The Giver has always been a favorite book of mine and my kids," says Harvey Weinstein, co-chairman of The Weinstein Company.

Lois Lowry's Unique Sameness

Lois Lowry recalls the genesis of the book that she wrote some twenty years ago. "It was not prompted by any political thought; it was inspired by my father who at that time was very old, and his memories were fading. He was living some distance from me and I-d pay him a visit every six weeks. Over time it became more apparent that he was losing memories that to me were so important. I also saw that he was content, as he had forgotten every sad and scary event that he experienced, including his involvement in World War II, and the death of his first child - my sister - at a young age. This made me think about the importance of memory and how one can manipulate it."

Having grown up on military bases around the world, where all the houses were identical and the rules were the same for everyone, was Lois Lowry's source of inspiration in creating the world of Sameness in which Jonas and The Giver live.
"While living by a lot of rules and in an orderly environment makes them content, there-s also the reality that the more you try to exist in that kind of role, the more you are desperately lacking. Now that I no longer live that way, I can appreciate the diversity and the variety of the neighborhoods and places where I now live."

Penning The Adaptation

Screenwriter Michael Mitkin is an accomplished theater playwright. The Giver is only his second feature film screenplay. His introduction to screenwriting was his play, 'The Current War', which he adapted into a screenplay. "It was from that script that I got the incredible opportunity to write The Giver."

"When The Weinstein Company asked me if I-d ever heard of it, I told them it was my favorite book growing up," says Michael Mitnick. Because he was such a fan of Lois Lowry's novel, he was thrilled but also incredibly nervous. "In adapting it and making revisions, I-d feel sad when little elements had to change for a myriad of reasons, and I was the one making the changes! But that-s one of the trickiest parts when you adapt a novel to screen."

Nikki Silver says, "When we brought along Michael Mitnick, he had a singular vision for it and he was really able to put the whole thing together."

Once director Phillip Noyce was on board, he and Michael Mitnick began a dialogue with Lois Lowry. "She couldn-t have been more generous and understanding," says Michael Mitnick. "I was very apprehensive because the book has such a following, but Lois Lowry was very excited that it was being made into a movie. Whenever we would hit a snag, we would email her and she had the answer."

Lois Lowry adds, "I have read screenplay after screenplay by various writers trying to adapt the book to the screen and it-s been difficult for many reasons, primarily that a book and a movie are very different mediums. This particular book does not have a lot of action in it. Since the story takes place inside the consciousness of a boy, it is very tough to portray that on the screen. What they needed was a script that would stay true to the themes of the book, but also add an action element to it. I admire Michael Mitnick for taking on for what must have been quite a challenge for him, and doing it as well as he has."
Discussing the book-s phenomenal success in the youth market, Nikki Silver offers that The Giver hits into something within children. "There are very universal themes, primarily about what makes true happiness and what we-re willing to give up to gain it. This story has a coming-of-age of boy who is willing to sacrifice everything to save his community. The book is widely read in middle school, and it-s amazing that this is the first time that kids are confronted with a lot of these issues. At the heart of The Giver there are two different philosophies of the world, and for it to work you have to believe that both hold value."

With ten million fans of the book, the filmmakers were also careful to maintain the book's thematic integrity. Nikki Silver explains, "Lois Lowry told us that the best adaptations are about keeping the spirit of the novel, not the novel itself. So we took her literally and her view of that. In developing it, we really had to think about what in The Giver would make a great film. What are the messages that we want to be telling? What are those themes that we want to pull through? I think that Michael Mitnick did a great job of doing that and being truthful to the source material, while allowing us to make a film that will draw in audiences of all ages."

Jeff Bridges concurs. "In this whole twenty year journey of taking it to film, I wanted to be so faithful to the book. But finally you have to let that go. The great thing about the movie business is that you-re working with a collection of creative people. In order to take advantage of that, you have to let go of some of the things you-re clinging to. We were very fortunate to have Michael Mitnick writing our script. He comes up with such great ideas, and he's very open to everyone else's ideas. You put them into his hopper and he comes up with just a slightly different spin on it that is better than yours."

At The Helm

Distinguished filmmaker Phillip Noyce, whose many credits include Salt, Dead Calm, Patriot Games, Clear And Present Danger, and The Bone Collector, is at the helm of this unique dystopian motion picture.

"We felt so blessed to have Phillip Noyce come on board." says Nikki Silver. "The scope of his work was the perfect mix. He brings us his wide, big action films like Salt and Patriot Games, and at the same time he has a human touch, which can be seen in his some of his smaller movies like The Quiet American and Rabbit Proof Fence. Those had heart and individuality. These were all the things that we are looking for to make The Giver a really special event."

Interestingly there is a section of the book that I believe is reminiscent of Rabbit Proof Fence . Once Jonas has fled the community with the baby, he finds himself in a very barren landscape struggling to survive with this child. I think Phillip Noyce brings a remarkable visual sense for that landscape, as well as a deep sensitivity. He showed a similar recognition of the human condition in Rabbit Proof Fence when he takes three children across the Australian desert, fighting to survive.

Executive producer Ralph Winter says, "Phillip Noyce has such a great body of work, all the way back to Dead Calm. He-s got a great eye for the particulars of how a story gets told, how to design that world and he-s done that with many actors over a lot of movies. I feel very fortunate to work with him on this picture."

Adds editor Barry Brown, "Phillip Noyce has a very eclectic body of work, but I don-t think he has ever done anything quite like this. I don-t know if any of us have, which is one of the reasons why I wanted to do this job, because it is so unusual."

"Making movies is 99% about casting, and that includes the top guy – our director," says Jeff Bridges. "We have really lucked out by having Phillip Noyce as our leader."

The 'Same' People – Casting

Discussing the draw of the strong cast, Ralph Winter offers, "It-s the kind of project that makes people say, 'I want to be on that list!' I believe it-s a combination of the respect that Harvey Weinstein has in the film community, along with the attraction of working with legendary talents like Jeff Bridges, Meryl Streep, and Phillip Noyce."

Harvey Weinstein says, "We could not have assembled a more impressive cast for this project behind Lois Lowry-s beautiful novel and the directorial talents of Phil Noyce, and are so tremendously excited about this production."

Nikki Silver adds, "Apart from the exciting material, the fact that both Jeff Bridges's and Meryl Streep's kids had read the book is what started our team. To have two of the best actors of our generation – who have never acted together before – going at it with two philosophies, is incredibly exciting."

"In addition to seasoned actors like Alexander Skarsgård and Katie Holmes, we have an incredible team of newcomers. Even though he-s older, Brenton Thwaites has all the characteristics that the younger Jonas in the book possessed. Everybody is going to fall in love with Odeya Rush in the role of Fiona. Her innocence and naiveté are perfect for the character, and she is a beauty that will stun many. I believe that Cameron Monaghan, who plays Asher and rounds out our trio of kids, is one to watch!"

Jeff Bridges muses, "I really struggled with casting a twenty-four year-old to play Jonas who is twelve years-old in the book. But when I met Brenton Thwaites, we hit it off immediately, and he does such a wonderful job in portraying Jonas, I've been proven wrong! He has a lot of the spirit that Lois Lowry has emphasised; it-s not so much about being true to every fact that-s in the book, but to portray the spirit of the book."

Alexander Skarsgård says, "I was excited to come on board because this has been such a passion project for Jeff Bridges. He told me fifteen years ago that he wanted to make this movie. Because he's been trying to get this done for so long, he brought such enthusiasm and excitement to the set."

Nikki Silver expounds on the casting of Taylor Swift, "We had written the character Rosemary to be a piano player, long before the hope of Taylor coming aboard. One of the executives from The Weinstein Company had seen Taylor at a live performance and said she was just fantastic. Her character was a difficult one to put in the film because in the book, she is no longer in the community. She only survived for five weeks in training as Receiver of Memory. During filming Taylor had this youthful exuberance of the character Rosemary, and she also added her musical insight. It-s always fascinating to me that we wrote the character as a Taylor character, before we ever thought of casting Taylor in that role."

The Characters And Their Journey

Jeff Bridges plays the pivotal role of The Giver, who appears ancient but is not old at all. Rather, he is weary because he carries the burden of preserving all the memories of humanity. While he uses his wisdom to help the Committee of Elders make important decisions, he is forbidden to share his knowledge or use it to make changes in the community.

Describing his character, he says, "While the Elders have kind of done away with memories and history, they do understand the value of memory and of not wanting to repeat the mistakes. So all of the memories have been reduced down to one fellow who holds them, and that-s The Giver." The story is told through the eyes of Jonas, a young boy who is unique in the community of sameness; he is mature, perceptive and compassionate, and is awarded the most honored assignment.

The Giver-s key relationship is with Jonas. "It-s my job to transmit all these memories I hold within me, and share with him the contents of the books in my house," says Jeff Bridges.

Over time Jonas views the Giver not only as a mentor, but also as a friend and even wise old grandfather, and in his training he receives a series of memories that spark the joys of feeling emotion and seeing the world in color – which have been absent from his life. However, he also has to deal with the bad memories, like loss, death, and warfare.

Brenton Thwaites offers, "I think it-s a very classic coming-of-age story and it touches on emotions that we all go through; love, pain, betrayal, and a natural hunger for life and adventure. As a kid I definitely wanted to travel and experience things. I think Jonas does exactly that towards the end of the journey when he finally escapes."

Haunted by the memories of suffering and pain, The Giver lives in isolation in his residence. Brenton Thwaites recalls, "The first two weeks of shooting were amazing. We were mainly in The Giver-s quarters, shooting all the transfers of memories. It was an astounding set, packed with books like a library. It's there in that creative environment that my character discovers the color red for the first time - on a beautiful old phone from the 60s." The actor adds that he learned a great deal working with Jeff Bridges. "Jeff Bridges is so willing to improvise and do quirky little things before the shot to help me out and it taught me to do the same for him."

"Brenton Thwaites is a remarkable young actor, and I-m sure were going to be hearing a lot from him," says Jeff Bridges.

Among the members of the community, only The Giver is capable of real love, and after years of loneliness he experiences an intense emotional connection with Rosemary. She is the first child who was designated to be the Receiver of Memory, but after five weeks of training with The Giver she was asked to be released from the community.

Taylor Swift recalls her attraction to the project: "I remember that the book deeply affected me when I read it at school. When reading the script I pictured the characters played by these incredible actors, Jeff Bridges and Meryl Streep, who-d already signed onto the project. I was thrilled and honored to play Rosemary."

One of the changes the filmmakers made in adapting Lois Lowry-s book for screen was having Rosemary play piano. Taylor Swift relates, "I think one of the reasons I was approached for the role was that one of the production executives saw me perform a really emotional song sitting at the piano, as we see Rosemary do in the movie. Although she is only seen a very few times, Rosemary is alluded to throughout the movie. She is such an interesting character to me because she reminds me of an analogy of the modern day artist. A lot of the time you have someone who is so fragile and vulnerable, and that is why they are so successful at making art or successful. But that can also be their downfall as happened in Rosemary's case. She was exposed to too much and couldn't handle it, and I think that that plays out in modern day society all the time."

Adds Taylor Swift, "Acting is very new to me, so coming into this whole scenario I was just saying to everyone -I love constructive criticism, anything you want to tell me, anything you want me to work on… I want to learn'."


"Working with Phillip Noyce is a dream because he will get your head in a space where the characters head would be, but he allows you to draw your own inspiration," she says.

"Working with Jeff Bridges in my first big movie role is sort of outlandish and something out of a day dream. He could not be more engaging, kind and friendly."

Unusual Families

Alexander Skarsgård is Father to Jonas and Lily (Emma Tremblay), and his job in the community is that of a Nurturer, who is accountable for the physical and emotional needs of every newborn child during the first few months of its life. He is also responsible for the release " killing " of infants who are deemed worthless because something either emotional or physical is wrong with them.

Although he had not read Lois Lowry's novel, Alexander Skarsgård reveals that in his youth he was a big fan of books in the dystopian, sci-fi genre, such 1984 and Brave New World. "The Giver script felt like a very interesting take on that world," he says. "At first glance the society is perfect; there's no pain, and no suffering, and no critical thinking. We, at least in our society, know what questions to ask, but 'Father' doesn-t know the concept of love or the concept of death so his life is shallow."

He adds, "Growing up, my parents taught me to question everything, and every authority. My dad would always say, 'I-m a human being, I make mistakes', so it was very challenging and interesting for me as an actor to find that level, someone who is not naïve, but just doesn-t know any better."
Katie Holmes plays Mother to Jonas and Lily. She holds a prominent position in the Department of Justice, and must strictly enforce the rules of the community. She recalls her discussions with Phillip Noyce: "We really concentrated on how to interpret the dual nature of my character; her strength required for her job, and her measured vulnerability in being the mother of Jonas, who is having these experiences that are completely out of her realm of understanding and control. She is watching her child start to fall away from her and grow up. She is ultimately has to let him go, and this can-t be an easy journey for a parent," says Katie Holmes, adding that in prepping for her role she was inspired by the film The Three Girls From Brooklyn.

Before his assignment as the Receiver of Memories, Jonas and his two best friends Fiona and Asher are a tight trio. Through the memories he learns from The Giver, Jonas' life is enriched and more meaningful, and he wishes he could give that richness to the people he loves. As his view of his world dramatically changes, so his feelings and relationships become more complicated.

As a cheerful, mischievous boy, Asher is assigned the job of Assistant Director, Recreation. "He's the kid who had some discipline issues when he was a younger," says Monaghan, "so he-s no stranger to the discipline game, and that-s how the Chief Elder describes him."

"At the beginning Jonas is the model citizen, while Asher was always the one who was a little bit on the edge. Then as Jonas starts to defy the system and move against it, Asher becomes a pawn in it. He's the guy who ends up chasing after Jonas, and he starts to become the antagonist, the bad guy. So their stories are going in opposite ways throughout the movie. It-s an interesting arc for a character."

Rush, who plays the role of the very pretty, sensitive, and intelligent Fiona, says it was by mischance that she hadn't read Lois Lowry's book. "I was moving from one school and they were reading it the year I left, and then when I moved to the new school they had just read it. I had seen posters all over from the projects that had been done on The Giver, so of course I knew about it. All my friends read it, but I just missed it."

In prepping for her role as a Nurturer in the community, Rush spent time volunteering at a hospital with babies and mothers. "Even though I have four younger brothers and I was around when they were babies, I wanted to get a natural feeling at a bona fide facility."

Although they start out as best childhood friends, through his new awareness of strong feelings Jonas gets a crush on Fiona, and as his love interest she takes his side. "It-s a dream project. There is nothing like it out there. Students in middle school are going through the similar experiences to Jonas, and I think that will be gravitational for a younger audience," she says. "We are telling a very moving and beautiful story, from tremendous talent."

"Odeya is an amazing young actress," says Jeff Bridges, "In the casting process I remember just being knocked out by her initial presence there."

Jonas' younger sister Lily is played by seven year-old Emma Tremblay, whose other sci-fi movie is Elysium. An advanced reader, Emma Tremblay muses, "What stood out for me in the book is that everyone is the same. I was wondering how that would have worked in the movie!"

"Lily is a really sweet, energetic girl, but she is also nosey and wants to know what everyone is talking about and what-s going in their lives. She's a really fun role to play and I am super excited because it-s a movie that my friends can see," says Emma Tremblay.

"Phillip Noyce is getting a lot out of this young cast," says Brown. "He-s most definitely an actor-s director, and he picks up on subtleties. He watches his actors, and he-s constantly trying to pull them into the moment."

The Importance Of Memory

The most pivotal of the multi-layered themes in The Giver is memory, as a source of wisdom as well as pain. The community that Lowry created in the novel uses strict rules to remove freedom of choice and individuality. While this is done to achieve an existence devoid of conflict and difference, it quickly becomes evident that this is also a world robbed of depth and emotion.

"The question that is put to the audience is: does the end justify the means? What are we willing to do for simple comfort? Are we willing to scrap all these huge polarities in our lives? Can we be rid of the tremendous sorrows and tremendous joys in life in order to just have a neutral, safe, relatively happy existence? Is that good enough for us?†muses Bridges. The actor reveals that an important personal memory of his was the role his mother played in his youth. ―I had a wonderful mother. She used to play with all of us, quite intensely. Each child would have an hour a day when our mom devoted all of her attention to each of us. In my hour, I would say, 'Okay Mom, let-s go under the table and you be the space monster and I-ll be the thing,' and she would just love that!"

Brenton Thwaites adds, "My favorite theme in the story is that it touches on love and the idea that fighting for love is one of our main strengths as humans. Jonas becomes the most curious when he experiences love, and he pushes for that throughout the story."

Monaghan shares, "What I like most about this story is that there is no real villain. It-s not about bad guys. Most of the rules of deprivation come not from bad intentions, but from quite the opposite, from good intentions. In their purity this community believes that they are doing the right thing. That's very relatable to reality in that most of the time when people do bad things, they don-t know or believe it-s bad. I think that-s very important to teach kids."

Brenton Thwaites believes that the powerful relevance of the movie will draw an audience. "I also hope that as a young artist portraying Jonas, I will encourage younger people to emote, and to not be embarrassed to voice their opinions or to voice their emotions."

The World Of Sameness

The ten weeks of principal photography were shot on location and studio interiors, in and around Cape Town, South Africa, where the entire production was mounted. Responsible for creating the unique setting where all the magic takes place is production designer Ed Verreaux, whose accomplished career in designing faraway places – that aren't of this world – includes visual effects in fantasy films such as Contact, Mission To Mars, and Jurassic Park 3.

"In the book there-s a lot of stuff that's implied, which is wonderful because you can let your imagination run wild. However, it is also a challenge to work on a piece of literature. In trying to create this world we needed to make it feel parallel." Ed Verreaux offers that he referenced the movie Gattaca.

"That-s a very stylish movie that had a very specific look, building the movie around contemporary architectural structures. We had to build a 'world building' to create an alternate reality," he notes. Ed Verreaux discusses the design task to portray a society that is emotionally suppressed, and at the same time find a way to inject emotional energy into the film so that the audience can care about the characters. "To depict this harmonious world in which everything is identical, we used a lot of plastic and steel material to create a uniform, sanitary and austere looking world."

Winter, whose vast production experience in visual effects includes the X-Men franchise, says, "In this utopian world without art, music or color, there-s nothing that-s off the shelf and everything has to be designed from scratch to send a signal of being set in the future. On a low budget, that becomes very complex when augmented by visual effects like holograms."

Major sets were required to portray story elements such as the community celebrations in the vast Odeon. The filmmakers scouted locations throughout South Africa where they found sports stadiums that could hold up to 100,000 people. However, due to budget, technical and logistical limitations, the film was shot in Cape Town where stages were built and unique structures that inspired them in their scouts – such as stadium archways – would be created in visual effects.

Ed Verreaux explains, "We had to create a lot of set extension. The visual effects enhance and hook it all together and in the end, the movie looks like it cost a whole lot more than it did!"

He adds, "Jeff Bridges had a lot of input. He is very aware of contemporary artists and introduced us to the incredible work of James Turrell," says Ed Verreaux. During prep in Los Angeles, JeffBridges arranged for the filmmakers to attend an after-hours viewing of a Turrell retrospective, which featured a 700 square meter light installation. "This helped inform and inspire a lot of the design where we have tried to create walls of light."

In contrast to the world of sameness is the Givers residence that, serving as a depository of memory from the old world, Ed Verreaux packed with some 20,000 books. "It had to suggest that there are some remains of a previous civilisation."

From the viewpoint of an executive producer, Winter says, "One of the biggest challenges in making this movie was getting all the things we needed to create the world of the film and its specific design with a compact budget. We had to figure out how far to expand the story of Jonas: where he-s going and how he gets there. We added certain things along the way, like the drones and the use of technology."
Through The Lens (Camera Design)

Director of Photography Ross Emery, whose notable work includes The Matrix, Superman Returns, and Anna And The King, describes the approach to take the audience on Jonas- journey of multiple paths: "We didn't want the audience to simply observe his journey. Our choices of camera styles, lenses and lighting were made to immerse the audience in Jonas emotions." Ross Emery continues, "The community is very manufactured and their world is uneventful, bland and colorless, but I visualised it with the absence of color, and not in black and white. Colour is a stimulus to heightened sensations in the story. As Jonas starts experiencing memories, color starts leaking into the story. Red represents the initial awakening of his passion, and then we introduce a palette of primary colours."

Winter reflects the dual nature of the task: "How do we open a movie in such a way that we-re portraying the flat and uninspired world of Sameness? Ross Emery, who did a magnificent job on the last Wolverine, is uniquely suited to this job and by the time Jonas reaches the end of the story and full character choices get made, the film is vibrant with a full coat of chrome colour."

Toward the overall look of the film, Ed Verreaux adds, "We did several weeks of colour testing on fabrics, wood and floor samples, starting a de-saturation process from 25% up to 90% to establish which colors held on the longest. It was a very conscious exploration of all these forms and surfaces to see what would work in black and white, as well as colour when we get into it later in the story."

Ross Emery informs that the camera work is a similar map to the colours. "We start the film with quite benign camera movement. Everything is very smooth and very considered. As the complexity of the story comes through, the camera starts moving more and explores unusual angles to represent the distinctive way that Jonas starts experiencing life."

"The audience sees and learns things as Jonas learns and sees them, so a lot of the movie is shot from my point of view," says Brenton Thwaites. "There is a lot of movement from the camera, and it-s kind of exciting that you feel like you-re with Jonas as he discovers that he has been living a lie and decides to move on."

Dressing The Same (Costume Design)

Colour also played a pivotal function in Diana Cilliers- costume design. "It's such a different, separate world, but we didn't want to go futuristic," she explains. "We first explored colour blocks to identify the different characters career designations. We needed pleasing colours that didn't jar or disturb the characters calm existence, so we worked mostly with pastel colours at first and introduced primary colours when the drama shifted and memories came forth."

In her research, Diana Cilliers found inspiration in catwalk shows and discovered a unique fabric similar to a wet-suit that was imported from Italy. "The material is very structured and we were able to create a very strong feeling of sameness," she says.

The shape of the outfits had to resonate with the rigid structures of buildings in the community's physical environment. "We avoided anything superfluous or patterned and opted for significantly paired down, very regulated, fitted and multi-functional clothes," explains Diana Cilliers, whose team undertook the mammoth task of manufacturing some seven hundred costumes.

With the intention of setting him apart from the community, the Giver is the only character Diana Cilliers dressed in completely natural fabrics. "Creased and natural linens link him slightly to the world of memory, and he was unique in that he was in severe black."

Diana Cilliers, who sent Meryl Streep a board of her designs for the Chief Elder, says the seasoned actress was hands-on about the appearance of her character. "Once I fitted Meryl she thought the severity of the fabric was interesting." says Diana Cilliers, adding that the regal color of purple linked the actress to her authoritarian role.

When Jonas- story becomes more personal and more dimensional through a series of memories including the Vietnam War scene, the 19th century Italian wedding, and contemporary hunting scene, the costume team enjoyed the liberty of using more saturated color, and shape and texture. Brenton Thwaites rejoins, "All of Jonas' memories, future or past, are relevant for him in the present, so wearing all the crazy and eclectic costumes from the different eras helped me to deliver my performance."


The Giver
Release Date: September 11th, 2014