Africa United
Cast
: Eriya Ndayambaje, Roger Nsengiyumva, Sanyu Joanita Kintu
Director
: Debs Gardner-Paterson
Genre
: Adventure, Comedy, Drama
Rated
: M
Running Time
: 84 minutes
Synopsis
: Africa United is a road trip through the heart of Africa.
Three Rwandan children set off to Rwanda's capital city, Kigali, to audition for the opening ceremony of the 2010 World Cup.
The children are Rwandan football prodigy Fabrice, his best friend and 'manager' Dudu, and Dudu's little sister Beatrice. They sneak onto a bus... ...the wrong bus.
Instead of arriving in Rwanda's capital Kigali, they end up in the Congo.
Lost in a dangerous country, without papers, money or a believable story, they are taken to a children's refugee camp where they meet the mysterious teenager Foreman George.
They know they have missed the audition, so decide to head straight to Johannesburg, in South Africa, for the opening ceremony.
En route they are joined by escaped sex worker Celeste and together they travel 3,000 miles, surviving wild animals, the elements and gun-wielding thugs Tulu and Egg.
Armed with ingenuity, determination and blind optimism, they defy all dangers so thatFabrice can finally be part of the "team for the dream".
Their travels - through Rwanda, Congo, Burundi, Tanzania, Zambia, Zimbabwe and South Africa - reveal a side of Africa few people ever see.
Africa United is a story of joy, laughter, hope and generosity - the 'ubuntu' spirit in which the children make this incredible journey together.
Africa United in cinemas 08 Mar 2012
About the Production
It's Not About The Ball: The Genesis of Africa United
Africa United started with soccer, but it became a much bigger story. "The football in the film is a MacGuffin, really," says screenwriter Rhidian Brook. "It's not a football movie, it's a road movie."
The pitch originated in Africa, with producer Eric Kabera. Founder of Hillywood - a travelling film festival bringing movies to the people of Rwanda - he wanted to tell fresh stories about his continent. His colleague Ayuub Kasasa Mago had worked with director Debs Gardner-Paterson on her short film We Are All Rwandans and it was via him that the idea ended up in England, where producers Jackie Sheppard and Mark Blaney embraced it.
"I think at the time it was called Dudu Goes To The World Cup or Condom Boy Goes To The World Cup," says Mark Blaney. "We were emailed a treatment and in the middle of the synopsis Eric Kabera had put this line, 'A kid walks from Rwanda to the World Cup' - and it just radiated off the screen."
They brought in Rhidian Brook, a noted novelist and up and coming screenwriter, who stripped away any notion that the movie would be about soccer or celebrity, to make it purely "about the kids... I wasn't really interested in writing a football film."
He started writing in May 2009. Pathé came on board to finance the production in August and six months later, cameras rolled in South Africa. But it was a little more involved than that sounds. Prior to sitting down and typing, there was a lot of talking and travelling - half the length of Africa.
"We had the log-line and we had a couple of characters," says Debs Gardner-Paterson, who worked with Rhidian Brook to develop the script. "We knew we wanted it to be about a street kid and a middle class African kid and had got as far as figuring out, 'All right, they accidentally get the wrong bus into the Congo, that's how they get going.' Then we thought, 'Great. Let's just do the journey!'"
Debs Gardner-Paterson is English but eligible for Rwandan citizenship and has travelled extensively there and elsewhere in Africa. "But I'd never been to Zambia, Tanzania, Zimbabwe or South Africa, so as soon as we got out of Rwanda and Burundi, I was going to be in trouble. So we got in the car and did the trip in two sections. It was invaluable."
As well as these research trips, through seven countries, Rhidian Brook called upon his previous experience travelling through the continent for his book More Than Eyes Can See: A Nine Month Journey Into The AIDS Pandemic. For that, he and his family had gone to some of the areas worst afflicted by AIDS worldwide.
"It was quite an extraordinary trip," he says, "And I felt I had more to say about it. When this came up, it wasn't like I wanted to hijack it with my unfinished thoughts, but I knew it was right. And once I got the voice of Dudu in my head - he was kind of a cross between Huck Finn and Walter Mitty, with a bit of Malaprop thrown in - I felt I could include some serious things and it would still be light and funny."
The next, crucial stage, was finding the youngsters who could take Dudu and his friends off the page and into flesh and blood reality.
Acting on Instinct: Casting The Young Leads
Finding the children who could capture the spirit of Africa United was perhaps the biggest challenge for the production.
To that end, the film-makers scoured Kenya, Uganda, Rwanda and Britain to discover fresh faces who could embody the irrepressible Dudu, sweet Beatrice, haunted Foreman George, put-upon Celeste and fleet-footed Fabrice.
"It was a case [for the casting team] of going into schools and asking who they had," says Sheppard. "The first person we cast was Sherrie [Silver], who came to the very first London audition. She immediately stood out. She plays Celeste. Sanyu [Joanita Kintu], who plays Beatrice, we found in Uganda... Dudu was always going to be a difficult one."
Eventually, Eriya Ndayambaje was discovered, also in Uganda, where he was part of the theatre and dance Ndere Troupe. Though he was untried on film, his vibrant personality meant it was a no-brainer to audition him. When Debs Gardner-Paterson saw his tape, she flew the next day to Kampala to meet him. The team agonised over whether or not he could pull the key part off until the final call-back workshop in Kigali where he simply came in and owned it - he was the boisterous leader of the rag-tag group.
For the enigmatic Foreman George - who is tortured by what he has been forced to do in the past - the production turned to someone who had never acted before: Yves Dusenge. "He was sent for by the headmaster of his school and he thought he'd done something wrong!" says Sheppard. "But the headmaster had just selected about half a dozen boys to audition and Yves happened to be one of them. It was quite clear, when we saw his tape, he had something special. He's never acted in his life, but he's just very charismatic on camera."
That left the key role of Fabrice - the spoilt football prodigy who Dudu 'manages'. Just before Christmas 2009, the potential cast were due to get together for a workshop, when the favourite for the role dropped out. With only a few weeks to go before filming started, the team was left scrambling. Salvation came from... Norwich. The story of how is remarkable.
"I was in London while they were in Kigali," says Mark Blaney. "It was clearly taking shape for four of the characters, but not for Fabrice. It was December 23 and I went to my wife's parents in Norfolk. They don't have a TV, so there are magazines and newspapers everywhere and my mother-in-law has a habit of keeping cuttings for me. 'Oooh, it's Africa! Mark Blaney will be interested in that'. So, that day I picked up what she'd saved and there was Fabrice staring back off the page: Roger Nsengiyumva. "He was born in Rwanda at the time of the genocide, his father had been killed, his mother had fled to the UK, and they'd been living in Norwich ever since. He'd even tried out for Norwich City Football Club! Couldn't get any better than that!
"I did what anybody else would do and looked in the BT telephone directory. Strangely enough there aren't many people with a Rwandan surname in Norwich. I phoned on Christmas Eve and said, 'I know this may sound very strange but I'm a film producer and think your son might be brilliant for our film.' Debs Gardner-Paterson came up to Norwich between Christmas and New Year and three weeks later Roger Nsengiyumva got on an aeroplane to Africa to play Fabrice. I don't think his feet have touched the ground since."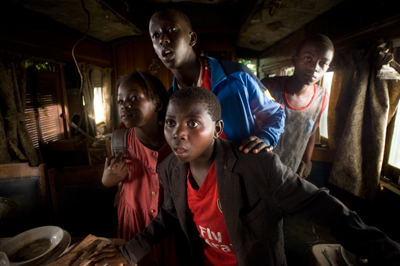 In Their Own Words: The Children of Africa United
Interviewed on location in Burundi, near the end of production.
Eriya Ndayambaje (Dudu)
Roger Nsengiyumva (Fabrice)
Sanyu Joanita Kintu (Beatrice)
Yves Dusenge (Foreman George)
Sherrie Silver (Celeste)
Question:
How would you describe your characters?
Eriya Ndayambaje
: My character is the main character, I have to get every person to be united so we can all make it to the World Cup. Dudu is a manager and an orphan. Very funny and cheeky! And good and friendly to everyone. He also cares for his sister.
Sanyu Joanita Kintu
: Beatrice is a very holy girl: she cares about God a lot. Very humble. She cares about her brother.
Yves Dusenge
: Foreman George is a child soldier who has had the worst experience of them all. The worst experience a child can ever carry. He meets the others in the camp and as travels with them he starts to change, to become a new person. What he has to do is make a choice, on the way to the World Cup, to be a new person.
Sherrie Silver
: I would say our team, Africa United, is a team full of children all with experiences. In the case of Celeste, she's a girl who has run away from home because of arranged marriage issues. She landed in the wrong place. She's basically a 15 year old girl going on 20. When she meets the children, she discovers a new Celeste, a Celeste that can be nice, a Celeste that can be caring for other people. That's Celeste.
Roger Nsengiyumva
: Fabrice is cocky, arrogant, annoying, stupid, naive... He's nearly all of the bad things I can say about myself - and then more! There's only one thing connecting him to his friend Dudu, which is football. And I think at the end that connects everyone. Fabrice has a very nice upbringing but he's not really one to share it with others. It's nearly because of him that the whole journey comes to nothing, but the manager keeps it together.
Question:
What has surprised you the most about being in the film?
Roger Nsengiyumva
: How hard everyone else is working. Especially the crew, who don't really get recognised. I mean, you'll see us guys on the screen at the end of the day, but it is the crew who are there at 6AM. They are there first and they leave last. It's just amazing how hard they work.
Sherrie Silver
: Before we got on set our director was telling us, 'Are you sure you guys aren't going to be too nervous? Because there are going to be so many people on set...' When she said 'so many people' I thought she was talking about, like, 20 people. Well, there are more than 20 people! I've realised that it takes all of us. You can't just have the cast - you can't just have the main cast and not have the extras. It takes everyone.
Yves Dusenge
: I have learnt a lot, because I have never dreamt of being an actor or acting or being in a movie. I just enjoyed watching movies. So I've learned to act. Also, what goes on behind the scenes. How they do explosions, shooting and everything. I used to watch action movies and think, 'These guys are lying'. Actually, no: you find out that it's a true explosion!
Question:
What are your favourite movies?
Eriya Ndayambaje
: Action movies.
Sherrie Silver
: Scary movies and chick flicks.
Sanyu Joanita Kintu
: Comedy
Roger Nsengiyumva
: Any genre really - apart from chick flicks! But every single film with Will Smith, particularly Pursuit Of Happyness. It's a brilliant film.
Question:
What has been your favourite day of shooting?
Roger Nsengiyumva
: Probably the day when we were in Soweto in South Africa. We were filming the last scenes of the film, but it was pretty early on in the making and we got a 10-minute break and went into the Soccer City Stadium. For someone who loves football it was just amazing. So, that and the scene where we jump in the swimming pool! The scene was all about us enjoying ourselves and there was quite a lot of that!
Eriya Ndayambaje
: My favourite was the day of the explosion, when the car exploded. Bang! And then Tulu [Emmanuel Jal] was shooting! That was nice, man. That was cool.
Sanyu Joanita Kintu
: My best scene is the same as his: the explosion! And also when I got to put my feet in the pool.
Sherrie Silver
: My favourite scene was when I got to hold the gun, when Foreman George had just finished fighting Tulu. On that day I felt like it was my chance to show that I can be a good actress.
Question:
What has been the hardest part?
Sherrie Silver
: My hardest part has been seeing Debs unhappy with a particular shot. I don't think anything can be harder than that.
Yves Dusenge
: There's no hardest day for me, because this is like an experience for me, so the whole time there's no bad thing, no hardest thing. Everything is OK
Eriya Ndayambaje
: My hardest thing is going on set and then you have to do school.
Roger Nsengiyumva
: Yeah, well-played!
Eriya Ndayambaje
: You've just come from set in the hot sun, come to school! That's hard, man.
Roger Nsengiyumva
: I'd say the hardest shooting day was when I had to walk barefoot on this hot railway track, where we were walking down for like this 50 metre stretch until they could say 'Cut!'. That had to be the hardest part for me.
Question:
What is Debs Gardner-Paterson like as a director?
Roger Nsengiyumva
: She's been brilliant.
Sanyu Joanita Kintu
: Wonderful!
Eriya Ndayambaje
: Great!
Sanyu Joanita Kintu
: Every good word you could think of.
Sherrie Silver
: Supercalifragilisticexpialidocious.
Roger Nsengiyumva
: It's how she brings out the characters - because she knows you.
Sherrie Silver
: Debs Gardner-Paterson will not start shooting until the cast are happy. Although she directs us, she also cares for our welfare as well, whether it's on set or off set.
Roger Nsengiyumva
: I think the amazing thing about her is she says very little. She says the most important things that she needs to say. If it's not important then she won't say it. And I think that's the best thing. Because when you're trying to get into the zone of what scene you're doing, the most important thing is not for someone to come up to you and just crowd you with loads of words. So she's really careful with what she says to you.
Yves Dusenge
: One word for Debs Gardner-Paterson is amazing. That's all I can say.
Sanyu Joanita Kintu
: She says little but it means a lot.
Question:
Finally, what football teams do you support?
Sherrie Silver
: Arsenal.
Eriya Ndayambaje
: Barcelona.
Roger Nsengiyumva
: Liverpool are the best team.
Yves Dusenge
: The Blues! Chelsea! Chelsea!
Sanyu Joanita Kintu
: Any team that wins.
Sherrie Silver
: I support Africa United!
Into the Wild: On Location in South Africa, Rwanda and Burundi
"The Wizard Of Oz meets Into The Wild" is how production designer Mike Gunn describes Africa United, with its elements of road movie, extreme environments and childlike wonder.
The lead characters travel through seven countries on their journey across Africa and while that wasn't practical for the production, the makers felt it was important to shoot in more than one country.
"Authenticity is important," says Mark Blaney. "It doesn't matter if 90% of the audience will never know, it has to be authentic." So, stringent attention was paid to ensuring the national dress and cultural identity of each country was maintained.
Though it would have been easier to shoot solely in South Africa - a country with an established filmmaking infrastructure - the production also incorporated work on location in Rwanda and Burundi. The former is still associated, in many minds, with the genocide of the 1990s, while the latter is one of the poorest countries in the world, only recently released from its own civil war.
An investment from the Rwandan government helped secure the Rwandan leg of the shoot and made Africa United a UK/SA/RW co-production. And the research trips of Rhidian Brook and Debs Gardner-Paterson, allied to the expertise of Mike Gunn and South African costume designer Pierre Vienings, ensured accuracy throughout.
"We've been very faithful to what you'd find on the ground and what you'd find in reality in Africa," says Mike Gunn. "Myself and Pierre Vienings spent a lot of time looking at what people wear, what people carry, how people travel, what transport is most common, looking at the life details of the continent.
"We need to get a sense of the kids' journey, we need to have a beginning and an end that are vastly different - so that you can follow their emotions and follow their journey. Rather than just cheat it and not really be fussed that the viewing public would know or notice: it became quite clear that we needed some kind of pattern for each country."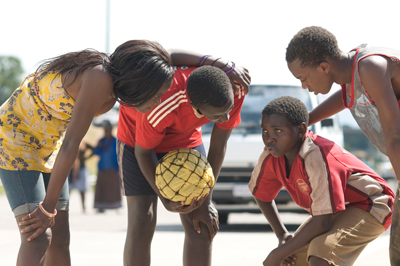 Working with Pierre Vienings, Debs Gardner-Paterson and director of photography Sean Bobbitt, Mike Gunn developed ideas for the look of each country. "I felt Rwanda was starting off joyful and fresh with vibrant colours. Moving into Congo, which had a more serious attitude about it - it's where things start to go wrong, so we had harsher, bolder, stronger colours. Moving into Burundi, which has more playfulness, with pastels there... This gives us a contrast with each place - culminating in South Africa which was full of vibrant colours for the finale of the World Cup. We've chosen two colours for each country, so that pretty much in every shot, one of those two colours is there."
Sean Bobbitt, who joined the production having recently shot the acclaimed Hunger, knew it was crucial to develop clear visual identities for each country, to give the audience a sense of place and pace. "It's very challenging," he says. "You have to try and pick out what are the defining features of specific countries and highlight them in some way. I think it's fantastic that Debs Gardner-Paterson and Rhidian Brook were able to make the journey beforehand, because they were very clearly able to discern what defines each country visually.
"Using that, combined with the design concepts of Mike Gunn - who I think is a fantastic designer - we were able to create a palette, not just of colours but also locations so that people understand where they are and hopefully are a bit amazed by the variety, the life and the difference between each of the countries. Because we [in the West] do see Africa in a mono-tonal way - but each country is unique. Rwanda is completely different from South Africa and completely different from Burundi even though they're neighbours. And it's completely different from Zambia and Zimbabwe and Tanzania. It's trying to find what those unique elements are and then represent them in some way."
Pierre Vienings saw the costumes as crucial to keeping variation and colour going, whatever the landscapes. "We'd just hit certain terrain that was really barren, where there is no colour, and they'd just walk and walk and walk. That's where colour becomes really important in costume. You've got to keep that up, lift it, so that it doesn't become flat. Africa is rural: it's brown and green - maudlin colours, and we never wanted it to become a depressing story. This is a bright movie - it's a beautiful story."
The costume designer, who worked on Gavid Hood's Oscar-winning drama Tsotsi, is also full of praise for Debs Gardner-Paterson. "It's a very ambitious project for a first-time director," he says. "But Debs Gardner-Paterson knows the continent so well. And one draws so much inspiration from that and from someone who knows exactly what they want but gives you creative freedom."
Tales of the Unexpected: Exploding Africa Stereotypes
"Each time I go to a film festival, my fellow producers and filmmakers will say, 'Yeah, the gentleman from Rwanda is here with another genocide film'," says Eric Kabera. "It would be good for people to realise there is another life. There are so many facets of Rwandan lives other than the genocide. These need to be shared."
If there is one thing everyone working on Africa United has encountered, it's a sometimes blinkered attitude to Africa. As far as much of the Western world is concerned, this continent is often regarded as one vast country, stamped simply with the words 'Keep Out!'
"We didn't want the film to be an advert for Africa," says Rhidian Brook. "But there was definitely, certainly from Eric Kabera, an impetus to make a film that showed a different side. His complaint was, 'We always see safaris or pestilence and death. Can we see something different?' You don't want to make it trite: you want it to be real. And for me it feels like an African film: the colour, the life - it's got its own energy. These are the things you can glimpse if you visit. One of the most striking things when I travelled around was the children, constantly there by the roadside, smiling at you.
We wanted to give them a voice in the story. I know for Debs Gardner-Paterson, too, a big thing was giving the kids a voice: to see it and hear it through them rather than through news reports or journalists - to see what the kids have to say."
This attitude may have stemmed from Debs Gardner-Paterson's own experiences of the difference between perception and reality, impressed upon her at an early age. "I was 16 years old when the genocide happened," she says. "I was living in Yorkshire. Basically, on the TV you got the message 'Crazy African savages doing things to each other... The UN is trying to sort it out.' Like, 'The white people are trying to fix it...' And in the next room my mum was in tears on the phone with her friends and family: real people who were in this awful situation. I remember realising these were reflections on the same thing, but completely different: one was human and one wasn't."
She talks of a hope that the film can show different sides of Rwanda, for one. "Someone read the script and said to me, 'You've got it wrong, cos this African kid has got a mobile phone'. I was like, 'That's The Point!' It's true: there's a middle class that's up and coming in Rwanda. That's one of the reasons we put Fabrice (who is middle class) with Dudu (a street kid) in this friendship together. They are united by football, because no matter where you go, anywhere in the world, people know what Beckham's haircut is or how many goals Arsenal have scored."
The unifying nature of football is one of the things you notice in Africa - whether it's people watching the Champions League in bars, or local amateur sides named after approximations of English teams. Another striking element - even in a country as poor as Burundi - is the proliferation of global brands, from soft drinks and beer manufacturers to t-shirts bearing the image of Obama.
The filmmakers didn't want the film to be a football-focussed travelogue, though. Africa United may be a funny, light-hearted family entertainment, but it deals with some serious issues. As Pierre Venings, the South African costume designer observes, "It is a joyful, feel-good story, but when you get into the subplots and all the different subjects it plays ball with, it gives you much more insight into what really goes on in the continent. It's things that are around us all the time: child prostitution, HIV, child households. That's the reality - that's Africa. There's a deeper context of our story giving us more than just the feel-good situation of someone who has a dream and achieves their dream."
Providing the context and getting the sense of each of the countries the film travels through was crucial. To that end, the experience of Debs Gardner-Paterson and Rhidian Brook, through their individual travels and as part of research for this production, was drawn upon heavily.
"The point was to try to pick up a sense of the different places and let the characters be informed by the different places," says Debs Gardner-Paterson. "Through my cousin in Burundi we met some people who run a rehabilitation centre for street kids and exprostitutes. I read through three files of interviews with these kids and where they come from. There was this one girl who had been working as prostitute but she had royal blood - that was Celeste, right there."
Another way the travels informed the screenplay was through the inclusion of 'Duduvision' - the animated sequences that spin out of the young boy's storytelling. "Because Africa is such a storytelling culture: there had to be something in there that reflected that. We were thrilled to bring on board the team at Blink Ink, with Simon Willows at the helm, to bring Duduvision to life. Their commitment to the authenticity of the project was crucial - how do you visually imagine and create a world in the imagination of an illiterate Rwandan streetkid? The animators traveled to Rwanda for a research trip, and workshopped visuals with a group of childheaded households in northern Byumba. They came home with 11 suitcases filled with Rwandan fabrics and fragments, and created the world from there. It is a wonderfully nuanced, unique and beautiful part of the film."
The trip also allowed for scenes and scenarios to be work-shopped with local children. "We asked them, 'Would you do this?' 'What would you be worried about?' 'How would you deal with this?' They loved the process and it moulded the story."
Eric Kabera, who founded the Rwanda Cinema Centre to help develop filmmaking in the country, regards the film as a chance to change the template for 'African' movies. "It's paramount to have stories being told and people being looked at as they are, rather than clichés being repeated," he says. "A project like Africa United may eventually break that mould. To make films which change the perspective, that's my end goal."
"If something good comes out of this film," says Rhidian Brook, "it'll be that people don't just go to South Africa and do a safari, but they actually go to other places - Burundi, Rwanda, and beyond. Take a risk and see some stuff. Get out of that bubble, really."
From Fact to Film: A Child Soldier's Journey
Early on in pre-production, at first in a music capacity through composer Bernie Gardner, Debs Gardner-Paterson and Rhidian Brook were introduced to rescued child-soldier, now rapper and peace activist, Emmanuel Jal.
Debs Gardner-Paterson recalls, 'Emmanuel Jal is currently based in London, and so we made contact with him, saying we had read his book War Child and were really interested in meeting to discuss this project. Initially the idea was to quiz him over Foreman George's history - what would George have seen and heard, and how would he react to the other kids and the journey - but when we met Emmanuel Jal, we were blown away by his story, his presence and character, and knew we wanted him to be part of the project. Emmanuel Jal's story is both tragic and inspiring. Born in Sudan, he was caught up in the fighting there, and by the age of 11 he had lived for 5 years as a soldier. After being rescued by an aid worker, who took him into her home (though was killed herself a few months later), Emmanuel Jal was able to recover, get an education, and start developing his music, and a message that has carried him into incredible situations.
But it could have been so different for him.
The idea of his playing Tulu - the soldier who chases after George, not wanting him to escape the clutches of the war - was very powerful to us. Once Emmanuel Jal was put on tape, it was clear to the team that they should give the first time actor the role.
A side advantage of this casting was that Yves, who plays Foreman George, was able to observe and work with Emmanuel during rehearsals. Yves read Emmanuel Jal's book, and also Ishmael Beah's account A Long Way Gone, to prepare for his role playing a child soldier. It was powerful for him and the other kids, to have Emmanuel Jal (and Presley who plays Egg) in the roles of their attackers. The kids knew Emmanuel Jal's history, and they had seen Presley in Tsotsi as well, so it was easy for them to believe that the threat of these two was real.
Off set however, the kids loved hanging out with Emmanuel Jal. They made up songs and raps and dances to perform for the crew.