That's My Boy
Cast
: Adam Sandler, Andy Samberg, Leighton Meester, James Caan
Director
: Sean Anders
Genre
: Comedy
Rated
: MA
Synopsis
: While still in his teens, Donny (Adam Sandler) fathered a son, Todd (Andy Samberg), and raised him as a single parent up until Todd's 18th birthday.
Now, after not seeing each other for years, Todd's world comes crashing down on the eve of his wedding when an uninvited Donny suddenly shows up.
Trying desperately to reconnect with his son, Donny is now forced to deal with the repercussions of his bad parenting skills.
Release Date
: June 14th, 2012
"The role of Donny Berger is classic Adam Sandler," says Sean Anders, who directs Adam Sandler in the new comedy That's My Boy. "This is the kind of character that only Adam Sandler can play. Donny Berger's behaviourr is off the wall, but when Adam Sandler plays it, you just like him anyway. Watching him take on this raucous kind of role was just awesome."
In the movie, Adam Sandler plays the worst parent one can imagine - sure, he loves his son, and he did his best, but Donny Berger's best just wasn't nearly good enough. Still, he's not all bad - there's something redeeming, even endearing about Donny. "Donny is wild, he's crazy, he has horrible judgment, but he's a really good guy, and he's a joyful guy," says Sean Anders. "He's that friend that everybody has who just makes friends with everyone and anyone; he's just OK with whatever anybody's doing. His capacity for joy allows the audience to forgive him a lot of his mistakes and bad judgment."
In his first meeting with Adam Sandler, Sean Anders, along with his producing partner, John Morris, discussed what they saw as the heart of the movie. "John and I are drawn to stories of male bonding, and in this case, the father-son relationship carries a lot of heart - every guy has a very strong connection to his own father. That heart cleared the way for some of the craziness of the movie - it makes the movie even more fun."
For Sean Anders, that relationship truly comes across especially in one scene: Donny and Todd go through a belated rite of passage as the father teaches the son to ride a bicycle. "That scene carries the entire theme of the movie," says the director. "Todd has to put his trust in Donny and agree to be a son, and Donny has to be a father and not let him down."
Who could possibly play Donny's son (and was the right age to play the part)? Andy Samberg thought he knew the answer and says he wouldn't let Adam Sandler forget it. "I basically stalked Adam Sandler until they cast me," he jokes.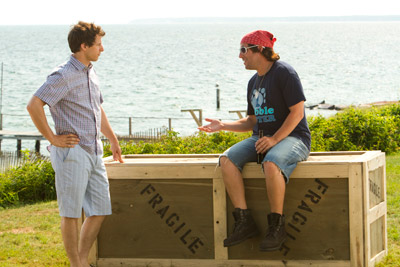 "Andy Samberg always saw his character as a guy who is desperate for his father's love, but who has been burned so many times that he's built a wall," says Sean Anders. "Anyone could have played Todd as a character who just hates his dad, then turns it around. But with Andy I feel in every scene that Todd really wants a relationship with his father - he just doesn't trust him."
"This movie is about accepting who you are and where you come from - even if that's flawed - rather than trying to be something you're not," says Andy Samberg. "We all have skeletons in our closet, some more than others. But family is important, no matter how screwy it is."
"Todd has a quality that we all have to some degree - that mixture of love for his family but also a bit embarrassed about his family. His character takes that to an extreme," Sean Anders explains.
Leighton Meester joins in as Todd's fiancée, Jamie. "She starts out seeming very nice and sweet, like a normal bride," Leighton Meester says. "But she turns into a full-on bridezilla. At first, you can't really fault her - it's understandable, when you see what Donny is doing. But then you find out a little more about her…."
"In real life, Leighton Meester is a mellow, laid back, open-minded kind of person," says Sean Anders. "She lends that to her character, so at first you think she's having a sane person's reaction to Donny's antics. It's only in the course of the story that it's brought out how over-the-top and controlling she really is."
Milo Ventimiglia plays Chad, Jamie's brother, a Marine. "He's very, very serious about being a Marine," says Milo Ventimiglia. "Down to the details of the uniform, the haircut, the walk, the talk, the everything that you'd expect. He looks down on Todd."
In the movie, Donny will need the help of his best friend if he's going to reconnect with his son. That best friend just happens to be Vanilla Ice, who plays himself - Todd's "Uncle Vanny." As he was preparing to meet with Adam Sandler to discuss the role, the 90s icon says, "I was thinking all the way over, 'What's Adam Sandler going to be like? Is he going to be like Happy Gilmore, Madison… who's he going to be?' I get in there and, yes, he was like Happy Gilmore - down to earth and funny, but serious about his objective, fun to hang with."
Sean Anders says that Vanilla Ice's role in the movie isn't a cameo, but a full-on supporting role. "He's Donny's former best friend and confidant," he says. And the director notes that the 90s legend showed surprising comedy chops. "There's one moment in particular when his character and the convenience store guy do a kind of Keystone Kops-style move - they get surprised, they have to run away, and they bump into each other and run in opposite directions. Every time I see the movie, I'm knocked out by Vanilla Ice doing this classic, perfectly executed, old-school silent movie maneuver."
With a father like Donny and an "uncle" like Vanilla Ice, Todd will need to look elsewhere for a little sanity, and he finds it in Brie, who "brings a little calm to the chaos," says the famed singer Ciara, who plays the role. The daughter of one of the strippers at Donny's favorite Club, Brie and Todd share a connection. "Todd is able to tell Brie about the things going on in his life, some of the things he is feeling," Ciara continues. "She doesn't judge him. It's sweet, and because of that, there's a bond and an energy between them."
The wedding takes place at the posh estate owned by Todd's very rich boss, Steve Spirou. Who could possibly have the presence to play him? How about Tony Orlando (yes, the Tony Orlando). "He's a complicated character," says the famed singer. "There's a bit of a heart in there, but he just can't help being not too nice to people."
Tony Orlando met Adam Sandler at a birthday party for Brooks Arthur, who has served as a music supervisor on countless Happy Madison projects. "If I hadn't gone to that birthday party, I wouldn't be Steve Spirou," he says. "It goes to prove that if you show up, sooner or later someone will discover you."
Todd's best friends are his co-worker, Phil, and his wife, played by Will Forte and Rachel Dratch. "Phil is a Cape Cod nerd," says Will Forte. "At first, I thought my costume was super crazy, but it turns out, this is what people wear all the time on Cape Cod." As for playing Dratch's husband, Will Forte says, "She was thrilled because they decided they wanted us to make out at a certain point and she's been wanting to do that for a long time with me. It all came through for her. She probably had said some prayers the night before and they were answered."
Jim Nance, a character marked by his straight talk and his die hard love for the New England Patriots, is played by Rex Ryan, who, when he's not acting, moonlights as the head coach of the NFL's New York Jets - the Patriots' rival. Awkward? Nah. "You can't take yourself too seriously," says Rex Ryan. "The character is a big Boston fan and that's just part of the role. But you know what I heard? They had to get all that Boston stuff, because all the Jets stuff was sold out."
Also joining the cast is the comedienne Luenell as veteran strip club dancer, Champale. Champale performs at Donny's favorite local place - Classy Rick's Bacon and Legs strip club. "Champale has been working and stripping for over 30 years," says Luenell. "She put her daughter through college with this money, but it's more than that - she really enjoys her work. She likes to bring happiness and joy to creeps around the world, because creeps need love and attention too."
About the Production
"When Adam Sandler's a producer on the film, you're making the film alongside Adam Sandler all the way through," says director Sean Anders. That's My Boy is the director's second feature and first film with Adam Sandler, which is notable as Adam Sandler often works with the same crew from film to film. While it may have taken some time to get to know how each other works, Sean Anders says that he and other first-timers - including Director of Photography Brandon Trost and Production Designer Aaron Osborne - were welcomed with open arms into the Happy Madison family. "The crew was some of the nicest people I've ever met," says Sean Anders. "They're really easy to get along with. They've all been on every movie, so they all know each other's quirks, how to get things done and get along. In particular, there is a 1st Assistant Director named Danny Silverberg who is the heart of that crew and the most easygoing, levelheaded guy you could ever work with."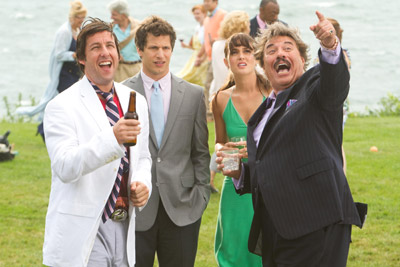 "Adam Sandler is more than a producer, he's a complete force," says production designer Aaron Osborne. "The guy is amazing to work with. He's involved in every choice and completely collaborative."
Costume Designer Ellen Lutter says that Adam Sandler concerns himself with all aspects of filmmaking because he wants to be sure that the story and the humour will play as intended. "I go over all the costumes for all the characters with him. We discuss characterisation and we'll talk about all of the jokes - we're very careful to create the juxtapositions that make a joke," she says.
Of course, much of that begins with Adam Sandler himself. "What I loved most about working with Adam Sandler is that he's so funny," says Sean Anders. "We'd be working our way through a scene and trying to find something funny to add. I could yell out an idea that wasn't really a funny idea but was in the ballpark, and Adam Sandler could hit it back with something hilarious. Of course, that made me look good - he could do something funny and make it look like it was all my idea. Directing this movie, not only did I get Adam Sandler, I got Adam Sandler at his best, because he was having such a great time and he was so excited about the freedom he had with this character to say and do anything he could think of."
In a film in which most of the major characters are not everything that they're making themselves out to be, Aaron Osborne says, "Our job was to help create the facades of the characters. We tried to have the environment build that, per the needs of the script, so that the characters could later be revealed or not revealed. The movie is about two different worlds - Donny Berger's world and his son's world - so the big aesthetic challenge was to create the difference between the two worlds and let them collide head on."
The two major sets that exemplify the difference between those two worlds are Steve Spirou's house - the mansion where the wedding will take place - and Classy Rick's Bacon and Legs, Donny's preferred strip joint.
Finding the house, Aaron Osborne says, wasn't easy. "We scouted everything - we went nuts looking for the wedding location. We wanted so many things - we even needed a back yard that could be attached to a mini Fenway Park. We went everywhere, we helicopter scouted, we went to the shore - we went nuts trying to find that perfect house. It took a while, and the day we found it was a 'hallelujah' day. We finally found it - it had everything: the beach, the front of the house, an area in the back that we could connect to our mini Fenway, and an owner who was very supportive of the movie and welcomed us in."
The mini-Fenway was not built in the house's back yard, but connected via movie magic. "I built an oversize gazebo that overlooks the water, and we used that as a cutting piece - we built a part of the gazebo in a park, and I built Fenway in that park. We researched the heck out of Fenway Park - we were in Boston and we knew that we could not mess with Fenway. If you look closely at the Fenway scoreboard, you can see the original owners' names written in Morse Code in the white lines of the scoreboard - so we wanted to do that, too, but we wrote 'Happy Madison.'"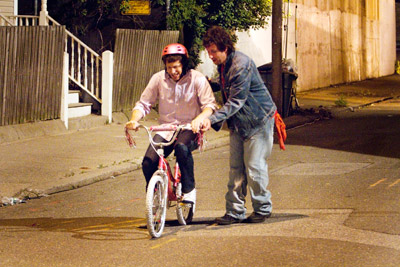 "On the opposite end of the spectrum, the strip bar we found the first day. We walked in and we knew it was the place - from the driftwood bar to the low-hanging, broken lights, to the moulding, everything about it was what we were hoping for."
In many ways, Donny is a character who never grew up. "Donny is a pretty timeless guy," says Aaron Osborne. "For example, his apartment - our thought was, it's the same exact place it was when he was 16. We figured Donny would think, 'Why change it?' and never move out of his house. It's got all the same posters and all the same stuff he'd have had at 16 - well, one change: he got a waterbed."
Timeless is also the way that Ellen Lutter, a veteran of 11 previous Adam Sandler films, would describe Donny's look. "We went through quite a bit of development with the wig and the clothing before we settled on a final look," she notes. "We explored a guy who is stuck in the 80s, even though we settled on a little bit more of a classic rocker look. He's a universal party guy, but not someone who cares about fashion - if we put him in, say, acid-washed jeans, it would have said something different about who he is."
Ellen Lutter says that while the clothes don't make the character, they can often help the actor find his way - and that's especially true in comedy as the way someone looks can help sell a joke. "The way something fits is essential to comedy. It tells you about the character - is this a buttoned-down, uptight guy, or is this a loosey-goosey type of person? Is it supposed to be cute and funny or ugly and funny? The clothes do a lot to underline the jokes. In That's My Boy, if we weren't completely convinced that these were upper-crust people with a Cape Cod beach house, it wouldn't be funny to have Donny walking around with a beer and being outrageous. Our assumption that these people are going to be shocked at his behavior is part of why it's funny."
At the end of the day, it's all about the joke, she says. "Think of the character Tubby Tuke, the fat guy who wins the marathon. Is it more fun to have him cross the finish line looking like a slob in shorts and a t-shirt, or to have him in a skimpy little runner's outfit and have him look like a guy who really thinks he can win the marathon? Which choice enhances the joke?"
Another example of clothes that underline a joke is the costumes for Grandma - a convincing upper class woman on the outside. "She had to look like the real deal, very tony, simply elegant," Ellen Lutter explains. In the movie, Donny finds himself captivated by the character - and by a photo of a then-young Grandma from long ago, modelling an extremely modest swimsuit. "For the old-timey bathing suit gag, we had to invent that suit, because the bathing suit didn't exist. I invented a fake thing with bloomers, and it looks goofy because that was the joke; it's not even a sexy picture, but that doesn't make a difference to Donny."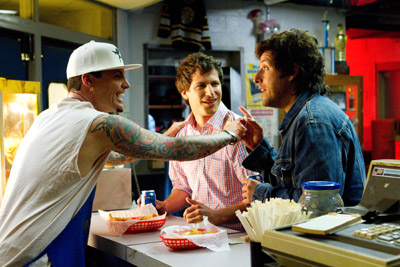 For Ellen Lutter and her team, a process that begins with planning, sketching, and shopping doesn't really come to fruition until the actor gets involved. "We'll think of ideas and put clothes on a rack, but until we have the interaction with the actor, and discuss it and review it with the director and Adam Sandler, that it goes to another place. It begins as a laundry list - do we have all the clothes we need? - but then the actor begins to respond to the clothes in another way. They come from a fresh point of view as they're building the character, and you can focus on what works for the character. It never ceases to amaze me what happens in fittings. It's like a cocktail; it's not about the individual ingredients but what happens when they come together."
The stripper Champale, played by Luenell, also required an elaborate and interesting costume. Ellen Lutter first experimented with building flesh into a costume on Jack and Jill (in which David Spade has a cameo playing a woman showing off quite a bit of cleavage). "On that movie, we built the breasts and tummy into a costume, and David Spade could simply step into it and be zipped up - he wouldn't have to spend six hours in a makeup chair and preserved a lot of energy. For Champale, we did a similar thing: we built the breasts onto a bra, we had a flesh-colored undergarment to hold the whole thing down, and then three or four costumes that could fit that. Luenell was fantastic - she was so game."