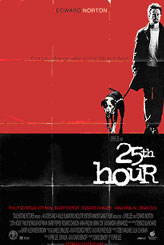 Can you change your whole life in a day?
Released: June 5 2003
Cast: Edward Norton, Rosario Dawson, Philip Seymour Hoffman, Barry Pepper, Anna Paquin, Brian Cox.
Director: Spike Lee
Genre: Drama
Rated: MA 15+
Running Time: 135 Minutes
Synopsis:
The clock is ticking on Monty Brogan's freedom - in 24 hours, he goes to prison for seven long years. Once a king of Manhattan, Monty is about to say goodbye to the life he knew - a life that opened door's to New York's swankiest clubs but also alienated him from the people closest to him. In his last day on the outside, Monty tries to reconnect with his father who's never given up on his son, and gets together with his two closest friends from the old days, Jacob and Slaughtery. Also in the mix is his girlfriend, Naturelle who might (or might not) have been the one that tipped off the cops. Monty's not sure of much these days - but with time running out, there are choices to be made.
Acclaimed director Spike Lee, (Summer of Sam, Do The Right Thing, Malcolm X) sheds light on a man who's unsure of how his life has led him to this point as he struggles to redeem himself in the 25th hour.
My Verdict:
Edward Norton is simply superb as Monty Brogan in this intense drama about his last 24 hours before he enters prison to serve a 7 year sentence for drug offences. Edward has had plenty of practice playing solid characters, most recently in Red Dragon (Will Graham) and also the infamous Fight Club (Narrator), and he is on a winner with this performance in 25th Hour. Monty is a complex character, who is teetering on total fear over his future, and regret over decisions in his life that have now come to haunt him. He doesn't know who made the phone call to the police that lead to the discovery of drugs and cash in his apartment but almost seems resigned that he might never know and that it might not be necessary to know. Now all Monty wants to do is spend his last 24 hours with his two best friends, his girlfriend and his father.
Monty's two close pals are from his school days and have become very different people. Philip Seymour Hoffman is Jacob, a teacher at the school they used to attend. He has resigned himself to the fact that he has become very mediocre, which Philip manages to show with ease. He even fights his masculine urges when he bumps into one of his students (Anna Paquin) at the nighclub where the group go on the last night together.
Barry Pepper on the other hand, plays Frank Slaughtery, who is a risk-taking New York bonds dealer with an apartment that overlooks the 9/11 site. He thinks he is mister smooth and has 'made it' but there is always that hint that he is hiding the real Frank. It is a credit to Barry to create this persona.
Brian Cox is Monty's father and has always had regrets about his son and his relationship with him. He is struggling to come to terms with Monty's future prison life and yet still trying to be the strong father figure.The other two important people in Monty's life are Naturelle, his girlfriend (Rosario Dawson) and Doyle, his dog. Both have a significant impact on Monty's life and they are where his deepest regrets lie - leaving them for his life in prison.There are some graphic moments in the movie yet it is not a violent movie. It is more about the characters and their relationships and so much of the time is spent listening to them. Flashbacks are used to explain the reasons why the situation is as it now stands and they work well. They give us insight into reasons for their behaviour which help resolve many questions which may have been left unanswered.
25th Hour will make you wonder just what you might choose to do if you were faced with the same scenario - who would you spend it with? Where would you spend it? And would you come up with a plan for your last night before a prison term?
-
Christina Bruce