127 Hours
Cast
: James Franco, Kate Mara, Amber Tamblyn
Director
: Danny Boyle
Genre
: Drama, Inspiration
Rated
: MA
Synopsis
: 127 Hours is the new film from Danny Boyle, the Academy Award® winning director of 2008's Best Picture, Slumdog Millionaire. 127 Hours is the true story of mountain climber Aron Ralston's (James Franco) remarkable adventure to save himself after a falling boulder crashes on his arm and traps him in an isolated slot canyon in Utah. Throughout his journey, Ralston recalls friends, lovers (Clémence Poésy), family, and the two hikers (Amber Tamblyn and Kate Mara) he met before his accident. Over the next five days Ralston battles the elements and his own demons to finally discover he has the courage and the wherewithal to extricate himself by any means necessary, descend a 65 foot wall and hike over eight miles before he is finally rescued. Told with a dynamic narrative structure, 127 Hours is a visceral, thrilling story that will take an audience on a never before experienced journey and prove what we can do when we choose life.
Release Date
: February 10th, 2011
In 127 Hours
On a Friday night in April of 2003, 26 year-old Aron Ralston drove to Utah to spend the weekend hiking in the stunningly beautiful and remote Canyonlands National Park in Utah.
Six days later, he would emerge to recount the most remarkable story of outdoor survival -- and an unforgettable tale of human strength when faced with adversity.
Many who had heard the story of how Aron Ralston survived the harrowing 127 hours in the wild, his hand pinned by an immovable fallen boulder, with scant food and mere drops of water, escaping only by an act of incredible bravery, wondered:
What did he go through in this sudden, extreme moment of reckoning?
How did he possibly find the will to hang on in such a desperate situation?
Would I do what he did in order to live?
These are the questions that also intrigued the team of director Danny Boyle, producer Christian Colson and screenwriter Simon Beaufoy, who last collaborated together on Slumdog Millionaire, the exuberant love story set in India's slums that became an Academy Award winning global phenomenon. But Danny Boyle also saw something more in Aron Ralston's inspiring story. He saw an opportunity to forge a groundbreaking first-person cinematic experience, one that could immerse the audience in every emotionally charged second -- every fantasy, dream, memory, regret and inspiration - as Aron Ralston moved from despair to a powerfully moving re-commitment to life that led him to do what seemed impossible.
From the moment he first began reading Aron Ralston's best-selling memoir, Between a Rock and a Hard Place, Danny Boyle knew exactly what kind of film he wanted to convey from this real-life story, one that would use a highly subjective camera to penetrate the lead character's personal journey, to get under Aron Ralston's skin and into his head during the most urgent life-or-death circumstance, in a way no other medium could.
"I knew I wanted to bring the audience into the canyon with Aron Ralston and to not let them go until he himself is released," the director explains. "Of course, I saw this as an extraordinary story of outdoor survival, but I also think there is a whole other layer to this story that will be surprising for people. It's not simply about how Aron Ralston survived, incredible as that is. There is a life force that Aron Ralston tapped into that goes way beyond his remarkable courage as an individual, and that's what we hoped to capture on screen. It's something that binds us all together and when Aron Ralston, who seems all alone in this canyon, is pulled back to the idea of community, there is something very powerful that happens."
Danny Boyle goes on: "People often say about the story, 'Oh, I don't know if I could do that.' But I think we all would do anything we could for this life that is so beautiful and keeps us going. What I think Aron Ralston experienced in that canyon over those six days was a sudden realisation of the full value of life. One of the ideas of the film is that he was never really alone in the canyon. Physically, he very much was, but he was surrounded spiritually by everyone he'd ever known or loved or dreamed about. That made the difference and we wanted to get that feeling into the story."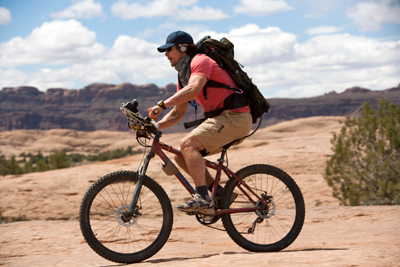 Danny Boyle was acutely aware that he was about to attempt something that, on the face of it, sounded impossible, "We were going to make an action movie in which the hero can't move!"
How can action be sustained when the film's hero can only maneuver inside a sphere of a mere few feet, and everything he does is largely inside his own head?
"I felt we could make the film so visceral and involving on a visual and emotional level that people would get lost in the story, just as Aron Ralston got lost in the canyons," answers Danny Boyle.
The team knew that there was only one actor they felt that could convey the conviction and emotion needed to draw the audience in. "James Franco has this extraordinary technical facility," notes Danny Boyle, "and that's what was needed because 127 Hours is nearly a one-man film. But James Franco went beyond that, stepping up to every single challenge, physical and emotional, that was thrown at him. He was so wonderful for this role. He got so into it, it became, in a way, as much about James Franco as it was about Aron Ralston."
What made the project even more interesting to Danny Boyle and Simon Beaufoy is that it was clearly the polar opposite to their previous experience on Slumdog Millionaire. In a dizzying, 180-degree turn they went from shooting in the "Maximum City" of Mumbai to shooting in a claustrophobic canyon in the middle of nowhere, barely large enough to squeeze in just one man.
"It was extraordinary to go from the crowds of Mumbai, where you're surrounded by a billion people, to the opposite extreme of a man completely on his on own," says Danny Boyle. "It was a wonderful contrast and a terrific challenge. The films couldn't be any more different - and yet, in a way, they are both about beating impossible odds."
127 Hours evokes the grand tradition of films depicting men pushed to their limits by nature from Call Of The Wild to Touching the Void but 127 Hours breaks the mold by celebrating life rather than the triumph of the individual.
"While he was trapped, Aron Ralston could not have been any further from human contact but that triggered in him a realisation of how important all the people and loved ones he left behind were to him. It spurred in him a connection with life that was so profound it kept him going. That is what the film is about. It is definitely not the one-man story it might appear to be on the surface," says Danny Boyle.
This is what also attracted Everest Entertainment to the story, who helped finance the endeavor. "I'm really pleased for Everest to be part of bringing such a meaningful story to life," said Lisa Maria Falcone. "We are constantly looking for memorable and passionate projects that resonate with their audiences and 127 Hours is a prime example."
Meeting Aron Ralston
As soon as Danny Boyle had discovered Aron Ralston's story he sent his producing partner Christian Colson, who produced Slumdog Millionaire, a copy of Ralston's book. Christian Colson confesses he was not immediately sold.
"I put it down and thought, well that's an incredible story but there's no way to make a movie out of it -- and that's what I said to Danny Boyle," he remembers. "Danny Boyle then sent me a treatment he'd written that was only six pages long, but it spelled out his whole concept for telling the story, full of extraordinary intercutting and visual ideas. As soon as I read that, I changed my mind entirely and said, 'Let's go, let's do it.' It was a huge storytelling challenge but Danny Boyle had found ways to keep it continually exciting and emotionally satisfying, providing a first-person experience for the audience."
The rights to Aron Ralston's life story were controlled at that time by John Smithson, a leading documentary producer. Christian Colson met with John Smithson in London and a deal was made to make a fully fledged dramatic feature film based on Danny Boyle's treatment, with John Smithson staying on as a producer.
Danny Boyle immediately began work on a full screenplay, completing two drafts before he and Christian Colson approached Simon Beaufoy - with whom they had worked on Slumdog - to join the team as co-writer.
The first task for Danny Boyle was to really get to know Aron Ralston and that process began where Aron Ralston's life as he had formerly known it essentially came to an end: Blue John Canyon, Utah. Danny Boyle and Christian Colson made an initial trip in July of 2009 with Aron Ralston to hike and climb through the slot canyons that will forever be entwined with Aron Ralston's heart. This was vital to Aron Ralston because he wanted the filmmakers to have a deep familiarity with that raw, rugged landscape that still means the world to him before they went any further.
At first, Aron Ralston was unsure about Danny Boyle's more imaginative approach. "It was emotionally difficult for me, because even though I knew we were making a drama, I resisted departing from the facts of my story," he admits.
But ultimately, the idea of getting at the deeper truth through a visceral, gripping style of storytelling began to excite Aron Ralston, and he openly invited the filmmakers into his most personal memories and innermost feelings. He says: "I lived this story and it will always be a central part of me, but I realised that to make a movie that would allow the audience to feel as though they had been through it too would take some brilliant storytellers."
Aron Ralston became close with Simon Beaufoy as well, hiking with the screenwriter in the high country of Colorado. "We scrambled around the mountainsides and talked about my background," he recalls. "Simon Beaufoy's an outdoor guy himself, so we had really cool conversations and I think he was able to pick up on some very important aspects to the story."
Holding nothing back, Aron Ralston also shared with the filmmakers the intensely private video "messages" he recorded while trapped in the canyon, hoping to leave something behind for his friends and family should he perish.
"That material was brilliantly helpful to us, and to James Franco as well," says Danny Boyle.
Aron Ralston was equally excited by their collaboration. "Working with Danny Boyle was a phenomenal experience," he says. "He's so insightful and creative and also has been very sensitive to how personal this story is. He had already put in an enormous amount of research and preparation before the first time we even met. And I've been really appreciative of how inclusive he's been. Through all the rewrites, meetings and interviews with actors, he's included me more than I ever expected."
Aron Ralston provided the filmmakers with tons of information that allowed them to recreate many of the astonishing physical details of his battle for survival, from how he slept using rigged ropes to how he saved his own urine to drink. "We wanted to remain true to the core reality of Aron Ralston's entrapment," notes producer Christian Colson. "So we recreated the exact equipment he had in his backpack, the precise amount of water he had, the blade quality of the knife, his every little strategy. We felt we couldn't, and shouldn't, mess around with those elements."
Yet, even as they got to know Aron Ralston better, Danny Boyle felt it was essential to make his own personal connection to the material. "Aron Ralston has told this story many times in his own way, but I knew to make a movie I would have to puncture that bubble and get inside it to tell my own version of his tale," he comments. "The wonderful thing about Aron Ralston is that he truly allowed us to do that: it's Aron Ralston's story, but out telling..."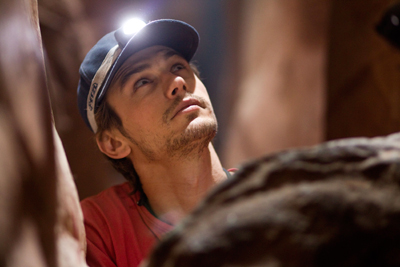 Danny Boyle was drawn to one of the underlying threads of Aron Ralston's story; that of a man who had never really reached out before, who was an individualist to the point of not realising the power of his relationships with people. "Aron Ralston was the perfect specimen - self-sufficient, independent, athletic, resourceful - but not the perfect man," says Danny Boyle. What moved Danny Boyle so much is that when Aron Ralston was truly left alone facing death, he could only think of other people in his life - past, present and future - and how much that mattered to him, how much it made him want to live life one more day.
"Aron Ralston saw himself as a soloist but when it came down to what drew him back towards life was the pack, the herd, the community. For me, that became the idea of the film. 'I need help' says Aron Ralston when he finally stumbles upon his rescuers near the end of the movie. Yes he does. We all do. That's why we live in crowds," says Danny Boyle.
This is what also attracted Everest Entertainment to the story, who helped finance the endeavor. "I'm really pleased for Everest to be part of bringing such a meaningful story to life," said Lisa Maria Falcone. "We are constantly looking for memorable and passionate projects that resonate with their audiences and 127 Hours is a prime example."
Later, watching Danny Boyle on the set made Aron Ralston realise that Danny Boyle truly was making the story his own, in the best sense of the phrase. "He was in the flow of every moment. Once I saw that, I was giddy. I was like, wow, he is so into this!"
The way in which Danny Boyle set out to approach the film was the only way Aron Ralston could imagine those six days reflected on screen. "I was alone but I was trying to reconnect with my loved ones through memories and fantasies and even out-of-body experiences. It was some pretty trippy stuff as I became more dehydrated, sleep-deprived and desperate. All these things were just stripping away the layers of my mind until all that was left were the emotional connections," Aron Ralston says. "Danny Boyle was really able to bring those experiences out in the film."
It was a wildly surreal experience, Aron Ralston confesses, to see the most profound experience of his life re-enacted by James Franco and the crew - and being on the set left him reeling back into all that he had seen and felt in those six days. "It was as if my 2010 self was able to look back at my 2003 self and watch myself escape the canyon," he says.
The film brought Aron Ralston back to Blue John Canyon on an especially momentous date: the 7th anniversary of his entrapment. "Having Aron Ralston there on this anniversary was obviously very special for him, and I think the realness of that added even more to the texture of the film," says Christian Colson.
For Aron Ralston, the experience was something almost inexpressible, as he took a hushed, private moment to give gratitude to the rock, to the canyon, to all the wonders of life he's taken in since that unexpected, life-altering day. "It was very personal," he says. "I had as good as died in that spot, but when I got out of there, it was a rebirth. One life was over, and another began. It really was remarkable to me that we would be shooting in Blue John Canyon at this time, during this exact week of my renewal. It reminded me of how an end can also be a beginning."
The day he freed himself truly was a new beginning for Aron Ralston. In one of the film's most powerful scenes, based in reality, Aron Ralston hallucinates a figure out of an uncertain future: a boy who might be his own yet-to-be-born child. During production, that prophecy came to pass as Aron Ralston's first son was born.
Now with a family of his own, Aron Ralston says that he believes everything in his life led up to that singular moment of reckoning. "I always had this gravitational attraction to the edge between life and death, and this was the culmination," he says. "At some point, I think I was bound to get to a point where it went too far, on some mountain or river or canyon. At the same time, there was this upside that everything I had done in my life, everyone I had known, now became a resource for me, something to draw on in order to survive and afterwards, to flourish."
Aron Ralston will always be in awe of what he experienced and how it changed everything. He says, "It was a watershed. There was what came before that day in Blue John Canyon and then there was everything that came after it. It stands as one of the greatest blessings that I'll ever receive."
James Franco Enters the Canyon
From the beginning, Danny Boyle knew he was going to require something quite extraordinary from his lead actor, not just in his performance but also someone who could possess the physical capabilities demanded by the role of Aron Ralston. Not only would that actor have to be able to handle being in nearly every frame of the film and have to work in physically suffocating quarters, under mentally unhinging circumstances, he would also have to let the camera get deep inside to the most primal of emotions. Stripped of everything, even the ability to move, Aron Ralston was left with a raw view into who he was and who he hoped to become.
Because of all this, Danny Boyle wanted someone who would have his own insight into Aron Ralston's persona - someone with a passion for the wilderness and a penchant for fearlessness but also for self-reflection. Those qualities, and the acting skills required, seemed to combine perfectly in James Franco, who is quickly becoming one of his generation's most original talents. James Franco's diverse roles have included Pineapple Express, the iconic James Dean in a celebrated television movie, opposite Sean Penn as Harvey Milk's lover in the award-wining Milk and most recently as the legendary American maverick Allen Ginsberg in Howl. An adventurous renaissance man of his own accord, James Franco also recently pursued an MFA at Columbia University and was recently accepted to a Ph.D. program at Yale.
Aron Ralston was himself excited by the choice. "I was very happy to know that someone with those kind of dramatic chops was going to do this. I knew from seeing James Franco in other films that he really likes to inhabit the people he plays," he says. "I was psyched to meet him. We listened together to the video I made that was my Last Will and Testament, which I thought was going to be the way I said goodbye to my friends and family. I also kind of re-enacted things for James Franco, like some of the body positions I used while standing for so long and even demonstrating exactly how I held the knife when I was cutting into my arm."
He goes on: "It was really fun watching James Franco watching me, because I could see the wheels turning in his mind as he was making all these mental notes. Ultimately, though, it was the subtle stuff James Franco did that I think brought real magic to it."
James Franco felt strongly drawn to the role from the minute he heard about the project - and it turned out to be like nothing he'd done before. "One of the reasons I wanted to do this role is because it is made up of so many little personal moments, those moments we all have when you're completely alone," he says. "I felt like that was a side of me I could really understand and tap into. The story is basically about a man confronted with his own death and figuring how to get back to life - it's a human situation I don't think has been explored very much in films before. I also thought it was a tremendous opportunity to tell a story through minute physical actions and these kinds of private soliloquies Aron Ralston has when he talks to his video camera. It was very different from most roles."
He continues, "It was also very unique because I really don't interact with other actors for most of the movie. I love working with other actors, but this was something unusual and challenging. The focus of attention was completely different. It was like I had to learn to act with the space around me, with the rocks, with the canyon, with the camera."
Although James Franco did spend time getting to know Aron Ralston and went on a long hike together to see Aron Ralston in his element, neither he nor Danny Boyle wanted to try to mimic Aron Ralston's physical characteristics on screen. "Danny Boyle's take on the movie was that it was really about penetrating this incredible situation Aron Ralston finds himself in," explains James Franco. "So we didn't want it to be about trying to re-create a real person but, rather, about trying to really feel this human experience."
James Franco credits Danny Boyle with helping him to do that to, at times to an unsettling degree, by keeping him in narrow, uncomfortable spaces and off-kilter throughout the shoot. He was squeezed so tightly into the replicated canyon set that he would emerge from shooting days with bruises, rashes and scars. "It was a physically taxing shoot for me," he admits. "But it was such an interesting situation to portray and Danny Boyle is an amazing director. He's very energetic and passionate but he always gets what he wants."
Talking directly into a video camera in place of the usual movie dialogue was also something James Franco had to wrap his mind around. "It was almost like doing an old-fashioned Shakespearean soliloquy, where you're talking right to the audience," he notes. "It was very unusual for a film."
It was Danny Boyle's unconventional vision for the film that kept James Franco inspired even as the production kept him shivering and agonizingly motionless in a frigid canyon, night and day.
"What I loved is that Danny Boyle took a completely different approach than any other filmmaker to making a movie set in nature. Instead of using nature's slow pace, he gives it a wonderful urban pulse and feel," sums up James Franco.
To dive even further into the role, James Franco worked out at a climbing gym and slimmed down to Aron Ralston's sleek, outdoorsy physique. He read books about climbers and adventurers - and he also looked inside himself to really ask if he could actually do what Aron Ralston did to survive. "I thought about how drastic his circumstances were - that it was life and death," James Franco says. "I'm pretty squeamish about blood, even in the doctor's office, but you know, in that situation I'd get over it. I'd like to think that I'd try something and that I couldn't just sit there."
He goes on, "This character really goes up against death and to a certain extent, Aron Ralston had to accept that he might die in order to take the risk to get free. And for me, that's a lot of what this was about, looking at how a person copes with being alone, being afraid, being in pain, and how that gets him right down to the essentials of existence."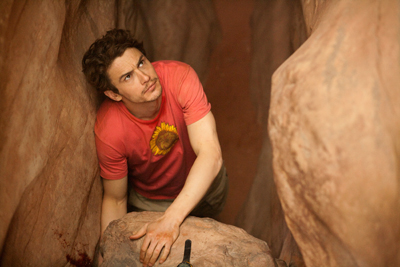 The filmmakers watched as James Franco dove deeper and deeper into this personal abyss, then came out the other side. "I think James Franco does work in this film of equal importance to what Danny Boyle has done. It's a kind of duet," comments Christian Colson. "James Franco fully inhabited the character and it's a very unique and amazing performance."
Despite the fact that the film focuses so intently on James Franco as Aron Ralston, finding a strong cast to fill the film's supporting roles was equally important to the filmmakers.
"When you've only got a few supporting characters, the emotional investment you make in them is heightened, and we were very aware of that," says Christian Colson. "I especially love that Amber Tamblyn and Kate Mara as the two girls Aron Ralston meets at the beginning of his hike are so funny and light in their performances. Even though it seems like their moment with Aron Ralston passes quickly, retrospectively it takes on this immense importance because they become his last real memories of human contact, of interacting, and feeling completely alive."
Even though she and Kate Mara are a kind of joyful, comic relief before the storm, Amber Tamblyn notes that the experience of shooting the film was "crazy athletic, with a lot of hiking, running and sweating." But she also says, "It was a highlight of my life, to get to work with a master filmmaker in this gorgeous part of the country. Kate Mara and I had to create this soft, funny, easygoing atmosphere in the beginning of the film, something that would feel natural but would also be memorable enough to become truly important to Aron Ralston later. That was exciting."
Playing Aron Ralston's parents are Treat Williams and Kate Burton and his sister is played by Lizzy Caplan. To take the role of Aron Ralston's girlfriend - the young woman he regrets not opening up to as he fights for his life in the canyon - the filmmakers chose rising French actress Clémence Poésy, best known for playing Fleur Delacour in the Harry Potter film series.
"The scenes with Aron Ralston's family and friends turned out very beautiful," says Christian Colson. "They have this elegiac quality that makes you really feel Aron Ralston's need to get back to the world and to the people he loves."
Bold Vision and Visual Ideas
The highly unusual nature of the 127 Hours shoot meant that Danny Boyle and his team had to think way outside of even the most creative filmmaking box. For Danny Boyle, everything was about a single word - momentum. His driving force was to keep the screen, at every second, full of both constant motion and emotion, no matter how little changes outwardly for Aron Ralston over the days and nights of his journey.
At the beginning of the film, Danny Boyle sets the film's high speed, high adrenaline tone by following Aron Ralston playing in the outdoors in the daring, on-the-edge way he always did. He flies through the colorful desert on his mountain bike, scrambles over red and golden rocks with two girls he meets while hiking, and leaps with abandon into pure blue pools of water. Then the world stops for Aron Ralston and all the motion now happens inside his mind.
While sudden events do unfold while he's trapped including a rain storm that turns into a roaring flash flood, Aron Ralston's point-of-view quickly becomes limited to what he can see from within the canyon - bits of sky, slivers of sun, a mysterious raven, his own damaged body . . . and everything running through his mind.
For Danny Boyle, depicting the continuing dynamic after Aron Ralston's entrapment was a test of his own imagination. He felt the solution would lie in a creative mix of camera techniques - including intercutting, triptychs and switching film stocks - many of which he wrote directly into the script. But to really give himself the greatest possible visual input, he did something unprecedented. He hired two primary cinematographers to co-shoot the film.
"We made the decision to use two cinematographers -- Anthony Dod Mantle, who shot Slumdog Millionaire and Enrique Chediak, who shot 28 Weeks Later - because we needed multiple approaches, and because the camera, in a sense, makes up for the fact that there are very few other characters in the film," explains Danny Boyle.
He continues, "Anthony Dod Mantle and Enrique Chediak are each very interesting personalities in their own right with completely different styles. Enrique Chediak has a very South American sensibility and Anthony Dod Mantle has a more Northern European style. What we did was to give them each three sets of cameras - traditional film cameras, digital cameras and still cameras - and that gave us a great diversity of footage to work with. They both shot beautiful, intense images, so that there is a feeling of constant change, a feeling that Aron Ralston is on a huge journey, even without moving more than a few inches."
Working with two main photography units presented unique logistical challenges, but Christian Colson says it was also an opportunity. "It's exciting that it hasn't really been done before. Danny Boyle developed the idea early in this process and we all had to catch up fast to it," he says. "The advantages, we discovered, were immense. It enabled us to compress the shooting schedule and, at the same time, to harness a far greater amount of creative energy. Being able to reduce the shoot time also meant that there was more freshness in James Franco' performance. Everyone felt continually refreshed, because a different DP would come in and have new ways of capturing this experience."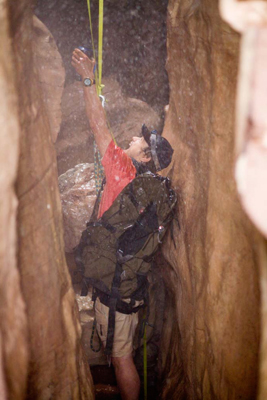 Anthony Dod Mantle and Enrique Chediak note that they never felt competitiveness but rather a synergy with each other. "We are both very sensitive and vulnerable as artists, yet we're very different," says Anthony Dod Mantle. "We see differently, but have much in common. In the beginning, we didn't know each other so we had to take some time to bond. Once we started shooting, we were working independently, yet fully dependent on one another's images."
"It evolved very organically in the way that I did my work and in the way he did his. But it just blended all together as we have very similar sensibilities," says Enrique Chediak.
Both were exhilarated by the idea of shooting in a way that would erase the thin divide between screen and audience for a couple of hours.
"We were working with all these layers - moods, colors, camera movements - and whatever flair we each could bring to create a man's fantasies, memories and thinking patterns," explains Anthony Dod Mantle. "Danny Boyle wanted us to submerge the audience completely into this canyon and into Aron Ralston's mind, and use our cameras to steer the audience from the physical to the mental and emotional. We really had to follow our instincts, to let the camera become part of Aron Ralston's psyche. We had to think beyond framing and lighting because, on this film, the technique was a lot deeper than that."
"We were working out a whole new language of how three images can interrelate," muses Anthony Dod Mantle. "It was a gift to be able to do something like that."
Adds Danny Boyle, "It was an interesting way to capture the texture and sameness of Aron Ralston's days without the audience actually having to live through 127 hours of it. It also allowed us to reflect, simultaneously, both what is really happening in the canyon and Aron Ralston's reflections on that."
Sums up Christian Colson, "Danny Boyle and the cinematographers came up with their own visual language to keep pace, energy and fluidity in the picture. Even the flashbacks are not conventional because Aron Ralston's memories come right into the canyon, as they really did for him."
The film's approach to the iconic Western landscape was also re-thought by Danny Boyle and the cinematographers. "The landscapes out here have been shot hundreds of times in classic Westerns but we wanted to look at them in a new way," says Anthony Dod Mantle. "They become not just backgrounds but an emotional landscape, shot in an emotionally-charged way. They are beautiful but merciless."
"What we did in the canyon was to create this psychological mood around Aron Ralston with the canyon as a backdrop," says Enrique Chediak. "But it is the canyon - the flare in the camera, the uncomfortableness, the sun, the heat, the dust - that has been incorporated to create a mental state of this person who is possibly about to die."
It was important to everyone to shoot portions of the film in the exact spot where Aron Ralston's fate took its turn, in Blue John Canyon: a narrow, steeply descending, sandstone drainage in Canyonlands National Park.
Today known primarily by adventurous hikers, climbers and canyoneers, the location of Blue John is so remote that a helicopter had to transport cast, crew and filmmaking equipment in and out, and the production slept in a wilderness camp at night.
In addition to shooting in the real Blue John Canyon, production and costume designer Suttirat Larlarb (Slumdog Millionaire) also reconstructed the three-foot-wide slot where Aron Ralston was trapped on a soundstage, which allowed for greater flexibility and safety in shooting over extended periods. To keep the design completely accurate, the team mapped out each and every contour of the land and built the canyon's curving walls and the 800-pound rock that held Aron Ralston prisoner to scale.
Every element of the film, from the cinematography and design to A.R. Rahman's (Slumdog Millionaire) superbly eclectic score and James Franco's intimate performance, ratchets up to the climactic moment of Aron Ralston's incredible escape. What begins as a shockingly graphic moment becomes a rousing liberation as Aron Ralston staggers away from what might have been his final resting place into a kind of transcendence.
"The film builds up to an extraordinary sense of release and energy in that moment," says Christian Colson. "After being with Aron Ralston in his entrapment, which is so brutal and so real, you get this amazing feeling of both escaping death and rejoining the world. I think it turns out to be a film not only of great action but great beauty."