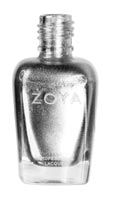 Its official! The hottest new nail trend to hit the catwalk this season is SILVER! Silver is set to pick up where black left off. In fact, Silver IS the new black! Even celebrities like Mischa Barton, Lindsay Lohan, Cameron Diaz and Heidi Klum are sporting it!
So, if you usually 'think pink' when it comes to your nails, the time is right to make the shift towards metallic silver for a more edgy, sexy look to your manicure and pedicure.
If youre searching for the brightest and most coveted silver this season, ZOYA Trixie Professional Nail Lacquer is the polish du jour - the perfect shade to be worn with all colours and for all occasions and for those of us craving a little star treatment!
Your Health - Why Risk it?
As always, ZOYA healthy nail colours are free of harmful industrial chemicals like toluene, formaldehyde and dibutylphthalate (DBP) that are known to cause cancer and birth defects.
You can find ZOYA Trixie Professional Nail Lacquer at Charlie Brown boutiques, in fine salons and spas nationally and online at
www.zoya.com.au
. For Stockist and Consumer Hot Line enquiries, please phone 1300 855 644.