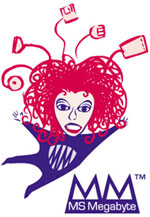 MS MEGABYTE - NEED HELP?
Well she's got all the answers!!!

MS MEGABYTE GIVES YOU ALL THOSE TECHIE HINTS & TIPS!

Well a huge virtual hello Femailers! I'm thrilled to be creating these words for you to read, and I hope you get as much fun out of discovering my shortcuts, hints and tips as I do using them every day!!!

If you like what you read, check me out on Channel 9's Today Show every Tuesday morning at 8:40am; and at
Get Mega.com - open all hours.


FORMAT PAINTER:
Remember on the toolbar along the top - there's a button with a little paintbrush on it? You've probably ignored it all this time - well give it a go and I'm sure you'll find it useful. It's called the Format Painter.
Highlight some text you want to copy the formatting from, then click the Format Painter
Now highlight the text you want to take the formatting TO and it is changed instantly.


SMALL CAPS
When you'd like your headings to stand out a bit more than just underline or bold, use a format called Small Caps.
You can turn it on by highlighting the heading and pressing CTRL, SHIFT, K, or going to the Format Menu, choosing Font and selecting Small Caps.


FIND AND REPLACE
If you ever find yourself wanting to change multiple instances of a word in a document, use the Find and Replace feature.
Open the document and go to the Edit menu.
Choose Replace.
In the 'Find What' box, type the old Word.
In the 'Replace With' box, type the new word.
Click 'Replace' to go a word at a time or 'Replace All' to do just that.
THE BOOK
A sneak preview on the title of the Ms Megabyte book - we settled on 'Conquer Your Computer'. It hits the shelves on August 14, and it is packed full of over 100 tips and tricks for everyday computer use - just the book you've all been asking for in the last six years.
Ms Megabyte - visit a href="http://www.getmega.com" target="_blank" onmouseover="window.status='www.getmega.com';return true;" onMouseOut="window.status=''; return true">www.getmega.com