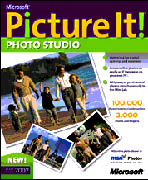 SHARPEN YOUR IMAGE WITH
PICTURE IT! PHOTO STUDIO 2002

Dating back to the early 1800's, photo memories have captured important events, people and history relevant to everyone's lives. Without photos, historical books would include only words, memories might be forgotten and photo keepsakes would not exist. And now, with the increased use of digital photography, Microsoft introduces a new direction for CD to Web integration with the new Picture It! Photo Studio 2002. Picture It! Photo Studio is the easiest way to make your best photos even better and then share them in prints, email or on the Internet.

With a wild imagination and a sense of humour, Picture It! Photo Studio 2002 gives you all the tools you need to import images into your PC from a digital camera, picture CD, scanner or the Internet and create professional-looking pictures for your family and friends.

Picture It! Photo Studio 2002's improved Mini-Lab now allows you to bring in several pictures at a time, automatically correct brightness, contrast, tint and sharpness and organise them so they are easy to find and use. This powerful, one-stop processing centre also allows you to remove 'red-eye', dust, scratches, and even unwanted people from your images!

Helpful step-by-step video clips show you how to get the most from the photo editing tools. Photo templates and projects help you to create like a professional, and with 100,000 photo framing possibilities and 4,000 photos and projects to choose from, you will always find amusing, apt ways to display your favourite images.

Picture It! Photo Studio 2002 includes thousands of pre-created templates for photo cards, frames, calendars, trading cards, magazine covers, web photo albums and tons of other photo projects. Just supply the picture and the possibilities are endless.

Melissa Dewick, Product Manager of home imaging and publishing at Microsoft Australia said "CD to Web integration is very important right now for digital imaging, especially because our customers want to use both technologies together to complete photo and publishing projects. With Picture It! Photo 2002 the photo sharing possibilities are endless."

Once you know what you want to do, Picture It! Photo Studio 2002 ensures your images are easy to locate. The Gallery indexes all your images no matter where they came from, allowing you to find them by typing in a keyword or name.

Picture It! Photo Studio 2002 also allows you to enhance your photos in ways you would never have imagined. Add funny captions to your photos without harming your prints or even email a friend an image of yourself with an audio attachment for a picture that actually will say a thousand words!

Pricing and availability: Picture It! Photo Studio 2002 will be available from leading computer software retailers in late October for $119.00 RRP.