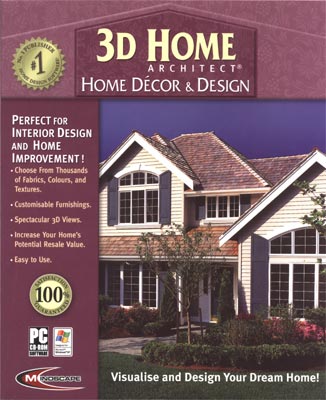 Ages: All

Perfect for interior design and home improvement!

3D Home Architect® Home Décor and Design software helps your home improvement projects and interior design ideas come to life in photo-quality 3D. Especially developed for the do it yourself home designer and remodeler, we have assembled the best features from our 3D Home Architect Design Suite Deluxe product and concentrated them into this one new home decor and design software package for you.

When elegant interior design and home décor is your goal, you should use the best home design software on the market. 3D Home Architect Home Décor and Design provides the best selection of fabric samples, stylish furnishings and home design accents to bring your ideas home. Textures, colours, and images provided by top home improvement manufacturers helps to ensure your custom design can be found at retail or direct from the manufacturer.

Landscaping and deck design software is bundled into this product giving you the ability to pull more than 7,500 flowers and plants into your design with detailed information about watering needs, soil mixtures, diseases, and much more!






Home Decor and Design Software Features
House Builder Wizard - Step by step wizard to build your dream house
Numerous Sample Plans - See finished home décor and interior designs
Thousands of Household Items to Design Your Home - Enhance your home with custom accents to create a space that reflects your personal style
Branded Home Manufacturers' Content
Multiple Viewpoints and Camera Angles - See how your design works as if you were stranding in the room
Animation and Movie Creation Tools - Make an animated video of your home design to communicate your ideas
Video Tutorials
Project Estimator - Keep an eye on costs
2D and 3D views - 3D True View instantly shows life-like photos of your completed projects
Pre-Designed Rooms and Structures
Sample Furniture and Appliance Design Elements
Robust Design Tools
Sound and Voice-Over Options
Print-to-Scale Options
Choose from Thousands of Fabrics, Colours, and Textures - Change or add crown molding,
different window treatments, and various wallpaper styles at a whim
Customisable Furnishings - Increase Your Home's Potential
Import Your Home Photos with Project Trace and Photo Board Images
A Complete Set of Design Tools - Complete automatic building tools for roof generation, framing, dimensioning, foundations, and electrical outlet placement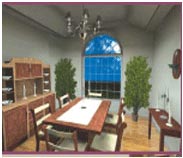 When you are trying to make a good first impression, trying to increase your curb appeal, or looking to increase your home's resale value, 3D Home Architect has what you need!

Review:
So often it's hard to visualise the end result when it comes to building. Builders can talk in metres and inches, but knowing whether your furniture will fit comfortably is sometimes hard to visualise. '3D Home Architect Home Decor & Design' makes it simple for the end user and builders to relay the end result. Included are customised furnishings, colours, fabrics so you can get a 3D look now what the end result will be. This can also help you furnish your house and add those finishing touches.

RRP: $49.95

www.mindscape.com.au