Visitors from interstate or overseas have just arrived for two weeks but you have to work all day Monday - Friday. What on earth are you going to do with them? A WonderBus Tour is the perfect solution to this all-too-common holiday dilemma.
Picking up from Sydney in the morning, you can easily arrange for your guests to join the tour and spend the rest of the day happily exploring the Blue Mountains. The tour visits all the tourist hot spots, as well as a few 'secret' locations such as one of Australia's oldest wineries for some great wine tasting, Featherdale Wildlife Park and finishing off with a leisurely cruise along the harbour.
Tour Operator Sean Smith says, "Our day tour is completely original and affords people the opportunity to maximise their day and experiences. We are not a typical tour company. Our guides don't talk incessantly and we don't herd people around. Our travellers can break away from the group if they prefer and spend a little bit of time alone."
With reasonable prices and flexible dining options, the tour is not only affordable but also accommodates different tastes. Travellers aren't forced to eat at expensive restaurants or suffer through Styrofoam cups of instant coffee. Catering is available but it's completely up to the individual what they want to eat and prices start at a mere $10 per head for a drink and a gourmet baguette prepared by WonderBus' very own French chef.
The tour which picks up at around 7.00 - 8.00am collects from several locations around the Sydney CBD, including Central Station and Circular Quay, and visits the following places:
Featherdale Wildlife Park - perfect for children or overseas visitors

Wentworth Falls Lake - picnic style lunch

See Leura and Katoomba

Drive along the cliff top to Echo Point

See the Three Sisters, Kings Tableland, Mt Solitary, Narrowneck, Jamieson Valley and Ruined Castle

Guided rainforest walk down the side of the canyon and ride the world's steepest railway back up to the top. Or have one hour of free time to enjoy Scenic World (all optional and at your own expense)

Take the back roads two of Australia's oldest towns, Richmond and Windsor

Cross the Hawkesbury River

Enjoy some great wine tasting one of Australia's oldest winery

Drive through the market gardens and turf farms in rural Sydney

Drive through and see Olympic Park

Cruise back to Sydney and enjoy the city skyline at sunset

The tour terminates at Circular Quay between 6.15pm - 7.15pm.

This is a day out that has proven enormously popular with visitors from Europe, USA and Asia, as well as interstate visitors who are only in town for a few days and want to make the most of their stay.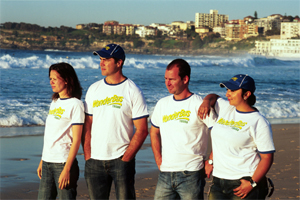 FOR A LIMITED TIME: Book your WonderBus Tour online and receive a $10 discount per person. Student and group discounts apply. Children of all ages are most welcom.

For further information or to book your WonderBus experience, please visit www.wonderbus.com.au or call 1300 556 357.