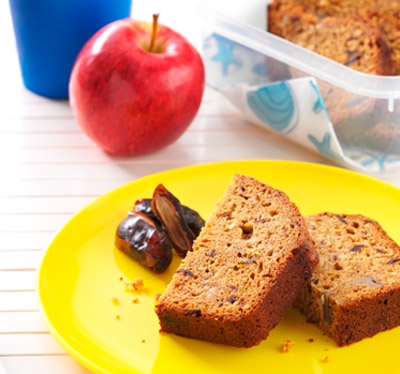 Wholemeal Date and Walnut Loaf

Balancing nutrition and taste for kids can be challenging for even the most organised parents. In time for the new school term, Australian Eggs has taken the hard work out of the equation with this healthy Wholemeal Date and Walnut Loaf.
Makes 1 loaf (approximately 10 serves)
$4.15 per loaf
Preparation time: 15 minutes
Cooking time: 50 minutes

Ingredients
2 eggs, lightly beaten
1 cup dates, pitted and chopped
3 tbsp butter
1 cup brown sugar
1 cup water
½ cup walnuts, chopped
1 cup self raising flour
1 cup wholemeal flour
1 tsp baking powder
Spray oil
Icing sugar for dusting

Method
1. Preheat oven to 180°C.
2. Place dates, butter, sugar and water in a saucepan and stir over medium heat, gently bringing to a boil. Remove from heat and set aside to cool.
3. Place mixture into a bowl and add eggs, walnuts and wholemeal flour, then sift over the self raising flour and baking powder.
4. Spray a 15cm x 25cm loaf tin with spray oil, line with baking paper and spoon in the mixture.
5. Place into the oven and bake for 45 – 50 minutes or until fully cooked. Remove from the oven to cool for 10 minutes before turning out onto a cooling rack.
6. Dust with icing sugar, slice and serve.

TIP: Great served with soft or blue cheese.