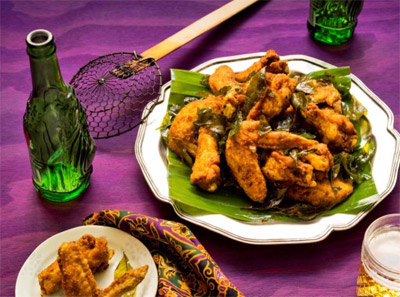 Kunyit (Turmeric) Chicken
This is one of my favourite Malaysian snacks. Whenever my Mum makes it, half of it disappears down the hatchet before the guests arrive – they are just irresistible. It's a great dish to take to a pot luck dinner or lunch because it's so simple to prepare and a guaranteed crowd pleaser.

Preparation Time: 5 mins
Cooking Time: 45 mins
Serves: 6-8 as a starter or snack

Ingredients
2 kg chicken wings or legs
2 Tbs ground turmeric
2 tsp ground coriander
1/2-1 tsp chilli powder or to taste
2 tsp salt
10 sprigs of curry leaves, crushed roughly in hands
1.5 L of vegetable oil

Method
Combine all ingredients except oil in a large bowl. Wearing disposable gloves (because turmeric leaves very vibrant stains) mix with your hands until chicken is thoroughly coated with spices and seasoning. Nestle curry leaves amongst chicken pieces and cover with cling wrap. Marinate overnight or for at least 2 hours.
Heat oil in a medium pot or wok on medium to high heat. To test if oil is ready, immerse a wooden spoon or wooden chopstick into the oil. If it bubbles rapidly, the oil is ready. Always do a test fry with a single piece of chicken to check the oil is not too hot, in which case the chicken will burn on the outside before it is cooked all the way through.
Fry 4 pieces of chicken at a time, for about 4 minutes per batch, together with curry leaves (beware, these will spit violently) as this will make the oil beautifully fragrant. The result should be a deep golden brown with a vibrant yellow tint. Rest on kitchen towel in a colander. Repeat until all chicken is cooked.
Serve hot with the fried curry leaves as part of a shared meal or as casual finger food – brilliant as a beer snack.



Malaysia Kitchen Australia is a nationwide celebration of Malaysian cuisine – the original fusion food, combining the best native Malay, Chinese and Indian cooking to create new, vibrant flavours and dishes.
Spearheaded by Poh Ling Yeow and other top Malaysian chefs around the country, the Malaysia Kitchen Australia campaign is all about encouraging Aussies to embrace delicious Malaysian cuisine – the vision is that Australians from all walks of life will be familiar with a menu of Malaysian dishes, want to seek out their unique flavours in restaurants and know how to cook them at home.